CHICAGO LIVE REPORT
At some point between this issue and the last, financial reality caught up with me and I pretty much quit going to shows completely. I was going to see at least two shows a week, usually three. Admission is $7-$10, and I like to have a few beers when I go to a show, which neatly tacks another $20 on the bill. Thus, I was spending over $50, sometimes more like $70, on live music every single week. Even cable TV was starting to sound like a pretty fair deal after that, but don't worry, I didn't sign up for it, I just quit looking in the Chicago Reader to see who was playing every night. I've been playing more Scrabble and listening to records at other peoples' houses instead. Sometimes someone mentions the two or three shows that we're missing that night, and we all chuckle.
But ya can't miss everything, and occasionally there is a way around the money problem. For example, during the warmer months, Chicago offers many free festivals. A couple days after I moved here, I saw the Go-Go's for free at the Petrillo Bandshell in Grant Park, during a festival called Taste of Chicago. They opened with the glorious "Head Over Heels" and I completely forgot the fact that I was watching them from 100 yards away through a chain-link fence at a 'festival' where little plastic cups of Miller Lite cost $5. Their next couple songs were from their current comeback album, and while they were still pretty punchy, I could no longer ignore my surroundings. Even Jane Wiedlin's ultra-tight gold lamé pants couldn't keep me there, so I split to go see Lightning Bolt.
I returned to the Petrillo Bandshell a couple months later, this time for a more tasteful affair: The Chicago Jazz Festival. Most of the names I didn't have too much interest in, fearing a sort of tepid intellectual middle-of-the-road sound. You know, much more 'authentic' than Kenny G but not a whole lot more invigorating. I was thinking about going to see Dave Brubeck just to see if he was still as mellow as he was on that Take Five record, but I didn't make it. Another headliner was Chicago-based vocalist Kurt Elling, who initially struck me as some sort of grunge Bobby McFerrin, so I didn't go. I have read more about him since that would suggest he's a little deeper than that, so I might try to see him one of these days.
However, there was one set and one set only in the Jazz Fest lineup that I knew I had to see. That was the Ritual Trio, led by Kahil El-Zabar, featuring Malachi Favors Maghostut of the Art Ensemble on bass, and joined by a special guest on tenor saxophone. How special, you ask? Well, how special does "Pharaoh Sanders" sound? Thing is, the Ritual Trio would be a hot ticket without Pharaoh. Even when I lived in Lincoln, I was well aware of composer, master percussionist, and AACM member Kahil El-Zabar, as he would regularly come to the University of Nebraska to perform and conduct workshops. I saw him perform twice there, once solo and once in a trio with trombonist Joseph Bowie and saxophonist Ed Wilkerson. Forgive me for playing the x plus y game, but his music weaves African drumming into the sound of the small American jazz combo; call it the extended groove of Fela Kuti's Afrika 70 woven into the holy avant-gospel quests of The John Coltrane Quartet. Add ex-John Coltrane Quintet member Sanders to the mix, and charge no admission? I'm there.
The group was scheduled to start around 7PM and play for an hour. It was a beautiful late summer evening, and a few friends and I hopped on the El (no pun intended) and buzzed down there. By the time El-Zabar and his magic band had taken the Petrillo stage, the sun was starting to set behind the bandshell's backdrop: Chicago's gargantuan downtown cityscape. Even in front of this symbol of ultra-modern speed and industry, the Ritual Trio Plus One was about to inject some serious peace into our lives. They played for just under an hour, and it was as if they were able to quiet the buildings, and turn all their little circuitboard lights into a great flickering campfire for all of us Chicagoans.
To this end, the reveredly bellicose Sanders was in 'relaxed' mode, exploring his roots in a hard-bop ballad style as played during his former bandleader John Coltrane's 'middle period.' This was so as to not overwhelm El-Zabar's exquisite percussion-led jazz ragas. Sanders appropriately kept his lines singing instead of screaming, simmering instead of boiling. Still, the urgency was there, in the the old "Love Supreme"-derived extended and circular motific development of minimalist two-or-three note gospel melodies, and some occasional and very nice 'gurgling drone' technique. He also did a short a capella introduction to one song where he blasted out a freaky heraldic note or two, and then actually just quit playing sax and screamed at the audience for one more theatrical note, so well-sounded that it got applause.
But overall Pharoah kept it chill; he knows The Ritual Trio's show is a groove thing. The way Maghostut seems to play mostly two-note ostinatos subsumes the bass role into that of the drums, just as many hand drum setups are based on two-or-three note scales. El-Zabar's large setup and intricate technique get the drum scales well into pentatonic (five-note) territory, and the result is extended 'African raga' (or is 'tala' more accurate?) that is both mellow and bad-ass, both calm and insinuating.
A key presence is the trio's other member, Ari Brown, on piano and saxophone. He plays more piano than sax, in a lightly percussive modal ballad style that extends on Bill Evans as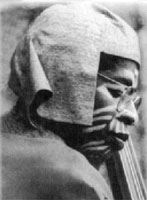 much as it does Sun Ra, all in service of El-Zabar's exquisite 'drum circle' concept. His hushed comping on the final song, which he composed, had concert-goer Mark Truex-Wolberg walking away saying "Who was that pianist??" and declaring him that night's band MVP. I was also down with Maghostus's role as a MSP, most supporting player. He looked good too, sporting a bald haircut and a relaxed pants-and-dashiki ensemble. From where I was sitting, he looked like he was about 20 years old. When I walked up to the stage for a few minutes, he looked like he might be 70, but he still looked just as good. (I later found out that he had turned 64 just a few days before the concert.)
Speaking of jazz, and the AACM, and incredible percussion, I also went to a show where master drummer Michael Zerang invited master violinist and AACM member Leroy Jenkins into his house, which doubles as a performance space. The two played a duet that kept my jaw firmly on the ground from note one to note last. I will say that the mix could've been better -- the percussion, brilliant as it was, firmly out-volumed the violin throughout. Methinks Zerang might just play a little loud, but at least he's really good, and it didn't mean Leroy Jenkins wasn't playing his ass off too. Despite the minimal setup (Zerang just played three different hand-drums) it was dense, high-energy music, streaming Coltrane-worthy gospel raga.
The show was also fun because I brought two visiting Nebraskans, eager to see some 'underground urban culture.' They were a little put off by the ten dollar cover charge and the opening performance, an ultra-gnomic one-act monologue called First/Last, in which author Sandra Binion read the first sentence and then the last sentence from thirty or so books in a row. In between each first/last combination, she would strike a small gong next to her and let it ring out before going on to the next. It was nice to be able to mark the change from one book to the next, but something about it was not only pretentious, it was outright portentous. Same goes for the inclusion of Lou Mallozzi as 'the page turner', who just sort of stood in the background, tragically holding a book while looking up towards the ceiling. Laying the multimedia on thick, Binion also had video playing behind her, 'collected images' from her travels in Italy, Portugal, and...Java? (I should've kept the program.) And to top it off, the night's star attraction, Leroy Jenkins improvised violin along with it all. Despite all the portentousness, Jenkins acquitted himself well, and I'm sure it was a nice warmup for the blazing duet that followed. He wove calm, spidery soul melodies and created pure sound interludes that concert-goer Matt Focht describes as sounding like "dirty air." I can't quite say that Jenkins singlehandedly saved the piece, though. It was just a bit too precious. At least the sentences read were decent poetry in their own right, and the performance was tastefully brief at 30 minutes. Also noteworthy was Binion's documentary video, intentionally mundane images from three different countries -- people sweeping convenience-motel balconies, sitting around at vacant bus-stops, that sort of thing -- which added up to a refreshingly subdued 'global culture' statement. I think the whole thing would've worked better simply as an unpretentious video documentary.
All in all, it was still a worthwhile night as far as the underground art sweepstakes go. The more free jazz-inclined of my two guests figured the Jenkins/Zerang duet alone was worth eight of the ten dollars charged at the door, and even the less free jazz-inclined of the two fully admitted that the duet had been "outstanding shit."
In Chicago, $10 seems to be the going rate for any sort of "art" music show. It cost $10 to see Leroy Jenkins, it cost $10 to see Harvey Sid Fisher, it cost $10 to see Alan Licht, and it cost $10 for me to see Derek Bailey last night. This is ridiculous. If Derek Bailey is $10, Harvey Sid Fisher should be $7, and Alan Licht should be $5. In fact, I've never wanted $10 back so quickly in my life as when I walked into Chicago's 6ODUM and watched Licht play Fahey-wannabe guitar licks over very basic loops for something like an hour-and-a-half straight. 6ODUM, when they're having some sort of "art" show, is a very oppressive place. Sure, you can bring in your own six-pack and drink it without any hassles, but they might as well have a "no applause" sign posted on the wall behind the performer. Well, that's not entirely accurate, because the audience always whoops and whollers when the interminable art performance is finally done (the only sign that anyone there is enjoying anything ever). I guess a more appropriate sign would be "while the artist is performing, make no sounds and show no emotion of any kind, please, and even if you turn your head to get that crink out of your neck, we'll hear it and frown at you." After Licht's first piece, he summoned up a whole bunch of Chicago music celebs for guitar orchestra performance of his 'composition' "Betty Page," which, as it appears on the Siltbreeze album Sink The Aging Process, consists of him twirling the handle of a screwdriver onto the strings of a guitar sitting on his lap. At 6ODUM, Licht gave a screwdriver to all kinds of Chicago celebrities: there was Bobby Conn, Sam Prekop, Rick Rizzo, Archer Prewitt, Casey Rice, Kiki Yablon, maybe more. Licht started things off with some solo screwdriver twiddle, then put it on a loop so he could stand up and manneristically cue each of his ringers to join in, one at a time, at manneristic two-minute (or so) intervals. The resultant din was certainly a din, and it was somewhat interesting to hear how different one person sounded from another when it came to twiddling a screwdriver handle on guitar strings, but the whole thing left me with that same empty feeling that I got the first time I went to the ODUM and spent (you guessed it) $10, on a show by Mirror that sounded great but was like watching three guys play a compact disc for an hour. (In fact, I think that's actually what they were doing.) Licht was touring with a film he made called Baba O'Wrestling, a montage of jello wrestling clips (or some such) set to a (ahem, minimalist) loop he made of the synthesizer part from "Baba O'Riley." I walked in just in time to see the last 60 seconds or so of this film; something tells me that would've been the highlight of the night.

Oh well, thank goodness for Derek Fucking Bailey who gave me my $10 worth in about five minutes. I was dubious about the fact that he was appearing only in a duet with Casey "The Designer" Rice. I wanted to see someone a little more "jazz-oriented" play with him...like perhaps pianist/synthesizerist Jim Baker. Or hell, Michael Zerang. Or, someone not so jazz-oriented, but sure to make an interesting duet: Kevin Drumm! (Maybe in such a setting I could actually figure out what Kevin Drumm does up there at his table.) I contented myself by thinking that there would probably be a solo set by Bailey and then a duo set, but that hope was dashed by the marquee, which advertised an opening set by bassist Tatsu Aoki and drummer Chad Taylor. Spooky flashbacks to Sandra Binion's First/Last came to me when I read the program, about how this opening act was going to accompany a video projected behind them. They did just that, too, and I did not like the way that as soon as the hour-long video was finished, they stopped playing too. In reality, they should've stopped well before the hour was up, because their music, however impressive here and there, did not congeal as a continuous hour-long piece. Simply enough, it should've been shorter, they should've stopped here and there...anything. Taylor is an extremely remarkable drummer and it was a treat to see him for sure. Aoki I wasn't so sold on...at times he got into a repetitious groove-oriented style that I found kind of unique and refreshing, but mostly he just seemed to be tapping on his bass with a stick or something while Taylor did all the work. And either way, it was too long, and the video was for some reason projected onto a bunch of balloons so you couldn't even see it.
My friend and I were sitting in the front row of the auditorium, and rather excited to see Derek Bailey at work from such a close vantage point. As soon as Aoki and Taylor left the stage to the usual round of applause, a horrendously loud screech of feedback came out of the P.A. speakers. "That is the most ill-chosen and too-loud intermission music I have ever heard," I thought, but it didn't stop or let up in any way. It just got louder and weirder. And then I started hearing electronics spitting along with it. And then I realized that everyone in the auditorium was looking around, over their shoulders, as confused as I was. And then I stood up and looked back and realized that Bailey and Rice were set up in the back of the audiotorium, Rice behind the soundboard and Bailey sitting in a chair next to it, and that the show had started. Wow, this was the same thing I saw Lightning Bolt do!
Except that this show was noisier than Lightning Bolt...in fact, this was the harshest harsh noise show I've ever been too. It was fucking LOUD, jack...my friend said that there were several moments where the music literally made his body hurt, and I agreed. I could feel it in my teeth on several occasions. Halfway through, I noticed that the program I had been holding in my left hand had become a wadded-up and mangled mess. A real white-knuckle affair. People were holding their ears, and yes, there were a handful of walkouts. But the rest soldiered through it, and in fact enjoyed the shit out of it, and for good reason. Seeing Bailey was amazing -- he's old, but he still looks even somewhat athletic; a very big guy, tall and gangly, with huge spidery fingers. His technique is impeccable -- seeing him reveals that he is not just grabbing for noisy weird notes at all...he seems to have a huge repertoire of actual chords and he knows exactly where he's going on the fretboard at all times.
And again, the phrase "If it's too loud you're too old" has no bearing here. Bailey hasn't mellowed one bit; he's both loud AND old. Of course, I think Rice was mostly responsible for the earth-shaking volume; Bailey was playing a screeching hollow-body electric through a loud amp, but Rice was taking that and running it through the P.A. at obscene volumes, mixing it, cutting it up, looping it, and generally being a brat. Some of his electronic noise was obscene, and not in a good way, but a lot of it was rather sublime too, and either way, Bailey knew just how to tangle with it.
Now, I need to make some nice wrapping-up point, because I really need to put this issue to bed, so I'll just say that even if Harvey Sid Fisher should've only been $7, he gave me $10 worth anyway. Sure, he's a 'novelty act,' but the guy can write songs. He had me laughing from beginning to end. Cheer-Accident backed him up to perfection. Dylan Posa is a great minimalist drummer, but he probably doesn't believe that. Hell, the guy who owns the Hideout came onstage in a tuxedo and gave an introduction to Harvey Sid Fisher that was alone worth $10, no shit. You had to be there. But jeez, I hope you don't feel bad just 'cause you weren't. You've got plenty items of your own to consume, right? See ya next ish.