CAPTAIN BEEFHEART: Grow Fins 5-CD box set (REVENANT)


Sure I wanted this when it came out, but I don't have a lot of money so I resisted. I knew that my resistance would pay off, and sure enough, it has; a friend with maybe a little bit more money bought a copy and right now I'm borrowing it and the rest is history. Frankly, I can see what the hub-bub was about. It's on Revenant, so it's a hell of a package; the 5 CDs are handsomely housed in an actual hard-bound book featuring 70 pages of glossy liner notes, essays, rare photos, and oral histories. You can read all about the scary cult situation the band ended up in Bill Harkleroad's book Lunar Notes, but it's all here too in a meticulous oral history assembled by John French.
The introductory essay, by a Rolling Stone writer of all things (David Fricke), served me even better, featuring a brief description of the early Magic Band that served as my skeleton key to the whole presentation: "…killer punk, a tuff-guy slice of the Music Machine or the Shadows of Knight, but with more psychedelized menace"…"an evil, tight white blues outfit…in their beat-gangster infancy." Avant hipsters might be inclined to skip over the 'trad' early stuff straight to the Trout Mask Replica outtakes on disc three, but taking Fricke's description in mind and then listening to the discs in order is a wonderful crash course in how the Magic Band evolved.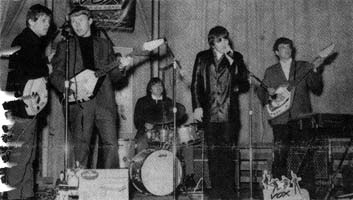 Tuff-guy beat-gangsters indeed; they might be one of the most revered avant-garde bands of all time, but they were still just dudes from Lancaster, a dusty hick town in the middle of the desert. Guitarist Doug Moon describes the scene: "It was in one of those drive-ins over on Avenue I…Foster's Freeze or Tasti Freeze. Something like that. You know, cokes and hamburgers. It was a carhop thing. Real popular place, and the car clubs hung out there. At that time I was in a car club, too. I ran into Don, of course, I knew him from high school and a few times that we had just gotten together and BS'd and stuff. We started to talk and the conversation ended up on music."
Disc one features what evolved from these sorts of conversations, a distinctive desert blues-rock, clearly influenced by the Stones and the garage rock zeitgeist, but made glorious by the "evil" quality Fricke describes and, of course, Beefheart's always-stunning voice. Disc two takes us down the road a year or two and ups the ante with frenzied live material, the band clearly well on their way from Stonesy desert blues grooves to what would become Trout Mask Replica. (Just listen to the shenai-driven swirl of "Electricity.")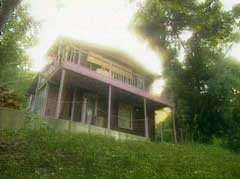 Disc three is the pièce de résistance…74 minutes taken from the mostly scrapped sessions in which the band tried to record Trout Mask Replica at the house where they lived and rehearsed. The idea was that the band would play the songs and then Beefheart would add the vocals later in an actual recording studio. (Victor "The Mascara Snake" Hayden, or maybe Frank Zappa himself, can actually be heard explaining this process to their bemused housewife neighbor.) The project was scrapped, but the tapes weren't, so now owners of Grow Fins get a raw, all-instrumental version of Trout Mask Replica. Hearing the band jamming live without the streamlining effect of Beefheart's voice mixed twice as loud bellerin' over the top gives an entirely new aura to the songs, one in which it is much easier to appreciate how hard the Magic Band worked.
Disc four features no music, but the entirety of the aforementioned rambling, genial conversation with the confused/bemused housewife neighbor. There is only 12 odd minutes of audio, the rest of the disc taken up by what I consider the single biggest draw of the set: stunning footage of vintage Magic Band performances, playable on your computer. One thing this footage reveals is that when it came to the omnipresence of Beefheart's voice, mixing probably didn't have much to do with it; in all four performances, Beefheart's voice is naturally twice as loud as the band.
The earliest performance is from 1969, the band playing outside on the beach at Cannes, France. For the opening shot we just see the band standing on a makeshift stage mired in sand. They haven't begun to play yet, and for all we know they could be the only ones standing on some desolate stretch of beach. The heraldic intro to "Electricity" rings out and the camera slowly begins to pan towards them. A photographer walks into the shot in order to take some closeups of the band; the band is not alone after all. By the time the camera arrives at the stage, the band has torn into to the bouncing main riff of the song. The camera begins to walk around the stage, a great uninterrupted 'structuralist' tracking shot that slowly reveals more and more details of the surreal setting: a nice shot of the backs of the Magic Band amps, palm trees and luxury beachside hotels in the distance, Drumbo wailing away on his 3-piece kit, and, finally, a decent-sized audience, totally removed, well-dressed, and impassive, standing on a hotel balcony a good forty yards away from the stage.
Another nice thing about this long slow plan is the long look it affords of the Magic Band's sartorial brilliance, something I simply wasn't aware of outside of the colorful freak scene depicted in the Trout Mask Replica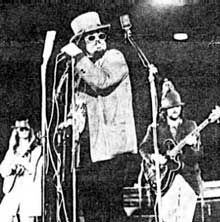 photos. This earlier incarnation has more of an outlaw cowboy look, with mustaches, suede coats, and feathered ten-gallon hats, the Captain himself sporting a resplendent coat-and-hat ensemble and a smashing goatee. (Antennae Jimmy Semens flies in the face of any possible fashion by wearing a construction worker's hat with a foreign legion-style towel underneath it.) "Electricity" is followed by "Sho Nuff Yes I Do." The band looks great performing -- though all members seem to keep their feet planted in one spot, they bounce up and down joyously with the herky-jerky blues rhythms.
The next video offering is two songs from an infamous 1969 festival in Amougies, Belgium. Perhaps you know the anecdotes: Frank Zappa was the M.C. for an audience that barely understood English. The weather was around 30 degrees Fahrenheit. The festival was moved at the last minute from somewhere in France to a turnip field in Belgium. One of the finest bands appearing, The Art Ensemble of Chicago, went on at 5AM to a scattered group of freezing, miserable hippies, and, desperate for signs of life, went so far as to throw a lit flare into the audience. Despite all this, the Magic Band carries itself quite well, a fact even more surprising given the then-fractious band situation. Though this is the Trout Mask-era lineup, both Antennae Jimmy Semens and Drumbo had split. The latter is replaced by one Jeff Bruchell, i.e. The Impostor Drumbo, who does the job surprisingly well. (Especially considering the booklet's claim that he had never really played drums before.) Mark "Rockette Morton" Boston is still on bass, but Antennae Jimmy Semens isn't really replaced, although Victor "The Mascara Snake" Hayden plays his loopy bass clarinet (while wearing a must-be-seen-to-be-believed freak outfit). Along with Boston, the loyal Bill "Zoot Horn Rollo" Harkleroad holds down the musical end, cutting the most impressive figure all around, skinny with shades, cape, and headress, concentrating absolutely on flawlessly playing the Trout Mask Replica guitar parts. (Frank Zappa can be seen in the background smoking a cigarette, and on the set's disc five his pompous-as-ever introduction can be heard. Apparently the drummer for Pink Floyd pops up on the video as well but I haven't noticed.)
Next is a wild performance from 1973 for an obscure public access show called Detroit Tubeworks, a rare opportunity to see the Lick My Decals Off, Baby band in full force. Musically and visually the band is amazing. Mark Boston looks great with much shorter hair, scrubbing away at a double-necked guitar/bass contraption. Ed "Art Tripp" Marimba wears a baseball cap that I swore, given the hectic editing style, was some sort of full-face alien-from-space mask until I noticed him look up towards the end. He also wears a nice black shirt and a nice white tie; after all, he was an insurance salesman in his spare time. His marimba playing is a stylish new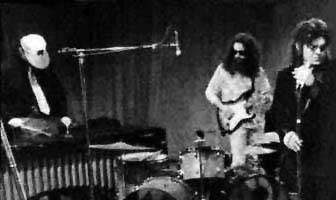 wrinkle in the troutmask fabric, especially when he and Zoot Horn Rollo break it down for a duet during "Bellerin' Plain." As for the ZHR appearance, he has yet to stray from his resplendent 'rail-thin dude with shades-and-headress' look. Drumbo is in full-freak beard-and-hairwhip mode, even wearing the "girl watcher" sunglasses from the Trout Mask Replica photos. Elliot Ingber stands almost motionless in the back underneath his hair and sunglasses, looking like a cross between that Faith No More guitarist and Magic Dick from the J. Geils Band, some odd duck who wandered in from a Steely Dan session next door.
Unfortunately, one can only catch glimpses of this freakdom as little bits of it pass across the screen split-seconds at a time. Rather than giving us even one single long look at the whole stage setup, the camera and editing aesthetic opts for fleeting closeup after fleeting closeup. Some of them are great and the clip does give a palpable sense of wild music energetically happening right in front of you, but I found myself begging for a look at the whole stage setup at once, as it is pictured on the main menu page of this enhanced CD portion. The dated 'psychedelic superimposition' effect makes it worse. Another drawback of the closeup-after-closeup aesthetic is that Beefheart gets the most screen time just when he's sporting one of his most distracting looks, an apparently short-lived 'Nick Nolte (or is it Joe Don Briggs?) with a mullet (and pink-tinted sunglasses)' type thing.
The music is incredible though: first is a fast version of "When Big Joan Sets Up" from Trout Mask, much airier with marimba in the place of second guitar. And Beefheart's soprano sax is a raw yawp that lavas up from underneath the groove into every possible fissure it has, soldering the whole thing together. They break it down for a little crash-and-stop improv, Beefheart taking the lead with his plain-bellerin' sax style. Next are two songs from Lick My Decals Off, Baby: a funky chords-and-single-lines bass groove by Boston heralds the percussion-driven "Woe Is Uh Me Bop", and the last song is the aforementioned "Bellerin' Plain" with the aforementioned guitar/marimba interlude. By this time the Captain has taken off the pink-tinted shades, put on a very tall and silly hat, and replaced the soprano sax with a book (ostensibly of lyrics though some wild artwork is visible on the folded-over side) that he waves around while bellerin', the old (time religion) "street preacher" performance trick that he does quite well.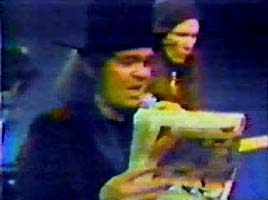 By this time, having watched three Magic Band performances in a row, the music seems more and more to be about the BOUNCE. From Cannes to Amougies to Detroit to Bataclan, no matter exactly who's in the band, they always seem to stand in one place, concentrate on the fingers, and just BOUNCE their asses off to the "non-hypnotic" hyper grooves. Just because they are mostly stationary doesn't mean that their performances aren't filled with bristling energy. A notable exception to this is Mark Boston in the Bataclan footage, switched from bass to guitar, and, probably because he doesn't have to hold down the intimidating bottom any more, gallivanting wonderfully back and forth the stage. In this clip, a performance of the funky "Click Clack," the band has fully re-embraced the cowboy-rocker aesthetic. Harkleroad is nearly unrecognizable, having forsaken the mysterious shades-and-headdress combo for a genial bearded Allman Brothers look. Not to worry; any possible hippie tendencies are pounded out of the room by the ferociously slammin' Art Tripp drum beat.
The fifth disc features audio versions of all the live footage, as well as various other odds & sods spanning 1969-1982. A pivotal year was 1972, from which we hear Beefheart live on two different radio stations (one in Cali one in Boston), doing harmonica jams and terrifyingly technicolor acapella improvisations on the classic blues text "Black Snake Moan." Harkleroad gets props with an inclusion of his solo showpiece "One Red Rose That I Mean," live in New York City in 1972. Also from 1972, "Spitball Scalped Uh Baby": Beefheart on soprano sax and Tripp on the trap set, live in the UK, duetting in free jazz freakazoid mode. Over bizarre, hollow-sounding, Milford Graves-ish polyrhythms from Tripp, Van Vliet engages in his trademark 'bellerin' shenai' style. I first heard this on the radio in Warsaw, Poland while visiting self-expatriated Nebraska farmer/punk rocker David Meister (see also the Public Image review). He wondered who it was. My best guess was Ayler but it was clear something even more bruitiste was at work; the mystery wasn't solved until Meister translated the Polish DJ's back-announcement. I don't know how, but I must not of recognized or even noticed Beefheart's voice when he interrupts his solo to shout "Leave those things alone, man! Leave this things alone!" at someone for some reason.
Much of the latter part of the disc is used to compare Beefheart piano demos to the compositions that the band would devise from them. There are even two "mellotron improvs" by Van Vliet. Mellotron improvs?? Alright, this set is amazing, and I think I actually just sold myself a copy, which I'm gonna buy as soon as I return this one to my friend. How much is it anyway?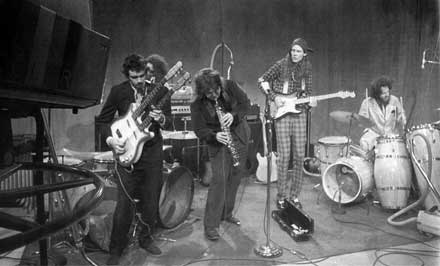 Two great Captain Beefheart websites:

The Radar Station at www.beefheart.com

and a Chronology of Live Performances
and Rehearsals at www.beefheart.de