LIVING LIKE BURT REYNOLDS ON A MAC DAVIS INCOME
OR
GUESS THE CORRECT AMOUNT OF SELF DEPRECATING COMMENTS MADE IN THIS COLUMN AND WIN A DREAM DATE WITH PORN STAR BELLA DONNA!!!
by Tony Rettman
Ya know, winter always sends me into this sorta emotional hibernation. Thoughts and words dry up like Bea Arthur's bones. Records become mere background fodder. Aural wallpaper just there to distract me from paying bills, growing up and getting a life. I drift in and out of sleep so much these days that everything is like one, long foggy motion. My apartment is just one huge pile of records, dishes, magazines, bills, etc. It gets so bad that I no longer think about doing anything, I think about thinking to get it done later. Truly pathetic shit. In my groggy state, I'm assured everything will get done in time. Such as this column. Hence why I'm smacking this thing out as Dolman virtually chews me out via the electronic mail.
There's been a handful of items that have broke me from my stupor enough to blast the wax from my ears and take notice. Now, before we get started, I ain't claiming to being the knowingest cat in the world. I likes what I likes and dat's dat. But I guess taking time out of my busy schedule of staring into space, watching re-runs of 'The Steve Harvey Show', masturbating, and generally feeling sorry for myself MUST say something for my credentials, right??
It's been awhile since we've heard a pweep out of The No Neck Blues Band. This time around we have ourselves a 'bootleg' LP done up like the old 'TMOQ'
boots from the 70's that's entitled 'Re:"Mr. A Fan"'. Where previous NNCK releases certainly weren't the kind of thing you'd throw on at your next dinner party, they did have a certain flow that made them THEE finest non
bumpy drug taking records of the 90s. In sticking with the true bootleg aesthetic of presenting an outtakes/odds 'n' sods grab bag of selections, it seems a rather erratic batch of jams were picked for this one. All four tracks stick out from one another like beautiful, freshly hammered thumbs, making this quite possibly the most bewildering NNCK release I've heard yet.
The first track starts off sounding like Greg Ginn practicing solo while a Can practice tape plays quietly in the background. In typical NNCK fashion, the jam confidently delaminates and shoots off in a million directions, eventually settling into a rough, uphill rumble. The second track is the strangest egg in the nest. I mean, CHRIST! IT JANGLES! Certainly the most un-
NNCK thing you or they could do, making it the winner in the lot. Side two contains 2 more cuts. One is an almost side-long meander that showcases how former NNCK vocalist J.F. Ryan could have been a storytelling Robert Plant (minus the high pitch and the eight ball down the front of the pants) in some fucked up universe. The closer is barely a snippet of a quiet-ass jam that sounds like the air blowing over the first Glastonbury Fayre. In the words of Mrs. Joyce Jammer -- 'How Free!'. This record is available in a wide variety of sizes and colors from www.yod.com.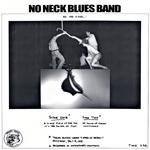 If you're a loser (just like me) you might remember me foaming at the goddamned mouth and dedicating a whole column to the first two volumes of Killed By Hardcore. This series of bootleg compilations showcases the dustiest, dirtiest and most obscure Hardcore tracks from the early 80s. The recently released third volume is just as pleasing as its predecessors and makes me wanna do The Lawnmower, The H.B. Strut and The Pizza Pie Maker all at once. The highlights on here are plenty (at least by my standards), so to spare the risk of coming off as obsessive as I did last time around, I will give you an abridged version of the goodies.
Italy's Negiazone were known to me back in the day as bloodthirsty thrashers, but the track presented here makes them come off like crazed No Wavers doing their version of Ike and Tina's 'Funkier Than A Mosquito's
Tweeter'. Finland represents something fierce here with Rutto, Pyhakoulu and Appendix. All three tracks have horrible recordings, undecipherable vocals and last as long as your last orgasm. Perfect! Don't forget old favorites by No Thanks (doing their classic anthem 'Fuck Everything'), Deep Wound (celebrity appearance), The Worst (expect a CD retrospective on them soon, by
the by), and the o.g. version of Die Kruezen's 'In School' which still makes me want to 'punch the face out' of 'fucking hippies and fucking jocks.' (Their words, not mine.) Wrap it up in a cover that'll get you an honorary membership in the Catholic religion and you gotta winner -- I wait like a muther for more editions....
On the same tipinski as the KBHC comps, I got a pretty decent HC rag in the mail recently entitled Destroy What Bores You. Although I have to admit to being completely lost when he writes about the new HC stuff, editor David Hyde has a passionate grasp on all genres of rebellious raunchy sounds and it bleeds off the xeroxed pages of this rag. The interview with Carl Snow, founding member of the scorching early 80s HC band Koro, is mindbogglingly informative and should give a chumbster to all you obsessive, dateless Punk collectors. Try to grab one from fightordie@hotmail.com.
Those nice, nice people at Detour Records over in Blighty have been doing no wrong up until now. They're always re-issuing great mod bands from the late 70s/
early 80s and doing a fine job. I know, not as cool as re-issuing obscure No Wave bands that existed for a week and a half, but what can you do? This time around though, I gotta throw up my flabby arms and give a 'What the Fuck?' at their latest release. The Time U.K. were a lousy band started by Rick Buckler of The Jam right after his drumming duties came to a standstill with that band in '83. They released a couple of crappy singles that didn't even get a rise out of the Anglo sucklers who worked the counter at the local Listening Booth in my town back then. Time has not added any charm or worth to this stuff. The vocalist makes a horrid attempt at sounding like a third rate Paul Weller (at least Rick knew what field his cow should graze in) and the production sticks with that sickly sweet style that so many U.K. boys with pretty hair and white framed sunglasses loved at the time. The kinda sound that would make Lemmy tongue kiss Andrew Ridgely. If I find out another volume of their highly fucking excellent 'Bored Teenagers' compilations was shelved to release this, I'll go on a hunger strike! Budweiser and Fritos and nothing else! I ain't kidding! www.detour-records.co.uk.
My brother once regaled me in a tale from his younger days about a pal of his who used to grow his own. Like most home growers, he had different grades of
his green, but he had one he simply called 'End Of The Day'. The obvious reason for this was because no matter what time you inhaled the stuff, all chores and errands became distant memories as you settled in to contemplate the lazy joy of it all.
This latest one from The Anomoanon (entitled 'Asleep Many Years In The Wood') kinda gives me that same feeling. Every time I listen to it (and I do listen
to it quite a bit) it seems I find myself stretching out on the futon by the third track. I just gotta remember to go grocery shopping before indulging next time. Some people have dismissed this band due to the very similar
vocal styles between Ned (front style vocalist for this combo) and his brother Will Oldham. To this I say, well...
um...THEY'RE BROTHERS YOU IDJITS! Obviously these people are some kinda fascist assholes who don't believe in the 'A song is a song is a song and if it does it's job, fuck it' philosophy. The gentle warble of Ned's voice is a sweet, sweet thing wrapped around the somber proceedings and makes me wish I had a third shoulder to cry on. I know from now on I will have my eyes cast on all these boys do. And should you do the same? Yeah! Sure! Why Not? www.temporaryresidence.com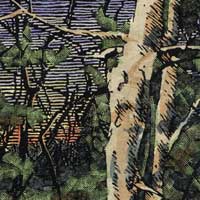 You might have seen copies of Arthur magazine lurking in the corners of your local record shoppe and wondered just what the shit it was. What it be is (get a load of this) a free nationally distributed periodical dealing with all forms of culture the standard reader/lover of Blastitude would eat up like a bowl of Corn Chex. Reading this statement on screen must seem downright
retarded and too-good-to-be-true to you, but once you get on the bus and dig in, you'll get what I mean. Two issues have creepy crawled their way across our fair land thus far and I can't help but feel tickled over the thought. Highlights of the past two issues include a piss-releasing advice column with Neil Hamburger, an excerpt from the novel of my eighth grade idol Mat Hoffman, Joe Carducci telling everyone what the fuck is up, a beautiful loserific story about Texas based filmmaker Eagle Pennell, Steve Aylett's appreciation of Pulp novelist Jeff Lint, a collection of Charles Brittin's photography, and a heartfelt eulogy delivered to Jam Master Jay by Pete Relic. The centerpiece to it all for a dorkus malorkus like me is 'Bull Tongue', a column written by 'lifers' Thurston Moore and Byron Coley that extends the 'Underground' column Byron did (about) fifteen years ago in the pages of 'Spin' to the level it should be at. I pray to whatever diety that'll hear me that this mag will continue for as long as you and I will run. It's been awhile since I've held something tangible in my hands from the present day that's made the hairs stand up on my acne-flecked back this much.
If the local cool jernt in your area don't carry Arthur, get in touch with them at distro@arthurmag.com.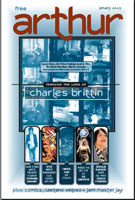 What's a dude to do when the winged one is talking mad shit about the bands you love so much? In the past two months, Julian Cope has given more than needed accolades to both Comets on Fire and The Sunburned Hand of the Man on his website and it's making me wonder if I'm as 'underground' as I think I am or if Julian is
hipper than I think. None the freaking less, The Sunburned Hand of the Man have finally made their way to the vinyl format they love so much, so let's celebrate. After a clutch of very fucking heavy CDR-only releases last year, SBHOTM have released 'Headdress' on the Records imprint. Where the CDRs seemed to contain the elements of the overdriving release I gush over in
SBHOTM's live sets (Jack Bruce sitting in with second line-up Traffic) this LP seems to be a slow pulling of fibers. The jams seem to hang and tease, but the moments when they truly blossom (like that first track on the second side) make me wish I kept a little more weed around the house. The combo of Maloney's shamism, Orleans' beyond-scorching guitar, and Jackie's bass work is something that makes the concept of non-ironic 'jam rock' seem as real as the computer screen that you stare at right now. (Hah! gotcha!) These guys could keep putting out records 'til I become a millionaire (i.e. sometime never) and I'll be happy as a crud-loving crud lover. www.surefiredistribution.com.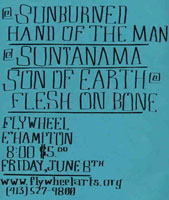 Anyone who's traipsed around their basement in an ascot owes something to Lee Mallory. Besides writing a bulk of material for The Association, he was pretty much the centerpiece of Curt Boettcher's Psych-Pop studio supergroup, The Millennium. Someone real regal at The Rev-Ola division of Cherry Red has unearthed some solo tapes from the man and thrown them together in a package they call 'That's The Way It's Gonna Be'. The bulk of the material is Boettcher-produced and surprisingly shows A BIT (we're not talking German Oak
here, but, you know) more gravel and grit than his usual work. There are some portions where Mallory's git really gets to sing a song that gets me weeping like a li'l bitch, but that's just sometimes, I swear. None the less, his
version of 'Wild Mountain Thyme' will get even the most ardent Whitehouse fan weeping on their latest copy of 'Nudist Annual' . One of the tracks that appear later on the disc (for some reason, no studio dates for them seem to appear in the liner notes) has a real weird early 70s' cock rocking quality to it that makes me wonder what this guy could done if he continued. Would he
have given Paul Rodgers a run for his money? Let's just hope so....For now, go to www.cherryred.co.uk.