Title: Radio Parade-EE-OH!
by Jim "China Man" Jimjammer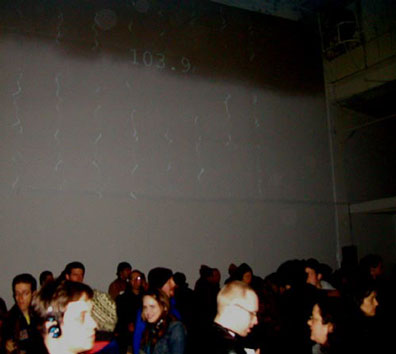 The big screen tells them what they want to hear, but do they listen?
NYC is the place to be if you want to see or hear and cheer and have beer. In this case we are referring to the biggest in the littlest of radio from DJs who spin and play and win (us over). The site was wide and open and warehouse-ish but perfect for many pairs of headphones, many pairs of ears and total silence from the outside.
The gathering of players of all things noise and otherwise did indeed gather at six or so different "stations" that pumped out over six or so different frequencies. The object of the game was to pay the admission fee, don the headphones, and flip through your personal radio dial until you reached the frequency home of one of the present presenters. Utilizing razor-thin bandwidth, these disc-ing jockeys played all dem hits during anywhere from 20-minute to 2-hours sets. The boldest transmission wouldn't reach more than 2 blocks from the outside of the building, with most of the broadcasts not even making it from one end of the indoor space to the other. Nevertheless, we could SEE with our own EARS how the sights correlated with the sounds and vice versa. And, if the bloody screechy noisiness got you down, you could always flip to WFME and check what the Zionists were up to.
Join in on the photo parade: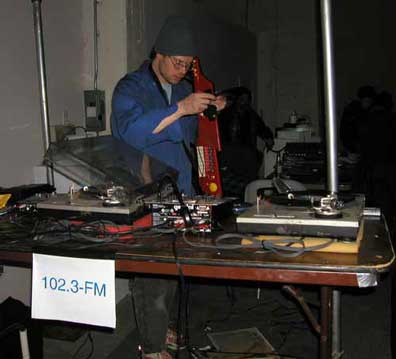 Rocking to a different beat, not necessarily from the street, but
still really neat.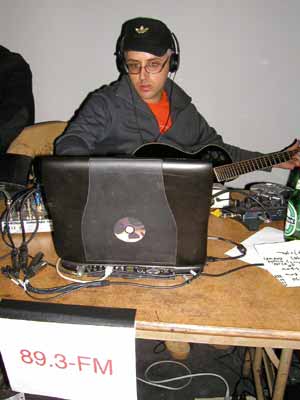 SUPERFUNTASTIC!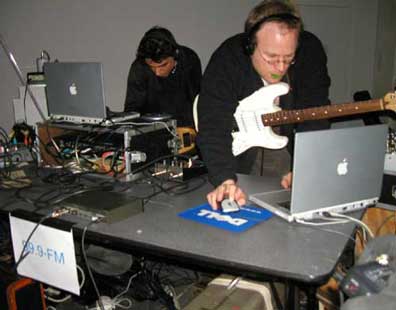 Plink plink beep beep WOW!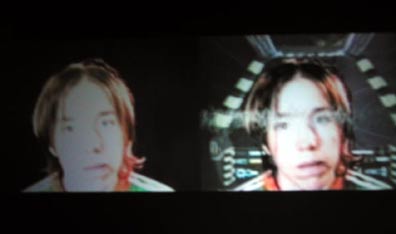 The video/radio show about a girl who either wishes she was or actually is in outer space.
If you are the type who needs or likes more information about these
sorts of things, you must go to this link here at
But make sure you come back RIGHT HERE so you can read more avant-rock musings from the best hippies and hoppers that exist west, east, north or south of the Mississippi (or in it, for that matter)!
Over and out and through,
J "CM" J
Blastitude, New England Satellite Office
Larry "Fuzz-O" Dolman says: "What was the name of this event again? The 2nd Annual I WISH I WAS HRVATSKI Convention?"