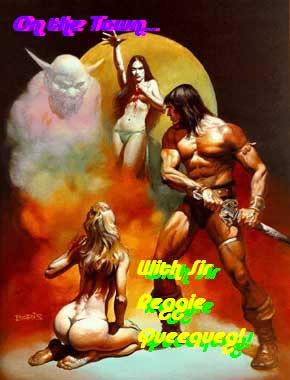 Hey everyone, sorry my column is short this week, I accidentally got addicted to PCP, and have been in a very expensive rehab center, the same one Kelly Deal, and that "A Million Little Pieces" book guy went to. I can't say which one it is though. Anyways, stuff I was going to write was awesome but didn't have time to were Quintron, Steely Dan, and Michael Yonker's albums which have come out recently. Oh yeah, and for older stuff Prince's Dirty Mind, and Manowar's Triumph of the Steel are Stone Classics.
Royal Trux "Hand of Glory"
Back to the noise rock of the Royal Trux for their last release, which comes from 1989 and supposedly was found by Neal in the trunk of his dad's car recently. I kind of doubt that, what his dad never cleaned out his car trunk, or got a new car in over 10 years? I think that just maybe Drag City is making up stuff for their press releases, which is a pretty cruel joke, I think. If we can't trust press releases how can we trust the music reviewers who quote them? But if this fact is not true, at least we know the one about the Silver Jews being named after a South American god was. Hey, I just remembered this review of the Sonic Youth Murray Street album in local Minneapolis paper, The City Pages. This critic who I guess works for the Chicago Reader now, who we'll call K. Harris, no that's too obvious, we'll call him Keith H., said something along the lines of "a good maxim for music is 'noise annoys'". Fuck you man, noise rules, I should have been blasting Hand of Glory from the balcony when I lived in the same building as you, except it wasn't out yet! And you are a hilariously bad parallel parker!
The album is similar to Twin Infinitives, which is surprising, considering it was made around the same time and place. Split into 2 sides, Side A and Side B, even though I have the CD version. Side A is all just one song, "Domo des Burros (Two Sticks)", which in English means "dome des donkeys (dos palillos)". The song is a drum machine jam, with lots of fine harmonica and guitar work. Neal sings in a fine laid back manner reminiscent of Don Henley, while Jennifer does a slightly more aggressive throaty growl, showing off her hip-hop influence a little bit. Featured prominently is the impressive drumming of "MECHANICAL MONKEY with cymbals", who my friend Knuth told me is the son of the drummer from Lynyrd Skynyrd, who was also a cybernetic simian. Did you like how that last description was almost alliteration, but not quite? I am possibly the most talented rock critic since Gina Arnold. But getting back to the vocals, they are heavily reverbed and overdubbed, which makes it hard to understand what they are saying, but when you can it is always something very cool and rock n roll. I remember reading that the Trux were planning on releasing a book of all their lyrics, will it ever happen? One part during the last couple of minutes the vocals get especially fun, with heavy effects, growling, purring, gargling and Jennifer dropping the science especially tight. Well, 80s style tight, she's no Biggie or GZA. Then the song ends with Neal singing "whatever life goes on", then it fades fast and it's time for the next side. Or if you have the CD version the next song starts.
The next side is all one song too, supposedly, but it's split up into 5 parts. It's called "The Boxing Story," and I'd say it's up there with "Hurricane" and "The Boxer" for story songs about boxing. Notice I didn't mention "Keep Punching Joe" by Daniel Johnston, that's because that song blows. Some great sounding concrete music (speak American or die) stuff with horns and sped up vocals. Some wild and wacky sped up guitar solos, fucking great. Did you ever see that Raymond Pettibon movie Sir Drone, with Mike Watt and Mike Kelley playing young punks in the late 70s in LA? There's this one part where another punker comes over, and he says "Who's Peter Frampton?" and Mike Kelley says "I only listen to that on 78". If you were playing Frampton solos and Whitehouse at 78, it would sound like one part of this one part of the song. The rest of the song is more concrete music stuff, I don't really feel like writing about it, it's hard to describe without doing the Bananafish style "it sounds like marmots with diaphanous wings vomiting blood on the Carpenters as Vic Tayback looks on and laughs" bullshit. Just kidding about the bullshit, I enjoy reading that stuff, but I won't write like that because then the SF scene might thing the Midwest scene was biting their style, and there'd be a big W.C/M.W. battle with lots of underground people killed, and I wouldn't want to be a part of starting the slaughter of that many West Coast people. Cause you know they'd be the one with the most bodies droppin', cause Midwest Rulez, and the East Coast would help us out cause they know Midwest Rules too.
Anyways, side two is a bunch of gnarly dense noise shit. Fucking awesome. Trux, man.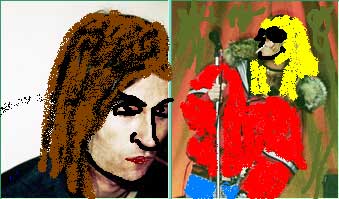 Hey Everybody, it's Irish Heritage Month!
Well, it's that time of year again, Irish Heritage Month, which confusingly isn't the same month as St. Paddy's day, or as they call it "amateur hour". Those micks, who can figure 'em out? Anyways, I was going to research some Irish history and find some fun facts, but the library was closed, but fortunately I found some history on the back of a postcard mail order form for a ceramic unicorn in the lobby of the grocery store. So here it is:
Let Love and Friendship Reign
Cloaked in an Irish mist, a stunning unicorn gallops along the cliffs of the Emerald Isle. Noble in spirit and pure of heart, this mystical creature guards the rich legend of the Claddagh,-an enduring symbol of love, friendship, and loyalty.
Now discover the magic of the unicorn and the mystique of an ancient legend with "Let Love and Friendship Reign", a beautiful unicorn wearing a golden Claddagh charm, a shining symbol of Irish Heritage. Exquisite artistry brings every detail to life, from the unicorn's golden horn to his shimmering mane and tail. Our 365 Day Guarantee assures you order without risk, so reply today!
Well, I learned a lot, didn't you?
Citgo Commercial
I just saw a gas station commercial on TV, I wasn't really paying attention to it, but it had this biker dude and was telling facts about him, I assume along the lines of "has motor oil running through his veins", or "eats Marines for breakfast". But then it does a close up of his face, and it says "Used to be Melissa". Dude's a trannie! I think this is the first positive portrayal of the Trans population I've ever seen! The only other ones I remember ever seeing are those "That's no woman, that's a DUDE!" beer commercials. Another rubicon of equality has been traversed, I guess.
Bulbfest (The Magic Stick, Detroit MI, a few months ago)
In two words: OFF THE HOOK.
I rode w/ Mr. Bon Mots and Joshua "Slow Hand" J.H. from Mpls. Due to our kindness giving a ride to a friend whose Grandpa had just died, we missed Danse Asshole the first night. Matt drove the whole way, like 12 hours straight. Dude's nuts. I met Virgil, Ed, Mike, and maybe some of the rest of the San Fransico A-OK gang that night, my memory is a bit blurry due to the "White Zebra" weed Gnuoy Etan gave me, and the mushyrooms Virg gave me. MC Trachiotomy was pretty rad I thought, though my fellow travelers disagreed, I was pretty caught up with talking to my buddies and drinking beers to relieve road weariness, so I couldn't give my full attention. Next was Doll Rods, they were really good too, covers of "hot child in the city", and "big rock candy mountain" were nice. Quintron was next, gettin everyone dancing, some gnarly girls up front were protecting the stage for some reason, putting up fists and yelling at the crowd. They were so gnarly in fact that Quintron invited them onstage to dance. In fact, pretty much every girl I met from Michigan, was like 1000% more gnarly than the girls from Minneapolis. Not to say there's no gnarly girls here, but the ones who are usually have boyfriends, and there's not that many of them. WHY CAN'T I FIND A GIRLFRIEND IN MINNEAPOLIS! I NEED TO GET MARRIED NOW! Just kiddin, I ain't stressin. At this point I had ingested the mushrooms Virgil gave me. He was trippin out hard, but having a great time. I let him ride on my back for a little bit, but he started waving his arms and legs around, and was trying to climb up me higher. People started giving him looks, so I let him down. I haven't gotten around to writing a review of it, but I must say Quintron's new album "Are You Ready For An Organ Solo" is FUCKIN RAD.
Next up was the much fabled Couch reunion, due to Magas playing on tour with the band Adult., Mike Connelly from Hair Police took his place, quite well. It all started with Quintron playing Old Man on his organ for about 20 minutes or so. I was all gnarled out by that time, so it may have been less then that. Then it started with Pete and Aaron coming out and starting the familiar anthem that has touched us all so. Next was Chinese Mechanic, my new friend Virgil got onstage and tusselled a little with Mike, causing Mike to have a bloody grill, which I got a nice picture of. After this we went to some Michigan scenester party, which was ok, but not totally great. We went back w/ the SF Crue, where I curled up on their Hotel room floor and went to sleep, using a plastic bag of shoes, and someone's pair of jeans as a pillow.
Next day, after breakfast at some sort of Family Diner with murals of Abbot and Costello, I Love lucy, and a mislabled Three Stooges (Larry and Moe were mixed up), the Mpls crew got our own room, which Virgil also agreed to stay in. Mr. Mots wanted to sleep with him, but Virgil chose me, cause we had a drug bond. The SF's then left to see the Doll Rod's new puppies. We stayed behind, and Mots and Josh watched sports while I took a nap. CEO Coke Limo, aka Mr. Mots, said it would take us 15 minutes to get to the show, which then took us like an hour and a half, due to some confused directions, causing us to miss Nautical Almanac, Mind Flayer, and part of the Wolf Eyes set. 25 Suaves were killer though, and Pete declared that we were all "part of the Bulb Family". That's rad, but I'm not killing any movie stars for you Pete!
Next up, Andrew W.K. This was the third and best time I've seen him, and probably the last smaller club chance for a long time. About half the crowd was on stage, and the people on the floor were jumping and dancing so much, the plaster ceiling of the bowling alley underneath the club collapsed in one area! I ended up meeting Neal, who is friends with my buddy Crazy Jim, who couldn't be there than night, cause he was locked up for missing a probation meeting. Neal was wearing a FREE JIM mesh back hat, which Aaron Dilloway made and wore for the part of the Wolf Eyes set we missed.
After the show was more partying with whiskey back at the hotel room, and Virgil lost his White Castle cherry. Ed ended up spending a bunch of quarters on a vending machine with patriotic stickers. He was going for one of an eagles head melded with an American flag, it was pretty crazy looking. Next morning was goodbyes to the SF people. We went over to Nate and Aaron's house, smoked up a little, and watched some early Butthole Surfers show, featuring a naked Gibby, who at the time looked fresh off the football team. Before he was naked he had a t-shirt with a smiley face w/ a swastika on the forehead. "Does anyone want my political t-shirt?" he asked. Someone did, it was a great t-shirt.
Afterwards was the hell-ride home, which MSG also drove straight through. Big ups to Motz's driving!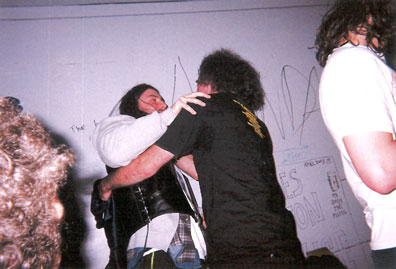 How Pete negotiates with Bulb artists.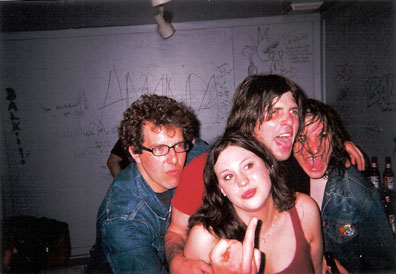 Spoils of war.
For more photos by Sir Reggie Queequeg from the backstage of Bulbfest and beyond, see http://www.freedom-from.com/images/
Bulbfest. And, see C.M. Bligablum's Bulbfest diary this issue for Queequeg snaps of Quintron, the Dollrods, and the bloodied lip of "Marlon Magas."