Phi Phenomena on Wheels
September 6-17, 2001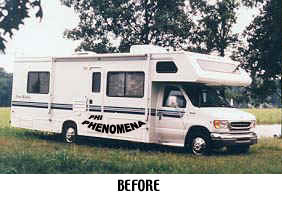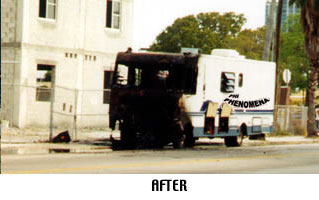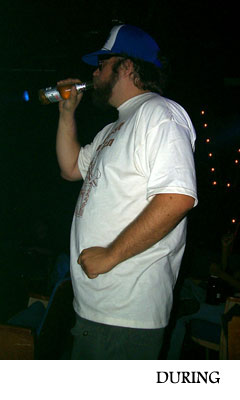 PHI-PHENOMENA is an annual festival featuring 10
bands performing in one hour, each playing a
5-minute set with 1-minute breaks in between.
The festival was held in New York in 1996 and
1998, Boston in 1997, Minneapolis in 1999, Los
Angeles in 2000, and Miami in 2001.

PHI-PHENOMENA ON WHEELS marked the first effort to
take this festival on the road. Approximately
10 bands travelled from city to city in a RV from
September 6-17, 2001. (Some groups were drawn from
the local scenes of each city. A few bands did full-length sets
as opening acts.)

Consolidated Financial Highlights:

City/Gains/Satellite Car Gas
New York .....$ 222 - 25 EO
Philadelphia ...$ 0 - 15 NE
Washington ..$ 82 - 10 EO
Pittsburgh ....$ 20 - 10 NE
Columbus ....$ 21 ----
Cleveland .....$ 45 - 5 EO
Chicago .......$ 31 ----
Buffalo .........$ 100 - 20 UL
Rochester ....$ 120 - 25 UL
Providence ...$ 60 - 15 UL
Easthampton $ 55 - 15 UL
Lebanon .......$ 93 - 23 UL
Boston ........ $ 90 - 20 UL
Total .......... $ 939 $ (- 178)

Miscellaneous
- 10 train RV pick up
- 7 road map
- 10 toll
- 5 toll
- 2 toll
- 7 RV lav fluid
- 2 motor oil
- 36 hotel
- 7 toll
- 7 toll
- 3 towel rack
- 10 toll
- 10 toll
- 2 toll
- 2 toll
- 15 RV lav dump
- 6 RV wash
- 10 RV lav dump
- 161 xtra mileage
- 15 train RV drop off
Total $ (- 327)

Mileage RV Gas in $ Station Location
14125 (start) ny
14335 - 55 phil
14685 - 63 dc/pitt
15003 - 66 col/cle
15340 - 69 cle/chi
15460 - 25 chi
15739 - 75 tol/cle
16043 - 60 buf
16247 - 55 alb
16604 - 55 eh/leb
16839 - 56 bos
17097 - 55 ny
Total 2972 miles / $ (- 634)

$(-178) + $(-327) + $(-634) = $(-1139)

$939 - $(1139) = $(-200)

RV rental 11 days / $780 + 2500 pre-paid miles / $625 + insurance / $140 + tax / $95 = $(-1640)

$200 + $1640 = $(-1840)

$(-1840)/16 = $(-115)
$115 - the cost for each RV passenger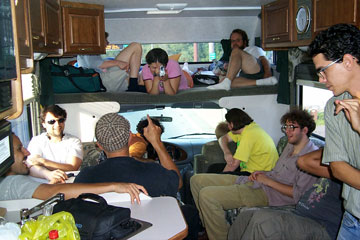 Show #1
Thursday, September 6th
Brooklyn (Good/Bad Art Collective)
Dear Diary.
Today I was on a train and it stopped in the tunnel and we all had to evacuate single file out of the front car. Somebody had jumped under the train and they were going to shut off power to everything including the third rail. I was already running late for the PHI-PHENOMENA and I wasn't looking forward to walking through the tunnels to another train line. I am definitely not psyched about being in the city tonight. I wish I was holding a baseball bat right now, like the psycho walking towards me.
Synopsis:
The GOOD/BAD show wasn't all bad, or good. VERA MERE came with a pleasure plague of drones and whistles. MADAME CHAO suzuki master sushi chef on the scene cutting up Helen Keller Research Institute tapes and causing general confusion. Log date 09/06/17, 00:00:01 hrs.., We're already into our first minute and the PHI works like clockwork. Every five minutes a new act sets up in a different part of the room and starts performing. RAT BASTARD tapped me on the shoulder. He was looking for NEWCENTURYSCHOOLBOOK.COM, the next to last act. She was selling raffle tickets from a booth for the Mother Love Raffle show. When RAT got on the mic to introduce her, she suddenly stepped out of the crowd and onto the stage wearing an enormous red costume. The lucky raffle winner was invited to step inside of her costume - she lifted her arms up to reveal a door, complete with handle, sewn into the back. The winner climbed in and disappeared behind the folds. She sang a couple bars of her theme song to the lucky winner until the 5 mins was up and then helped the person climb out. They looked like they were going to vomit, they were so embarassed.
Good/Bad NY:
Ancora stordito dal fuso orario. Un po' impaurito e teso , comincio a pensare se davvero ce la faremo a far stare 10 concerti in un'ora ... Vedo uno strano tipo con un cappellino e strani occhiali scuri, che sembra qualcosa tra un bambinone ed un redneck ... ...per poi scoprire che fa parte del tour, si chiama Asthmatic, ed uno degli artisti pi interessanti ed un tipo carinissimo, come del resto
tutti quanti in questo circo ... la grande performance di Adam Chao ... la prima volta che vedo i Lotus svegliandomi alla fine del concerto e realizzando che andato tutto bene , e che cominciato il Phi Phenomena .
Day one- Sept. 6th
I leave Rochester at 10:00 AM in a rented minivan full of equipment with Joe, Finkbeiner, and Nuuj. The van smells like puke and there's a decent sized stain of unknown origin on the one passenger's door. We are off to a good start.
We stop in Scranton Pennsylvania to get gas and grab lunch. Nuuj spies a book/record store and we stop to get "road music". Nuuj buys a Lamb of God cd and Man Machine by Kraftwerk. Finkbeiner picks up Black Flag- the First Four Years and Eric B. & Rakim-Follow the Leader. Jason will promptly leave these cd's in NYC and not get them back until July the following year. Joe buys a cd of Turkish folk music. I'm saving my record buying money for NYC and Easthampton.
We make real good time and hit NYC at 4:00 PM. We stop by See Hear zine shop and Other Music. Grab some pizza on St. Marks and head over to Brooklyn. We have a hard time finding the club (Good/Bad Art Collective).
We drive by the place 2-3 times before we actually see it. Of course we are the first ones there. We hang out until the owner shows up and opens the place up. Rat Bastard and the Laundry Room Squelchers are the next to arrive. They took a train from Miami to NYC, YIKES!!!!!!!!
Andy (U Can Unlearn Guitar) is the next to show up. He regales us with disturbing Bunny Brains tour stories.
The place fills up pretty fast and the first show of the tour starts. The Lotus are on first doing their IDM versions of The Locust. Vera Mere is next. It's one guy playing laptop glitch stuff. The crowd mostly drowns him out with their talking. I spot Momus in the back of the crowd wearing his fake eyepatch. I ask him if he's Zoogz Rift.
Madam Chao rips through an amazing seizure inducing set of blinding super-fast edited videos and heavy duty gabber/
grind noise. Absolutely stunning and stupefying stuff! Pengo cover the middle section of Don't Fear the Reaper by Blue Oyster Cult and it sounds like the Dead C on Qualudes. The Laundry Room Squelchers close out the night with special guest Russ Waterhouse. They tear down the house.
After the show we drive to the upper westside of Manhattan to crash at Kyle and Tali's apartment. On the way there we pass the World Trade Center. It looks gigantic in the night's sky.
Kyle's place is wall to wall crazy junk everywhere. I lay down and sleep on the floor next to a old cash register and a box filled with tapes. A hand painted sign over me reads "Welcome to Lambchop City".
Friday 9/7/01
Rat didn't go to mexico. He finally showed up with the wheels, a 29 foot Class C recreational vehicle, at about 5pm. This made getting to Philadelphia for our 6pm show, already rescheduled to 7 a challenge. Once past the stalled car on the bridge and while sitting in traffic on the Jersey turnpike we realized that even 7:30 would be tough so Andy called DotDash and said we were on our way and would arrive by 7:25.
Otherwise the tour was off to a decent start. Good/Bad seemed pleased after our first show last night and they even opened up the garage door so we could load out. There was a bit of a panic about Unconditional Loathing not being there, but we soon realized they weren't scheduled to play and weren't meeting us until Chicago. Of course Brian McMahan didn't show up either but there were three other opening acts and people loved The Lotus with their government surplus Zenith Systems Data Processor and their multicolored collectible 3.5" floppy disks. The Phi-Phenomena clocked in at just over 56 minutes not including the less than one minute introduction for Newton who started off the first Phi-Phenomena on Wheels show.
Day 2 - Sept. 7th
I wake up to the sound of Kyle's alarm clock going off. He has to go to school today before he can leave on tour. Joe and I drop off the minivan to the rental place on E. 24th street and take the subway back. Nuuj is now awake and looks like a train hit him in the night.
Rat and the rest of Miami gang shows up. Cash is gathered for the RV that we will be touring in. Rat, Dan (Doersam) and Finkbeiner set off on the subway to Holyoke to pick the vehicle. After what was described as a odyssey unto it's self they return with the RV.
It's pretty damn big, but we have 15 people plus equipment to fit into it. When I was asked if I wanted to go on this tour the thought of 15 people jammed into one RV for two weeks seemed funny and pretty ridiculous. Now that it's reality, it just seems ridiculous. We eventually fit all the amps, instruments, props and equipment into the bottom compartments, guitars go in the shower. In the next couple of days this exercise will be done in less then five minutes.
We head off to Philly and promptly hit Friday evening rush hour. Traffic is stop and go for about a hour but once we hit the New Jersey turnpike we make pretty good time. Dan is driving and is trying to get used to the way the RV handles. Whenever he makes a slightly fast movement with the vehicle half the passengers feel the need to yell out "Whoa!!!!". Temple of Bon Matin is the opening band here in Philly. It's a relatively new record store called Dot-Dash. I've seen Temple perform over 10 times over the years and never seen the same line-up, tonight is no exception. Ed is wearing his drumkit. It's all attached to his body by heavy ropes. Tonight Temple sounds like the Arkestera jamming with City Boy. Don and Fritz from Big Whisky show up and I have a long talk with Don about silly 80s underground metal and Prog bands. He actually remembers Black Task!!! Pengo mangles a Thin Lizzy cover. I'm playing my floor bass in a totally different room then the rest of the band, I can even see them. I'm sure it sounded brilliant. Heh...heh...
Everyone crashes at Newton's apartment north of the city. I drift off to sleep to the sound people watching the 1978 Star Wars Holiday Special. Total Retardation!!!!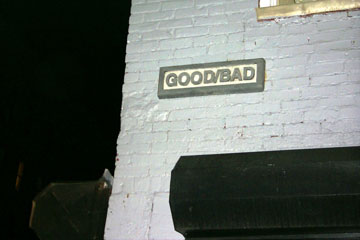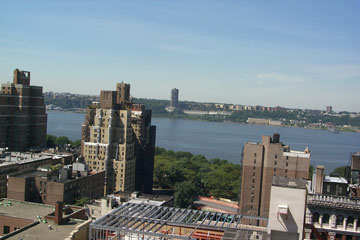 Show #2
Friday, September 7th
Philadelphia (Dot Dash Records)
Dear Diary,
Today was our first day on the road riding in the RV and when you're sitting in the RV it seems so cramped but when you're standing outside looking at it from a distance it seems spacious. Distance is the key really and so when we got to DOT DASH record store I quickly put some distance between me and the RV. I asked the clerk where the stage was but there was none, just a tiny 7 inch room rapidly filling with amps and people. I asked the genius NEWTON if he had found a good place to set up and he pointed at a closed back door, a bathroom. I looked in and realized that it was even smaller than the RV's bathroom. This will do very nicely for a stage. Before anybody could get ready, the opening band had already started.
Syn-opitics:
LOTUS were wearing black outfits and doing surprise jump kicks while singing karaoke-karate.
DEMONOPHONIC, a burnt-umber ambient act that totally
paralyzed me.
TEMPLE OF BON MATIN, sing-yelling, bang-drumming, and fight-dancing themselves into a smelly sweat, starting tonight they have joined us for the tour, lucky for us they have their own car.
Then, I saw NEWTON sneak into the bathroom so I knew he would be performing soon. We opened the door and found him on the floor wearing a furry bee outfit hunched over his guitar, this was to be a rare solo flight. NEWTON started with his guitar - plucking out some fierce twangs. He looked so confused rolling around on the floor, but apparently he was playing several instruments at once. Next to his elbow was a
rack of nobs for twisting that seemed to release various growling tones, but I couldn't tell for sure. NEWTON had crawled in front, hugging all his equipment at once and humming in falsetto like a child. Then he stood up, thanked us and courteously closed the bathroom door behind him.
DotDash Philly :
il mio primo concerto in un negozio di dischi .
il mattino dopo un grande mattino , e scopro che i Cubani hanno VERO caff con loro . Questo rende la prosecuzione del tour molto migliore ...
Parlo coi Cubani e scopro di avere un gran "feeling latino" con loro.
Saturday 9/8/01
We had to stop for supplies before we "crossed the bridge" into dry Philadelphia. After the stop we got to DotDash quickly. Eloe Omoe already had their gear set up in the back room which along with the Grand Lizard pinball game took up more than half of the space. As we arrived there were fireworks we couldn't see that we were assured weren't gunshots. Apparantly they do this the last friday of every month at Penn's Landing, where William Penn landed. Philadelphia makes sense that way and we ended up staying in Ben Salem, where Franklin first sailed a kite. Temple of Bon Matin warmed up the show, complete with their requisite ropes and duct taped drum heads. The Phi-Phenomena clocked in at 55 minutes and 40 seconds though estimates ranged from 54 to 57 minutes. On the way to DC we learned that Andy is indeed a great chef and that the RV's bouncing actually improves the microwave's cooking of veggie burgers.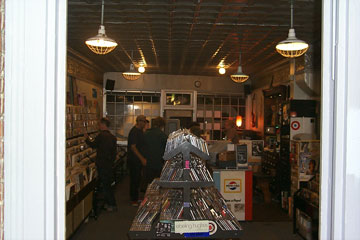 Show #3
Saturday, September 8th
Washington, DC (M.O.C.A.) 8pm
Washington DC , MOCA :
strana zona, buon concerto
Day 3 - Sept. 8th
I wake up and take a shower. Watch cartoons on the tube. Newton has a scary Star Wars obsession. Tons of videos, DVD's, toys and various paraphrenalia. He also has a video entitled Power Muff Girls.
We grab some supplies from a huge supermarket down the street. While shopping, we decide to perform a impromptu concert in the animal supplies isle with squeaky toys, much to the staff's dismay.
On the way out of the city we stop at Pat's Philly Cheese Steaks. I get a killer sandwich with mushrooms and hot sauce. Joe has stopped eating meat about a month earlier and literally had saliva running down his chin.
We are playing an art gallery in Washington D.C. tonight. It's located in the yuppie hellhole Georgetown. Traffic is a total nightmare but we luckily find a parking spot right in front of the gallery. Another carload of people from Miami show up. It's the rest of the Squelchers and the Dixie Prix who are now calling pronouncing it as the Dixie Pre. The gallery owners are very friendly and tolerant of our spastic noise even though the turn out is less then stellar. Tonight Ovo's set is particularly good. Very abrasive.
We drive through very dense fog and winding dark roads until we hit Kirby PA. Finbeiner can no longer deal with the near zero visibility and drunken backseat drivers so we stop and sleep at a truck stop. The smell of the toilet gets strong for the first time. It needs to be dumped soon.
Dear Diary,
After playing the bathroom show in Philly it came as a not-so-guilty pleasure to grace the stage at the Museum Of Contemporary Art in Washington, D.C. Finally something to put on the resume.
Psychosis:
RAKE played an insane psychodelic set that touched on
total noise and total silence, psychedelic silence.
U CAN UNLEARN GUITAR was equally insane but totally un-psychedelic. I was expecting him to teach some kind of absurdist class on how to play guitar, and that's exactly what he did. For part of his act he chose a member of the audience to get up on stage with him and give a testimonial - she was obviously a plant, and her guitar playing was just awful. Mr. Unlearny, was no better than she was, in fact worse, and he wouldn't even stop singing after his 5 mins was up but the crowd was eating him up.
ASTHMATIC was the only one who, I felt, really looked like he belonged at the Museum Of Contemporary Art show. His technique was simple yet effective, blowing into a toy horn until he ran out of breath. It was a contemplative sound, filled with nuance, subtlety and slobber, psychedelic slobber.
Sunday 9/9/01
At the MOCA DC locals Rake showed Eloe Omoe how to bow a cymbal (and a guitar) but Eloe Omoe played in a different room, where we moved Ed Kelley's "Reel Retrospective". Rene dragged some kids in off the street and they stayed for 3 Phi acts. The Phi-Phenomena clocked in at 52 minutes and 18 seconds. On the way out Alex continued his espresso magic as we started our night's drive. Dan was eager to start drinking and Rat couldn't keep the RV going straight so Finkbeiner took over. Though we had to miss the Duck Fair with its decoy painting, tent, and carving competitions, we did manage to dump our holding tank and someone managed to wrestle a soft caramel magnum from a vending machine without pulling it over on himself. Finkbeiner kept driving as Joe got him so riled up he couldn't sleep even when we pulled into the Kirby rest stop at 5:30 for a few hours sleep. The Coal Miners' Monument and news of the tragedy that had befallen 37 miners 460 feet directly below the rest stop interrupted some of our sleep cycles and talk of strategies to escape bears didn't help either. By 9 we were back on the road though we had to make a quick stop for gas and a long detour looking for a KOA with blue toilet solution. The people who had gotten Philly Cheese Steaks when we were in Philadelphia got McDonalds for breakfast, prompting Stefania to comment to those remaining in the RV, "The McDonald's is the max of the shit."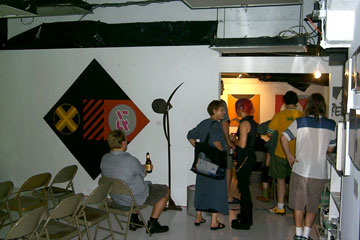 Show #4 and #5
Sunday, September 9th
Pittsburgh (Millvale Industrial Theater) 3pm
And Columbus (Madlab) 9pm
With an hour or two to spare we checked out Pittsburgh's Warhol Museum and performed as newcenturyschoolbook.com's flower girls, wearing slinky outfits and utilizing Warhol's silver clouds. Manny showed up at 2:45 for our 2:00 concert at Millvale Industrial Theater. Since he had the keys, Andy had already made wheat gluten that almost expanded out of the pot and we had already started to set up the gear. Manherringbone, the local opener started to play outside. The music outdoors raised some interest from a nearby house so the rest of the acts played inside. After a 52 minute and 10 second Phi-Phenomena we were on the road to Columbus by 4:30.
Pittsburgh , Milvalle :
primo concerto pomeridiano del tour
il primo gruppo spalla suona fuori dal locale
perch l'organizzatore in ritardo ...
il miglior concerto dei Lotus
Pittsburgh sembra una citt molto grigia ...
Dear Diary,
I don't know how long I slept or when I woke up but I remember opening my eyes, looking around and thinking that we must have been totally lost. We were in a dusty junk yard. We were the only people there and it was totally deserted, so we used this time for smoking and drinking. A little while later a guy and girl drove up and we asked them if they were the ones who set up this show, but they just came to see it, now at least we have an audience. Since there didn't seem to be a stage, or any place specific to set up, we cleared out a spot in the driveway next to the RV and unplugged a Coke Machine to use a power supply.
Shizopsis #4:
MANHERRINGBONE is the first one man enough to just plug in and start making noise. It is a loud and proud and lonely sound. Before he could finish, this skgoth (ska-goth) dude showed up and brought us around back to an actual stage with monitors. More people turn up and the show continued inside.
PENGO miraculously turned this gloomy stink-hole into a full arena experience. I'm not sure if its just for special occasions, but PENGO has a reputation for covering only the most rockingest parts of the most rockingest rock songs. Like tonight, John announced that they were doing that middle section of "Whole Lotta Love", and then proceeded to explode into a molten rock-noise jam.
Shizopsis #5:
4 hours later, we got to Columbus a little bit after 8pm, just in time for the dusk to settle, and the Ohio crackwhores to come out. Madlab is such a cool club, there was one main stage and several sub-stages, enough for us all to set up on and fall off of if we chose to do so.
LARRY MOROTTA opened for the PHI, playing his guitar as if it were a piano and playing his shoelace as if it were a cello.
DIXIE PRIX have now joined the tour as the uncertain warm-up act, using an industrial sized smoke machine as the main spectacle. It was hard not to react to Jared's awkward posturing. Like an enigma wrapped within a paradox posed as a quandary - they are so un-original they are totally original.
Day 4-Sept. 9th
We arrive in Pittsburgh in the late morning and go to the Andy Warhol Museum. Half of the RV does a performance piece in the balloon room. The security people watch us like a hawk. We play an afternoon show at the Millvale Industrial Theater. Manny the promoter is late. We can't get into the club and time is of the essence because we have to drive to Columbus, Ohio right after the show to play again tonight. The local opener Manherringbone does his set in the parking lot next to a graveyard of dead and rusting vending machines. Manny finally shows up and everyone jams their set in record time to a audience of five paying customers.
The club in Columbus is called MadLab. It has a really great sound system and everyone's set is extra loud. The Dixie Prix played a Shakira CD through the P.A. and used a smoke machine to fill up the room with a dense cover of dry ice. This bums out certain people to no end. ORTHO's set is all about timing. They are performing to a cd soundtrack. I hold my breath every night watching them race to keep up with and correspond to the cd's end. They have lots of props and costumes and masks that make seeing and moving particularly difficult. They also have one of the most consistently physical performances of the tour.
The friendly Columbus police follow us all the ways out of the city limits.
Columbus , Madlab :
Dixie Prix suona una selezione di musica
folle per pi di un'ora... io mi diverto , ma qualcuno si scazza ...
i locali americani mi ricordano ogni giorno
di pi gli squats europei, bene bene ...
Monday 9/10/01
MadLab advertised the Phi-Phenomena on wheels as "8 bands! All in one hour! Gadzooks!" Maybe because of this false promise, or maybe because the theater brought out the desires for endurance performance in some Phi acts, the Phi-Phenomena lasted a whopping 66 minutes and 21 seconds. Larry Marotta Trio had gotten us in the mood with their foot guitar and hand to mouth sock bowing. After the show, some members of the Phi Tour insisted that we get a hotel room which 7 people stayed in, leaving more room for the rest of us in the RV. The hotel room had a nice shower that even those who stayed in the RV enjoyed. Also, the hotel was right next to The Odd Fox, a show bar, that was closed in the morning, and a Giant Eagle Market, that was open.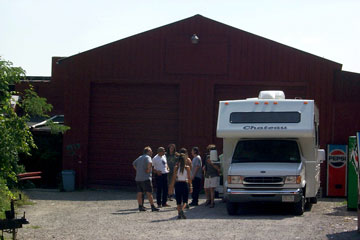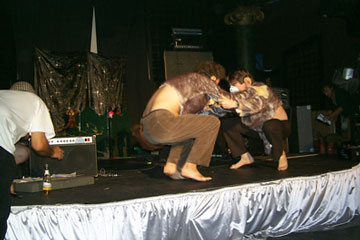 Show #6
Monday, September 10th
Cleveland (Speak in Tongues) 10pm
Day 5-Sept. 10th
We breakdown and get a cheap hotel room the night before and I grab a much needed shower in the morning. Since we only have a short distance to drive to Cleveland today we hang out in a park for several hours. I walk deep into the woods just to get some distance between me and everyone else on the RV.
With everyone living on top of each other I'm starting to miss having any personal space and as a result find myself feeling pretty cranky today. The show is listed at Speak in Tongues simply as 10 Bands in One Hour. Good to know that the promoter did a fine job getting the details ironed out. I grab dinner down the street at a tiny diner filled with what looks like a bunch of middle-aged junkies all waiting to score. On my walk back to the club I'm hit up for cash at least 4 times. Cleveland Rocks!!
Gerard Klauder of the Dixie Prix sets the tone of the evening by playing Tales From Topographic Oceans by Yes in it's entirety through the house P.A.. This raises the tension level inside the club tenfold. Gerard stands alone on the stage under the spotlight and drinks a 12 pack of beer with the slightest smirk across his face. The door guy tells me how Yes ruined his life. Supposedly he used to do tons of drugs back in the 70"s while listening to Yes. He tried kicking drugs but every time he heard Yes he would fall off the wagon. He eventually joined a monastery in Ithaca, NY to get clean. All those years wasted, and he blames Yes. Ed Wilcox protests by saying that Yes are O.K. but not as good as Man or Barclay James Harvest. I add "or Hawkwind". Ed counters with "or Motley Crue." Two local zany noise bands play next and most of the Phi folks get trashed on Ouzo and beer. Doersam's set consisted of Dan being whipped by Paige with a belt. ORTHO manage to break most of their props during their allotted time. My floorbass breaks during Pengo's set so I just scream and climb up on of the P.A. stacks and jump off. How I didn't break my leg I'll never know. Eloe Omo rock like a cross between Lighting Bolt and Harry Pussy. As we load the equipment into the RV a dirty biker/tweeker is walking around holding a baby possum by it's tail. He's trying to get someone to buy it from him(and do what with it?). It's real late once we get rolling and everyone is pretty drunk and tired. Nuuj passes out sitting up and at one point in the night starts punching people in his sleep. I go to use the bathroom and trip over Nouri who is passed out on the floor in front of the bathroom door.
Cleveland , Speak in Tongues :
Penso che questa sia stata la notte in cui
Dixie Prix ha suonato un cd degli Yes per un'ora
uno dei Cubani discendente di Antonin Artaud...
Dear Diary,
Cleveland, Speak in Tongues, home of the Rock & Roll Hall of Fame and the famed U.S. Rocker, as well as their steamers.
Synopposis:
DIXIE PRIX set the mood with their YES set. It
blended in so perfectly no one seemed to notice. Met
up with the other bands in the bathroom, smoking and
drinking.
Sean got on stage as SCAM CARNAGE VS TEENAGE GRANDPA, sort of a battle of the brats with lots of screaming
and guitar solos. I think I remember him yodeling. Next was ELOE OMOE, another duo, just bass and drums and a mindboggling tower of amps. They were actually traveling in their own van, and it had to be a van because of the sheer number of amps their set required. What they do doesn't sound like music, or noise, more like alien conversation, like giant monsters trying to fix their teleportation machine. Out front, a drunk individual was holding an oppossum in the air by its tail, trying to get us to pet it.
Tuesday 9/11/01
Even though the drive to Cleveland was short, we had time to have 3 puppet shows that all lasted 5 minutes and were prepared in 5 minutes. The first round of our puppet-off concerned hiring a dominatrix. The deck above the driver's seat, with its curtain, made a suitable stage as Nuuj had previously discovered. We stopped at Coyahoga National Recreation Area on the edge of town for some nature and eating. Then we hit Speak in Tongues where Dixie Prix played a one hour record/set, and Tanya made a friend. We were also introduced to a captured baby possum and were told that it would be let go since the captor was an "animal lover". The Phi-Phenomena lasted few seconds over 50 minutes and we drove through the night to Chicago. In the morning, Andy informed us of the World Trade Center attack and we listened to the news on the radio as the Sears Tower came into view. When we made it to St. Jon's she had prepared an incredible spread, complete with dried mango. Aside from some eats at the apartment and a meal at a raw food or pizza place we spent most of the day watching the news and trying to get in touch with folks at home.
2AM, Cleveland: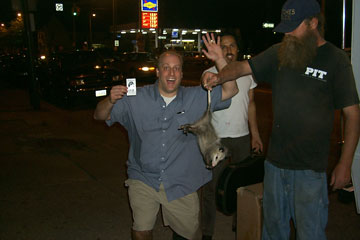 11AM, Brooklyn: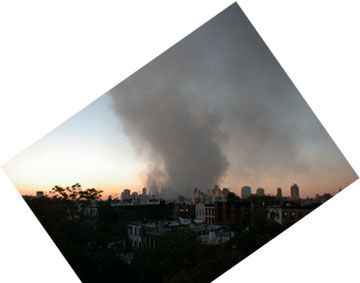 Show #7
Tuesday, September 11th
Chicago (Fireside Bowl) 10pm
Dear Diary,
Lounging on the sofa at St. Jon's apartment watching CNN and stuffing our faces with yogurt and granola. Going out for a latte in the afternoon. We got to the bowling alley early and watched some shitty skgoth band finish their set and take down their ornate stage candles, urns, wicker baskets, wreaths, vases and pedestals.
Synopsisisis:
UNCONDITIONAL LOATHING joined us for the first time.
There seemed about a dozen of them walking through the crowd in white suits ordering everyone around. Each one was a mobile unit with a bullhorn, flashing lights and battery powered amplifiers. I felt like I was tripping at a rap show and Devo was doing the security.
THE LAUNDRY ROOM SQUELCHERS played last. The soundman was already having problems with Paige from earlier, so when he saw that she was squelching with the headlining act he got really pissed. She was taking off her clothes and threw her drink on the sound board, so he turned it off and started punching at her. Other than that we hardly even got paid because the doorman/soundguy conveniently forgot to charge people at the door.
Chicago, Fireside Bowl :
Il giorno pi intenso del tour. E' l'11
settembre, e doveva essere la data
meglio pagata e pi affollata. Ovviamente
nessuno si presenta, beh, giusto qualcuno.
c' un hardcore matinee, poi noi.
Riincontro Matt Bacon.
La ragazza in tour coi Laundryroom Squelchers
inizia una rissa con la security ...
Orsacchiotti per tutti ...
Day 6 - Sept. 11
I wake up to the sound of Andy's cell phone ringing. It's his girlfriend telling him about the attack on the World Trade Center in NYC. We turn on the radio and hear about the hijacking and that one of the planes might be headed for the Sears Tower in Chicago. I look out the windshield and see the Sears Tower about two miles directly in front of us. We are stopped still in a terrible traffic jam. I look out the side windows and can't tell by the looks on drivers faces if they know the news yet. We drive to a friend of Kyle's apartment and she's getting ready to go to work. We tell her about the attack in NYC and she turns on her TV set. The TV doesn't have cable and it gets terrible reception. You can hardly make out what's happening on the screen. We watch jumbo jets crash into the twin towers through a heavy layer of static and fuzz. I go back to sleep on the floor and hope that everything is a dream and soon Nuuj will be punching me in the head. Around noon we go to a Chicago deep dish pizza joint and watch everything over again on the big screen. Everyone eats their pizza in silence with the occasional "What the fuck" muttered under their breath. There's talk about marshal law being imposed in Chicago and having the national guards patrol the streets, so we head down to the Fireside Bowl early to make sure that the show is still on. There's an Emo/
Hardcore show just wrapping up. I hang in the bar and watch the Congress sing God Bless America on the steps of the Capitol which makes a surreal day seem even weirder. I felt like I'm watching some crappy Hollywood movie. I'm
waiting for Rambo or Ernest Borgnine to walk through the door. After the Emo bands pack up their amps and candle operas (I'm not kidding here!!). Panicsville fill the room with their sour electronic sounds. Pengo tells everyone we are covering Rush tonight. In reality we mostly make farting sounds with broken electronics. U Can Unlearn Guitar's set tonight reminds us again that Andy is the Bill Murray of Noise. Paige gets into a fight with the bouncers and ends up naked on the stage during the Squelchers set. People keep telling us that there's gas and water hoarding going on in the south and that the price of gas is already been raised by 25 percent.
We decide to get as much distance between us and Chi-town as possible.
Wednesday 9/12/01
After checking out the Nervous Center, we went to the Fireside Bowl, where a few Emo bands were playing an earlier show. They moved their vans out of the way so we could pull up and load in. We had background music before the show which included a sample "Negative Thoughts" and had a new opening act, Panixville. The Phi-Phenomena set a new record of close to 40 minutes and was joined by a new addition, Unconditional Loathing, who approached the audience with megaphones. Most of us stayed clear of the bowling lanes but Paige started lining up empty beer bottles as pins. The sound man, who was more concerned with his magazine than the bands' levels, tried to stop Paige from bowling. In the argument that ensued, the sound man ended up with a wet face full of Paige's drink. We left the club and drove all night to Buffalo.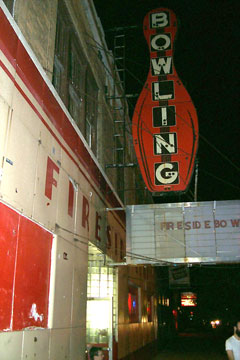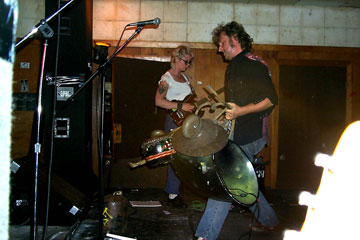 Show #8
Wednesday, September 12th
Buffalo, NY
Day 7 - Sept. 12
We drive straight through the night and morning to Buffalo. We find a parking spot right in front of the club and embark on a search for chicken wings.
The show is pretty uneventful except for the terrible opening band. Crappy Wax Trax meets Mr. Mago goes goth. At first I was cracking up because I thought they where putting everyone on. Once I realized that they where serious I was just depressed. Their bald 40 year old lead singer was wearing torn pantyhose on his arms and was swinging a hunting knife around bellowing into his microphone such pearls of wisdom as "Watch out, Sucker" "I'm gonna stab you baby" " "That's right, S-T-A-B!!!".
All 10 bands play in less then 40 minutes.
We drive to Rochester in about a hour and people split up sleeping at Finkbeiner's, Nuuj's and my apartment. I take another shower and kiss my sleeping wife.
Buffalo , Continental :
Riincontro PFO.
di fronte al club c' un bidone
dell'immondizia , lo apro , completamente
vuoto salvo per una siringa ...
visitiamo il museo d'arte
un tizio chiede al tipo della security alla
porta che cosa c' quella sera
... il tizio alla porta gli dice che pu
tornarsene a casa , c' solo del
noise di merda ...
Thursday 9/13/01
Though we arrived in Buffalo early, we didn't go to Niagara Falls because we feared problems and congestion near the border. Instead we had lunch, where those interested had wings, and went to a museum. Our show at the Continental had a sound man who knew Rat's old band, Scraping Teeth, and featured ORTHO's new lineup with Clay as Alien, and me and Nouri as Monkeys. This set also had a new lineup for Mother Love, with Andy wearing the costume so Tanya could experience the other side. This Phi-Phenomena broke another record, lasting less than 40 minutes.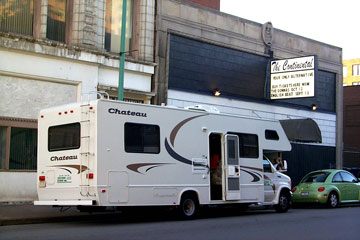 Show #9
Thursday, September 12
Rochester, NY
After the show, a short ride to Rochester gave us a chance to spread out in the houses of John, Nuuj, and Finkbeiner, leaving a few people in the RV with extra space. When we woke up, an all you can eat indian brunch (choice of vegetarian/vegan on one side of the street or with meat on the other side) left us barely able to walk. We checked out some record stores and got some love from Justin from Analog Shock, before dinner at Mex, which again left us barely able to walk.
Rochester , Monty's Crown:
uno dei giorni migliori : mangiamo in 2
ottimi ristoranti ( indiano e
messicano ) e siamo ospiti dai Pengo ,
facciamo la doccia , laviamo i
vestiti , ci rilassiamo ...
il concerto ottimo , uno dei migliori del tour
Day 8-Sept. 13th
I end up doing laundry most of the day including all of Ortho's monkey suits. I watch lots of TV and nap on and off the rest of the day. The show is at a dump called Monty's Krown. The staff hates Pengo and all of the weirdo noise bands we bring there but the owner always allows us to book shows there because they always sell lots of beer to our crowd. The place is packed tonight. Both of the local papers ran stories on the tour. Lots of people I've never seen before are milling around waiting to see a freak show. I'm M.C.ing to night so I get pretty loaded. Unconditional Loathing joined the tour in Chicago and put on a hilarious set tonight. If Reynols was a hip-hop band they would sound like this. Eloe Omo's van crapped out on them in Chicago and they missed playing last night and tonight. In their place Rene has done solo
electronics sets under the name Olivia Neutron Bomb. Lots of screeching and exploding sounds fill the air. Pengo plays its last show of the tourand we go all out. I spend most of the set jumping on tables and knockingover beers trying not to stab myself in the face with my saxophone.
Friday 9/14/01
Nod and Praying For Oblivion opened for us in Rochester at Monty's Crown. The newspaper coverage of the Phi-Phenomena featuring Tanya's picture, lifted from the newcenturyschoolbook.com website helped to bring out a large crowd. After the Phi-Phenomena, which lasted about 46 minutes, we heard complaints that someone had paid to hear a whole hour of Phi-Phenomena. We returned to the houses of Pengo and Asthmatic for another good night's sleep that was only disrupted by Hooch and libations. John and Rene were showing particular signs of damage on the road to Providence this morning, though almost everyone napped, using the extra room left by Joe and Nuuj, who stayed in Rochester.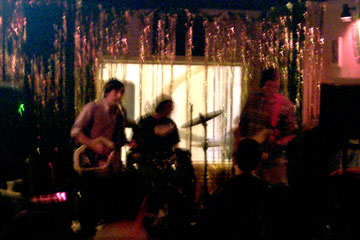 Show #10
Friday, September 14
Providence, RI
Day 9-Sept. 14
I awake with one of the worst hangovers ever. I sleep most of the way to Providence. There's a million other bands playing on this show as well as us.
It's supposed to go most of the night. I finally decide to I should try and eat something. I walk around the corner from the club and have a hotdog (they call 'em wieners here in Rhode Island). I sit at the counter and order. the guy behind the counter is sticking the hotdog buns to his sweaty hairy arm and adding the condiments to them. It's a highly unnerving sight. People are coming in and buying bags filled with wieners that this man had just had stuck to his arm. Against my better judgement I eat my Weiner and fries. As I leave the diner the cook yells out to me "See ya later chief!" with a accent that sounds exactly like Ted Kennedy.
Back inside the club it feels like it's over 100 degrees. A guy in a three piece suit is on stage singing about Paris and pointing out details on a map that's being projected on the wall. I try to sleep in the RV until Finkbeiners tour debut but I keep getting woken up by people running in and out of the side door and some crazy girl is singing Jewish folk songs at people. So rest I do not. During my performance I feel like I'm gonna puke or faint or both. The rest of the night I sit on a bench and stare at my feet.
Providence :
sono ammalato , succedono un sacco di cose ma
io sto troppo male e dormo quasi tutto il tempo
gli Eloe Omoe rompono la macchina , in
qualche modo arrivano in ritardo,
suonano un gran concerto
il posto fichissimo , un sacco di gruppi e
di gente , non la serata giusta
per ammalarsi ...
incontriamo MC Cathy Cathodic
Saturday 9/15/01
We got lost, taking us through a ritzy part of Providence. In fact, our mapquest had a star on City Hall, which did not turn out to be where we were playing. After some circling and a brush with a van's mirror we eventually got directions to Olneyville and the Hive Archive. The festival we were part of was a benefit for breast cancer and had at least 7 bands other than the Phi-Phenomena. The Phi-Phenomena included Danse Asshole and lasted for a while. Eloe Omoe was left out of the set, but showed up later in the evening when their Dodge Ram was towed in on an inclining flatbed truck and managed to perform. We stayed overnight but left at about 8:30 AM so we could get to the Ecstatic Yod collective by 10:30.
After some record shopping we went to the flywheel. Foot opened, playing a Volvo from out front that had Jim O'Rourke on the roof with a powerball. The Phi-Phenomena was joined by Django Reinhart III who made guitar fun again. Newton made thinly veiled homosexuality fun again while Ovo made dancing fun again and U Can Unlearn Guitar made wheezing fun again. Unfortunately, ORTHO didn't make dying fun.
Show #11
Saturday, September 15
Easthampton, MA
Easthampton, Flywheel arts collective:
matinee, poca gente ma posto fico
i Foot suonano il miglior opening act del
tour
Day 10-Sept. 15
It's an early show at Flywheel in Easthampton Massachusetts today and I finally feel somewhat human again. We decide to go to Ecstatic Yod record store first and Rat yells at me because he doesn't think I'm navigating the RV in the right direction to get to there. I've been there at least 5 times before I tell him but the he grumbles right up until we pull into the parking lot. I blow way too much on way too many LP's that I didn't know existed until today. I won't be eating much for the rest of the tour.
Foot which is Thurston Moore, Jim Dunbar and Don Fleming are the opening band today. Their set consists of them sitting in a Volvo station wagon in front of the club with a contact mic. attached to the car speaker. The radio is on AM in-between stations, whenever Thurston revs the engine it makes a loud oscillating effect, kinda like a Theremin stuck in a tar pit. Jim O'Rourke stands next to the car and manages to smoke half a pack of cigarettes about 10 minutes. The guy from Angst Hase Pfeffer Nase does a fantastic set of prepared guitar abuse under the name Django Reinhardt the Third. During Finkbeiner's set I touch my amp to turn it up and get one hell of a shock. I actually see stars.
Next we play the small town of Lebanon, New Hampshire at the AVA Gallery. One of the guys from Son of Earth/Flesh on Bone set this show up. He's also made a giant taco salad for everyone. You could see the fear in his eyes as everyone descended on the free food like a pack of jackles and devoured the grub in what seemed like seconds flat. This show probably had the most mellow vibe. There were little kids and parents in attendance. The show opener is Frosting which is Tanya and Stephenia acting out a light hearted psycho-drama. I sell a lot of merchandise to my amazement. Some one gives us cookies and lemonade at the end of the night. Everyone seems to have had a lot of fun tonight. The locals seemed real receptive and generally enthused by our performances. Later on I find out that the gallery owners tell the promoter he's no longer welcome to book shows there.
Show #12
Sunday, September 16
Lebanon, NH
Lebanon :
tra la poca gente ci sono dei bambini, cosa
avranno pensato?
gran concerto degli UL : tributo ai Cock ESP
il posto ci d da mangiare, la prima volta .
Sunday 9/16/01
We found a place to dump on the way to Lebanon, NH. We also refilled our holding tank from a faucet labeled, "Danger, unsafe water." A journey through the wilderness brought us to Lebanon's AVA gallery. On the second floor, John Shaw had prepared a meal of chips and dips that we devoured before the show. Tanya sang from Die Fleidermaus while Stephania used paint and a scissors to try to kill her in a performance called Frosting to open the evening. Proportionally to Lebanon's size (population 12,000) our audience was tremendous, possibly in part due to our coverage on the front page of the entertainment section of the local paper, which included an encouragement for us to play funky music. The Phi-Phenomena lasted long enough and Unconditional Loathing used their five minute set to do two tributes to Cock ESP, one mime and one acapella, with a one minute intermission for cookies and juice in between. After the show we drove to Boston, where we stayed with Sam and Tim at Infrasound. Sam made a great breakfast featuring grits and potatos and we headed out to explore Cambridge.
Show #13
Monday, September 17
Boston, MA
Boston :
ultimo concerto, grandioso, la fine perfetta
per uno dei migliori tour in
cui sia mai stato coinvolto, e di sicuro il
pi pazzo.
Mancheremo al camper, 14 persone con tutta
l'attrezzatura, Clay e Nugee
che dormono sul pavimento, Rat che guida
tutta la notte e di giorno si
addormenta nei momenti pi incredibili...
passiamo un po' di tempo a casa degli
Eloe Omoe, grandi persone .
Day 11-Sept. 16
I wake up in Tim and Samatha's crazy apartment in Boston.
I find Finkbeiner asleep with a big old cat sitting on top of him (he's allergic) and watch as Rat drinks beer for breakfast. We take the RV to get washed inside and out. We dumped the septic tank yesterday to everyone's relief. The smell coming from the bathroom was beyond nauseating. Someone bought a can of cinnamon scented air freshener to mask the stench of human waste but it didn't really cover it up. So now the RV smelled like someone took a shit on the counter of a donut shop. Tonight I work the merch table and try to get rid of as much stuff as possible so I don't have to take it home with me. I go into used car salesman mode. Everyone's set is a little bittersweet tonight since the NY show at the Knitting Factory was canceled. The Squelcers set is total pandemonium thought. Everyone in the bands gets up and joins in and makes one hell of a racket. I fall on my head several times. I ask every local if they have ever seen Kilslug. I'm greeted every time with the same blank stare. Oh well! We pack up and drive to NYC.
Monday 9/17/01
We returned to Infrasound after our day out and had some time to relax before heading to the Berwick Research Institute for our final show of the tour (the Knitting Factory in New York was closed until further notice). Warm up sets by Zela Zeid and MC Cathy Cathodic and heartfelt, tearjerking performances by all of the Phi acts left us satisfied by wanting more. After the shortish Phi-Phenomena, Puppet Display of Affection, without puppets but with extra spit and piss sent us on our way. Some stayed in Boston and the rest of us headed back to New York, arriving by 6 AM. Rat, Rene, and Alex cleaned and returned the RV.
"THE END"