MORE REAL NEW
RECORD REVIEWS
by Larry "Fuzz-O" Dolman
THE FALL: The Real New Fall LP CD (NARNACK)


One thing about Mark E. Smith and whoever he's got playing with him as The Fall: they don't make bad records. Sure, they've made a lot of records that aren't especially great, but they're always at least pretty good. Those who want to detract can always say that the band has gotten weaker, and they'll be right, and those who want to give props can say that they're still more rockin' than most, and they'll be right too. All the while The Fall keeps chugging along regardless, and say what you will about the changes in overall sound and relative commitment, the Marquis never loses his incorrigible style. For example, this (real) new LP is quite good. After two listens I'm not yet sure if any true Fall classics are going to emerge, but killer hooks do abound, all set within an interesting 'electronic rock of the very near future' production aesthetic.
PANICSVILLE: Sterile CD (NIHILIST)


Someone once coined the term "sour electronics" to describe Panicsville. You know, as opposed to "power electronics," which I think is pretty funny, and accurate too. It reminds me how like 5 years ago Mark Wolberg (not the rapper-turned-actor, some dude from Nebraska) described the sound of U.S. Maple as "sour." Panicsville and U.S. Maple are both from Chicago, and indeed they share something subdued, methodical, grim, and sour about the way they make music & noise, which could well be influenced by the attitude with which a lot of people walk around in this city, especially during the fifth month of each winter. And, both usually offer concepts and themes with their albums, however elusive. Panicsville's Sterile seems to be about hospital perversion and/or the final feverish visions of a person dying in a hospital bed. The album starts with 12 solid minutes of total silence, which I guess could represent death. Then track two "Flatline" begins suddenly with a full-on swirl of definitive Panicsvillation (queasy electronic almost-melody winds along while animalistic guttural voice sounds grind over the top, soon joined by a sample from a kitsch record, properly looped for maximum retardation) which stops suddenly after a couple minutes for some radio theater set inside a creepy hospital. And the queasy fever dreams continue, a highlight being the 9-minute track "Mastery Of All That Is Unknown." Always doing their best with the packaging, Nihilist seems even more inspired than usual by the medical theme; there's the very memorable full-color hypodermic injection photo on the cover, and the jewel case comes inside a swank white vinyl pouch (not pictured). On top of that, the CD comes with a music video that you can play on your computer. It's by another Chicago resident named Usama Alshaibi, who's been getting some press around here because not only is his shit is good, it's pretty kinky as well. His film on here intersperses brief warped-MTV shots of Panicsville playing live in full sick regalia with a lot of other weird shit going on that gives me legit Ken Anger Pleasure Dome/Demon Brother vibes! AND, on top of Sterile, Panicsville has simultaneously released another CD called Perverse (Liquid Death/Hello Pussy), also with a film by Alshaibi! Review coming soon . . . . ?
PANICSVILLE: Perverse CD (LIQUID DEATH/HELLO PUSSY)


I told ya review coming soon, and dammit I meant it! So, I was just mentioning that this Perverse CD also came with a film, and it's listed as track one of the CD, "Convulsion Expulsion." Again, it's directed by Usama Alshaibi, and it stars his wife Kristie Alshaibi, with music by Andy "the guy, oops I mean the dude, who is Panicsville" Ortmann, and, most significantly, make-up by Camilla Ha. I'm not going to say a word about it except that it depicts exactly what the title describes with intense Alshaibi style. The rest of the album is less of a concept thing like Sterile, more a mix of Panicsville styles, focused subgenre-hopping according to the input of an array of guests. Track 3 "Strange Connection" has M.V. Carbon of Metalux singing helium spook vox -- I also saw them do this live at a show and it was cool, but I think it was a different song. Track 5 "Concentration Campaign" has Thymme Jones of Cheer-Accident on drums and he progs out while Kevin Drumm plays grind guitar. Perhaps the first ever Panicsville track with a rock backbeat. And then track 9 "Lent An Ear" has Jeremy Fisher and John Coker on electronics and wow, it's perhaps the best Panicsville track ever, a 14 minute epic of harsh slow psycho ambience that actually imparts 'an understanding of Xenakis'. And then the album ends with track 10 "The Valley Of Eternal Chaos," which sounds like he's been listening to American Tapes because it's slow-psycho-electro-rumble-yowl-grind that's as good as American Tapes #369 or whatever they're up to now. It does shrill up out of the AT cellar into a warped high-scree electro-wonderland that's pure P-ville but by then it's almost over -- as is the album. Another fine work by someone who always takes care when putting out releases. I'd especially recommend this one to people looking for somewhere to start with Panicsville -- the music is excellent and varied, and the opening film will weed out any posers!
THE DOES CDR (NOKAHOMA/HAND-EYE)


Here's a band with some promise -- very fuzzy and heavy Melvins-y dirge rock but with a sweet-and-calm sounding female singer for effective contrast. I wanna say Swans-ish but I've literally only heard about 4 minutes of Swans music in my life -- isn't that weird? It does have goth-rock overtones, even some college goth-rock overtones, which do weaken the foundation of the heaviness a little bit. I can't say The Does have exactly hit it with this 5-song EP -- all the ingredients are excellent, but I feel they've still got room to get more killing with the finished product. For example, first song is raw and heavy, but also kinda college-rocky. But then a super slow and heavy cover of "Stray Cat Blues" is really just pretty kick-ass, and throughout the EP whenever the sassy vocals (by one Carol Anne) ease over the top of the low-end dirge I always think, "Man, good thing she didn't just join another upbeat dance-punk band." I'll keep tabs on 'em and the live show might be worth your while. They're from Canada! Silk-screened cloth cover with skulls on it is excellent.
TRIS McCALL: Shootout In The Sugar Factory CD (MELODY LANES)


I first heard of this guy 2-3 years ago when Badaboom Gramophone published something like 20,000 words about how great his debut CD was by noted rock author and sometime Blastitude contributor Joe S. Harrington. In that piece Uncle Joe seemed pretty excited by McCall's Springsteen-like qualities, and while I actually like about 10% of Springsteen's shit just fine ("I'm On Fire" is particularly a stone killer), it is my sworn duty to treat any favorable comparison to The Boss with suspicion. I am not, however, getting too much Springsteen from this record. McCall is also from Jersey, and he also writes somewhat journalistic and documentarian but mostly romantic and melodramatic lyrics about his regional milieu, but it's a markedly different part of Jersey, both on the map and in the sound -- Shootout In The Sugar Factory is a totally un-Boss record of anthemic hard-driving synth-pop. In Harrington's second Strokes column for this mag, he mentioned McCall in the same breath as 80s revivalists The Faint and the Postal Service, and I'm surprised how right-on that actually is. This CD is filled with goofy synth-rock arena hooks played with total conviction and appropriate bombast. It's a strangely egregious pop vibe that actually makes me think of 80s Top 40 bands like ABC, Spandau Ballet, and even Naked "Always Something There To Remind Me" Eyes. A couple of the more cooled-out tracks remind me of Chicago's Aluminum Group and their suave electro Bacharach style, but the more upbeat stuff actually does rock out in an E Street Band kind of way, with guitar, bass, drums, saxophones, and McCall's tight electric piano coming to the fore. His singing ain't bad either. I don't know, it's a strange album -- I guess the main sticking point for me is that it IS pretty melodramatic. The good news is that it's not ironic at all, and I have no idea when I last heard non-ironic melodrama. Lots of interesting stuff on his website too.
STATUTAUR CD (NO LABEL)


Extremely vulvic cover art demands attention, as does the constantly hyper and loud weird rock within. Lessee, how about Dick Dale surf-rock meets John Zorn game-pieces meets . . . hmm, maybe low-endy Jesus Lizard scuzz-grind and Keyboard Arena Metal?? File under post-Naked City, anyway -- info-panic genre-skipping rock with lots of notes played very precisely. Props to Statutaur for being a well-practiced band, but despite all the punches, I can't say it's knockin' me out -- I prefer the guitarist's other gig: lo-fi electronic anthem-pop as Zeehas; 12 Wait. (Semicolon his.)
METALUX: Waiting For Armadillo CD (LOAD)


I'm a sucker for those heavy-reverb white-girl-in-the-city dub-rock noise vocals. (See Verbalala on the Space is No Place Vol. 2 compilation, reviewed this ish.) It almost seems like Metalux invented 'em, right here in Chicago, back in like 1998 or something, and they lay 'em over definitive queasy post-Ann Arbor wrong-wired electronic loop-noise. "Splinter And Shimmer" sounds like the Top 40 single, with garbage rock guitar and quease-noise supporting a vocal melody and performance that could come straight from some Kim Wilde song on the film soundtrack of a made-for-cable John Hughes knockoff. And even more impressive vocals can be found on the late-album "Rode West," operatic like a laid-back Diamanda G over simple drum-machine and backwards gtr. Lovely spooky once-suburban city girls singing over harsh Heldon jams? With excellent guitar playing. (Mostly by J. Gräf......she gets a pretty phat Iommioid tone.....)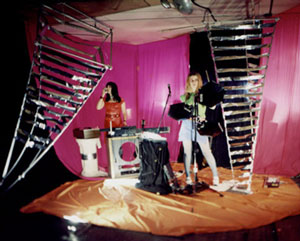 METALUX: Here they are live in that movie Barbarella....
OVA! + HAPPY MOTHERS DAY I CAN'T READ CD (FREEDOM FROM)


Freedom From, back on the case! Here's two bands from Minneapolis that I believe are Freedom From discoveries. Ova! start off the disc with eight tracks of straight-up power-duo brutal-prog. Yep, Lightning Bolt, the Luttenbachers, a little Pink + Brown (but not as bluesy), Hella (but crazily distorted) . . . . I mean, this sound has gotten quite familiar since 2000 or so, right? Familiar, but Ova! are extremely good at it, able to make complex moves in many many bounds, and once or twice for a few seconds they even open up the throttle and really let it cruise down the open highway before zapping back to the congested city center for the much more common displays of stop-and-start U-turns and Y-turns and Z-turns.
Happy Mothers Day I Can't Read start at track 9 in solo noise electronics mode. Good stuff! Really, you either like this stuff or you don't. There's no in between, it just is what it is, flat-out and naked and obnoxiously weird, hence I really don't have anything to add for their entire portion of the split, except that it reminds me of Nautical Almanac's recent catastrophe on the Load label. And, if I'm reading it right, there's another group on here called Awesome! (As with Ova!, the exclamation point is theirs.) They contribute tracks 16-20. Jay Hinman blogged that this would most likely be Ova! and Happy Mothers Day I Can't Read collaborating on a few totally unscripted closing jams. For some reason I didn't think of that, but of course that's what it is. Frothing nuts noise-prov, pretty fun actually. A Mick Barr influence is detected from the guitarist, who seems to be the one hardy soul trying to root the chaos down via the technique of high-speed motif and variance repetition. Oh, and it's a very nice-looking disc with some weird full-color cover art.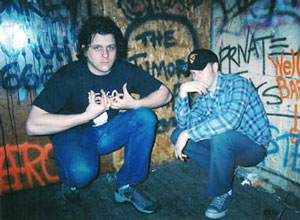 OVA!: From the photo sessions for their second album, King of Rock. (Sorry,
Run-DMC joke.)
THE MAE SHI: Terrorbird CD (5 RUE CHRISTINE)


The Mae SHIT is more like it -- just kidding! No wait, come back! I haven't even listened to it yet, I was just kidding. I couldn't resist making that joke, because it's a rock criticism sub-tradition, you know, to use the word "shit" to write dismissive one-phrase reviews of albums. Some examples would be the fictional but masterful two-word review of Spinal Tap's Shark Sandwich album, "Shit sandwich," and, my favorite of all time, and non-fictional: Musician magazine's review of the self-titled album by supergroup GTR, the entire text of which read: "SHT." Okay, now that I've explained that, let's start the review again, for real this time . . . .
From Los Angeles, California, the Mae Shi have released a debut album of totally panicky crazy rock. Nonstop yelping, screaming, humming, humping, stopping, starting, quoting, referencing, partying, puking, crashing, banging, chilling out, getting it going again, and rarely doing any of those things for more than 3 seconds at a time, and usually more like 1 second. Sometimes they sound like early Boredoms, sometimes early Grand Funk Railroad on 78 RPM, sometimes like The Locust unplugged, sometimes like white hip-hop, sometimes like Tears For Fears, sometimes like etc. Call it . . . . . screamo panic gospel! NOW! They're actually pretty fuckin' good, and they've got a great party attitude, and they might just have the most seamless and schtickless incorporation of the whole "black influence" in the history of indie rock -- but I really don't think this is my kind of album. The whole fast-cut screamo thing . . . . it's just not something I really listen to. But if you do, by all means, don't miss these guys -- I'm sure they're really crazy live, too.
THUNDERTRAIN: Hell Tonight! CD (GULCHER)


Well, I was happy just to get this CD in the mail and find out that a band called Thundertrain existed, and to own copies of the live-action photographs that are on the front and back cover. I mean, look at that hair! And on the back cover, the band is pictured playing a gig in front of an industrial fence that guards a suburban parking lot that appears to be empty, a photo that shows both the glorious highs and lonely lows of the Rock Life as well as any 'sad backstage at the mega-venue' junkie chic portrait by the average wealthy freelancer ever could.
As for the music on the disc, it's a single live show at a bar, recorded in 1979 at a biker hangout in Peabody, MA called the Summit Club, to be broadcast a week later on a show called WCOZ Playback, hosted by Leslie Palmiter, who can be heard on tape giving the band a warm introduction, complete with show-biz drum-hits. And then the music begins, and . . . . . . . . hmm. Well, to describe it, I'll start by quoting a co-worker of mine from just last week. He had asked me if I had any Saxon, so I brought in Wheels of Steel. He was digging it, but when upbeat anthem-ballad "Suzy Hold On" hit during side two, he remarked, with some disdain, "Man, these guys were pretty hair." By which he meant "hair metal," even though the Saxon album was released in 1980 and the term "hair metal" didn't really get used en masse until at least, I don't know, 1986?
This Thundertrain album was recorded in January 1979, and it is definitely pretty hair. At least twice as hair as Saxon. And I don't just mean in look, but also in sound -- this party-time bar rock sounds a LOT like Poison and Bon Jovi. What makes it different is a flaming wild trippy lead-solo axe attack by Steven Silva, actually comparable to the amazing axework Ross "The Boss" laid down with the Dictators just a few years earlier. Ah, but that's just one lead guitar, and the only other thing that might save it from the heap, besides the hair, is that hey, this is just some band called Thundertrain playing one single rowdy show in the dead of Peabody, Massachusets winter, January 1979. The crowd is there to have a good time, and their cheers and the between-song banter from lead vocalist Mach Bell is just as important as the music. Bell's breakdown rap during "I Gotta Rock" -- even if it does remind me of the ever-atrocious REO Speedwagon's "151 Riverside Avenue" -- is as notable of a "Disco Sucks" time capsule as any 10-second clip of the Chicago Disco Demolition (also 1979) you're gonna see on some VH1 special anytime soon. And, I thought that when the liner notes mentioned the Germs it was just some exaggerated press-blurb type stuff to get the new nihilists in on what is actually straight hair bar metal, but that was only until I heard Bell's needing-a-beer rap before "Forever & Ever"........
BLANGO: Fukuzkz CDR (8088 RECORDS)


Rather mysterious CDR from St. Louis, MO, wrapped in tinfoil. Maybe also a 10-inch, or a projected 10-inch. Could this be the next Screamin' Mee-Mees? Or Dazzling Killmen? Or Panicsville? I don't know, I haven't heard it yet, but he's already scoring plenty of points on song-titles, all of them hand-written with a magic marker on a piece of notebook paper: "No Wave is total butt-wave," "NOW-WAVE '00," "Brutal Prog: 2000's brittle pig," "Total No-Wave song titles #1-6," "Early no wave movement in new york wave," "Brutal NO WAVE CD (CD)," "WOW-WAVE meets Glow Wave 2," "band ending in tron-a-thon," "Prog-Wave," "1940-70's New Wave Metal" -- that's less than half of 'em. As for the music, it's kind of a trip -- out-of-hand prog-tastic drum soloing (well, it's sort of got beats, or at least, it's definitely got FORWARD MOMENTUM) while noise freaks out o'er the top. And, there's 22 tracks that all kind of sound exactly the same, in a good way -- the result isn't tedium and monotony but, once again, FORWARD MOMENTUM. So to answer my initial St. Louis questions, it's kind of like Dazzling Killmen jump-cuts mixed with Panicsville free-form electronics. And, it turns out Blango is a one-man band who plays drums and makes all the 'music' on top with his voice run through "thousands of FX pedals." The result is a wild singing drummer making up surprisingly complicated and powerful heavy prog as he goes.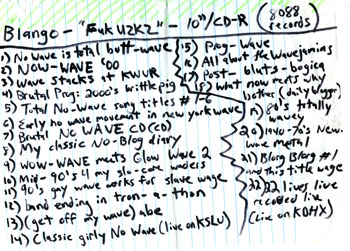 BLANGO: Maybe he does this for every copy!