RECORD REVIEWS
by Larry "Fuzz-O" Dolman
396 MOUNTAINS CS (RAMPART)


Heads up: lots of real nice looking and sounding cassette mystery coming from the Rampart Tapes label of Lexington, Kentucky. Side one is an ominous low tone or two that sort of creeps around, up and down, for a long time (10 or 15 minutes) with a small band of demons quietly joining in towards the end. Nice, but it's like a warmup for side two, which is a supremely ruling super-thick & mean low-down tone that is just constantly boring into my mind! It's starting to hurt a little bit! Hurt so good! Mongo like when brain hurt! The Rampart label is run by a member of The Hair Police and it wouldn't surprise me if 396 Mountains consists of one or more members of The Hair Police, because that band has been going in a more 'controlled' 'soundtracky' direction, for sure -- their amazing Drawn Dead album is almost like the much denser/louder/"fully formed" version of side one of this cassette. Drawn Dead, damn, that's a good album . . . . likin' this 396 Mountains cassette too.
500MG: Vertical Approach LP (ECLIPSE RECORDS / GALACTIC ZOO DISK)


Solo 'joint' by Michael Gibbons, guitarist for Bardo Pond. I just realized that "MG" is his initials, but I think the 500MG name also refers to something else that may or may not tie in with the cover art. Anyway, this is an album of quiet guitar pieces. I say quiet, but I don't necessarily mean pretty or soothing -- in fact, it's pretty harsh, if not via one gritty drone overdub or another, then by the very large amounts of melancholia in the minimal melodies themselves, which are almost as sad as the work of say Loren Connors or the Charalambides-Scorces-Taurpis Tula axis. Just three tracks per side, perfect length, a fine low-key harsh sad guitar album.
ALVARIUS B: Blood Operatives of the Barium Sunset LP (ABDUCTION)


I would like more people than just the Sun City Girls freaks to hear this album. It's by the solo guise of SCG member Alan Bishop, and it's his third release as such. The first two were more cultish -- his first, from 1994, untitled and mysterious, was raw solo acoustic guitar instrumentals, and the second, from 1998, also untitled and mysterious, was a double LP of raw solo acoustic guitar songs that were ugly, mean, funny, and really weird -- but this third one is an album of beautifully recorded and fully arranged songs that could appeal to a lot of people. Don't get me wrong, the songs are still weird and mean and Alvarius still throws around about as many f-words as you'd find on an Eazy E album, but the arrangements, orchestrations, and melodies spread on so much film composer love that it becomes something completely new. It's not like he hired a few orchestras and super-producers either -- it's mostly just guitars, bass, and drums, with a pinch of viola and organ here and there, and a whole lot of craft, economy, and savvy. For example, there's a gloriously cinematic Morricone cover ("Dirty Angels") created entirely by Bishop overdubbing several voice and acoustic guitar tracks. The first time I heard it, I had no idea the instrumentation was so simple. Most of the tunes feature Alvarius playing with a small back-up band that includes Eyvind Kang, drummer Randall Dunn, and on some tracks guitarist Tim Young and percussionist Andrew McGinnis. (A certain Richard Bishop plays guitar on one track as well.) On a creepy number called "The Feel," Kang plays drums, and then overdubs not only viola but a rather funky mutron-filtered bass line! But it's not so much about the band as it is the lyrics, the melodies, and the cinematic overdubs. And for those who want the hardcore real old west evil shit that SCG have long since addicted you to, it's here too, like on "Mr. 786": "I'm doin' business with a black and tan / between a foggy mirror and a swollen gland / He'd love to move some ivory or tiger whiskers / Cuz that dope's been rottin' in the sun / He'd like to move some guns / But I needed a half-ton of Persian pistachios / and some imitation shark fins cuz I gotta score to / settle with Chinese Dick who specializes in bird drool / and he killed a queer buddy of mine in Yunnan / last year over two-dozen Toyotas meant for Lashio / found his carcass in a freight container bound for Medan / carved jack-o-lantern-style wrapped-up in some Teak / furniture I order once-in-a-while."
APOTHECARY HYMNS: Trowel and Era CD (LOCUST)


Speaking of which, the thing they call orch-pop has been around forever and is still going strong through thick and thin among multiple generations. Take this recording artist Apothecary Hymns, no particular marketing/scene affiliation. First couple listens I thought it was played and recorded real nice but wasn't immediately impressed by the songs -- but now they're starting to creep up on me, with the hooky slow-developing minor-key-verse/major-key-chorus "A Sailor Song" in the lead right now. Apothecary Hymns is a guy named Alex Stimmel who lives in Brooklyn, New York, doing some kind of full-band retro-psych Americana all by himself at home. But don't expect some loner-guy lower-fi bedroom sketchbook trip -- these are very well recorded songs that are fully written and carefully orchestrated (via lots of overdubs -- electric guitar sounds, fuzz bass, banjo, drumkit, and seemingly much more). Other reviews of this album seem to always mention Syd Barrett, but it sounds to me like Lee Ranaldo singing lead for The Band!
ASTRAL SOCIAL CLUB: # 1; #2; #3 CDRs (SELF RELEASED)


So I get this package from somewhere overseas -- where, I don't notice right away, because the handwritten return address is really hard to read. I just know it's some other country because the package has one of those green customs labels stuck to it. I open it up and there's three CDRs in there. I can tell they're CDRs because they're in flat plastic sleeves, and . . . you can just tell. But, I take 'em out, and these are some awful nice hard plastic sleeves, and the artwork looks good, an image that says "Astral Social Club" pasted onto a paper card, with a different color scheme for each of the three volumes. Nice, but hey, I get (not quite) 2000 CDRs a week so no big deal, they go on the pile and I go back to what I usually do, which is mostly work, sleep, make food, pick up toys,

change diapers, etc.
A few weeks later I stumble across the package again, and notice for the first time that there's a big hand-written note in there too. It's a real nice note too, inviting me to listen to the "first 3 vols of ongoing series by my 'new project'....", and it's signed off "Campbell," and I'm like, "Shit, is this Campbell Kneale?? No, he lives in NZ, and this return address is somewhere in England, I can tell that much . . . waitaminnit, does that say N. Campbell?? Could this be THE Neil Campbell??" I get a little excited, because for several years now I've dug the work of Neil Campbell, whether it's the various solo stuff (These Premises Are No Longer Bugged is a great album!), the various collaborations, the A Band, or of course Vibracathedral Orchestra -- hell, I even like everything he did with Smell & Quim and that Durian Durian LP! Could this be him? I betcha when I listen I'll be able to tell . . . . so I put # 1 in (the three CDRs

are simply titled Astral Social Club #1, Astral Social Club # 2, and Astral Social Club # 3) . . . . and oh yeah, this is clearly him, because this is some gorgeous post-drone shit, insert the adjective "higher-key" wherever you want, it completely fits. How is it different than Vibracathedral? Well, it almost seems completely electronic, although it probably isn't, and by NO means is it "electronica" (there is no such generic allegiance). It's also a little mellower than anything else he's done -- his music has always been beautiful, but rarely has it been this easy-going and ethereal. I remember he once said that Vibracathedral's working method was "anything to get the sound up and flying," a quote I always enjoyed, and this stuff is certainly still soaring, but it's like he learned how to put that magic carpet on autopilot, lay down, take a sweet snooze, and dream baby dream. Heaven-bound, all the way -- even with the Suicide influence, these discs DEFINITELY get this issue's Popol Vuh Award . . . . I could talk about highlights and whatnot, but there's no track titles and all three discs really are interchangeably excellent. (For the record, though, I think my favorite track right now is "[track eight]" on #3.) Anyway, I'm not sure how you can order these or anything at this point -- maybe check with Fusetron -- but either way, heads up for Astral Social Club! (This just in, they're available over at Volcanic Tongue....)
ASTRAL SOCIAL CLUB: Astral Social Club #4 (ASTRAL SOCIAL CLUB)


This just in, "hot offa the burner," the fourth release by Vibacathedral Neil Campbell's new solo moniker. Like the first three, still very electronic, very solo, and very zoned-out loopage, though this one strikes me as being a little more 'noisy' than the first three blissers. Track one (no titles) sounds like mid-period Kevin Drumm, and the 12-minute track two sounds like current Kevin Drumm, at least until the microhouse pulse starts emerging. Track five might sound kinda nice from the other room, but get up close and it's absolutely hellish! It even has 'people being tortured' screams going on somewhere in there! (And no, it's not just me!) My dark-horse favorite is probably track six, a chilled-out workout for ghosted-out rinkydink drum machine. Chilled-out . . . . but creepy. Hive Mind influence?
BABY HUEY AND THE BABYSITTERS: The Baby Huey Story -- The Living Legend CD (WATER)


Another Chicago band! A vinyl reissue of this was first mentioned in Blastitude almost four years ago by columnist Tony Rettman, but it took a more recent CD reissue, and an accompanying story about it in the Chicago Reader, to finally get me to listen. (I have this theory that in today's overcrowded music world, one strong and trustworthy recommendation isn't enough to spur action -- a minimum of two strong and trustworthy recommendations are needed, and they have to come from completely separate places.) Anyway, after approximately 1.5 adjustment spins, I am deeply hooked on this album's songs and grooves. Let me tell ya 'bout it.....
Baby Huey was a kid from Northwest Indiana who weighed in at about 400 pounds and was a ferocious soul singer. In the mid-1960s, while still a teenager, he was tearing it up on the Chicago circuit with his backup band the Babysitters, and they signed up with local hero Curtis Mayfield, who produced their debut album for his Curtom label. The album got finished, but before it could get released, Baby Huey died due to health problems (made worse by excessive drug use). He was 26 years old. The album did get released a few months later, and went on to become an underground legend. Listening now, it's easy to see why.
Opener "Listen To Me" is just a laid-back slammer, with a chorus that fully introduces Baby Huey's one-and-only bellowing/smooth delivery. Song two is one of three instrumentals, which are not my favorite cuts on the album -- I miss Baby Huey too much -- but do lend a nice progressive air to the proceedings. Also progressive are the track lengths -- the first three (aka side one) go 6:35, 6:10, and 9:23, the side-ender being a monumental psychedelic freak-out version of Sam Cooke's "A Change Is Going To Come." It's way drawn out and spacey, with some foggy downhome raps by Baby Huey about growing up in the sticks (Northwest Indiana) and getting his mind blown by drugs and soul music. Here's a snippet (rap in plain text, singing in italics): "It seems like I tried so hard to get back to get back where I started from. It took about 20 years of very serious smokin' . . . a few ups and downs, a few trips . . . . a little space odyssey once and a while . . . to get back to get back to get back to get back to get back to bein' a kid all over." The rap keeps going, touching on race relations: "There's three kinds of people -- there's black people, there's white people, and there's my people." By the time the band kicks back in at full volume, Baby Huey is screaming and there's a trumpet hook so heavy it's tragic. The whole thing is a deliriously heavy 9-minute freak-out soul ballad that makes Vanilla Fudge sound like The Osmonds. It's almost as heavy as "Munchies For Your Love" by Bootsy's Rubber Band!
Side two opens with "Mighty Mighty," a much poppier number and one of the sweeter soul tracks I know right now, written by producer Mayfield, and recorded a few years earlier by his group The Impressions as "Mighty Mighty (Spade and Whitey)." The Babysitters' version is pure fun and sweet good times, perhaps because it doesn't get into the race topic as Mayfield did -- "(Spade and Whitey)" is left out of the title, and I think out of their arrangement of the chorus too. If they do sing the words they mumble 'em -- it's almost a 'version' in the Jamaican sense, because it borrows from the original without ever really going into the verses, instead mixing teases of the chorus (sung in as lovely a falsetto as Curtis's) with more great raps from Baby Huey. He's a regular comedian on this album . . . his unforgettable line "I think we used to play in the sandbox together!" gets mentioned in the liner notes and then there's the rather lascivious "Sho' a cutie, I'll see you after the show!"
And after all that, oh lord, comes the straight gangsta slammer "Hard Times." What a track -- if the Bomb Squad hasn't sampled this I'll eat my hat, that 'panic' horn trill in the intro was made for them. Straight gangsta lyrics: "Eatin' Spam and Oreos and drinkin' Thunderbird, baby." I love this song. There are three more tracks, two of them instrumentals (including a pretty over-the-top version of "California's Dreamin'" by The Mamas and Papas) -- again very solid tracks that would make time on any decent mix tape, but I'm a little skeptical of 'em here, weighing down side two with such a great vocalist in the band. The one other vocal track is great, though, "Runnin'," another Mayfield composition with a beautifully sung chorus hook so big you could drive a truck (or Baby Huey himself) through it. I don't know, when it comes to vintage soul and funk, I'm no expert or record collector. I just really like the music, and I think this is a really good album!
BLACK FOREST/BLACK SEA: Radiant Symmetry CD (LAST VISIBLE DOG)


Representing the other Olneyville, Rhode Island, Black Forest/Black Sea are not a crazy costumed noise rock band -- they're more like one of them new psych folk bands you keep hearing about! I'm surprised to say that this is my introduction to them, other than the one comp track on The Invisible Pyramid, because a lot of people seem to like 'em -- at least, their self-titled debut CD went out of print rather quickly. And so far I like 'em too. Melancholy free improvisation that is built around classical sad melodies instead of the more in-vogue sound and noise. But of course, there's tons of sound and noise in there too, because each track stretches from melodies into sound and noise and back, it's just the formulas and progressions that mysteriously change. All tracks are from live shows on a Spring 2004 European tour, and feature the group's core duo of Miriam Goldberg (cello, omnichord, voice) and Jeffrey Alexander (guitar, banjo, omnichord). Three tracks are just the two of 'em (including one of the very best, #4, recorded in Newcastle upon Tyne, England), but the other six feature guests. For two fine tracks, recorded in Tampere, Finland, they are joined by that town's resident jam maven Jan Anderzén, and track #9 "Talbot Hotel, Stoke-on-Trent 4/11/04" is a real beaut, a rolling and unfolding series of yearning improvised major chords, filled out by the "electric tamboura, harmonium, percussion" of guest Harry Sumnall. Reminds me of the Charalambides song "Joy Shapes" (which makes sense because Christina Carter Madonia of the Charalambides has also played with Black Forest/Black Sea).
BORN HELLER CD; ESPERS CD (LOCUST MUSIC)


Believe me, I'd love to be able to stop referring to acid folk like it's some new trend too, but hey, I guess that's what happened, and I've always loved acid folk music so more power to 'em. Here are two of the most acclaimed of the new crop, and I've gotta say: pretty damn good. At the very least I now know that the notable press I've been reading about Josephine Foster (Arthur, Chicago Reader, web stuff) is well justified. I first heard her in the Children's Hour, but that only amounted to one track, heard for the first and only time while I played it live on the radio, and I frankly did not really care for it. However, I knew I would hear her again, and I looked forward to the day, but it was almost uncanny the way I could never make it to one of her shows. And I still haven't. But I finally got ahold of this CD by her duo Born Heller, and it's a real dreamy piece of something. The forte isn't exactly hooks or memorable lyrics, but the overall sound of the songs is a hook in and of itself. These are mysterious songs that hover in the air with a sadness and wistfulness and strange playfulness and you just kind of sit there and wonder about them while they're happening. That's really all I can tell you so far, except I will add that Jason Ajemian's acoustic bass playing is key to this spectrality. He doesn't really play a single "jazz" or even "folk" note on the whole CD -- while Foster covers the chord progressions with her acoustic guitar, he just sort of flits and hums somewhere deep in the recesses of the tune. (And he shows up on the very last track doing some vocals that really take the album home.) [This just in: a while back I downloaded a Children's Hour song called "Leader Soldier" without listening to it, and it finally showed up on my player set on shuffle -- it took me the whole length of the song to figure out who it was, but it was great, spooky & pretty, quiet & trancey. I think I got it from Ms. Foster's website, which is at 100songsising.com.]


Also part of this whole "revival" that's going on, also released by Locust Music, and also featuring songwriting that is heavier on overall mood and mystery and atmosphere than it is on classic "pop" ingredients like specific hooks and quotable lyrics, is the self-titled debut CD by Espers, here recording as a woman/woman/man trio (with guests). All three sing -- the man in Espers is Greg Weeks, who you might know from a previous solo CD or two. I have yet to hear those, but I am digging Espers quite a bit. Very well-played and sung, it's not so much "folk" as it is this slightly grandiose, medieval and gothic odd-prog-lite that unfolds at a slow, steady, and rather addictive pace. It's not presented as one long suite with footnotes and subdivisions or anything -- it's not that prog -- but it feels like one long suite anyway, especially when it ends with an epic instrumental that builds into an intense closing chorus of wailing harpies (led by spectral guest Tara Burke of Fursaxa fame). Really pretty cover art too, that would look (and feel) incredible on an LP cover with that old soft kind of paper like Neil Young (and others) used to use.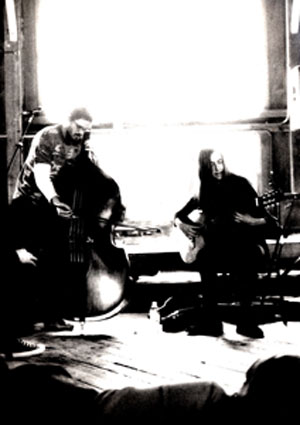 BORN HELLER: Live at the Gladtree Festival. Photo by Nashville Brooke.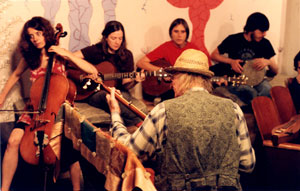 ESPERS: Holy shit, they're sitting in with Clive Palmer!
CAN'T: Final Performance CDR (RRR)


The concept and presentation is as simple and concise as could be -- she (Jessica Rylan, who is Can't, which is a great name) is by herself singing songs, five tracks clocking in at just over 13 minutes -- but the catch is that she's singing into a microphone that is really overamped and feeding back heavily, and then the double catch is that, despite this chaotic volume situation, it sounds like she's trying to hide the performance/recording session from her family members and/or roommates in the other room (the album was in fact recorded at her parents' house). It's like one-woman shy crazy funny gutsy metal stream-of-consciousness acapella karaoke. Then, track three is a shy noise track with no vocals, at least not any vocals that are readily identifiable as human, and it's seriously some killer sponge-squeal. And two more tracks, with vocals, and weird beat-box stylings. Can't? I can! (And BTW, when's somebody who has all the records gonna write up an annotated RRR discography? Seriously, can somebody just go to this page and add descriptions, and then submit it to Blastitude? And speaking of RRR, Can't is gonna be on tour with Emil Beaulieau and John Wiese in February 2005. I know I'm gonna be there . . .)
CAN'T: New Secret (by Jessica Rylan) 12" Picture Disc (RRR)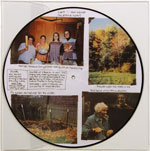 Loved my first Can't album, now here's my second, truly a thing of beauty. (Prettiest picture disc of the year? Definitely. Of the century? Probably!) As on the previous Final Performance, she (Can't, a/k/a Jessica Rylan) is still playing "home-made synthesizer," creating weird instrumentals, and singing intense love songs, but my, she has really upped the ante with this release. Final Performance was 5 little blasts in just 11 minutes, where New Secret has 6 tracks but is three times as long. Some of its tracks are shorter instrumental things, but three of them are long, patient, and powerful songs, precise and rhythmic and melodic, and they are all classics. But then, so is "Driving in the Rain," in which she gets out the tenor recorder flute and plays a lovely short and sweet solo piece that is about as "free folk" as it gets. I love track five, "Messy Mystery," too -- it's this sparse bubbly instrumental that my 2-year-old is convinced is the sound of (his words) "fish swimming" and "going down underwater." The sounds make him laugh and he says "fish!" constantly. Late in the track when Ms. Rylan hits a real deep bending tone, he gets excited and says "FISH FART!!" I say all this not to tell you how hilarious my kid is, but to demonstrate that this is some pretty deep music that is much more than just Noise. And then track six "Casting A Spell" is definitely the one for the annals, a 15-minute epic that lives up to its title with one of the most fragile sweet witchy melancholy melodies ever on a "Noise" record! Throw in that gorgeous painting on the B side and, well, you've got a masterpiece.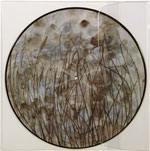 The lovely 'back cover', side two.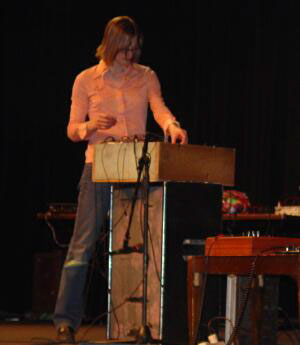 CAN'T aka JESSICA RYLAN: Casting a spell.
CHRISTINA CARTER: Living Contact CD (KRANKY)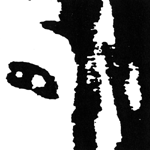 Kranky continues their Charalambides and Charalambides-related reissue program with this sonically stripped-down and mostly instrumental solo guitar long-player by a founding member of the band. I've said it before, Ms. Carter can communicate loneliness like no other balladeer -- indeed, she's one of the great desert blues singers of her era (first release was 1992), not to mention one of the most low-key and soft-spoken. On this album the guitar holds steady throughout -- like pale light on a calm cloudy day, it's always there -- while the voice just comes and goes occasionally like a rare strange breeze that kicks up three or four leaves and nothing more before disappearing again. The big one on here is track #3, "Alone, Not Alone," a 14-minuter that just hangs out sad, relaxed, and heavy on seemingly one tone/one chord/one love. Dust-sky existential-western soul-grind raga. Yessir. Track #5, "Body Energy Exchange," is relatively quite playful in its quixotic and sometimes rather speedy improv patternings. But the whole album is pretty mysterious and mysteriously pretty. Most of this was recorded quite a while ago in 1995 and 1996 -- better late than never to have it on full-press CD.
TOM CARTER: Monument CD (KRANKY)


The other founding member of Charalambides also gets an out-of-print CDR-only release reissued on CD. "The first track . . . is slightly longer than two minutes and barely reveals itself," says the press material, and I'd have to agree -- my stereo isn't exactly cranked, but I'm just now starting to hear stuff at the 1:25 mark -- now at the 2-minute mark some ghost bow-whine can be discerned, but hey, the track is already over. So, really, that was just a prelude to track 2, which is 47 minutes long and takes up the rest of the album. Both tracks are solo lap steel guitar, recorded live to DAT back in March 2001, and this is some very haunted world-hum, extremely patient, slow-moving, heavy atmospherics. This is a guitar album, but it's not obvious about it -- could be synth, could be piano wire strung across a cathedral, could be amplified brain waves, but regardless it is indeed a sound monument, and getting next to it is a high lonesome and reflective way to spend the better part of an hour.
CHARALAMBIDES: Our Bed Is Green 2CD (KRANKY)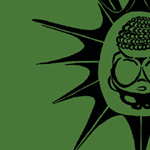 And yeah, speaking of the first Charalambides album from 1992 . . . . this is it, Our Bed Is Green, the latest in Kranky's reissue program (release date: April 4, 2005). You might have a one-CD version of this that was self-released by the band (on their in-house Wholly Other imprint) in the mid-1990s (I still have my copy, with its hand-painted watercolors on the cover, and now sun-faded construction-paper tray insert), but they initially self-released it as a C90 cassette, with several more songs. This 2005 edition on Kranky is a two-CD restoration of that cassette version in its entirety ("with the exception of two cover songs"). I had forgotten how epic this stuff was with the big guitars and soaring choruses, because at the same time it's unabashedly shy home-recorded music, still finding its feet. On the top there are shades of like a 4AD shimmer/girl approach that people might even compare to Mazzy Star or something, but down below, driving the engine, it's nothing but weird overloaded cassette-4-track-revolution drone-power. At times this scary undercurrent breaks through the surface, too, for screaming daymares like "Neutron Decay," so look out. Overall, the procession of these tunes might be a little too gawky for recent Charalambides converts -- as the 1990s progressed, they evolved into a more fully developed, confident, and singular form of music, and the curve is still arcing upward today -- but anyone with an affinity for small, sad, oft-sweet, and somewhat haunted solo/duo 4-track mini-dreams should appreciate it.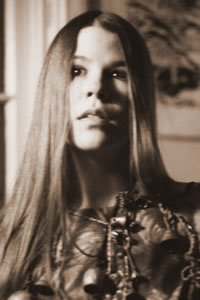 CHRISTINA CARTER (CHARALAMBIDES): Got the spook.
CHINABOISE: The Greatest Story Ever Told CD (GULCHER)


Pick of the issue so far?! Fans of MX-80 Sound should take note in particular, especially Rich Stim fans, as Chinaboise is a pre-MX-80 Bloomington, IN band (all recordings done in 1975) where Stim wrote songs and played guitar, saxophone, and more, while laying down plenty of vocals in his inimitable puppy-dog cool-nerd song-speak. He was aided and abetted by another MX-er-to-be, drummer Dave Mahoney, as well as a few cute girls and some guy named Rich Fish. When they decided a couple tracks needed heavy guitar firepower, they asked local prog-punk guitar hero Bruce Anderson to help out. Anderson in turn asked Stim and Mahoney to join his mighty MX-80 band, and the rest is history, but Chinaboise is no mere "MX-80 side project" or even "MX-80 precursor," this is a full-fledged fascinating band. There are prog-folk ditties, odd pop numbers, shit that sounds like Getz and Gilberto from Venus, little jazzish instrumentals on which Stim plays sax, and even a couple outright comedy skits that really kinda have me scratching my head. Also, why didn't the recent excavation of hundreds of '75-'85 DIY chestnuts from every pocket of the U.S.A. yield Chinaboise classics like "Girl You Got It (So Go Get It)" or "Living On Oil"? Did the heavy R&B influence make the nurds uncomfortable? No, it was because these great tracks, and everything else on here (except one track's minor compilation appearance), have never been released in any form until this CD! "So Go Get It" indeed!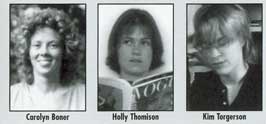 CHINABOISE: Babes, all of 'em.
CLAY'S FESTERING LUNGS: Pasture Music CS (CHOCOLATE MONK)


With special guests E and F! And all due respect to Arthur magazine! E: Look at this, this is insane. This blue electrical tape goes all the way around the tape, so you have to peel some of it off in order to listen to it. F: Looks cool. E: Yeah, it does, and thing is, you can mostly preserve it, you only have to cut through the tape on one side. [Gets out exacto knife.] F: Yeah. E: I think this is the first actual Chocolate Monk I've ever owned. F: Really? E: Yeah, I hear about almost all of 'em but I never see 'em. F: You gotta do mailorder, dude. E: I know, but I've got this weird thing about ordering from the UK. Like this mental block about their exchange rate or something. It's weird. I swear they don't accept US currency over there or something. F: Actually I've never ordered anything from the UK. E: Poser. [Laughter.] Wait, actually I have the Harry Pussy Vigilance! cassette, somewhere. F: Oh yeah? Where'd you get that? E: I don't know, some U.S. mailorder . . . I think Little Brother Records. F: I remember them. Fahey's Mill Pond? E: Yep. F: Double 7-inch. E: But yeah, that Harry Pussy tape is insane. It's just like one 10-second-long passage of music, edited over and over again, like 500 times, to fill out an entire 90 minute cassette. F: Wha....? E: Seriously. At least that's what it feels like. [Cassette by Clay's Festering Lung, finally unwrapped, starts playing.] We'll have to listen to it after this, if I can dig it out. Which won't be easy. F: Chocolate Monk night! E: Chocolate Monk in the DJ tent! Can't believe I only have two Chocolate Monk releases, how lame. [More listening.] This is great! Fuckin' noise-folk! F: Yeah, and it's more noise than folk. E: Boom-box tin-drone tape-scuzz! F: Pasture noise! E: Totally, this is great. Very Chocolate Monk. F: Very Shield That Pierces The Earth. E: Oh yeah, it's piercin'. But appropriate you should say that, because Clay's Festering Lungs takes their name from a track from that album. F: Okay, so is Nyoukis on this? Or . . . E: I don't think so, I believe this is a solo project by Clay Ruby from 23 Productions, Skullfucking Tapes, the Davenport Family, Pasture Music fest, the whole Madison, Wisconsin shebang. F: Oh yeah, the Metrocide and all that. E: Yeah, that's an older project, I don't think he does that anymore. F: One of the 93 projects involving Clay Ruby. E: No, he's only involved in . . . . 23 projects. F: Ha ha. [Later, start of side two.] E: Okay, here on side two we have a far-away drone that is more of a soft hum, and we have a couple dudes having a conversation, probably Wisconsin dudes. This sounds like a Madison-type conversation. F: Yeah, so like you and I are recording this conversation, about what's on this tape, and we're two more dudes, Illinois dudes, so when we're done with our tape it'll have four dudes on it, having two different conversations at two different times in two different states. E: Of mind. F: I don't know, I think our states of mind are pretty fuckin' similar . . . and our states are actually bordering, Illinois and Wisconsin . . . that's pretty similar . . . they're only like a two-and-a-half-hour drive away. It's almost like one big state. E: Totally, you should get Sufjan Stevens to write an album about it!
LOREN MAZZACANE CONNORS/CHRISTINA CARTER: Meditations on the Ascension of Blind Joe Death, Vol. 1 LP (ECSTATIC YOD)


Even though I stopped following Loren Mazzacane Connors's every heartbreaking guitar move a few years back (I had 6 or 7 of his albums and they seemed to contain enough angelic genius to last a lifetime), I immediately picked up his newly released duet record with Christina Carter of the Charalambides. It seemed like it would be such a perfect match of exquisite high-lonesome tone, and not only is that true, there's a whole lot more to it as well. For one, Ms. Carter made the choice to completely forgo her more common guitar and vocal route, and instead play perfect soft lost acoustic piano. This was a sweet move; there are so many moments throughout both sides where a cluster of warm piano notes seems to bloom out of a cold and lonely guitar tone that shines like a sheet of ice . . . and vice versa! There is also the awesome cover art by Conrad Capistran, which refers to early John Fahey cover art in order to illustrate the album's heavy concept, a deep heart-and-gut-felt musical tribute to the life and ascension of ole Blind Joe Death Fahey himself, crystallized by a tough elegy and mission statement, written by Byron Coley and printed on the back cover. "Death is dead. Long live Death."
DANAVA CDR (PIECEMEAL)


CDR demo by a progressive glam metal-overload rock band from Portland, Oregon with Princess Sweepstakes connections. I never hear about these particular bands anywhere except when they send me shit in the mail, and I'm not sure why that is. Maybe they just like to stay home a lot, and if so, they should be sending this shit to everybody! Princess Sweepstakes is a ruling Beefheart/Caroliner skronk outfit, and I like Danava better still. More 'metal' and 'classic' in conception than Princess Sweepstakes, Danava play long psyched-out Hawkwind/Simply Saucer-inflected takes on heavy prog glam, with fine melodic hooks, twin guitar leads, sci-fi synth, and killer circular buzz riffs. I'm reminded of Maiden, Blizzard of Ozz, early Queen, a pinch of T. (not Tyrannosaurus in the slightest) Rex, and, most surprisingly and effectively, Voivod! You can go here and download a couple of these epics -- might not be a bad idea.
DE HONDENKOEKJESFABRIEK DVD (DE HONDENKOEKJESFABRIEK)


I really wanted to review this DVD of "weird noise" from The Netherlands, featuring "idiot noise performances, animations, exploding heads, truck van rental, spermatak, monobrain, piediepie, the weak-end-quizz, mayoman and more!" I mean, wouldn't you? (Waitaminnit, what's "spermatak"?) Unfortunately, my kid picked it up off of the to-be-reviewed pile, no doubt drawn to its eye-catching cover, got the case open, and tried to remove the disc. I was just watching him, going, "Look at that, how cute, baby wanna dake out da DVD...." and then SNAP. He was only half-successful at "daking" out the DVD. So, if you folks at De Hondenkoekjesfabriek are reading this and wanna send a replacement, <sincerity>I really do wanna watch it, and I promise I'll review it! That's Blastitude, 1517 W. Fullerton, Chicago, IL 60614 USA.</sincerity>
DE HONDENKOEKJESFABRIEK DVD (DE HONDENKOEKJESFABRIEK), take two


Alright, they heard my plea and answered with another DVD! I'm keeping this one far away from the kid, believe me. Having watched it once, I'd have to say that I'm pretty impressed by this crew and their devotion to surrealistic set-building, costuming, and film-scarring, not to mention some sort of global squatter amplifier shit noise that most (okay, quite a few) Blastitude readers have been in love with for years (okay, some). Visually, it carries on the tradition of the early 'music video' work of The Residents, and other cockamamie low-budget regional noise/theater/costume/fug extravaganzas -- brutal sound effects, anyone? I'll even give my support to the Mayo-Man, though his performance takes forever to cut to the chase, and he never plays any music -- at least hook contact mics up to those buckets of mayo, come on! One real standout was the group Total Security and their shadowy split-screen B&W sci-fi creep-thing that goes on for 15 minutes. And that's just four videos on a DVD with like twelve....
DEMOS YELLOW SWANS: Live in the Police State Capital one-sided LP (WEIRD FOREST)


I'm sure some folks might describe D Yellow Swans (what the D stands for changes with every billing, be it on a show flier or record release) as one of them "Wolf Eyes Jr." bands, but that's way too dismissive because this is very satisfying slow-spook electro & guitar creep that can turn into outright noise-gush on a dime. Like Wolf Eyes, antecedents may be apparent, but there is something simply in the soul of it that is clearly more than any mere 'sum of these three hip influences' or 'new version of that one great band' type of description, and you can hear it in each sine wave and saturated guitar movement. I really cannot stand to look at the sinew-salad collage art on the cover, but I'm certainly enjoying the sounds packaged within. My only complaint (besides the cover) is that, as a one-sided LP, it could have easily been twice as long without wearing out it's welcome. But hey, you know what Alexander Graham Bell himself said back when he invented the phonograph record: "'Tis far, far better, forsooth, to err on the side of brevity." [Ed. note: This quote is often mistakenly attributed to Bell, but most serious scholars know that it was actually spoken in 1958 by Philly Joe Jones. He was joking around.]