RECORDS CONT.
by Larry "Fuzz-O" Dolman
SMEGMA: Rumblings CD (HANSON)


I'll admit it, you can beat me up later: first listen was kinda "eh." I thought, "Man, these guys should work with Wolf Eyes all the time, they could use the help!" Just more jam-noise, I was thinking, and the two things that made it different -- occasional surf-rock Louie Louie riffs and Richard Meltzer's out-of-nowhere spoken-word appearances -- also made it more awkward. Then, next morning, listen #2: whoah. Something happened. The presskit blurb called Smegma "the most psychedelic band ever!" and it was starting to seem possible, because while listening to the disc I felt myself falling down a rabbit hole, a time slip, even though I was completely sober except for two cups of coffee. I was hearing endless no-mind no-zone no-man jam-splunge that was in no hurry and had nothing to prove because it knew I would get sucked in eventually. And that's exactly what was happening. Now, when Meltzer suddenly starts yelping out one of his observations after these long-ass no-zones, it's like I've set the controls for the heart of the sun and awoken 90 years later (thawed out from cryogenic deep-freeze of course) to find myself at the corner bar next to some guy talking my ear off while drinking beer and shelling peanuts . . . . . and the band plays on . . . . (I already know of two different people who have gotten lost driving while this record was playing on their car stereo).
SPECS ONE: The Artist CD (ABDUCTION)


Well, this is interesting . . . . for one thing, it is perhaps the most 'normal' CD that Abduction Records has ever released. It's a hip hop CD, and not "outsider music" hip-hop like Sensational, or even a dense paranoid post-Wu kind of thing, just smooth chilled-out alternative/independent intelligent hip-hop, produced, written, and arranged by a dude from Seattle named Specs One. The beats are damn nice, plenty of head-nodders, and the flow is always on, though after 3 or 4 listens I have yet to come away recalling any specific lyrics. Not a lot of curses, but a few, and there's weed rhymes, so it's kinda rugged. In fact, as far as I know, it's the best Seattle hip-hop album since Sir Mix-a-Lot's Swass, but the only thing about it that consistently surprises me is how, well, 'normal' it is. But that doesn't mean it isn't good -- in fact, track #14 "Wide World," a lovely wistful trip-hop instrumental (with Sublime Frequencies vibes), is easily one of my favorite hip hop tracks this year.
---
SUBLIME FREQUENCIES UPDATE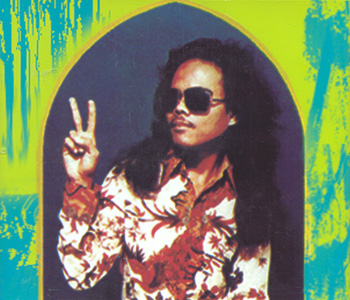 (Just heard that there'll be another batch of Sublime Frequencies releases coming out in October, so I'd better hurry up and write some reviews of the last batch of six that have been out for awhile now, blowing my mind for months in ways that are very hard to put into words......perhaps the best batch yet......)
STREETS OF LHASA CD (SF 016)


And now we're walking around in Tibet hearing low-key music and ambience recorded outdoors in August 2003. Opens with the bad-ass singing of a three-year-old boy and this boldly human element extends throughout. Soft bells ring in hallways (reminds me of The Dreamy Draw!) while kids scamper and shout and is that a buzzing horsefly or a distant human humming ecstaticly? Close listening reveals the latter......track six is a killer erhu solo, which is a two-string bowed fiddle type thing......other solo instrument/vocal performances sound like something off of Sun City Girls' High Asia (Carnival Folklore Resurrection #9) -- yet another Sublime glimpse into the SCG fakebook. And the last track is really something, one of the holiest 7 minutes I've heard on wax for at least . . . . a month. Some sort of soft prayer chant on a tranquil mountaintop, eavesdropped on by the microphones of Beijing, China resident Zhang Jian, who recorded the whole album and did a fine job.
HARMIKA YAB-YUM: FOLK SOUNDS FROM NEPAL
(SF 017)


Truly there, truly sublime, such simple and deeply felt folk music, sounding ancient and stripped-down and direct enough to make Robert Johnson sound like Elvis Costello or something. As usual per SF, there is so much here, like choirs singing call-and-response devotional chants a capella, bad-ass percussion & horn jams (a LOT like BYG/Actuel free jazz), straining naked tuff mouth harp solos, plenty of inscrutable outdoors ambience (street sermons, pony trains, wedding processions, prayer wheels, Pokhara dogs) . . . . It isn't really spelled out in the liner notes, but it seems to be a mix of radio recordings, live musical performances, and ambient field recordings, collected and put together seamlessly and cryptically by Robert Millis of the Climax Golden Twins. Some beautiful heart-piercing stuff all the way, actually my top recommendation of this new six.
FOLK AND POP SOUNDS OF SUMATRA VOL. 2 CD
(SF 018)


Actually, this might be my top recommendation -- I think it recently surpassed Yab-Yum for most listens. People have been describing music as "deep" lately, and, well, this Sumatra shit is DEEP. This is beat-digger deep, this is dusty-crate deep -- I mean the crates this shit came from must have been REALLY dusty. Plus, the crates were in Sumatra, so top THAT, DJ Shadow! Not that this CD is filled with "funky breaks," but it is filled with really good MUSIC -- remember that? How about the prog-tastic lo-fi Santana/Crimson/show-tune swirl of the Orkus Gambi style, represented here on four different cuts? Or how about the lady-sung heaven-dream that is the introduction of "Pariaman" by Fetty, however betrayed by the cheesy gamelan pop it becomes? How about track 2 ("Unknown" by Unknown!), lady-sung gamelan pop that is not cheesy in the slightest -- in fact, it's a sexy brooding wildcat in a trance, with some extremely funky breaks. Plus several more examples of the unstoppable loping/driving Dangdut style, a style I first encountered on Folk and Pop Sounds of Sumatra Vol. 1 (SF 001) with the unbelievably lovely "Indang Pariaman" by Sansimar. Pretty soon Sublime Frequencies will have released enough Dangdut tracks that I can make my own 2-CDR all-Dangdut comp! Can't wait . . . .
MOLAM: THAI COUNTRY GROOVE FROM ISAN CD
(SF 019)


Ah shit yeah, summadat G-ass thai funk fo' yuhz . . . . no, but seriously, the title says it all: this is COUNTRY MUSIC. And country music, when it's the "real thing", is always funky, even when it's plugged-into rock'n'roll amplifiers, like much of this stuff is. A lot of folks, from Birmingham, Alabama native Sun Ra to Outkast ("some people call us country/but really we just Southern...") to the No Neck Blues Band (with their various overt/covert Allman Bros. tributes) have been hitting some sort of country/electric polyglot over the last few years -- oh yeah, Sun City Girls too, hitting all kinds of polyglots for a good 25 years now. Not that this disc sounds anything like any of these artists, or anything else American, but it is some ole electrified country funk -- the country just happens to be "Laos and the predominately rural Northeastern region of Thailand known as Isan." Learn about such funky Molam ("master singer") styles as Lam Phun, Lam Sing, and Look Thoong, and instruments such as the khaen (mouth organ), the phin, the soong (both "lute-like instruments"), the sor ("a bowed fiddle"), "and a percussion ensemble featuring finger cymbals and hand drums." And when the rock'n'roll virus makes it all the way to Isan, "electric bass, effected guitars, electric organs, kit drums and horns" start getting into the mix and things get really wild! It's all right here on Molam: Thai Country Groove From Isan!
RADIO PHNOM PEHN CD (SF 020); RADIO SUMATRA: THE INDONESIAN FM EXPERIENCE (SF 021)


Two more of Alan Bishop's dense and dizzying radio collages, with the upshot that they are up-to-the-minute, both recorded in 2004 in Cambodia and Sumatra respectively. (Pre-tsunami.)
I can't lie, listening to Radio Sumatra makes me nervous, but it's not because of cultural differences, it's because of cultural similarities! Each Sub. Freq. release packs at least one heavy cultural lesson-wallop, and the one here seems to be that, even in an 'exotic' and 'faraway' place like Sumatra, the nü-metal and thug rap styles of America -- not to mention the loudmouth morning-zoo DJs -- have a significant influence. But it's not that simple either, like when in the middle of track #8 everything slows down for a totally eerie Asian pop ballad that sounds like a little girl singing to her

lost parents from beyond the grave 1000 years ago . . . . . . as for Radio Phnom Penh, I don't know where to even start, times ten, and Cambodia is always heavy. Actually, the more I listen, the more I'm hearing it as one of the more "song-oriented" of Mr. Bishop's radio collages, a la Radio Morocco? But every listen reveals something new, and then there's track #13, "Sign Off/The Venerable Anthem." It starts out with the Sublime-standard on-the-fly tuner-mixed collage chaos, then a brassy female DJ shouting over loud post-hiphop beats (the "Sign Off"), and then around the 2 minute mark the whole thing breaks down into an operatic ballad fanfare sung by a chorus of women as if they were sent by unseen forces to sing a lamentation for Planet Earth that the entire world will hear. ("The Venerable Anthem.")
---
SUN CITY GIRLS: Dawn of the Devi LP (MAJORA)


At first this short (less than 30 minutes) 1991 all-improv 12-inch was one of my least favorite Sun City Girls releases -- I know, I know, they record and release whatever they want, and I love 'em for it, but I do like to have at least a song or two, and these particular five medium-length jams with no vocals seemed very improvised. But here it is a couple years down the road, and it's practically become one of my favorites. There's tons of SCG improv to be had out there, but the recording aesthetic on this is kinda unique -- trebly and raw, but also somewhat professional, which yields a nice crisp quality -- and once you get used to the idea of extra-crispy totally uncompromised improv jams, and learn to follow their inner logic, the music becomes endlessly suggestive. For example, on the first track "The Kissy Sting" the bass and drums mime a churning river of mud that occasionally gets stuck on a boulder or a big tree branch before taking that along with it too. Meanwhile, the guitar becomes everything else on top: the sky, the birds, the outside world, the synthetic world, humans moving around, and human culture in general, such as language, conversation, arguments, and/or half-remembered totally-felt universal human songs and melodies. Or, maybe the guitar is just playing its ass off trying to keep up with with the bassist and drummer who are freaking out, playing a freaking river of mud -- and succeeding.
SUN CITY GIRLS: The Fresh Kill of a Cape Hunting Dog / Def In Italy 2LP (ECLIPSE RECORDS)

This is the third of ten projected double LP releases that will comprise the Sun City Girls' and Eclipse Records' Cloaven Cassettes reissue project. Tackled this time is one of the very best of the Cloaven Cassettes, a little number from 1987 called The Fresh Kill of a Cape Hunting Dog, which means two essential early SCG pieces are now vinylized: the vicious rant-jam called "I Told You So," which sounds like Alvarius B sitting in while a more-fried-than-usual Pink Fairies makes stuff up, and "Nile Hilton Burning," a very heavy and spaced-out piece that, besides some odd chanting and percussion, is basically a solo electric guitar jam. However, neither Rick Bishop's Django Reinhardt side nor his Ted Nugent side is in evidence -- this is nothing but evil drone-chord no-chord echo-slam. (Maybe one of the other two guys played it?) The other tracks are great too.
As for Def In Italy, after one listen, it kind of strikes me as another SCG covers album, in the tradition of To Cover Up Your Right To Live and Midnight Cowboys From Ipanema. The original C60 sounds like such a great thing, documenting the notorious JFA/SCG USA tour of 1984, with one side being an entire live set from Albuquerque, and the other side a collection of cuts from various shows on the same tour. This latter approach is what we have for the vinyl reissue, with only two of the Albuquerque cuts showing up. Some of the legendary confusion and resentment the JFA/SCG tour spawned is well-documented, particularly a crowd of St. Louis, MO thrashers chanting "YOU SUCK! YOU SUCK! YOU SUCK!" and possibly morphing it into "YOU! FUCK YOU! FUCK YOU!" and then having it all fall apart when Brother Rick suddenly shouts "Alright now THIS half of the room!" So yeah, it's pretty essential, even if it's really just another messy covers album, kicking off with none other than "Black Magic Woman" (Knoxville, TN). Only three of eleven tracks are SCG originals, although one of 'em is "Kal El Lazi Kad Ham" (Albuquerque, NM), an SCG signature song that might as well be an original, here given a great intense reading. And then there's Charlie Gocher performing a 'sensitive' (i.e. narcoleptically whispered) solo acoustic guitar version of the Grateful Dead hit "Dark Star" (Phoenix, AZ). Not to mention another cover on here that Gocher also plays guitar on, a duo version of Ayler's "Ghosts" (Nashville, TN) . . . with Brother Rick on drums! The ole switcheroo. Yep. Oh yeah, the gatefold is again very nice looking and the liner notes by BonBon are totally intense.
SUN CITY GIRLS: 98.6 IS DEATH CD (ABDUCTION)


Jeez, 37 tracks in 58 minutes spanning 12 years of recording activity . . . this is like the secret fourth disc of Box of Chameleons . . . . . why don't YOU write a review of it! That's okay, I can do it, starting right now. Another "made for radio" joint by the SCG, this one prepared specifically for a 9 April 2004 broadcast on Louisville, KY's 91.9 FM, it's a highly fragmented series of quick soundbites, whether it's a person talking, or the band playing, or someone scanning the radio dial, or a completely weird collage of any combination of those three elements and (many?) others, and hardly anything ever lasts for more than two minutes, usually much less than that. It's certainly off-putting at it's core, but once you put on some goggles and a windbreaker and sit down with it, getting some clues from the titles and paying close attention to what's going on, it gets pretty fruitful. Something needs to be said about Alan Bishop and his continuing brilliance at channeling vicious Baudelarian poetry through the soul of an open mic night emcee at a Tempe and/or Seattle coffeehouse. The guy can really write and perform -- I'd say he's nudged past Gocher as the band's resident scribe -- and there's more buried one liners here than any one listen is gonna notice. ("98.6 is death! You are not alive!" . . . . "You wanna see if you have dandruff? Go shake your head over Johnny Cash" . . . . "It was all over before the phony millennium bell rang, much the same as a child being one year old after 21 months of breathing" . . . . "Hello, and welcome to questions and answers. I ask the questions, and you answer them incorrectly. If you get one right, I'll send you some wicker furniture for your birthday.") As for the musical bits scattered throughout, as is so often the SCG case, on first listen 98% of it can sound like throwaway improv, but on subsequent listens each tossed-off note starts to take on importance, sometimes stunningly so. And the occasional songs are great, like a jaunty little stormy rasqueadaso instrumental called "Dark Eyes," "Weird Al" Bishop doing a memorable Bacharach song parody ("Anvils keep fallin' on my head..."), a glowing Sir Richard Bishop banjo serenade from a hotel in Bangalore, and a closing cover of Morricone's "Man With A Harmonica" that is dark, epic, and huge. So there's a lot to chew on here -- and you can keep that toothpick!
SUNN O))): White2 CD (SOUTHERN LORD)


Been reading about these guys as much as you have, but until this disc I made it a point not to pay attention to their music. I just figured we've already got about 19 Melvins records and three or four Earth records and a couple Thrones records and about 39 low-end drone records from New Zealand or whatever. (Surface of the Earth, anyone??) But this one was lying out at the radio station and the graphics were excellent, so I started looking at it. And I noticed that the last of the three tracks was 25 minutes long, and I needed to play a long song to end my show so I could take off early and get to work on time. So, I threw it on, a number called "Nihil's Maw" and boy, did it sound good in the car going up Lake Shore Drive. Then a couple weeks later the stars aligned and a friend in the right place flat-out gave me a free copy, so here it sits in my player, and it's a knockout. First track is the simplest of circular Joe Preston-era Melvins riffs but it's just so HEAVY. Second track is almost too mellow but, if it even does err at all, it errs fully on the side of evil. And the third track, "Nihil's Maw" again, wow -- it's the evil-est of the three, especially when guest vocalist Attila Csihar comes in with some crazy black Tuvan shit and it all goes down several notches more.
TAR PET: The Artist Revealed Is Taralie Dawn LP (GALACTIC ZOO DISK/ECLIPSE)


Wow, meandering moaning discursive weird acoustic acid solo music from a member of Chicago group Spires That In The Sunset Rise. The thing that really makes this album is the busy guitar/mandolin/zither/etc. playing, and the way she seems to overdub these instruments several times on top of themselves, creating a big thicket of stringed rumination that rolls and tumbles along. The vocal murmurs and mumbles are kind of secondary, barely heard above the music, except when a deep cracked voice moan bulldozes up, or a strafing high yelp careens above, and occasionally a full-on song emerges. For example, take "The Dripping Hand," which emerges near the end of side one with seemingly no overdubs at all, just Ms. Taralie Dawn singing and playing guitar, and it sounds as full and spooked as anything else on here. Powerful stuff!
TAURPIS TULA: Sparrows LP (ECLIPSE RECORDS )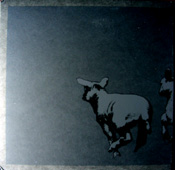 And speaking of the Charalambides-Scorces-Taurpis Tula axis (see 500MG review), here's the debut full-length by the third group, the duo of Heather Leigh X and David Leigh X. You might know David Keenan solely as a music journalist for The Wire, but he's been a musician on the UK scene for longer than that. Years ago a friend turned me on to the Telstar Ponies, a 90s band he was in, and their double LP Voices From The New Music. It seemed to come and go to little fanfare, but it was really an impressive piece of avant rock folk melancholia -- I still get a little misty when I think about the opening track(s) "Bells For Albert Ayler" and "Voices From The New Music." Now it's much later and Keenan's playing in a new duo with Heather Leigh Murray of the now geographically farflung Charalambides. They're called Taurpis Tula, and they're for sure picking up right where the Charalambides have (only temporarily) left off, both in sound and in quality, with an only apparently simple combination of sparse guitar arpeggios, sparse guitar leads, subtle if not outright imaginary drones, and absolutely haunted voices creating long masses of devotional/mournful psychedelic sound. As with the Charalambides, there's a deep sadness in it. With music like this I always wonder if the performers have been through that kind of sadness in order to express it like this -- but so what, the point is that they've found a way to express it, for those who have been through it. Which is a hell of a lot of people.
TEXT OF LIGHT CD (STARLIGHT FURNITURE CO.)


When I first heard this CD it was from the next room, on shuffle with four other discs in the changer. I listened to it for a good 30 minutes without knowing who it was, and it sounded good, sturm-und-klang electric-guitar-based free music running full steam with no sign of ending anytime soon. Occupied some of the same scorched space as Pelt's Burning Filament Rockets album, but with an enticingly lower notch of meditative intensity. (Sorry to those for whom that's an obscure reference, but that's the album I kept thinking of.) Anyway, it was such a nice listen, because I didn't even know who the personnel were, so I wasn't concerned with how I was going to write about them in this review. Like Alan Licht, who for some reason I always end up dissing, or Lee Ranaldo, for whom I would have to write a lengthy aside about how Sonic Youth has never lost it or even so much as slipped in their entire career, or DJ Olive, which would tempt me to make fun of Illbient™ and the Knitting Factory®, or the Starlight Furniture Co. label and how, even though they always put out excellent records, and they're connected with far and away the best post-noise magazine of all time (Bananafish), I don't think their records ever look very good from a graphic design standpoint. Sort of like how Thinking Fellers LPs always had awkward font choices -- come to think of it, it's probably the same designer. Anyway, that's just it, I didn't have to worry about all that atrocious fanboy detail, I could just sit back and enjoy some brooding high free drone klang music with other elements flickering in the mix, such as the saxophone and "sax-tronics" by Ulrich Krieger, and the turntables by DJ Olive (on two tracks) and Christian Marclay (on the other one), which I can't even specifically recall hearing. Even the drums by William Hooker are much less of a powerhouse presence than Hooker usually is, probably because he's not the leader here. No one's the leader here -- it's a real non-hierarchical sound, and I suspect the real leader of the band is the films of Stan Brakhage, which this band always screens live, which come to think of it is another bit of rather loaded baggage I was able to ignore on my first listen: the whole 'bands showing films while they play' thing. Which is a whole 'nother line of critique that I won't go into with this review. Suffice to say that there is an interesting disclaimer about the Brakhage thing in the liner notes, and I've been enjoying the hell out of this release at home without breaking out my By Brakhage DVD once.
TO LIVE AND SHAVE IN L.A.: God And Country
Rally! CD (THE SMACK SHIRE)


The basic tracks for this 47-minute album were mostly recorded in 1996, the year after the basic tracks for the massive 2-CD Wigmaker were mostly recorded, and it does feel like the coda, the afterword, the wind-down, the glowing and smoky embers remaining after the house-on-fire that was its predecessor. It's still wild and thunderous in classic Shave fashion, but there's something quieter about it, something more introspective. Maybe this is because of the amazing guitar performance turned in by Bill Orcutt of Harry Pussy, who pecks and whittles throughout with such strange and calm power that he seems to pull the entire mix down to his level. Meanwhile, Nandor Nevai works away at a drum-kit, another jaw-dropping performance that, like Orcutt's, seems informed by the free improv/fire music legacy of the late 1960s, but also by the industrial punk of the 1980s, while standing well outside of both. He sounds like he's in another room, or another house entirely, dislocated and lonely. Tom Smith's vocals sound that way too, still a constant presence, but more cracked, more human, weary and even humble after the world-class struggle of The Wigmaker's epic plunge. It works on many levels; Orcutt and Nevai add so much extra sonic intrigue and counterpoint to the dependably powerful and wildly fractured core trio (Smith on shortwave radio and prepared cassette deck; Rat Bastard on bass guitar; Ben Wolcott on oscillators) that I keep coming back to the album just to tease out the frequencies. During these investigations, I stumble across sensitive emotional vocal/lyric centers that I can't help but poke at as well. They bite back, and I leave the room scratching my head, feeling somewhat hurt myself. Maybe it can be explained by this quote from "Richard Wright's Blues" by Ralph Ellison: "The blues is an impulse to keep the painful details and episodes of a brutal experience alive in one's aching consciousness, to finger its jagged grain, and to transcend it, not by the consolation of philosophy but by squeezing from it a near-tragic, near-comic lyricism." Maybe that's a bit much, but the point is that the album is suggestive and layered enough that it even made me think of Ralph Ellison in the first place. Though the bulk was recorded 8 or 9 years ago, as usual for an Om Myth production, it has been tweaked and remanipulated and overdubbed (in this case all the way up to 2003), and now presented in a very nice color digipak (dig the painting), as if the release date wasn't a single day late.
TUMBLE CAT POOF POOFY POOF: Werewolf Story (Plus Five More) CS (YEAY! CASSETTES)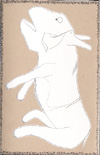 Man, people are putting out nice-looking cassettes these days....this one comes from our beloved Yeay! label in a double-size case and features not just a cassette, but an entire deck of handsome cards, each with their own unique delicate understated surrealistic animals-and-objects pen-and-ink drawings. It's like the noise/tape scene was suddenly invaded by a Paul Klee/Chris Ware collaboration. At first this construction overwhelms the music, which starts as a guy randomly hitting things while some kind of noise randomly goes on. But then it gets deeper and more interesting, partly by pulling a midway 'free folk' move not unlike the one on the Can't picture disc. You know, the tenor flute thing by Can't? Tumble Cat's similar folk move consists of lonely voice and accordion. And then the tape closes out with a long blown out psychedelic improvisation-jam in front of a live audience that is really nice and rippling. And then side two is blank -- perfect!
VALLEY OF ASHES CDR (SPIRIT OF ORR)

This rather large group of extremely down Louisville, KY folkies have been playing music for at least a couple years now, but, whether intentionally or not, the evidence of their fine sound production has been kept very much on the down-low. A vinyl LP will be coming out in a very small and extremely down-low run at some vague moment in the near-to-middling future, and it's going to be fantastic. Until then, 100 copies will get around of another release, this very nice spray-painted CDR from the Spirit of Orr label. It's a raw 'documentary' recording of the group in a small city house at night with the windows open, you know the feel. Extremely slow and dragged-out wasted tunes that, whether running for 3 minutes or 22, really invite the universe. Weaving in and out of the dragged-out folk-fabric are the mysterioso appearances of "songs by Rob Maggard, Dead Moon, Crazy Horse, Lou Reed (sorta)." I'm too green to know who "I Don't Wanna Talk About It" was written by -- maybe it was Rob Maggard, who is a member of the band -- but it's a real catchy slab of serious blues -- whatta vocal performance by who, Pete Nolan? Rob Maggard? Kris Abplanalp? Wes Abplanalp? Who knows with Valley of Ashes?
VARIOUS ARTISTS CS (A VERITABLE WHIRLWIND OF...)


"It's not a compilation, it's a mix tape!" says the Veritable Whirlwind Of... website, and the presentation bears it out, a mysterious and confounding group of songs and spoken passages and pieces of sound that beg for an easily discernable track listing (which would make it more of a compilation) but refute it handily, the only concession being a ratty little handmade art booklet where each artist/song/event on the tape gets a page, some with credits and titles, most without, and not even close to being in the order they appear on the tape. So, without knowing at any point who in the hell I was specifically listening to, my first thought was that I felt like I was hearing the first Sublime Frequencies release focusing on America. Then I began to realize that a lot of this stuff isn't even American. (There's stuff from Germany, Japan, Finland.) Lots of disorienting and fascinating stuff on here, even if the thrift-scored self-released Christian fundamentalist family singalong stuff is becoming sort of cliche. (I mean, Mark McKinney did his "every comedian has a preacher character" bit on Kids in the Hall way back in 1989.) As usual, the answering machine messages (these all jacked from Chicago thrift stores) seem to take the cake for sheer everyday human pathos. I know it's lame but I wish it was a CDR so I could easily sample all these nutso tracks, but one-sided cassette it is, and believe me, it's still worth it. Do check out this new label, originated in Chicago, now based in Olympia -- I can't wait to see what they do next.
VARIOUS ARTISTS: Million Tongues Festival CD (BASTET)


I'm a little disappointed in the packaging -- awesome cover art by Chicago psychedelic superhero Plastic Crimewave, but I just don't like the flat cardboard slip-case things. I think the digi-pack is the only way to go for artwork like this. But hey, it ain't my label, and other than that quibble, this is a great comp! A nice beneath-the-hype treatment of the contemporary acid folk scene. Because it reminds you that a lot of today's rock music is still just (plugged-in) folk music. This is the companion CD to an incredible festival that Sir Crimewave put on at Chicago's Empty Bottle in August 2004, and the only reason I wasn't there is because I happened to be out of the country that month. Highlights, in order, are Nissennenmondai (metal rhythm and drone duo rock from Japan), Inner Throne (super heavy lumber metal), Plastic Crimewave Sound (a version of what I consider their most central number, "Caged Fire Theme," that is better than the one on the LP, except the LP vocals are amazing), Josephine Foster & The Supposed (very inscrutable rock track), Matt Valentine & Erika Elder Medicine Show (a lot like Sea Ensemble We Move Together, and, I think, just as good!) . . . . the Simon Finn song (new? I think?) is really good, but the next song, by Frankie Delmane (who's she?), is even better. The song after that, by Espers, has really grown on me. Slow brooding chamber folk played tight and doomy. As a Tower Recordings fan since 1997, I've always been surprised to not really get into PG Six solo material, but I really dig his track on here -- maybe because it's an instrumental -- great folky improvising on some sort of zither or autoharp -- tell Richard Fariña the news! The track by Für Saxa is terrific -- I've got to get a real album by her, all I've heard are comp tracks (and, most notably, one great live show). The album ends with two tracks from the harsh noise end of Chicago psych, by M.V. Carbon and Panicsville respectively -- a nice Crimewave touch from a city where it ALL ends in (harsh) noise.
VARIOUS ARTISTS: The Naked Prey Original
Soundtrack CD (LATITUDE)


I had not heard of the 1966 movie, but I guess I have heard of its director, producer, and star actor Cornel Wilde. I mean, you've heard of him, right? He was a "Hollywood star and former Olympic fencer," okay. The movie is about an adventurous explorer dude (Wilde, natch), deep in 19th century Africa, forced into playing a little Most Dangerous Game against some authentic tribal warriors. Sounds pretty suspenseful, but the soundtrack isn't ominous in the slightest -- it's very low-key pleasant everyday village music, working and eating songs, and plenty of other songs with very explanatory titles, "Courtship Song," "Dancing Song," "Boasting Song of Men," "Drinking Song," "Cattle Herding Song," etc. Both men and women sing, though often it's a combination of two or three male voices -- the roots of doo wop?! Later in the album (track 12, "Village Celebration: Music Examples") things get bigger and a massive trance-beat opens up with what sounds like large crowds of people. A total blast. Whatever the suspenseful racial-wargame plot of the Wilde movie, it thankfully has nothing to do with the value of its fine soundtrack album, except to remind us that music is a far finer cultural vessel than action movie plots. Latitude is the "international traditional music and field recordings" division of the Locust Music record label.
VARIOUS ARTISTS: Tapeworms Eat Bookworms 2CS (NOT NOT FUN)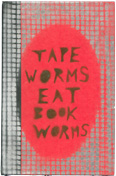 You gotta love this -- a double cassette compilation that comes inside an actual hardback book, hollowed out just like a prop in a whodunit. Mine is a copy of The Giants: Russia and America by Richard Barnet, but it's been given the lovely NNF silkscreen treatment to read "Tapeworms Eat Bookworms, edited by Not Not Fun", the original meaning of The Giants by Richard Barnet hijacked and obliterated by the poetry music of today's renegade artists (this particular cell is mostly from California though they have followers in every continent). The book is still given some respect, as all the tracks are said to have a literary theme, and whether that's apparent or not from one contributor to the next, the music is very consistently excellent, uniformly riding the charge of the packaging. First track is by Haunted Castle, who I've never heard of and may never hear of again, but it's a killer free noise jam, squalling electronics and hard-driving congas! Our old friends No Doctors contribute "A Gold Patch for Walt Whitman" which shows new direction for these transplanted Californians -- an epic and haunted dirge, Eastern-inflected, noise-raga guitar, moaning vocals -- powerful. Then someone named Adam Lipman contributes a really serious and DOWN bedroom ballad with piano and pseudo-timpani hits. Then someone named Aum Rifle do a really DOWN bedroom country ballad called "Spring," and then D Yellow Swans bring the noise with a track called "The Murder of Two Men by a Young Kid Wearing Lemon Colored Gloves." (I get that literary reference, I've read the piece it's named after, but I can't remember the writer's name -- does that count? Oh wait, Kenneth Patchen?) Then Wives/Cherry Point REALLY bring the noise with "Wives Hate Police." Corcoran Quartet bring "Doong Sa (A Prayer For Owen Meany)" which is a nice rippling oceanic prayer by saxophone quartet, and I'm guessing they're part of the Sacramento/Weird Forest hardcore jazz scene because the name Corcoran is probably Kevin Corcoran, formerly of Antennas Erupt, and currently (?) of the Kevin & Chad 7-inch also reviewed in this issue. Barr offers "That That Good" -- this dude has won me over with his motivational speaking, not to mention his stuttering go-go beats. A true emo original! Mika Miko close out side one with some punk-girl-yelp-sass-panic that is really the kind of thing I expected the Not Not Fun label to be all about. They're a very good band, but what I'm really stoked by is how many more facets there are to the NNF aesthetic -- it's like the goddamn geodesic dome of dance-punk-everything. I haven't even gotten to tracks by Watery Graves, Weirdo/Begeirdo, Parker Posey's Parkinsons, Grey Skull, Carrier Pigeonz, Raking Bombs, Quem Quaeritis, My Sexual Dad, Offal....and there's about that many again, and the whole thing is a fine listen.
VERTONEN: Return of the Interrobang CD (C.I.P.)


Have seen a lot of Vertonen shows here in Chicago, bumped across a comp track or two, heard him on the radio twice, but this is surprisingly the first time I've sat down at home with a Vertonen release. So far the live stuff has come across as great loud deep-flow crash-sizzle, often with a nasty beat orientation wrecking through it, but on wax it's been unpredictable, softer but somehow heavier -- and Return of the Interrobang surprises me further with deep glacial industrial dare-I-say-mellow textures. First track is a rather gorgeous and fairly soft (but thick) drone, not completely unlike something you'd hear from Birchville Cat Motel (who Vertonen is playing on a bill with here in Chicago in just a couple days, and there's a nice interview between the two on the C.I.P. site). Great tones, glowing embers with doom undercurrents, packed with a sci-fi title: "Toroidal Circulation 1 & 2." (Never mind, I just looked it up and it's a science fact title.) Second track comes in with a hard beat, your basic urban alarm siren drill kind of thing, with mysterious sounds floating in the background, and it's pretty heavy, but ends up the most 'typical' track on the CD, because the remaining three, a trilogy called "The Medical Turntable Variations," are just lovely little subtle stumbling loop miniatures. I mean, sure, you can infer a creepy entropic 'broken machine' connotation with all three tracks, and the title of the third part, "Deplete To Ruination, The Wide Shift," is of course something scary to contemplate, and topical too: the ostensibly approaching era where dystopian science fiction becomes dystopian science fact. (There's that "it's not science fiction, it's science fact" thing again, he's good with that.) Possibly the loveliest of the three, but it does have a haunted piano thing going on . . . . like, say, the haunted piano bar of a big-city luxury hotel in ruins, long abandoned by human life, now a bizarre gargantuan relic of the oil age . . . . oh, and hey, what's an interrobang?! Is that science fiction or science fact?!
VERTONEN: Orchid Collider CD (C.I.P.)


On the heels of Vertonen's very strong Return of the Interrobang CD comes another disc, Orchid Collider, that he also made with grant money from the Chicago Arts Council, and once again the money has been well spent. This time the deep-drone approaches that were extensively explored on Interrobang's first track have gotten even deeper and more perfect. Six tracks, almost all in the sweet-spot 7-to-9-minute range, that display a nice variety of sounds that all fit within a broader deep-drone approach. You've got the gorgeous slow-motion laser-beam sounds, as on the first track "extend to decipher," which is practically reminding me of some early Popol Vuh! (And it's not the only track on the disc that does.) You've got the very distant ghost-tones of "stone oceans" that eventually get overtaken by furious jackhammer drones that are somehow still strangely serene. You've got the low subdued grind of "forgiveness precipice," which, before it almost faded away completely, my wife thought was an appliance in our home. You've got more than that, too, but as usual I don't want to describe everything, but I'll just say that the patient, austere, and often surprisingly gorgeous sounds on this album constitute one of the finest drone-based albums I've heard all year (and I've heard quite a few!). Real nice-looking artwork too, by Jason Talbot (who himself just put out a recommended release on C.I.P.).
VIRGIN EYE BLOOD BROTHERS: Monkey Glands in the Skull Orchard CS (BLACK VELVET FUCKERE)


Fuckin' summer. I've got this tape turned up pretty loud, but I can't hear a damn thing because I've got the oscillating fan going, the window air conditioner blaring away in the other room, and my mom is visiting and the baby is sleeping and this might be "weird and noisy" music that will totally freak all of them out so I don't want to turn it up louder . . . . okay, it's been going for about 30 seconds and I can sort of hear something ominous happening somewhere in the room . . . . okay, it's been 60 seconds, and I turned it up louder and can now hear some subtle drone-shift going on, quiet (non-fan) oscillations and misterio-drift -- shit, it's pretty damn good. Very subtle and eerie and stoned-sounding. Now, 10-15 minutes in and it's inevitably getting louder and spookier but the fine degree of control has not been relinquished. Hmm, this is hard to describe and it doesn't exactly give a clear picture of what this band does -- in fact, it doesn't give a clear picture of anything at all. Which could be, of course, the BIG picture. Highly recommended.
WARMER MILKS: Family Corpse of God CDR (BORNMUGGED)


Nevermind Chinaboise, THIS is my pick of the issue. From Lexington, Kentucky, consider Warmer Milks a real 'band to watch'. I really thought this was going to be a jam-noise album, with its John Olson/American Tapes style artwork, right down to the cubist lettering. With two of the Hair Police playing on here, I figured it would be the October Faction to Hair Police's Black Flag . . . . . . But oh my GOD. This is not a jam-noise album. Not at all. This is an album of songs, and they are golden electric-guitar folk-rock dreams. I was definitely digging the first three songs right away, but it was during the fourth and fifth, both recorded live, that the jaw went ahead and dropped. The fourth track "Dogs All Slain," without really sounding like My Bloody Valentine, features some of the best glide guitar playing I've heard since that band gave us Loveless. After the first 2 or 3 minutes (the part with the words and vocals), it settles on a lovely circular guitar-chord cycle and just goes and goes, until it ends over ten minutes later to small-crowd whoops of applause and a "hell yeah!" But that's nothing compared to the goes-and-goes you get with "Penetration Initials," the last track on here, a 30-minute epic that winds its way through soft uninterrupted moods and golden-slow-chord folk forms, beautifully progged out with occasional soft-yelp vocals. On first listen, about 10 minutes in, I realized something special was happening, so I stopped the work I was doing and just laid on the floor like I was on a blanket in the grass at an outdoor concert. Everybody who is alive or has ever lived was there. Neil Young finally stopped staring out at the ocean, looked back over his shoulder and raised an eyebrow. Keiji Haino and Jandek strolled by, Jandek eating an ice cream cone, dressed up just like he was onstage in Scotland. They stopped and listened, closing their eyes and nodding their heads. After the song/set ended, they went over to the merch table and Jandek bought Keiji a Warmer Milks CDR. The 24-year-old Tim Buckley was there listening, deciding that he should stick it out with the whole Starsailor vibe after all, even though it wasn't selling too well. Even the controversial but ticket-selling headliners Simon & Garfunkel, who had been confidently having a pre-party in the backstage tent with an entourage that included Jack Nicholson and Shelley Duvall, got a little quiet and pensive during the last half of this epic song, quietly realizing that the folk-world winds were changing direction.
WARMER MILKS: Penetration Initials CDR (MOUNTAAIN)


This is it, the monster jam. I already reviewed this 30-minute epic when it was part of the not really released Family Corpse of God CDR, but now it's been made official as a one-track CDR on Lexington label Mountaain. Sounds remastered too! At least I'm hearing more details than before in the glorious sun-haze fabric of this endless quilt of a psych ballad. Seriously, every time I hear this song with all of its cyclical movements and melodies, I can't believe it was actually written and performed at all, and on top of it, that it was recorded. Which means that we get to listen to it in our homes. The world is filled with wonders.
WATERSPORTS CS (WHITE TAPES)


Another mysterious collective from the White Tapes universe. This tape came with stickers over the, uh, whatchacallem, the tape holes, on both sides, so in order to play the tape I had to punch through the sticker over each hole, and then dig in there and get the sticker paper out so it wouldn't interfere (I used an exacto knife). It's working, but I can still hear a big paper "CLICK" come from the tape deck every 5 seconds or so. The "CLICK" is louder than the music, which is very quiet and low-key. What I think I'm hearing is some sort of vaguely looped sample of what might be crowd/audience noise, eventually joined and/or replaced by very low-key feedback and fuzz. Gorgeous, but ends after about 10 minutes or maybe even less -- kinda short -- so I flipped it over, cut holes out of the sticker on that side, rewound it, and played it . . . . but I don't think there was anything on there. Those White Tapes usually are short 'uns, and I love me a one-sided tape. Stylin'.
WEIRD WEEDS: Hold Me CD (EDITION MANIFOLD)


Weird Weeds live in Austin, Texas, and one member used to live in Nashville, Tennessee, where he was a member of the Cherry Blossoms. Four of the songs on here were co-written with Steve Gigante, great musician who played in Deerhoof, and the Weird Weeds in fact sound quite a bit like Deerhoof-related band The Curtains. Despite these pedigrees, on my first listen while busy at work all I could think was Jon Anderson of Yes fronting Slint. But after a while, the shuffler took me to track eight which has a very nice sudden guitar-drone soundscape in the middle of it, like the last half of Sonic Youth "Mote" re-recorded at home on cassette 4-track instead of a big studio and then pasted into something new all over again. This really woke me up, and now intrigued, I kept re-listening to give the album another chance, a process that soon became re-listening simply because I liked it. The singing and songwriting are surely a bit precious, but I'm nonetheless rather hooked on these little avant-indie miniatures, how each Slintily clad mystery-verse seems to be offset by a screeching chamber-pop noise or a weird plink-plonk that suddenly shifts into a loud chorus with noise guitar or some other more unidentifiable arrangement oddity and then back to a quirkily quiet man/woman-sung verse that has a folk-pop feel to it. And, it's a real good guitar album -- the line-up is a drummer and three guitarists, and it's often the "lead guitar" (credited as such) by Kurt Newman that saves the day, sharp little spiky melodies bouncing off the chordal chiming prog-pop interlock the rhythm players lay down.
KEITH FULLERTON WHITMAN: Schöner Flußengel LP (KRANKY)


Title is pronounced "shooner floos-engel." It's a heavy drone album with fusion-jazz ornamentation and an acoustic guitar undercurrent. Right now I'm on an unexpected sixth or seventh listen in just a week's time and it's still getting deeper. One-person drone LPs are the shit, a Pure Form. You know they run the gamut from "dark ambient" internet crap to the loner synth classics to the contemporary deeply considered album releases by form-masters like Kevin Drumm, Hive Mind, Vertonen, Ian Nagoski, Maryanne Amacher, and many more. Call it the 'killer drone' LP, and include Schöner Flußengel in this camp. Even if it is (with all the musicianly ornamentation) like the Steely Dan (or Stevie Wonder!) of killer drone LPs, the end result is more than 'bad-ass' enough to live up to its doomy cover imagery.
JACK WRIGHT: Up For Grabs CDR (SPRING GARDEN MUSIC)


I've been listening to post-jazz free-music saxophonist Jack Wright for years, because back when I lived in Lincoln, NE he actually came and played there several times. He really didn't have much choice -- at the time he was living in Boulder, CO, which meant he had to pass through Nebraska to get to the East Coast -- but whether he was playing for just two audience members, or for a more successful show (i.e. four audience members), he always went absolutely balls-out. He's one of the most fully committed musicians I've ever seen in any genre on any instrument. In the liner notes for this record he writes, "For me the question is, what am I doing now, how deep can I go." Well, the answer is pretty goddamn deep -- this disc is completely intense. It's been duking it out with the high tea-whistle of my radiator and the soft stops-and-gos of the dishwasher, and when any two or more are going at once it's almost too beautiful. Most of the time I don't even notice the saxophone playing at all, and when I do, for the first minute or two I always think it's just my cats jumping around in the other room. Wright has gotten that far inside of our every day existence with this music, sort of how ol' Cagey went into the anechoic chamber and still heard "om" (i.e. a low tone and a high tone, the sound of his nervous system and his circulatory system, respectively) -- THOSE are the kind of tones Mr. Wright is getting to with his saxophone. According to the liners, the inspiration for this bold reduction in form and movement turns out to have been the intensely small/quiet 1998-present music of saxophonist Bhob Rainey (Nmperign). Also of note is the way this disc is being, ahem, marketed: "These recordings will be available free to musicians and music-lovers at concerts or for the cost of mailing. You may direct your readers to me at jackwri444@aol.com or 1032 Spring Garden St./Easton PA 18042 . . . . This music needs to be known and freely shared, especially among musicians, to foster the growth of the music and the community. This is more important than for the recordings to acquire the status of products on the market, or for the musicians to divert their energies as merchants, for which many of us are ill-suited."
XEX: group:xex CD (THE SMACK SHIRE)


As legend has it (I just read the story on the Smack Shire website), when Tom Smith of To Live and Shave in L.A. was doing DJ shifts at WFMU circa 1999, he spent some time camping out in the record library pulling albums one by one, looking for lost gems. Good thing he started from Z and went backwards, because otherwise he might not have made it to Xex. They were a band from Nowheresville, New Jersey, also known as South River, just south of Sayreville, the home of Jon Bon Jovi. In fact, according to the mapquest (dot com), South River and Sayreville are only 1.85 miles apart. Can you imagine young Jon Bongiovi in 1980? Well then, try and imagine xex in 1980, a young woman and three or four fairly dainty young men from Jersey, playing nutso synth-pop entirely on "electronic instruments -- synthesizers, arps, computers" without any record industry veneer whatsoever. Not much in the way of info on this reissue -- just a great mysterious live shot from April 1980 and an enthusiastic community newspaper article from probably that same year -- but there is plenty of music, and xex is a true discovery. It can sound like some sort of state-sponsored co-ed barber shop quartet from the totalitarian future singing propaganda songs disguised as entertainments in order to seduce and brainwash intellectuals, but most of the time it's clearly just a kick-ass and uncommonly intelligent new wave synth band. There are songs and hooks on here that you will love immediately ("Rome On $5 A Day"!!!), and the instrumental tone throughout is true atmospheric sensual regional-fi dystopia-beat -- but it's the words that'll really rewire your synapses. They sing about politics and sociology -- fashion victims, urban commutes, Catholic school casualties, and Soviet nerve gas attacks -- and today, nigh on 25 years later, the content still cuts to the bone. The nerve gas song, titled with the acronym "SNGA," has an intentionally kitschy but also genuinely creepy sci-fi-horror-film atmosphere and some of the most mordantly hilarious lyrics I've ever heard, such as "Soviet nerve gas is strong / Snort it up and you won't be snorting long," "Soviet nerve gas is subtle / When it hits there's no time for rebuttal," "Soviet nerve gas is fun / If your pleasure is killing everyone," "Get a drop on your skin / And the bullshit will set in . . ."
YUMA NORA: Red Train Graphing the Sunset of All CD (DEATHBOMB ARC)


I'll admit, I thought Yuma Nora was going to be another one of these neo-no-wave noise-punk power duos, because they are a duo, and there are costumes involved, and noisiness, and electronics instead of guitars, etc., but there's something far deeper going on here, and you will like it. Track one starts kinda slow-brew, and I really like the steam it picks up as it develops into harsh trance-lumber free-form circuit-buzz improv-rock. The duo is Amy Vecchione on some amplified homemade circuit electronics (hence the harsh trance-lumber buzz), and drummer Aaron Reyna (really a kid to watch the way he bitches-brews the moods up and down). And the wild card is Vecchione's vocals, which come and go intermittently and really hit a rarefied low-key dead-blues vibe. Thirty minutes, two seconds, and out -- killer EP.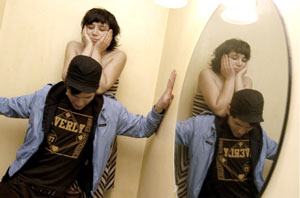 YUMA NORA: Not a quartet.
Zs: Karate Bump CD EP (PLANARIA)


I'm assuming it's pronounced "Zs", as in "zees," rhymes with "cheese." Not that they're a cheesy band, but some cartoon mouse Zorn-isms are audible. [Rough draft of review is suddenly abandoned here. Time marches on] Now it's a week later, and I have to admit to you that I stole that "cartoon mouse" image from the Aquarius Records website, verbatim, which might be plagiarism, but tonight, just now, and I am totally not bullshitting you, track #3 from Karate Bump came on the stereo and my 22-month-old kid stopped in his tracks and listened and after about 10 seconds turned to me and exclaimed "Mowsh!" "Mouse?," I answered back, and he nodded yes, vigorously, and then began dancing to the music as mouse-like as he could. So are you gonna accuse him of plagiarism too??
But on the Zorn topic, yeah, I'm sure the people in Zs grew up with the music of John Zorn to one extent or another, but the good news is that the Zs are also growing out of the music of J.Z. and into something pretty close to being all their own. They are doing it with a disciplined songwriting scheme, focused here on quietude and sustained swing/groove. Neither of which are especially common in the "brutal prog" scene with which this band has been aligned. The result is some swank driving music that practically sounds like Duke Ellington next to any rough grouping of their peers. Not to mention Evan Parker -- the "scratchy breathing" and "keypad-clicking" techniques that free improv music has over-explored are given new life by Zs as a tool for composition rather than simply improvisation.
ZELIENOPLE: Sleeper Coach CD (LOOSE THREAD)


I had lived in Chicago three years but hadn't heard of this Chicago band until they, or somebody, sent Blastitude their CD. That's cool, I always admire a band that doesn't care if they get out that much. The press kit led me to expect an icy drone-texture mellow-eerie space-art band, and that's kind of what they are, but what I didn't expect was that almost every song would have vocals. Actually, I didn't expect songs at all, just "pieces," but these are almost all songs, which is very refreshing. Definite Spacemen 3 vibe, done very well -- late-period Spacemen, that is, with the fiery Stooges-derived guitar distortion almost entirely freeze-dried out, leaving great monolithic walls of frozen space-ice whisper-song atmospherics. Seriously, I keep coming back to this one, and it's still getting better -- one of the better chilled-out dream-punk albums of the last ten years.