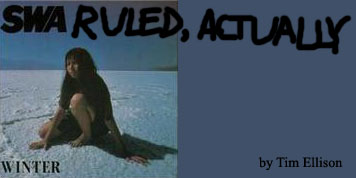 Hi, it's me, Tim Ellison. I asked Larry Fuzz-O Dolman if he wanted ta print this article I wrote on '70s U.S. psychedelia. I wrote it for
another publication but they never printed it and so therefore no one
ever got to read it because how could they read it if it never got
printed? Larry said yes he would print it and it turns out that we
are usin' it for the first installment of my new Blastitude column
SWA Ruled, Actually.
People have probably always considered there to be a rift in the history of psychedelic music between the end of the '60s Zeitgeist and the re-emergence of the aesthetic after punk rock (both with retro/revivalist groups and neo-psychedelic stuffs). Naturally, though, psychedelic music didn't just disappear completely for a time in 1969 or so. A strange canon of North American records bridges the gap between the original and latter day psychedelic musics and allows you to look at the aesthetic as more of a cultural continuum over this time.
Given that psychedelic rock was not a popular American genre of its own in the '70s, it's interesting how various groups scattered around the U.S. and Canada throughout the decade nevertheless seem to constitute some kind of core '70s psychedelic aesthetic. A self-titled album by an Indiana band called Zerfas from 1973 perhaps provides an early example of music that is primarily psychedelic in orientation, but removed enough temporally from '60s psych to seem unique.
Zerfas certainly seem to have been influenced by '60s psych. Their song "I Don't Understand" is an absolutely classic example of the segmented psychedelic song with juxtaposed sections of varying instrumentation and tempos (including, in this case, a gorgeous Badfinger-like chorus). "The Sweetest Part" is a very righteous, accurate embodiment of late '60s San Francisco sound, beginning with the humorous couplet, "Think of all the good things that happen every day/Wake up in the morning; find you haven't been blown away."
Zerfas were not just some band from the sticks who were lost behind the times, though. Their album makes a case for itself as convincingly current (ca. 1973) rock, but of a paradigmatically psychedelic nature. The cool synthesizer solos on their track "Stoney Wellitz," for example, have much more to do with a '70s aesthetic. Their greatest track, "I Need It Higher" (a classic of this micro-genre), is not so far removed stylistically from, say, the group America, but with elements of beauty (the piano part, the compositional sophistication) and sinister-isms (the wah-wah organ solo) that have much more to do with an entrenchment in psychedelia.
Like a number of other psychedelic records from the '70s, the level of sophistication on the Zerfas album in the playing, arrangements, and production quality is quite remarkable for some band from Middle America recording an album on their own. If there had been some sort of continued psychedelic movement and a market for music like this, Zerfas would have been viable as a major label act.
Slightly less viable was a Canadian record (also self-titled) from roughly the same time by a group called the Brazda Brothers, led by two Eastern European immigrant siblings. The Brazdas sing with fairly heavy accents in what sometimes borders on a pidgin English, but as with lots of psychedelic music from around the world in the '60s, this element can add to the surrealistic quality of the record. Perhaps primarily a folk-rock album, there are, strangely enough, leftover '60s garage rock elements here and there. Their most psychedelic track, "Gemini," is an uptempo minor key number with reverb-y organ and fuzz and wah-wah guitar that sounds not unlike some classic Turkish psych. The fact that theirs is, stylistically, a sort of lost music makes their folk-rock stuff at its sweetest all the more haunting. The album is very solid on the whole.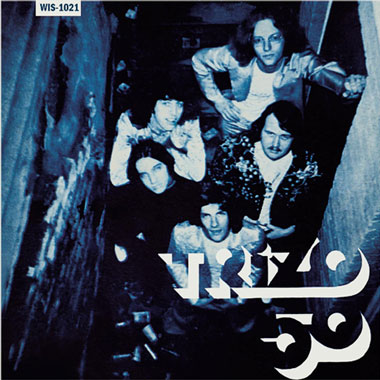 Another group from the early/mid-'70s that remains fairly *unheralded* is the Missouri group Trizo 50, who also released a self-titled album on a small label. The German label World in Sound is currently in the process of releasing a substantial amount of the group's home-recorded music in two volumes, the second of which will hopefully be out any time now. The first volume (already released) features a reproduction of the band's album cover, but is, in fact, not the same group of tracks as on the original LP.
Trizo 50 evolved out of a group called Phantasia, who also released a couple of records in the early '70s. Phantasia's music was very sophisticated in the psychedelic vein R. Meltzer described as "academic beauty": a kind of heavily Romantic, poeticized music that was often heavy and downcast. Phantasia songwriters John DePugh and Bob Walkenhorst were, at one point, close to signing a contract to write songs for Richard Harris of "Macarthur Park" fame!
While some remnants of this style can be heard on the first volume of Trizo 50 recordings released by World in Sound (including the gorgeous "Hollyhocks"), those who know Phantasia's music through reissues of their records will be quite surprised by what else Trizo 50 has in store. Influenced by T. Rex and Bowie (both of whom they covered live), Trizo 50 wore glam outfits and were definitely interested in the return to the earlier spirit of rock and roll. While tracks like "Rock Me, Roxie" and "Ride Me" sound like a type of bubblegum glam, however, "Why Do You Do That to Me" is full-on Nuggets '60s garage with gorgeous background vocals (staggered entries like the Beatles doing "Twist and Shout"). "Naughty and Nice" is a minor key, Gothic garage psych gem that is a total of one minute and thirty-nine seconds in length. What in the world were these guys doing playing music like this in 1974?
Glam, of course, is not antithetical to psychedelia. T. Rex and Bowie were themselves coming out of psychedelic music. As far as American groups go, the great Florida band White Witch's first album from 1972 is some kind of psychedelic prog/glam nexus point. "Graveyard," seemingly Trizo 50's greatest song, is a kind of wistful mid-seventies soft psych epic that transcends their earlier Phantasia-era style. An almost five minute long, beautifully orchestrated thing, "Graveyard" is certainly a contender for the most gorgeous song on all of these records.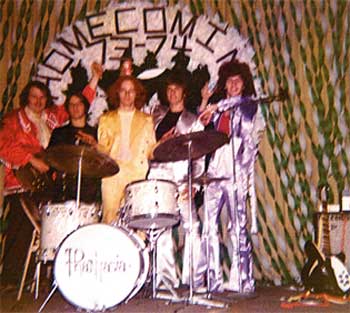 TRIZO 50 in their earlier incarnation as PHANTASIA
The true master of brilliant U.S. '70s soft psych, Michael Angelo, was also from Missouri (Kansas City). The songs on his self-titled album from 1977 (plus other recordings from the same period released later on) occasionally sound a bit like Wings-style space pop rock and even Raspberries-era Eric Carmen piano balladry. His songwriting was genuinely at the level of these writers and the songs on his records just continually hit one nail after another on the head. Angelo also had a really good voice and an impressive scope of musicianship, playing all of the instruments but drums himself and with some real chops as a pianist and lead guitarist. His Gothic, minor key, nine-eight ballad "Field of Lonely Eyes" suggests a scope of psychedelic songwriting perhaps comparable to that of Sean Bonniwell of the Music Machine (as in, for example, the Music Machine ballad "Discrepancy").
"Oceans of Fantasy" (which, like Trizo 50's "Graveyard," was included on the U.S. volume of the Love, Peace and Poetry series and which is another contender for most beautiful song on all of these records) is like the Love Boat theme re-imagined as a psychedelic power pop ballad. Angelo's original, self-titled album is supplemented by an LP released a few years ago on the Void label entitled A Sorcerer's Dream, which features a side of eight tracks presumably from the same time frame as the album (though probably from another album project that was never completed—the songs are too good to have been outtakes!) and a side of tracks in a somewhat different style recorded in the eighties and nineties.
Michael Angelo is commonly referred to as "Michaelangelo," by the way, and as such is one of the numerous one-named stars in the world of rare, one man psychedelic LPs, along with such figures as Darius and Marcus. Marcus was a guy from Kentucky who released an album in 1979 entitled From the House of Trax. As with Michael Angelo, this is firmly '70s psych—nothing retro at all about the sound (solid state gutar amps, synthesizers, etc.) The album is just paradigmatically psychedelic from the get-go, with spacey keyboards, lots of phase shifting, etc. Marcus' lyrics are a mixture of spiritualism, science fiction, psychology, concern for the foibles of mankind, and bizarre-o psychedelic silliness like the following:
It all started with a piece of light
So small it could never be seen
It turned into a universe
In the window of a dream
It amplified my mind
It set me free to play
I turned into a superstar
And my mind has run away
There is a sense of Gothic drama to much of the album and Marcus is seen in photos wearing all black with a cross around his neck and carrying a sword! (In other photos, he wears a white robe and carries a staff.) Though his songwriting and singing are not as good as Michael Angelo's, this is another album with quite nice, adept instrumental accompaniment. Part of the appeal of some of these records, really, is that they are period sounds done very well. The fact that they were produced on a D.I.Y. basis makes them really impressive and charming just on a human level.

MARCUS: The eternal interplay between the dark and the light, Kentucky style.
New Englander Bobb Trimble's two LP records are from slightly beyond the time frame of this article (early '80s), but very definitely of this same genre: a then-contemporary American psychedelic folk/pop-rock with modern production and instrumentation. Bobb possesses a beautiful "elfin" voice. A review of his second LP, Harvest of Dreams, on the Lama Reviews psychedelic music web site states that Bobb's is "as beautiful a male singing voice as there is in rock and roll."
If Bobb's songwriting is not always as dynamic as Michael Angelo's, it perhaps nevertheless reaches greater heights, as in the almost unbelievably beautiful six minutes of "Premonitions." (The Lama reviewer calls "Premonitions" "the most exhilarating musical expression of love I've yet heard.") Bobb's songs are impassioned, troubled, but filled with light and beauty. Like Michael Angelo, Bobb performed most of the instrumental parts on his two LPs himself, and the accomplished nature of the result is, once again, remarkable.
A CD collection entitled Jupiter Transmission, released in 1995 on the Parallel World label, collected most of the music from Bobb's two albums and an LP of unreleased tracks (Life Beyond the Doghouse) was released in 2002 on the Danish Orpheus label. The latter record features a couple of tracks from an apparent Jesus freak period. Even here, though, Bobb is transcendent, especially on the almost nine minute epic "Blood of the Lamb." (Surely, this is some of the weirdest "Christian psych" ever. Is there even any '80s Christian psych other than Bobb?) Life Beyond the Doghouse also features some tracks Bobb recorded with a teenage backing band that are much more ramshackle and goofy.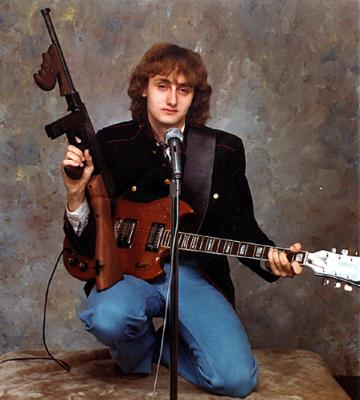 BOBB TRIMBLE: Gangsta shit.
One last record of this genre (super psychedelic '70s U.S. pop!) that should be mentioned is a late seventies album by Rick Saucedo entitled Heaven Was Blue. Though I have not heard this whole album, I have heard the eighteen-plus minute title track suite that took up one side of the original record and it is a truly sweet bit of over-the-top psychedelic song composition. The playing is a lot more amateurish than with the Angelo, Marcus, and Trimble records, but the compositional inspiration is high and the track is very charming. Saucedo was (and apparently still is) an Illinois-based Elvis impersonator, but sings this psychedelic music in a high, twee voice! Saucedo currently maintains a web site with numerous Elvis impersonation CDs available via mail order as well as a CD pressing of this, his lost '70s psychedelic classic!
Though they are somewhat less psychedelic in orientation, albums by the Milwaukee group Creme Soda and the Los Angeles group Clap are more interesting bridges between the '60s and the later explicit revival of '60s aesthetics. As rock critic Greg Shaw noted in the original liner notes to their 1975 Tricky Zingers LP, Creme Soda made it seem like the whole phenomenon of American "garage bands" had never died out. With a mixture of simple R&R band arrangements and an eclectic stylistic range, Tricky Zingers is like taking a pre-psychedelic, 1966 sense of rock and roll as an expanding form and transplanting it into the middle of the '70s. Though they had numerous musical directions, there is a simple, somewhat careless, fun-spirited aspect to the group that is at the core of the "garage" aesthetic. When Shaw made the claim in the liner notes that Creme Soda were "the freshest new sound of 1975," it is surely to this that he was referring.
The album has folk-rock elements that may have been based somewhat on '60s music ("Give It up (Man)" is achingly beautiful San Francisco psych style melodicisim), and they cover a Yardbirds song, but there is plenty to this album that is just not germane to the "garage band" style at all. "Keep It Heavy" is some kind of crazy (and beautiful) power pop thing with a Latin element, while "Deep in a Dream" builds a kind of clever, good-timey song out of goofy, harmonized Garcia/Allmans-type licks. Two tracks, a screaming rockabilly number called "(I'm) Chewin' Gum" and a blues harp and guitar number called "And That Is That" (also somehow evocative of the '50s) suggest a band that was looking at rock and roll history as something that was ALL ONE. If there is a strong element of the '60s in much of the album, it is not in the context of strict retro-revivalism.
If the early '70s L.A. group Clap had been more successful, they might be seen as something more comparable to, say, the early Flamin' Groovies than as…well…a garage band. But "garage band" they nevertheless appear to have been and, strangely enough, they not only act like they are the Chocolate Watchband themselves on their 1973 album Have You Reached Yet, but pull it off like you would not believe! Clap, however, do not come off as a retro group either. Like Creme Soda, Clap look very much like '70s dudes on their album cover (though an online anecdote about the group by the '70s L.A. fanzine writer Phast Phreddie mentions a show where the singer was wearing a Nehru jacket).
Like the Chocolate Watchband, Clap were musically based on the Rolling Stones, but now it's 1973 and their great tune "My Imagination" is not derived from '66-era Stones, but "Rocks Off" off of Exile on Main Street. The gorgeous title track from their album has a bit of a "Street Fighting Man" feel, but imagine Chocolate Watchband singer Dave Aguilar, at the height of his powers, doing something over this type of music.
There is, of course, a distinction to be made between "garage" and "basement" groups. As far as homegrown '70s psychedelic music goes, heavier and louder bands fall into the "basement" category. (Perhaps these groups' volume was muffled more in basements, so neighbors would not complain as much.) A long time classic of the '70s basement genre is the Youngstown, Ohio group Stone Harbour's Emerges album.
Just two guys, Stone Harbour may well have recorded their album in the basement as well. Their sectional epic "You'll Be a Star" was crafted very primitively through overdubs on some tape deck, with parts sometimes going out of synch with one another (suggesting that they were perhaps having trouble playing along with the tape). Crude panning effects, use of synthesizer (ridiculous portamento on "Ride"), and overdubbed crowd noise (crowds of people cheerin' 'em on!) add to the fun.
Not exactly sure how their Uriah Heep (thanked on the album's back cover) influence operates, but their song "Rock & Roll Puzzle" sounds like '68-'69 crude, heavy garage psych with lots of added synthesizer noise. They also employ some '60s garage organ. As a working unit, the duo are quite charming, with instrumentalist Ric Ballas playing all of the guitars, bass, and keyboards and Dave McCarty playing drums and singing lead. The two of them seem to have written all of the material together.
A record of a fairly similar nature—in fact, recorded by just two guys (this time from Baltimore)—is the recently reissued 1975 LP Jungle Rot by George Brigman. Like the Stone Harbour album, Jungle Rot has a very primitive production quality (and the same issues at times with players seemingly struggling to keep in time with the music on the tape while doing overdubs). More "basement" sounds, many of Brigman's songs feature loud, heavy fuzztone rhythm guitar that, coupled with the extremely badass vocal style, is evocative of the Stooges. (The Stooges, of course, were originally known as the Psychedelic Stooges. Brigman has a psychedelic panning guitar solo in his song "I Feel Alright" and uses phase shifting on some of the rhythm guitar, achieving a proto-Chrome sound.)
A really good guitar record, Jungle Rot also features contrasting material with clean rhythm guitar that is sometimes blues based and sometimes a little bit Velvet Underground-like. (Velvet Underground and blues are, of course, not antithetical either. The V.U. were influenced by Bo Diddley and used to play "Green Onions" live.) The album features a pleasant mid-tempo instrumental and a ballad entitled "Worrying" that even features a major seventh chord!
The St. Louis group Screamin' Mee-Mees (another duo) released an EP entitled Live from the Basement in 1977, but actually sounded more like a "garage band." In fact, songs on this EP like "Hot Sody" and "Struckout" sound distinctly like '65-'66-era garage rock of the particularly shambolic and wacky variety. As with the association of Creme Soda and Clap with "garage rock," this may very well have been at least partly unintentional on the Screamin' Mee-Mees' part. They perhaps just felt that they were playing rock and roll.
The humor in the Mee-Mees gives them the sense of belonging to an American proto-punk genre (Live from the Basement was actually recorded in 1975-76) that includes a number of other psychedelic-oriented groups. (The Mee-Mees themselves proved to have more explicit psychedelic elements on later recordings.) One of the greatest amongst these was the Sacramento group Twinkeyz. Compared to a psychedelic punk band like the better-known Chrome, Twinkeyz had a similar heavy metalloid (plus synthesizer effects) punk sound, but with a better singer, clearer vocals, and wittier lyrics. They also had an outstanding lead guitarist in Tom Darling, whose fuzz and delay leads go throughout Twinkeyz songs and are both more ferocious and wackier than Chrome. Twinkeyz seemed to come more from the tradition of psychedelic music itself, too, as one can hear with their "jaunty" song "E.S.P."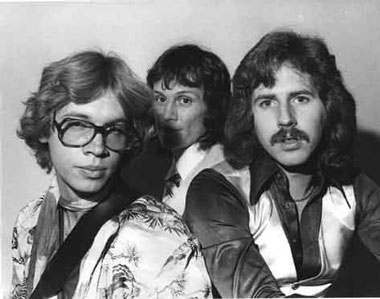 THE TWINKEYZ
Another psychedelic proto-punk band of note, of course, was the Oklahoma group Debris, with their mid-'70s cult LP Static Disposal. Debris had somewhat of a post-Roxy Music sound (saxophone and synthesizer noise), suggesting glam rock once again as something congruent with psychedelia. Debris' songs are sometimes comparable to the experimental art metal of MX-80 Sound, but other times based more on grunge rhythm guitar (having its basis, of course, in a psychedelic group like Blue Cheer), with spacey riffing and soloing. Psychedelic-connoting effects such as fuzz, phasing, and even what sounds like Echoplex (the latter being a big Syd Barrett guitar playing allusion) "add to the vibe." "Boyfriend" may have been Debris' greatest track, with ridiculously Echoplexed rhythm guitar and a far out, free form solo.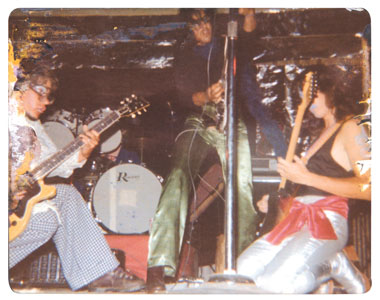 Ladies and gentlemen, VICTORIA VEIN & THE THUNDERPUNKS, from 1974. This band evolved into the legendary Debris.....
Most extreme of all is the recent two CD anthology of recordings from 1975-85 by Pennsylvanian Todd Tamanend Clark entitled Nova Psychedelia. Clark's is quite possibly the most psychedelic music ever created: sectional, juxtapositional song structures like the wackiest of '60s psych, but far more extreme and compositionally sophisticated, getting into the six, seven, eight, and up to fourteen minute range on tracks entitled "Origin," "Phosphorescence Is the Chamber," "Brain and Spinal Column (Including Animalism)," and "The Grim Rider." Over beautiful effects-processed (phase shifting, Echoplex) guitars, heavy fuzztone guitars, synthesizers, Theremin (lots of Theremin), '60s garage organ, etc., Clark does Jim Morrison, "Horse Latitudes"/"Celebration of the Lizard" style recitations on practically every track!
Nova Psychedelia begins with 1975-era material originally released on one 45 and an eight-track tape, followed by the entirety of Todd's band the Eyes' 1977 LP record New Gods: Aardvark through Zymurgy. The remainder of the set consists of everything from two more LPs and two more singles. Todd's 1979 LP We're Not Safe is perhaps somewhat reminiscent of the English band Pink Fairies (if they had been demented enough to do a version of "I Had Too Much to Dream (Last Night)" with gnarly Ted Nugent-style lead guitar and mellotron or to write a fourteen minute long, through-composed track!). The early '80s LP Into the Vision is more of a solo affair that is seemingly pretty top drawer among obscure, psychedelic-oriented "minimal synth" records (along with Billy Synth's Music Is Forever EP, Dr. Mix and the Remix's Wall of Sound album, Rescue 1's Movie Viewers EP, etc.!).
In the late '70s and early '80s, of course, the explicit '60s garage rock revival and Paisley Underground occurred, and psychedelic aesthetics have persisted in American indie rock (formerly known as "college radio music") since then. Whereas psychedelic-oriented punk (or, perhaps more accurately, psychedelic-oriented post-punk) and "basement" psych heaviness have been particularly well represented in college radio music/indie rock over the last couple of decades, a strain such as the "'70s garage rock" of Creme Soda and Clap seems to have been more of a momentary anomaly. If there is a greater lost music discussed in this article, however, it is seemingly the ambitious '70s psychedelic pop of Zerfas, Trizo 50, Michael Angelo, Bobb Trimble, etc. Good examples of this form persisting into the '80s and falling outside of the post-punk framework of college radio music/indie rock would be very interesting to hear.
(Special thanks to Karl Ikola, Jon Behar, Jack Dee, Bob DePugh, and Wolf.)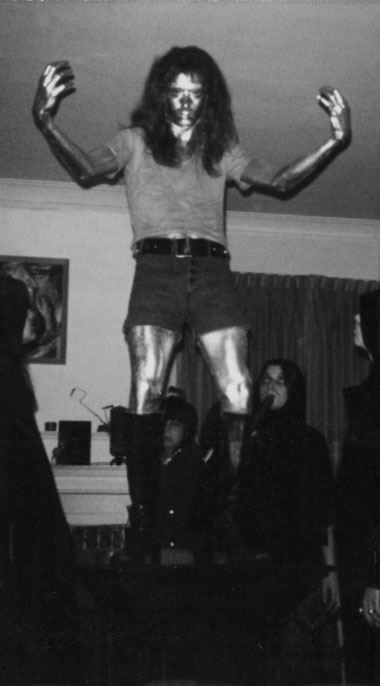 The one and only TODD TAMANEND CLARK bids you a silvery adieu....