Only Seat in the House
SPORTS by Christopher Dean Heine
March 3, 2001
the morning after


Heroine Sheiks singer Shannon Selberg was smarty-pantsying around as he has done for his entire career. His band was performing at the type of hip warehouse party you used to see in television commercials back when all of those Internet companies still had money to waste. The warehouse had three main rooms. One for clubbin' dancers, one for people to mingle about mod furniture and one for the live music. The crowd consisted of some of America's finest consumers. The types of people who think they have taste and therefore spend a lot of money on clothes -- even on used ones. Shannon too was dressed for the occasion, wearing a funny silver top hat and his signature fake mustache. He prowled around the stage shirtless, playing with the mic off the stand. He would poke his finger into his chest sometimes. One time specifically, he poked his temple. Another time he started tapping his arm veins, and then he fake-smirked and strolled off. Shannon, of course at his age, seemed tired and a little sad. He looked like the crusty ol' American ballplayer biding his time in the Cuban leagues, pre-Castro and post-reality. My friends and I talked about Shannon's old band The Cows a lot as we watched the Heroine Sheiks. Let's put it this way: The Cows are still winning even if they ain't playing no more. But then the old knuckleballer finally came with some hard stuff. The Sheiks were doing their usual 3rd-rate Jesus Lizard imitation towards the end of the set. Shannon made the OK sign with his right hand and repeatedly choked and crooned over the guitar noise, "Are you O-KKK? Are you O-KKK? Are you O-KKK?" He would point the OK sign at the sizable crowd with every K sound like a rapper would. He looked at the crowd in mock concern. He didn't want to, eh, hurt the children's feelings it seems. He repeated the line a lot throughout the song. It was a real good hook. No, it was a gigantic hook. Big enough to hang an elephant's carcass. At the end of each chorus he would grin, finally with a tint of genuine humor, into the well-dressed New York crowd.
March 15
11 pm
For those of you who care about the NBA, an acquired taste these days, the only real news about Michael Jordan potentially coming back is that the Lord Jesus Christ of marketing is fat. He is working out because he is fat. Two-hundred-forty pounds. That's probably obese by the publicized medical reports we all hope are somehow warped. Even at six-foot-six, Michael is a fatty caddy. Moving on, maybe he will come back, maybe he won't. It says here that MJ won't win another championship if he does come back. The kids he once knew as Allen Iverson, Kobe Bryant, Tim Duncan and Rasheed Wallace are grown men now. And they aren't watching their waistlines. This is the difference between sports and other sectors of the entertainment industry. Sinatra could still embarrass Michael Bolton with half a lung in his final days. A wink and a smile don't do you shit in athletics.
Coaches in the NBA are like dish rags. Some are disposable and some just stick around. All you ye followers know from experience that every time a team fires a coach and hires the players' favorite assistant coach (via endorsement from their star player the franchise wants to keep happy) as "interim" head coach ... well, you know that it doesn't work. The team will go on a nice streak, maybe win 7 out of 10 games, and then lo and behold, go back to their loser ways. What does this tell us? Coaches in the NBA do not coach in the classic John Wooden way of Xs and Os. All they really do is gain players' confidence, sometimes an uncle-like trust, and milk it as far as possible. Successful guys like LA's Phil Jackson and Philadelphia's Larry Brown are not great coaches. Well, they might be, but for right now, we don't know. Right now they look like Alan Greenspans. Their greatest ability is coating the fears of power brokers until the power brokers agree to abide by game plans the power brokers aren't sure exist. And then voilà in the case of these two! Magic. The voodoo gameplans work and people become disciples. But at least once every week, like Greenspan, Phil and Larry look dirty as hell. Do you know what I mean? Fuck.
March 21
12:30 am
I went down to Philadelphia last weekend to see my favorite NBA team, the Philly 76ers, play in person for the first time in my life. The 6ers are really, really good this year. They have the best record in the NBA. The 6ers have the league's best scorer in Allen Iverson. But he was playing hurt, and didn't really have it together. The 6ers also have the league's best defensive force in Dikembe Mutumbo. Now Mutumbo may know defense, and he may know six languages fluently (no kidding), but the this tree-like man ain't got a post move good enough to score on a shrub. The 6ers played the Sacramento Kings. With Iverson under physical duress, the Kings handed the 6ers their hats, to put it nicely.
I have written about Kings guard Jason Williams before, and let me repeat: This white boy has some nasty shit crawling out of his game. I won't try to describe it. Just watch him and the Kings on NBC, TBS or TNT when you get the chance. He ain't as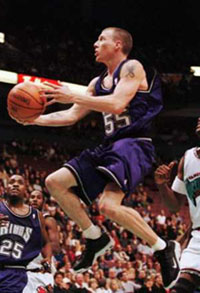 talented and valuable as someone like the Lakers' Kobe Bryant. Kobe is a real franchise player, the maker of championship banners and Sprite commercials. He can make baskets over taller men and help your company clear sales projections. Jason Williams, now, is a freak on a team of freaks. The Kings basically consist of: Williams, who is from a small West Virginia town but has a street game born from the night dreams of Earl the Pearl Monroe; three good Europeans players that don't play like typical Euro wussies; and their best player, Chris Webb, who also happens to be their least interesting. Webber, the best power forward in the NBA, has been paled by his own teammates for overall coolness. Okay, Webber is black and the other guys aren't and this is the ultra-ebony NBA. Webber next to these white cats is about as interesting as Whitey Ford standing next to Jackie Robinson and Roberto Clemente. As a two-decade NBA fan, I find it amazing -- because they are so white -- that the Kings are the most entertaining team in the league. (Is that OK-K-K?) The Kings are like a team of hot-shot Larry Birds with one great black player. The last time a good team was this white was the Bill Russell-era Boston Celtics. No one ever thought they'd see that again. But unbelievably, here we are, the Kings could win the NBA title this year. But they won't. They clown too much.
It should be noted that players from all races and ethnic backgrounds are playing basketball in an increasingly similar style these days. Somehow non-African-Americans, locally and globally speaking, are slowly catching up with our country's blacks in terms of basketball ability, mimicking their techniques and body-language in the process. This has been EVOLVING for four decades or so. I'm dead fucking serious. I know, a white man shouldn't say what everyone thinks, (blacks play b-ball better and jump higher than Woody Harrelson) but I just did. Didn't I?
Mike, as in the slimmer Jordan, has been the creative force behind the globalization of basketball-Americana, which is a macrocosm of Mike, and to a lesser extent, American urban black culture. I don't know how to clarify any of this, but it really seems like white guys are jumping higher these days and it seems like his AIRNESS and his marketing prowess have something to do with it all. Influence, dude. We all know its true. If I were to purely think it and not write it, it would be a trite endeavor. For me, for anyone. This next point is not trite anywhere, however. European players are actually playing like they are smart enough to understand team defense. Chalk another one up for Mike. He played great defense, conceptually and physically, and now all the Swedes, French and Chinese want to play great D and drink "Peepsi" too. Mike on Olympus, the Swedes, French and the Chinese pissing and shitting alongside an asphalt court down there in Ithaca.
But now Mike's time is up, as I suggested earlier. So don't come back Mike. Zeus didn't age well either. We all die. With that in mind, somehow I think Mike and Shannon Selberg could have one meaningful talk, on a long drive in the desert looking for a gas station perhaps. As long as Shannon wears a long-sleeve shirt to cover his heroin tracks. Mike probably don't dig the smack. Might help him lose some weight though. And fucking talk about Olympus!