SUN CITY GIRLS (1984)
Uncle Jim
Jokers on a Waltz
The Burning Nerve Ending Magic Trick
Rapping Head
GROTTO OF MIRACLES (1986)
Different Kind of Whore
Black Weather Shoes
Frankincense and Fish
The Mystery of Death
It's My Old Friend The Future
The Grotto of Miracles
HORSE COCK PHEPNER (1987)
Horse Cock Phepner
Voice of America #1
Nancy Reagan
Esta Susan En Casa?
Aristocrats of Impertinence
It's Underneath the House
I Protect You From Me
Without Compare
CIA Man
Dreamland
Pornoshop
Voice of America #2
Eyeball in a Quart Jar of Snot
Passenger Seat People
Saint Bernard's Observation Booth
Kill the Klansmen
CLOAVEN THEATRE VOL. 1 (1987)
Professor
Mirage
Spaceman
The Men in Black
KALIFLOWER (1993)
X+Y=Fuck You
DANTE'S DISNEYLAND INFERNO (1996)
Sexy Graveyard
Hector and Chino
Soft Fragile Eggshell Minds
A Bad Dream
The Geography of the Swastika
Flesh Balloons of Tibet
Pay the Fiddler
The Brothers Unconnected
Hippie Conglomerate
Five Minutes
Charles Gocher Sr.
A Man is an Insect is a Flame
Persistence of Vision
Dear Anybody
A Secret Revealed Unwittingly
Helen Waite
Jessup's Dairy
The Ballad of (D)Anger
Bitter Cold Countryside
Ruby on the Ferris Wheel
Song of Co-Dependency
Joan of Arc
Holiday for Shakespeare
The Harley of Horror
Let's Pretend
Floppy Pus
Bloddy Zipper
Family of Nails
Fourteen
Sal Manilla
Six Kids of Mine
Dan and Ross
Book of Revelations
Bird of Prey
330,003 CROSSDRESSERS FROM BEYOND THE RIG VEDA (1996)
Civet's Tango
CCC
Rookoobay
Insect Dilemma
BOX OF CHAMELEONS (1997)
Wuthering Corpse
Asian Women on the Telephone
The Magic Switch
Coffee With Eyelash
Insect
Enough!
It's Ours (Reprise)
Yellow Fever
I Deal a Stick
Doorknob Journalism
Is It Stroked?
Indian Graveyard
Tobacco Bong Hits
Cooking With Satan
Rodent With A View
My Daughter
The Apology
Caterpiller
ALVARIUS B. (1998)
White Ball
Detergentleman
Cooking With Satan
Seeing-Eye Latte
Hippie Conglomerate
Civet's Tengo
Rage Counselor
Blood Baby
Switch Stripe Shins
Sex Cult From the University
Weather Funeral
The Clearout
Great White
Flying Skillet
Shovel in the Chest
Femacide
Ghost of South Carolina
Black Eyed Boat
Through the Heart
Disallowed
Indian Summer Moon
The Detector
Doctor Greenbomb
Curse of the Left Shoe Demon
Cichlid
Third Lung
Once Upon a Time in Persia
Kingfisher
Miss you? . . . No
Viking Christmas
Sky Sharks
Chinese Checker
The Great Fuck Inaccessible
The Draw
Satan's Blanket
Sun Bear Gall Bladder Bile
The Glide Underneath
Under the Light
The Decoration
CARNIVAL FOLKLORE RESURRECTION RADIO (2004)
Insurance
Not in My League
WFMU Station ID "Palmer"
Batman Theme
WFMU Station ID "Bison"
Where Is What It Was?
98.6 IS DEATH (2004)
Chameleon Street Hit Parade
Original of the Aboriginal
Dead Sea Catholics
Wheelchair Massacre, 1906
What Brought it Down?
Kill them all . . . . Gently
98.6 IS DEATH
Anvils Keep Fallin'
Matamoros Hit Parade
Radio ID #1
Sour Smells in Nevada
Matamoros Hit Parade #2
Black Genie
Limerick #241
Radio ID #2
Messages from Terminal One
The Closer
Matamoros Hit Parade #3
Without Supervision/Radio ID #3
Questions and Answers/
Only in America Inc.
BLOOD OPERATIVES OF THE BARIUM SUNSET (Alvarius B) (2005)
Evil Next To Blue
Mister 786
Slim 293
The Demon 360
Dracula Frizzi
Dirty Angels
Ballad of Colonel Fawcett
Sometimes I'm Like A Man
Missy Undertaker
The Feel
Shenandoah
STATIC FROM THE OUTSIDE SET (2006)
Introduction (by Cantinflas)
Anthrax Dandruff
Mysteries Behind the Curtain
Radio Neocon #1
Limerick Anthropology
Sacrifice in the USA
Radio Neocon #2
Radio Neocon #3
MISC:
ANWYA
Encyclopedia Vomitanica
Insignificanto
Mark Twain August
Napoleon and Josephine
Prick of the World
Suitcase Handler
Sun Sucktown
A Wake
MORE TO COME?
Send contributions to
larrydolman at gmail dot com
(updated 7/6/2014)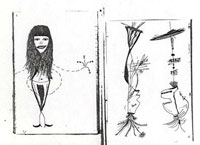 All contents, images, and files copyright © 1979-2007 Sun City Girls/Abduction unless otherwise noted.