KIM GORDON / IKUE MORI / D.J. OLIVE CD (SYR)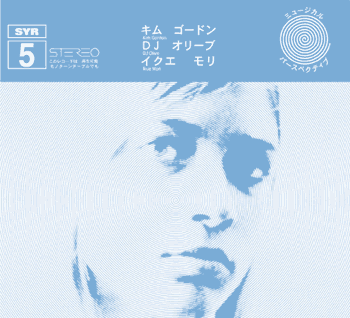 This CD is good. It's actually better than I expected it would be. Hearing about the project, it seemed to be coming from that post-Zorn / Knitting Factory thing - it's not that I 'don't like' that thing, but it's spawned about 150 expensive CDs and I just can't be bothered about 'em all, being quite satisfied with the 4 to 7 that I have. And I'm not a huge follower of 'illbient.' But hey, I like what's going on with this album. I think that what really 'makes' it is that the pieces on here are all really short, 3 to 5 minutes. This gives the thing that pop-song of the junk-future momentum, which is surprising for an album featuring this much tunneling, gushing NOISE, as supplied by the dense live interplay between Mori and Olive. Here's how Forced Exposure describes the activity on Mori's solo CD Garden: "Adopting some of the crystallized-fracture ethos of concrete/surreal constructs and the spatialization of certain minimalistic ambient/techno works….," which seems accurate enough to describe her activity here, even though it's hard to tell where Mori's sounds end and DJ Olive's begin, and even harder to worry about it. It's just free-flowing urban-techno-gush. Kim's parameters, on the other hand, are crystal-clear, her vocals and bluesy / rocky/ no-wavey guitar patterns coming in and out of a mix position that rides somewhere above the post-art soundflow. As you might expect, when combined with bizarre sound confusers like Olive and Mori, Kim's contribution sometimes sounds a little, well, Kim. You know, less mysterious. Some friends of mine have complained that Kim is doing nothing that she wasn't doing ten years ago, and they find her sing/speak annoying. I know what they're saying, because that's often a gut reaction I have, but if she's on the edge I like the way she's teetering. She can be screechy, of course, and head-scratching sometimes -- there's another "Alice, she's just a kitten" moment on here, coming somewhere around track 6 or 7, when she starts chanting something like "Kill Minnie! Donald Duck!" a few times. Still, I can't help but be tantalized by the new territory she is claiming, dedicating herself to a more free-form vocal style. The name Patty Waters is being invoked a bit to describe what she's doing, and indeed, I see her channeling both the Patty Waters free-fall vocal muse AND a half-remembered sassy 60s girl-group stylee through her No-Wave parameters. The result is some sort of free-pop bobby-sox-and-pink-hair noise music. Don't sleep on this record, there's something going on here that is going to remain futuristic and unpinnable for years to come.
(I also like how the Other Music website describes Kim Gordon's vocals: "...all about breath and its interruption.")
LATE: The Thomas Gordon EP 8-INCH LATHE-CUT (20 CITY)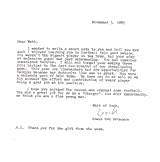 It's supposed to be spelled 'late,' all lower case, so I figure all-caps (as per Blastitude's record-review format) would be okay too. late is Matthew St. Germain from Minneapolis, Minnesota. He's the founder and co-executive officer for the Freedom From label. He's also quite a character, but then, aren't we all? He has a reputation for mooning audiences when he performs, but the music he's been releasing as late has been taking a more sedate blank-stare turn that seems pretty incongruous with such hi-jinks (and more congruous with another of late's reputations, that of avid drug experimentation). The turning point from drunken mooning to this sedated minimalism was probably "Black Rain," a track that first appeared as an untitled piece on a don't-blink-and-miss-it-anyway cassette single from EF Tapes. It was a 4 or 5-minute presentation of the same subdued and distant low-register grind. I later found out from Matt that it was simply the result of his hand-held recorder running while left out in the rain. I find it a nice layered soothing drone, like listening to crickets on a night in the country. On this lathe-cut record "Black Rain" appears again, this time a longer eight-minute excerpt that takes up all of Side B. Sublime listening.
The first half of the record, if you'll allow me to review it in reverse order, features more dusted found-sound minimalism -- late's own description of his participation in the sounds is "Spans time periods of 1996 to 1999 and is sort-of strictly hands off by late." All he really did was push record to capture "field recordings of amp, cd, car/radio..." The amp recording begins the record with a very nice layered hum that is over a bit too soon. (Apparently St. Germain came home from some drunken meelee and found his amp, though unattended for hours, making this sound all by itself.) Then there's a long section of silence, and then the "cd" field recording, a few seconds of a Rafael Toral CD that is skipping. Again, it's a legitimate found sound object, although it is sorta slight and simple and again over quick. (That also makes it a 'miniature,' right?) Then there's an even longer bunch of silence, and then it's the rather amazing third piece, which is apparently St. Germain recording himself driving, presumably alone down some dark desolate Northern Plains highway, tuning in static on the radio and accelerating and deccelerating the car engine along with it. The result is as alien-sounding as "Black Rain" -- a lot of it sounds like it could be an engine and a radio but some of it sounds like it has to have a guitar plugged into an amp humming along. (Maybe an unnamed passenger had one of those cigarette-lighter mini-amp things.) Maybe. Anyway, this is a pretty powerful and interesting record. Eclipse has it for $15.99, which seems kinda high, I got mine for $8 or $10 direct from St. Germain when he was in Omaha on the Reynols tour. -- Matt Silcock
LINKS:
Freedom From
Eclipse Records
PANTY BOYS: Maiden Voyage CDR (self-released)


This is an unknown cdr that made it's way to the Blastitude offices a few months ago. Panty Boys seems to be a one-man band, the man being Chuck Stern who lives in the NYC area. (His area code is 212, I think that's NYC.) Eight tracks that heard together sound like one extended piece. This is interesting stuff, dense-ass prog/noise collages that never come off as being too prog or too noise. By prog I mean that you can hear guitars and keyboards and stuff playing strange riffs and chords that could come from King Crimson or early Genesis or whatever, but it's all shot through with tons of droning/wailing/horrorshow intangibles. And, the guitars and keyboards are just as likely to play Ralph Records silliness or post-Incus scritchy /scratchy, and disturbed distorted vocals can be occasionally discerned inside the din. Too melodic/harmonic/'neo-classical' to be improv, too messy to be prog. And what the hell is that on the cover? Anyway, I'm not usually into this kind of prog-collage stuff, but what makes this one work is the disc's brevity (34 minutes) and the sheer momentum as one information-overload collage slams into the next. Contact: sternmail@tuna.net, (212) 799-9739.

VARIOUS ARTISTS: Jazzactuel 3CD (CHARLY)


I've got a cassette dub of a friend's scratchy copy of Monkey Pockie Boo by The Sharrocks (Sonny and Linda) but an excerpt on here sounded totally new. Linda moaning out a sweet/sad blues melody, all by her lonesome. No record crackle or tape hiss, just Linda in my room singing wordless soul, sounding great on CD. Then Sonny and the band come in suddenly, crashing and clattering and burning, no end in sight, whipping Linda into her banshee caterwaul. Crazy stuff. She sings with the same punk energy of Yoko Ono but her whoops and free-fall warbles are even more outwardly spiralling. She sounds absolutely feral, there's none of that archness / distance you get from Yoko, Linda Sharrock is right in your face, sounding for all the world like an animal getting fucked outside in the street, it's really that intense. (That's why they don't play this shit on the radio.) Other times she's like a huge woman-size crow cawing at the moon, and Sonny and the band are still churning away but their roar is low in the mix -- studio dynamics or live-band dynamics, or maybe a little of both -- and for all their variegated clatter, still (because of the lowered dynamics) really only creating a variation on the drone, a different sort of minimalism, specifically, a representation of the great night-time countryside silence that the black woman-size crow is cawing into (out of).
I don't really know how to continue this review except to say that this three-disc box set is well worth the $37 or so you'll have to pay for it. (U.S. funds.) And that the other Actuel-label reissues that Charly has done are already out of print (at least I think so, though they may get repressed). I mean, this box set is stunning. It's got 26 different tracks, and at least 10 of 'em are around 10 minutes long, with a few clocking in at the 20-minute mark (i.e. an entire LP side). Other highlights, to name just a few, include: "Red Cross" by Sunny Murray (a heavy composition that just keeps building in intensity), "Blase" by Archie Shepp (with a heavy rap by Jeanne Lee), "Exploration" by Grachan Moncur III (an undersung trombonist leads a lineup of Roscoe Mitchell, Dave Burrell, Alan Silva, and Andrew Cyrille!), "Brother B" by Arthur Jones (an incredible alto saxophonist capable of Lester Young-ish breathiness as well as all the 'excoriating' stuff), "Pioneering" by Andrew Cyrille (percussion solo self-accompanied by simultaneous 'whistles, gong, shouts, et al.'), "Tarik" by Dewey Redman (Joshua's father goin' off on the musette), "Africanasia, part 1" by Claude Delcloo/Arthur Jones (a percolating rain-forest jam), and "The Seasons, part 6" by Alan Silva & The Celestrial Communication Orchestra (an unbelievable 22-minute drone featuring 19 musicians that could almost pass for The Dead C or something like that).
Okay, there wasn't much historical background in that review so I'm gonna end it with this that I just pulled off the website for a California radio show called Jazzadelica:
From 1969-1971, the French BYG/Actuel label lured cutting-edge American jazz artists to Europe for collaborative concerts and recording dates. The result, sampled on this collection and documented with informative liner notes by Thurston Moore and Byron Coley, was a body of ground-breaking work that continues to exert influence to this day. Along with the equally-remarkable ESP-Disk catalog, these BYG/Actuel releases (50+ total) are the definition of "free jazz." Exhilarating stuff from Charly Records (UK).
The above from DJ Rocky Rococo. Listen to his show and others at www.kfjc.org. I couldn't really find any sort of historical site about the Actuel series, although there is a discography here.