PARTING SHOT Look at this grotty flier for John Carpenter's Halloween (1979). Must've been for a screening on the 'grindhouse' circuit, which YOU, yeah you, might know by its sanitized name, the 'drive-in' circuit -- c'mon, this is quickie filmmaking for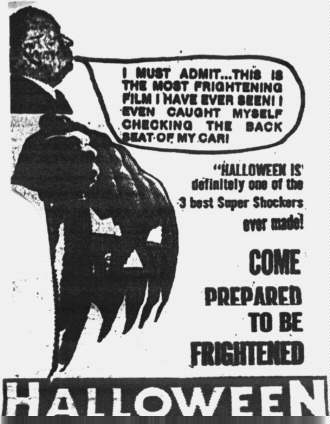 quickie profit, you think they're only gonna show these flicks in big outdoor pastures where you have to watch the movie from your parked car? That's an image strictly from the Midwest and California. What about in the middle of New York City? How about all those hundreds of thousands of people who don't have cars because they live in inner cities and they walk and take buses and subways everywhere? If you just show movies at drive-ins, you're missing the ticket purchases of a whole bunch of Americans right there, and people who live in inner cities certainly make a worthwhile target market for exploitation flicks (you know, they're tough 'blue-collar' cusses, used to or at least well aware of the hard knocks of street life, the evil that men do, etc., and they ain't gonna settle for no namby-pamby entertainment, give 'em EXPLOITATION all the way, 'cause smart and dumb 'blue-collar' 'hard knocks' cityfolk alike can handle their movie-goin' kicks raw and raunchy). Of course, they could get a ride out to a drive-in with someone they know who has a car, but how often is that gonna happen? The person you know with a car also has to be someone you'd wanna go see I Dismember Mama or Bloodsucking Freaks or Beneath the Valley of the Ultravixens with, so you know, most of yer relatives aren't gonna be able to help ya (at least not without causing a mild family scandal). But not to worry, because back in the day any canny grindhouse circuit entrepeneur knew to put sleazy theaters (you know, grindhouses) in the inner cities so all that the carless street-life mob had to do to buy tickets was walk right around the corner from the rowhouse apartments and the rowhouse storefront strip joints and corner bars etc.
But anyway, where is the grindhouse circuit today? Has Hollywood truly taken completely over? It seems that all Hollywood had to do to kill the grindhouse circuit was make sure there was at least one of their big-budget action movies (or gross-out comedies) with at least one Hollywood star famous for his/her ass-kicking (or gross-out humor) and sexiness (or goofiness/"cuteness") showing in every neighborhood.
Of course, that's not true. Back in the glory days of the grindhouse circuit, there were big-budget Hollywood movies showing in the same towns with just as simple of an intent and just as simple of a star system tempting the masses. Even with this competition, there was still a market for grindhouse fare, so why isn't it being tapped into now? Simple: the invention of the Video Cassette Recorder. To paraphrase the Buggles, 'twas videotape that killed the grindhouse star. (The modern analogue to 'grindhouse circuit' is 'straight-to-video.' And it's not as much fun.)
Ah, but we still have exploitation movies that run in our movie theaters, no doubt about it. It's just that now they cost anywhere from 40 to 100 million dollars to make and star Tom Hanks, Arnold Schwarzenegger, Val Kilmer, Denzel Washington, Ashley Judd, Gary Sinise, Keanu Reeves, Sandra Bullock, Michael Caine, Sharon Stone, Billy Crystal, Samuel L. Jackson, Ryan Phillippe, John Leguizamo, Brad Pitt, Nick Nolte, John Travolta, Kurt Russell, Halle Berry, Michael Douglas, Kevin Bacon, Mel Gibson, Gary Busey, Julia Roberts, Michelle Pfeiffer etc. This new breed of big-budget B movies can be fun....but not as much fun.