Teen Hubris IS Viscera: The Zyklon Bees & The Pig Snoot Revival
by Charles Lieurance
"Dachau blues, Dachau blues, those poor Jews
The world can't forget that misery
'n the young ones now beggin' the old ones please
t' stop bein' madmen." – Captain Beefheart
I. Ray Gun Boogie & The Real Folk Death Blues
I was at the back of the record store, checking in "product," as the owners so rapturously referred to it. One of those days when working in a music store felt further away from rock'n'roll than washing dishes in an IHOP or cold calling people in the dead of night to ask them which hospital they'd go to if they were to suddenly have a stroke. Back there with my laser gun, zapping bar codes for D'Angelo and O-Town and trying to pretend I'm a spaceman with rocket fever, an intergalactic voodoo houngan who -- by zapping these OCD zebra stripes – can cause horrible agony to befall these pop stars. Then this tall, well-dressed black guy comes up and buttonholes me. Speaking in his best spy voice (perhaps he's hip to my powers), he beckons me from behind the counter & over to the blues section of the store. He flips through the CDs and makes a face. Not like he'd taken a sip of sour milk, more like he just couldn't see his way through a math problem. Then he shrugs: "Y'know, this is not the blues the brothers listen to, man."
I'm not sure what he's getting at. I'm afraid to look down at the rows of CDs because I'm afraid – like the nightmares of naked public speaking – that when I look, every face on the goddamn CDs will have turned white. I'll see Bucky Stimplett, with his banjo, or Ivory Rockenbach, with his big hollow body Bullrusher 9000, playing before an audience of blue haired mummies in a Florida trailer park. But there will be no John Lee Hooker, no Howlin' Wolf, no Skip James, no Slim Harpo. I mean, it was that kind of a day. So I take a deep breath and look. Thankfully, everything seems to be in order. I catch a glimpse of Hound Dog Taylor and Magic Slim and feel like this customer must be making a finer point. That, I can live with.
"The brothers, man," And his voice goes down to a subversive hiss. "They don't listen to any of this crap."
Well, I'd always suspected that maybe that sound that got the long hairs in a wiggle at the downtown college blues bar was maybe not what got the rent parties of Runtstump, Mississippi churning. But what the fuck did I know? I was a voodoo spaceman with a magic laser gun, but that didn't mean I had the lowdown on every goddamn thing, did it? I gulped and he was waiting for the question I had to ask.
"What DO they listen to?" I hated the sound of the word "they" the minute it left my mouth, but hey, he started it.
He was ready to impart to me the secret name of God and I tried to juggle my facial expression into the kind of tablet that deserved to receive it. He bent in, took a chunk of my thrift store dress shirt between two fingers, and said:
"Marvin Sease."
I'd never heard that name before. Not because I don't know the blues. I know the blues like every hipster who's been hooked on rock for thirty years knows the blues. Which means I know it historically and assume the living blues, the Friday afternoon FAC urban blues, is an abomination caused by assimilation, fusion, disposable pop culture, and some virus or parasite with "coccus" at the end of its name.
"My name's Ray," He said. "If you ever need any advice about what to order in this section, let me know."
He handed me his card. Then he danced his fingers over the CDs one more time dismissively, but spotted something. He yanked a CD out.
"Oh, and I used to really dig this guy back in Chicago."
It was a CD by Andre Williams, the most motherfuckingest insane purveyor of junkyard R & B to ever strut grooves into a stage. Andre Williams was born in Chicago in 1936 and recorded, wrote and produced records for Fortune in the mid-50s. His song choices -- as a writer and performer – were already showing his bent for grease, sex, and sex with grease. "Bacon Fat" and "Jailbait" are the two poles of his very thin globe. In the 1960s, he hung around Motown hit factory listlessly and fought with Berry Gordy on a nearly daily basis. He moved back to Chicago in the late 60s and worked at Chess, playing almost every night on the south side, in joints smothered in red shag, red fake velvet and red mood lighting. In his lavender suit, shaking it to raunchy novelties like "Pig Snoot,
Parts I & II" and "Shake a Tail Feather," Williams looked like the vomit of the gods.
But he was a footnote with the ego of an LA doughnut shop. To comfort his maimed ego, he plunged into the chasm of the dolls for most of the 70s and 80s, taking drugs like a man in cultural purgatory.
But from 1998 to now, he's recorded eight albums, for labels like garage rock mecca, In the Red; Alt. Country stalwart, Bloodshot; and that great corrector of rock history, Norton Records. His first great album of this renewed vigor was Silky, produced by a nine foot tall black man named Mick Collins, who also helmed the jaw-dropping R & B psychotics, The Gories, and now burns soul to the ground in populist shake machines, The Dirtbombs. So now, in every way that doesn't count, this record store customer and I were on the same page.
My neighbors at the time were Robert and Footsy. I wish I'd made up those names, but I didn't. Footsy worked at a meat processing plant and Robert sold drugs, badly. No pill he ever gave me did a damn thing. Maybe his crack was good, but I wasn't going to score crack from the black guy in my neighborhood in a small, Midwestern college town. Every afternoon, Footsy would come home on her bicycle with her purse full of pig snoot (her word), pig ears, and other pig parts she'd swept off the factory floor into her apron pocket. Robert and Footsy would set up the hibachi grill, buy a case of beer and sit outside in lawn chairs, spreading fireball barbecue sauce onto what's left of a pig when it's been stripped of its edible worth by machines. They had life dicked. I never saw these two without smiles on their faces. Footsy, in her spare time, pirated clothes from the Salvation Army down the street. Her basement was full of clothes. I don't mean full like there were clothes all over the floor, I mean cement-to-floor joists, vertical full. She washed ten loads every day and sold or gave away the clothes to friends and an extended family so confusing it would give Eudora Welty fits. Robert and Footsy were an amazing operation.
My girlfriend and I had a standing invitation to Robert and Footsy's house for these afternoon barbecues and, for awhile, we were doing it every day. At first we just bit right into these tender little chunks of whatnot Footsy offered us, but once they confided that this was basically industrial waste, we just licked the amazing sauce off and drank beer with them. They were from Chicago and there was always unidentifiable black music coming from their house. I never once had any idea what they were playing – obscure albums by Roberta Flack, Arthur "Hardrock" Gunter, Timmy Thomas, Eugene "Snooky" Young and his plunger trumpet, and this very early, rare Parliament album called Osmium that is now one of my favorite records. Listen to "I Call My Baby Pussycat" and your sex drive immediately becomes a time bomb.
So I got home from the record store, the day the secret name of god was revealed to me, and there sat Robert and Footsy as usual. I just stated the name outright, knowing they'd catch and run with it.
"Marvin Sease," I said.
Oh, this was a howl. Like a loose-bodied, Harlem Renaissance painting, party howl. They slapped themselves and changed sizes in those folding chairs ten or fifteen times.
Marvin Sease looks, for all the world, like Eriq La Salle in the Eddie Murphy vehicle, Coming to America. His career is made off the jukeboxes of bars so hep that no white person has or ever will venture into them. Marvin Sease is a jukebox hero. "Candy Licker," Sease's best-known wad, is a song whose lurid, greasy woofs, pants, and innuendo make Serge Gainsbourg records sound frigid by comparison. His albums, Bitch Git it All and Women Would Rather be Licked, are the fringe hits of a nether world that has no use for the showy fusion of Robert Cray or the soul survivor martyrdom of Albert Collins. Even calling Sease's music the blues will cause some purists to seize up on the spot, but if a black man grilling purloined pig snoots on his grill on a Tuesday afternoon calls it the blues, who the fuck am I to argue?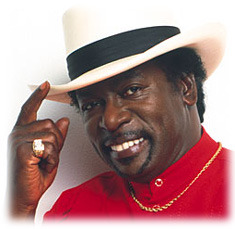 "Marvin Sease"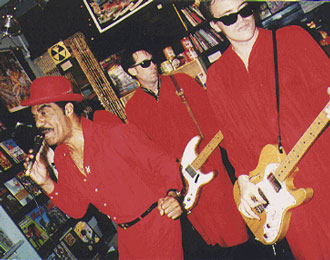 ANDRE WILLIAMS: "The most motherfuckingest insane purveyor
of junkyard R&B to ever strut grooves into a stage."

II. Sturm, Drang & Other Teenage Folk Tales
How do we know that The Zyklon Bees' new CD, Seven Mean Runs (Speed! Nebraska Records, 2005), is a blues CD? What if I told you its quality depends upon you understanding that, that it's a blues CD? This is not a Marvin Sease record. Johnny Ziegler is no Marvin Sease. Johnny Ziegler is no Andre Williams. But the most interesting blues extant comes from quarters of shaky authenticity – Pussy Galore, Soledad Brothers, The Scientists, Laughing Hyenas, Birthday Party, Jesus Lizard, Immortal Lee County Killers, The Kills, The Dirtbombs, The Bassholes, 68 Comeback, The Gibson Bros., The Neckbones, The Cheater Slicks, Juke Boy Bonner, Hex Tremors, The Oblivians, la la la. But do you really think it was any more than teen hubris created the consecrated, high-art blues in the first place? Robert Johnson was 27 years old when he died. Hank Williams was 29. The first 363 Jandek albums are, if you sift through and make a mix CD of the best cuts, as fine as anything Robert Johnson ever put to tape. Remember, all the great "albums" we have by Johnson are culled from the best of a repertoire that may well have included such effete junk as "Love, Love, The Coal's Gone Out" (a 30s equivalent of Wham's "Wake Me Up Before You Go Go") and "Polynesian Post Hole Blues" (a 20s equivalent of The Beach Boys' "Kokomo"). This man HAD to please the crowd, after all. His doomed life depended on it. And if you've got some idea the real folk blues has to be black, you're going to miss out on astonishing blues records by Jimmie Rodgers, Dock Boggs, Jimmy Martin, Wanda Jackson, Jolie Holland, The White Stripes, Black Sabbath, Ricki Lee Jones, Blue Cheer, and The Rolling Stones, to name but a few.
Back to the question, How do we know Seven Mean Runs is a blues CD?
First off, it looks like shit. I mean, you hold it in your hand and hope God rains fire on all who had to do with its design. The CD cover prematurely dismisses all that's inside. This self-deprecation has its charms, sure, but Marvin Sease would not be caught dead putting out a CD that looks this dreary. Is it supposed to be like an old 78 rpm record, like the ones that loser Buscemi played for Thora Birch in Ghost World? On the back there's a pretty girl, the bass player I'm told, and that helps some. There's something charged and erotic about her complete lack of definition. But not Marvin Sease charged. They've turned a photo of her into a black and white line drawing via Photoshop or some other trick of light, so her arm isn't connected to her shirt sleeve, which is alarming, and her left leg has too many lines in it, as if she's wearing a leg brace. Still, this back cover has some atmosphere, at least. It's got a cute girl primitively rendered -- Omaha, Nebraska's Venus of Fontenelle Forest no doubt -- and some hardscrabble scrawl Howard Finster would consider shoddy. It looks punk, I guess. But punk from the past. And what is punk from the past? It's the blues.
Secondly, it's a concept album, and not in that middlebrow Tommy, S.F. Sorrow, Sophtware Slump, American Idiot way. It's a concept album like Bob Dylan and The Band's Basement Tapes or Harry Smith's Anthology of American Folk Music, in which there is a nameless narrator who stomps across a primitive landscape (he can also be speeding in a muscle car and drinking from a box of chillable red wine) of wild Thomas Hart Benton elasticity, and must see his way through a gauntlet of tricksters, vintage drugs, mysterious figures from tall tales and scripture, and all forms of catastrophe, to decide whether his life will be bloody and blasphemous, or righteous and stalwart.
At the outset, our Huck is already pondering the big questions. He claims, "I wanna do what I should for the greater good, but I'm just a boy" in the opener, "Visceral Teen Rock," which comes on like Wayne Kramer or Frijid Pink's Gary Thompson fronting the Del-Tones. "On the day I was born…" Da-da-da-du-dum. He's a mannish boy. He's a natural born hell-raiser, Saint John the Conqueroo. He's the seventh son. Regardless, he seems familiar.
Just to make him not so instantly likable, let's say he's the "lonely teenage bronkin' buck with a pink carnation and a pick up truck" that Don McLean claimed to be in "American Pie" (though McLean always sounded more like he was hiding in the same closet as Janis Ian's Vassar-bound mope in "At Seventeen," through most of rock's pivotal moments). So we're on the road with this dissatisfied bumpkin, and he's nearing some crossroads. He knows a little scripture (mostly the brute, completely misunderstood God of the Old Testament), he's got a weary melancholy that belies his youth & he's got him a deathwish. He'll drown his baby on the banks of the Ohio, or he'll hang his self from a slippery elm until dead like Tom Dooley. He's torn twixt gospel and murder, that much is certain:

"And if I don't turn red, when I hear the slander
my face is a liar
Not too hard to hide the cards
easy to conspire." ("Visceral Teen Rock")

Throughout the whole record, guitarist/lyricist/songwriter Johnny Ziegler tells these tales to a big, empty hole. Familiar garage sonics -- a young man yelling down a well to make himself sound as wise and fraught as an older man might – prevail. It's the Memphis/Detroit garage sound, inspired by Howlin' Wolf and economics, perfected by Jeffrey Evans, Greg and Jack Oblivian, Jon Spencer, and Don Howland. God may not make no junk -- as the T-shirts say -- but when he does, Jesus promises to gild that tractor-seat lamp stand, that pimp hat, that quilted rooster-shaped toaster cover. God will bless the humility, the cheap microphones, the late-night cemetery vibe of a makeshift studio. It's in the book of Matthew. Look it up.
Most of the time, our everyman has the big-picture insight of Jack Ruby, a clod caught in the auger of history. In the methodical "The Locust Killer," the insect plague that destroyed his grandfather's dustbowl farm is still an issue to him. He halves and quarters the swarm in the fields, day and night, like a Faulkner character, to make up for the wrong done his forebears. The coda to "The Locust Killer" is the actual textbook blues, and serves as a signpost for the rest of this glorified field recording. For the last minute of the song, the band slows into a sinister indigo dirge and here links up old timey traditions with the hoodoo of punk LA -- The Doors and The Standells, The Gun Club (whose Fire of Love is the most obvious influence on Seven Mean Runs) X, and The Flesheaters.
But what our narrator has that Stagger Lee, Big Bad Bill and Jody (from prison hollers, martial cadences, ghetto slang, and Marvin Sease's "Candy Licker") probably did not, is an education. "I'd sweat a pond for one so fair," He waxes, lovelorn, in "The Locust Killer." "With your white page face and your cursive hair." In "Sanguintine," the CD's creepiest song, he becomes a deckhand Lord Byron, wandering through a William Blake painting:

"Sturm and drang, I've got it, but it fills my sails,
and if you don't have a rudder, it's just as well
You and me, we float together, just like Juno's swans,
And our legs are good enough for a long while, my sanguintine…"

Then we find him in a plush, decadent fin de siecle absinthe haze, a Syrette of morphine on stand-by, channeling Meatloaf ("On a hot summer night would you offer your throat to the wolf with the red roses?"):

"You are my sanguintine,
Yes, that red, red humor, my choice for the hot summer night…"

In the course of his murderous teenage wanderings and ruminations, we encounter not only Juno's swans, but Emperor Nero, the Passover's bloody doorways, imps, succubi, Potter's field, Michael the Archangel, the lethal jawbones of asses, and – to show he's no bookish four-eyes and has been to the outdoor moving pictures once or twice – zombie cheerleaders. Our juvenile delinquent Verlaine is suitably embarrassed at the lack of rustic street cred this book learning costs him.
According to a lyric sheet the band provided, the Cramps-y surf instrumental, "Dr. Ventura" once contained this gruesome conflation of Blake, Baudelaire and the Bible's first Book of Kings:

"Jackals slurp at my spleen, whilst I bask in the ocean's steamy light.
The hot sun devours my soul and I fall into your gaze,
Devour! Devour! Devour! My soul becomes a hideous shade of obscene."

On the CD, the guitars grind out these apocalyptic sentiments wordlessly, the drum and bass hunching and shambling along in sympathy.
In less capable hands, lines like "There was an imp tugging at my hair" (from the CD's dank central masterpiece, "Chapman Road") might sound clunky, but somehow Ziegler's preternaturally exhausted voice gives noir weight to the purple patches. The hick drawl he applies to "hair" takes the curse off the spoilt Victorian child imagery.
     There's sex, death, murder, deviltry, hellhounds, dire folk wisdom, coffin stench, hard-won redemption, and cerecloth to spare on Seven Mean Runs, the best garage blues recording to come out of Nebraska. It's that wee-hour rural graveyard drive you've always meant to take.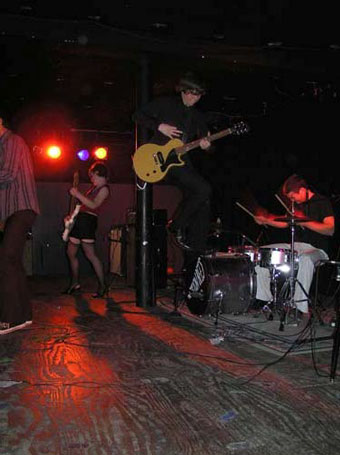 THE ZYKLON BEES: "...the best garage blues recording to come out of Nebraska."
III. Candy Licker Blues
Here are the complete lyrics to the ten minutes and change of Marvin Sease's spectacular "Candy Licker":
"I'm not ashamed no more
I wanna do the thing
that your Lover
Never did before.

Baby, let me be
your Candy Licker, girl
I just wanna be
I'm not ashamed
I wanna be
Your Candy Licker, girl

Let me lick you up,
let me lick you down,
turn around baby,
let me lick you all around

Oh let me lick you, girl
like your lover should

Oh, baby
(oh oh oh)
Oh, honey
(oh oh oh)
I wanna lick you, girl
I wanna make you feel good,
like your lover should.
I wanna lick you till you cum.
I'm not lying, girl.

I just wanna be,
8 days a week,
your Candy Licker, girl.
I just wanna be,
8 days a week,
your Candy Licker, girl.

Spoken: You see, I'm Jody, baby.
And Jody ain't got no conscience.
Jody ain't got no pride.
But there is one thing I can say about Jody,
Jody knows how to make a woman feel good.
Aint' that right, ladies? Ain't that right?

Jody will lick you up, woo!
he'll lick you down,
turn around baby,
let him lick you all around
Oh, let him lick you
Like your lover should.

Oh, baby
(oh oh oh)
Oh, honey
(oh oh oh)
I wanna lick you, girl
You know what?
I wanna make you feel good,
like your lover should.
I wanna lick you till you cum.

Uh huh.
Let me be your candy licker
I wanna be
I'm begging you
I wanna be your candy licker

Spoken: Hey ladies, I wanna talk to you about most men.
When most mens cum, you know what, you think that
he give a damn whether you cum or not?
Baby I got news for you.
They don't give a damn whether you cum!
All they wanna do is go to sleep,
or smoke a cigarette.
But I'm Jody, baby.

I will lick you up,
I'll lick you down,
turn around baby,
And I'll lick you all around
Oh, I'll lick you good,
Like your lover should.

Like this.
(uh uh uh)
I'm gonna stick out my tongue now
You know what?
I wanna make you cum.
I wanna make you feel good
I wanna lick you till you cum
I'm not lying girl.

Everybody say Uh uh uh!
Repeat uh uh

I wanna make you cum.
Let me be your candy licker, girl
Why cant I be--I'm beggin' you--
Your candy licker, girl?

Spoken: Now, here's another advantage Jody has on your husband. The husband HAVE to work, to pay the bills, baby. But check it out. Jody ain't got no job, baby! Jody ain't got no bills. While your husband is on his job, thinking about the bills, heh. You know where Jody is? Jody's at your house, givin' you a thrill. And I'm Jody.

Let me be,
I wanna be,
Your candy licker, girl!
Let me lick you up,
let me lick you down
turn around, baby
let me lick you all around.

oh let me lick you, girl,
Like your lover should
oh baby
Uh uh uh
oh honey
Uh uh uh
I wanna lick you girl

I wanna lick you in the morning. Uh huh.
And if that's all right with you baby-
You know what?
I wanna lick you in the evening
And if you really like the way I'm lickin you,
You know what?
I will lick you late at night.
Give me a chance
All I'm trying to do is prove my love to you, baby.
Mhm

oh baby

oh honey

I just wanna be
your candy licker girl
I wanna be
I'm beggin you
I wanna be your candy licker girl

Spoken: Now I got something I wanna ask everybody. Do we have any Jody's in the house tonight? Come on, ladies, you don't have to be a man to be Jody, now Come on! You know what, honey, your man aint' going down on you, girl. Naw, because your man's got too much pride. You know, it's funny, I used to be like that too girl. And one day, my lady told me: "Marvin, you better get your shit together, man." And girl, I started going down. And ever since that day, I told my baby this

I wanna lick you up
I wanna lick you down
Turn around baby
I wanna lick you all around
Girl let me lick you good
like your lover should

Like this
oh oh oh
Get a lick girl
I wanna make you cum
Can I make someone cum right now
Can I, please?
Let me make you cum
like your lover should
I wanna lick you till you cum.

Spoken: all you ladies who got those sorry ass men out there, the ones that don't wanna go down. You better get rid of them motherfuckers. You know why? So you can feel good, girl. Like you should. Yeah, I used to be like that. Ashamed to go down. You know what I once said? "I ain't puttin that shit in my mouth" But I got hip girl. Yeah, I told my baby this, you know what I told her. I told her

I'm your candy licker (2x)

Oh oh oh Woo
Oh oh oh
I wanna make you cum

Spoken: You know what I like about Jody

Jody won't sleep, oh no,
until he make you cum

Spoken:You know some women are hard to cum
But i like this about Jody

Jody will lick,
oh oh ohoh,
Until he make you cum."
Clearly, this is the greatest song ever written. Once that is settled, how do we defend it as an example of the blues? After all, what "Candy Licker" really sounds like is Lionel Richie singing Lou Reed's "Street Hassle." Well, first off, we have an archetypal character, a Jody, who is coming to some conclusions about himself that are far from flattering in the big scheme of things, but quite understandably seductive. He's facing down all sorts of psycho-sexual and social demons. He's a rounder. He's a backdoor man. He's so far into pussy that he's about to crawl inside these women and perform his duties from the womb. On any given Saturday night, thousands of black partiers wriggle and writhe to his unquenchable need in the dark corners of those red shag bars.
Marvin Sease was born in 1946 and wrote, sang, and played nothing but gospel throughout the 60s and early 70s, and was unanimously ignored for his efforts. In 1986, he put aside the cross and began touring the south's "chitlin circuit" with a more secular agenda. In 1987, Polygram re-issued an early solo effort and added a new cut, "Candy Licker." The song was a smash and similar cunnilingual houserockers followed – "I Ate You for My Breakfast," "I Ate the Whole Thing," and "Do You Need a Licker?" were all huge hits. Play these delirious pimp symphonies next to Sease's work with The Gospel Crowns and I think you'll get a pretty good feel for that mix of the sacred and profane that gives the blues legs.
I first heard "Candy Licker" there in Robert and Footsy's front yard. They had the stereo speakers in the window, the volume cranked, and the record sounded like they'd played it about ten thousand times. I kept waiting for someone to complain, but a few other black neighbors just stepped out onto their porches, sat down, and grinned ear-to-ear until the song was over.
Robert and Footsy watched my face closely, assuming the white boy would crumble into dust upon hearing something so primal. I did my best to oblige, by sitting there with my mouth agape through the whole thing, my body visibly limp from the cultural pounding it was getting. But really, the song was too stupefying to take in right away.
"Now, you bring me what YOU call the blues?" Robert commanded slyly.
"No, man," I balked. "Not after that."
That was mostly show, because I was dying to play them some shit I thought was the blues. After a little more coaxing, I went into our house and brought out a stack of records – Gun Club's Fire of Love (I was going to play him a version of "Cool Drink of Water" that rivaled Howlin' Wolf's), The Oblivians' Sympathy Sessions ("Happy Blues" or "Can't Stand Another Night" would do the trick), a 45 of The Bassholes doing "Light Bulb Boogie," and The Cramps' Songs the Lord Taught Us (I couldn't wait to hear that version of Little Willie John's "Fever" blasting from the window). This was the crone-fingered family tree whose bitter almonds seeded the ground for The Zyklon Bees. I played Robert and Footsy all of these records and they nodded appreciatively, but I could tell they weren't too impressed.
"So," Footsy said when I'd finished. "You wanna hear 'Candy Licker' again?"
What do they know? I thought, They're grilling stolen pig snoot on a Tuesday afternoon.