Moovymusic! #2
by Brian McMahon
SOUNDTRACK BOUT (February 2005)
PERCY vs. O LUCKY MAN!
Please know that the composers of these two film scores are so highly thought of at Moovymusic! that they were not originally scheduled to face each other at all: O LUCKY MAN! was awaiting its Spring bout against an as yet unchosen soundtrack even as PERCY was being cancelled out of its set match with Mel Brooks' YOUNG FRANKENSTEIN (that's Fronk-kon-steen!)
Okay, I messed up. I take full responsibility for the collapse of the brain switch / penis transplant pairing, which fell not under the weight of it's thematic hook — that most men think with their dicks — but, rather, cracked beneath the diamond stylus in preliminary sparring when points of contrast and comparison failed to emerge. Anyhow, I jumped right on the problem. Other opponents for PERCY were immediately auditioned, culled from A thru F in my library — and that's when THE GRADUATE fell out of the stacks. Problem with that bit of serendipity, though, was/is Paul Simon's niche can't hold its own against Ray Davies' range, even with large (and, here, delicious) helpings from the ubiquitous Dave Grusin! Add to that, Anne Bancroft (Mrs. Robinson) is less than 6 degrees of Kevin Bacon from Herr Brooks and ...well, frankly, your old matchmaker was getting so uneasy with the coincidence of it all that he, er, I shelved the Mike Nichols' milestone without further consideration and pushed on into the "H"-es. By the time I got to the film 'IF ...' I had already decided that for proper balance any PERCY contest must necessarily feature another score of short songs and eclectic instrumentals penned at least an ocean away and written for a director largely unknown to Americans. "Shit, Lindsay Anderson fits that bill," I thought aloud. And my dogs agreed — of the few filmgoers who do know 'im, most hate 'im. "But, 'IF...' is not the right movie," I said. And, again, they agreed. Actually, the corgi Emmett guessed that any other of Anderson's films would show parity with Ralph Thomas' PERCY in bad box office reciepts, but he really howled like a wolf when I turntabled O LUCKY MAN! Right in every way, I crooned along. Only later did we all learn my recollection of PERCY having had very few exhibitions Stateside was way overstated — it didn't even screen here!
To and fro across O LUCKY MAN!'s soundscape Alan Price lofts transcendent tunes off his bluesy backhand to rival some of Ray Davies' career best. Displaying satiric sensibilties equal to Ray's — and, at times, weightier — Alan serves up well-played music and verse versions of life's most desperate truths as ever lept from a libretto. I wonder
while riding Prices's plummeting paeans into the depths of the straight-forward soul of the title's ironically "Unlucky" Man, who save Malcolm McDowell could've acted the part. Listen every now and then and see if you don't agree that Price's voice here sounds like McDowell's.
As terrible a movie as PERCY is said to be, (no, I haven't yet had the experience) that's how excellent a score Raymond Douglas Davies has given it. To paraphrase Cabaret "even the orchestrations are beautiful". Christ, without the movie itself, PERCY is still fully loaded. Kicking off with the Kinks most known track from the film, "God's Children", the Davies range is soon in full pendulous swing from ballads to balls to burlesque. Did you know there's an instrumental muzak version of LOLA? Yes, L-O-L-A ... Lola!
Ten long rounds dancing round the ring and Ray and Alan never laid a glove on each other. Now, that's the kinda fight I like to ... hear.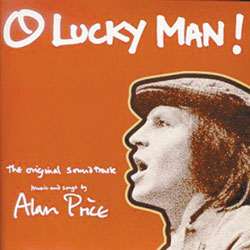 HOUSECLEANING
1. GREEN ICE, a movie soundtrack by Bill Wyman. I like green. My Dickies uniforms are dark green; there's "Green Eyes" by Husker Du; and this body cries out for fresh green vegetables thrice weekly. But, I don't like GREEN ICE.
2. THE CATHERINE WHEEL scored for the stage by David Byrne made me forget for the better part of an hour what I ever liked about vinyl, Broadway and Byrne; and days later I'm still wondering about Byrne. So, excepting the T Heads LP with the Rauschenberg cover, I may soon hafta chuck the lot.
3. Just last week we hired a team of maids to clean up my studio for the first time since the mid-90's — I'm inspired by their work: APRIL LOVE, AROUND THE WORLD IN EIGHTY DAYS, BUNDLE OF JOY, HELLO DOLLY — goodbye!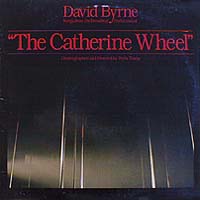 SOUL COAXING
THE BEATLES ALBUM (Columbia, 1970) / Percy Faith
John, Paul, George, Ringo, and Percy: By virtue of powers granted me whilst reading a rather assuming statement from Ennio Morricone—wherein he qualifies his praise of The "extraordinary" Beatles with words to the effect that had the boys studied composition they'd have done an even better job—I hereby dub Percy Faith "The Fifth Beatle". Accordingly, I offer the above LP as proof of what the world's foremost pop group would've produced had they been properly trained.
My favorite "Beatle" album was discovered some six years ago in the Salvation Army nearest my home during the maiden voyage of my thrifting obsession. Chagrined at the sound of the '90's, and in equal measure amazed by the boutique prices others were paying to rebuild their decimated '60's and '70's music libraries, I hit Chicago's King of Thrift Stores with the fever of a gold prospector. "Thumb as fast as you can through that Guess Who, Eagles, and Loggins & Messina shit," I told myself, "you're not here for that. Jeez, it isn't even good anthropology!" At the same time, I fully understood that finding a decent copy of John Cale's PARIS 1919 or Gato's LAST TANGO IN PARIS in playable condition was a near impossibilty. So, I lowered my expectations: If UMBRELLAS OF CHERBOURG was as close to the City of Light as I was going to get for my 50 cents— okay, I'd give Michel Legrand a hearing. And while I'm at it, I'll have a go at that Percy Faith Beatles Album, too.
Ooooh, this Legrand music's as good as the film ... pretty chewed up, though. But, hey, those Percy Faith Strings grooves are clean as the still-cellophaned LP cover. Barely into "Because", I realize I've struck the mother lode. Why? Well, because it's not really the Beatles; so I can keep tellin' everybody that I don't even own a Beatles album. I mean, fair criticism or not— I've always felt the oeuvre of the fab four hanging over the entire world of music (here, there, and everywhere) like some giant neutralizing fog . Maybe you've felt it too? Percy Faith, on the other hand, — however big he got in his charting days— was never so huge that he couldn't again prove desirable to a whole new audience. As the cornerstone in some retro "niche" perhaps. And, don't sweat it, this Percy ain't the same guy who sang "When A Man Loves A Woman" ... that was a certain Mr. Sledge. A Faith Fan needn't fret he'll be perceived a follower of the tired R&B posses who make camp with the likes of Bruce Willis and the ... Whatevers.
Plus, these arrangements simply ... kick ass. Not "rough", in the way Tina would kick 'em, but an elegant ass-kicking you might say. And, speaking of the Ike and Tina Revue, I'm suddenly reminded of my seeing them at the Newport Pop '69. Typically for the time, Ma and Pa Turner and all the little Ikettes were staged between disparate groups. I mean groups like the Clarence White-era Byrds and the Don Ellis Orchestra. Anyway, that fleeting flashback leads to an experiment in diversity readers may wanna try to emulate home: I play SLOW DAZZLE/Cale (side B), THE BEATLES ALBUM/Faith (side 2), then NEBRASKA/Springsteen (side 1). Hey, they really do sound great together!!!
To sum up: On THE BEATLES ALBUM you're getting good bang for your half-buck with a light but crisp rhythm section, woodwind and brass soloists, and 48 string players — coming and going under the baton of Mr. Faith who directs the traffic here in a way that ensures there're plenty of Percy prints all over this one!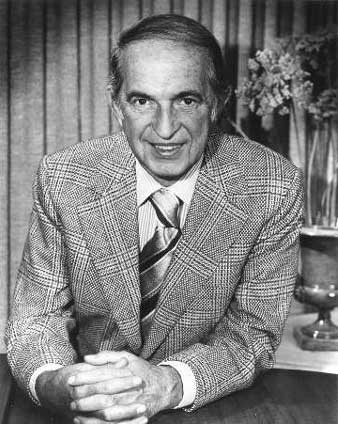 PERCY FAITH: "Simply... kick ass."