#19



October 2005 thru September 2006
16 BITCH PILE-UP
interview by B. Edwards
WARMER MILKS
interview with Mikey T of Lexington, KY
HISHAM MAYET
interview with Sublime Frequencies filmmaker
GROUND FAULT LABEL
interview with Erik Hoffman by B. Edwards
NO FUN FEST 2006 REPORT
In "record time," Reggie Queequeg has filed his annual journey to No Fun Fest report!
THE BIG STORE:
SXSW FOR SCROUNGERS
by Charles Lieurance
Trust me, dear readers, I never thought Blastitude
would run a feature on SXSW. Leave it to Magnet and your local city weekly. But when our man in Austin filed this massive report, it seemed so much like actual gonzo rock journalism that I couldn't resist. I mean, it really sounded like fun.....
NEW RECORD REVIEWS
by Larry "Fuzz-O" Dolman
"Fuzz-O" Dolman on Sun City Girls, Alvarius B, Feathers, K. Salvatore, Om, Ovo, and two big Lexington, KY roundups, of Rampart Tapes (Ara, Attempt, Coptic Nausea, Caves, Intense Electric) and Ladron Tapes (Warmer Milks et al)
RECORD REVIEWS
by Larry "Fuzz-O" Dolman
(pg. 1) Liz Allbee, Argumentix, Badgerlore, William Bell & Tobe Hooper, Big Whiskey, Blues Control, Chris Bozzone, Walter Carson & The Three Legged Race, Christina Carter & Gown, John Coltrane, Amy Denio, Dollar Brand Duo, Espers, (pg. 2) Eyes and Arms of Smoke, Fe-Mail, Fearless Leader, The Goslings, Hair Police, Erik Hinds, Ichorous, Villa Valley, Mrtyu, Id M Theft Able, Ignatz, Edward Ka-Spel, Cast King, big Last Visible Dog roundup, Lightning Bolt, (pg. 3) Magik Markers, Maniacs Dream, Mudboy, MWM/Maryfist, Niellerade Fallibilisthorstar, Number None, Paavi, Peeesseye, Carly Ptak, Ritual All 770, Roxanne Jean Polise, Sala-Arhino, Sapat, No Neck Blues Band, (pg. 4) big Secret Eye label roundup (w/Avarus, The Big Huge, Long Live Death, Urdog, Travelling Bell, Larkin Grimm, Phosphene featuring Lol Coxhill and Friends, Directing Hand), Sightings, Silentist, Silvester Anfang, Steven R. Smith, ST 37, Stuckometer, Three-Legged Race, Uncle Jim, Valley of Ashes, V/A: Time and Relative Dimensions In Space, Vibracathedral Orchestra,Violent Students, Phillip Werren, White/Light
PANHANDLIN' REVIEWS
Merry Christmas! Reggie Queequeg has "begged" his way back onto the masthead for a brand new column! This guy uses more exclamation points per column inch than I do! So many reviews, you are guaranteed to puke! (Or at least get room-spins.)
MORE REVIEWS
Daniel DiMaggio on Ones, Niwesqom Eli Ckuwapok/Penobscot & Passamaquoddy Indian Drum Group, Frankenstein And The All Star Monster Band, Matt Weston, Barn Owl, Tetuzi Akiyama; Charles Lieurance on Boris, Walter Wegmuller, Howe Gelb, Rusty Warren, The Chromatics, Ariel Pink's Haunted Graffiti, Bush Tetras.
FILMS YOU MAY HAVE MISSED
New columnist Alfred Chamberlain gets things started by taking another look at Dennis Hopper's 1980 devastator Out of the Blue.
RIP
two important guitarists
Derek Bailey, Pig Champion
---
click here for
#18 FALL 2005

---
STAFF NEWS 5/14/06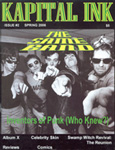 Issue #2 of Joe Harrington's Kapital Ink is out now, featuring another lengthy interview with a Portland, Maine band you've never heard of, this one called The Same Band, a bunch of post-Beefheart goofballs from the 1970s. And, also like the first issue, #2 comes with lots of chewable reviews and opinions and sideswipes ...... Harrington's long and heartfelt assessment of Lisa Carver's Drugs Are Nice memoir is definitely standing out at the moment ...... to order write kapitalink at maine dot rr dot com.
STAFF NEWS 3/23/06

Tony Rettman's 200LBU #5 is out now. Another short and sweet issue that really packs a wallop. Mostly reviews, plus a feature on The Demars. I already liked them a lot, but after reading this I like 'em about 50 times better. And another great cover. As usual, go straight to the source: trettman at hotmail dot com.
STAFF NEWS 8/29/05
Just 6 months ago I was telling you about Tony Rettman's new 200LBU, now another Blastitude contributor has also went and done the real thing. Joe S. Harrington has put out the first issue of a big mag-style rock zine called Kapital Ink, 8.5x11, nice paper, glossy color cover, 110 pages. 50 of those pages are devoted to a drunken interview with a Portland, Maine band called Swamp Witch Revival that hasn't played a show in three years and never even recorded! Another 40 pages is the review section, piss-you-off funny with plenty of insights and lots of gossip, mostly about Portland, Maine, although Harrington throws his Mad Magazine-influenced barbs at anybody, and Paris Hilton herself crosses paths for a page. There's hardly anything about The Strokes this time but there is an inordinate Anton Newcombe fascination going on. (I've still never heard the music, almost to the point where I'm trying not to, but Dig! is in my "cue", and his name sure has a nice satanic (majesties request) ring to it.) To order Kapital Ink write kapitalink at maine dot rr dot com. (Funny review of the mag here.)
see also:
200LBU BLOG
by Tony Rettman
---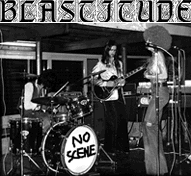 UPDATED EVERY THREE WEEKS OR SO
ALWAYS PLENTY TO READ
---


"Blastitude" is the title of a track by Angus MacLise (1938-1979), drummer, jammer, electronic musician, punk, hippie, poet, publisher, father, world traveller, early member of the Theater of Eternal Music and the Velvet Underground. The track can be found on the archival CD Invasion of the Thunderbolt Pagoda (1999, Siltbreeze/Quakebasket).