WIKKI WIKKI WIKKI.... How did I start breakdancing? Like a lot of Caucasian breakdancers, my interest was sparked by seeing Michael Jackson moonwalk on that Motown 25th Anniversary special. I remember letting out a loud whoop of surprise when he turned around and did it, and other people in my family did too. I was something like 13 years old. I think the first time I actually saw full-on breakdancing -- the electric boogie, the wave, backspins, headspins, the windmill, the worm -- was in a 'late-period' Gladys Knight & The Pips video. I lived in Tabor, Iowa, so it wasn't like I was going to see it on the street unless I did it myself. Which is just what happened after I became part of my very own breakdancing crew with a grand total of two other friends, Chris Sola ("The Capricorn Kid") and Dave Benscoter ("Benny D"). I had broken down several cardboard boxes and taped them together so that we had the de rigeur cardboard surface. I kept it in the garage, and when the other two came over, I would pull it out and throw it down on our paved driveway and we would practice our backspins and worms and moonwalks. People would drive by and honk and one or more of us would acknowledge it with an electric wave that ran from the shoulder out to an index-finger point of recognition.
One time a couple soybean-farmer-raccoon-hunter-lumberjack types -- you know, rural Iowans -- pulled up in a pickup truck. "Hey!" they shouted to Sola, who was a couple years older than me and the best breakdancer in our crew. Benny and I figured they were going to tell us to stop that 'faggot dancin,' but they weren't evil like that, and they asked "Aren't you that dude who does that moonwalk?" "Why yes," answered Sola, being humorously suave. "WELL LET'S SEE IT MAN!!!" "I only do it for money," responded Chris, a savvy 16 year old. The two rowdies actually dug around on the floor and under the seat of their pickup and came up with almost two dollars in change, which they handed right over. Chris responded with a flurry of electric boogaloo while moonwalking around their pickup, at which they cheered and hollered and then drove off. When that happened, I knew we were on to something. Well-received (but unfortunately unpaid) performances followed at homecoming dances and during a break in pep band practice.
Another thing we were on to was the music. As the only one of us old enough to drive, Benscoter was in charge of keeping us stocked with new and hip breakdancing music by taking regular trips to Homer's Record Store in Omaha. He'd buy various titles and then charge us $3 for a dub of the good ones. There was no rap or hip-hop section then, in 1984, but certain rap titles were starting to leak into record stores anyway. "Bennihanna" would go to the soul or R&B cassettes section and painstakingly browse through them, looking for any artist or group that sounded like it might be rap. For example, The Treacherous Three…if the group name had a number in the title, there was a good chance it was rap, and if the cover picture featured black men in warm-up suits, and/or the cassette was released on Sugarhill or Enjoy Records, it was a sure thing. It was in this way that Dave brought home amazing records by (Kool Moe Dee's original group) The Treacherous Three, as well as the various incarnations of The Furious Five (with Grandmaster Flash and Melle Mel), The Sugarhill Gang, The Funky Four, The Fearless Four, and Crash Crew.
On a trip to Kansas City (to see The Jackson's Victory tour, no less) I bought Run DMC's self-titled debut album the same month it came out in 1984. No one else I knew outside of the crew knew about them, and didn't for a full two years or so, when

their cover of Aerosmith's "Walk This Way" became a huge hit. It seemed we were the only people in all of Iowa who had recently seen them on Soul Train, which we got together and watched religiously every Sunday afternoon, in hopes of catching the latest breakdance moves. A different band would come on every week and do a live lip-synced performance of their current single and usually one other song. One week in 1984, Run DMC were the special guests. None of us had heard of 'em, but we liked this new-to-the-plains rap music, and we liked the way they looked. I remember being disappointed with the very short scratch break during their performance of "Rock Box," but I bought the album anyway because of their rapping and matching black suits. Sola had to buy an obscure hip-hop record while we were in Kansas City too, and he opted for D'Ya Like Scratchin', a 12-inch single by Malcolm McLaren. We were both on a quest to hear some serious turntable scratchin', and, not knowing anything about Mr. Rock'n'Roll Swindle's dubious music career, we assumed it was the real deal, with a title like that and the cover art, which featured black guys in warm-up suits manipulatin' turntables. It turned out to be not exactly a scratch-fest either, but kinda cool anyway, and certainly breakdanceable, with McLaren's pop sensibility comin' through. As for the Run DMC album, it was incredible, side one alone rolling out five consecutive hip hop classics in "Hard Times," "Rock Box," "Jam-Master Jay," "Hollis Crew," and "Sucker M.C.'s." This time it was my turn to make a dub for Benny. I think I even charged him $3. I also made a cassette of it for myself so I could pump it on the boombox for our outdoor breakdancing sessions.
I had also bought a book called Breakdancing: Mr. Fresh and The Supreme Rockers Show You How To Do It! This book had the obligatory step-by-step silhouettes of people demonstrating moves, but it also had quite a bit of interesting text. For example, at one point it pointed out how strong of an influence comedy mime duo Shields and Yarnell, who had their own network TV show in 1977, were on the electric boogaloo. There was also a great page that recommended certain tracks for breakdancing, which led to many frustrating trips to Omaha record stores for me, looking for but never finding the likes of "Punk Rock Rap" by the Cold Crush Brothers and "Fresh" by the Fresh 3 M.C.'s.
Around the same time, either Sola or Benny bought a breakdancing instructional record that came with a poster and how-to pamphlet. This record compiled some of the more popular breakdancing hits of the day, such as "Rockit" by Herbie Hancock and "Play That Beat" by G.L.O.B.E. and the Whiz Kids. Intriguingly, it also included a great jam called "Tour de France" by...Kraftwerk? Those mannequin-like prog-nerd Germans? It reminded me of my book, recommending "99 Red Balloons" by Nena, and...gulp..."Owner of a Lonely Heart" by Yes, right alongside the Run D.M.C. and Davy DMX. This was quite a message to me: that anyone could be funky! It also opened my ears to a pretty beautiful developing undercurrent to hip-hop: 'electro' music. This was the kind of bubbling synthesizer new-wave-disco drone-funk, often with vocoder-ized vocals, that Kraftwerk inadvertently invented. The electro jam I heard the most was "Scorpio" by Grandmaster Flash and the Furious Five.
The electro jams I heard second and third most were both by Newcleus, and they were called "Jam On It" and "Computer Age (Push the Button)." As soon as Benny brought home the Newcleus tape, we knew something was slightly different about the band. The cover didn't have a normal picture of them in track suits, but a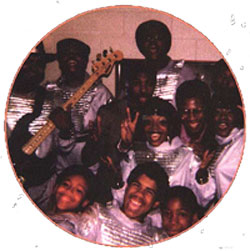 wild Pedro Bell-influenced funkadelic comic book illustration.
Here, I'll let John Bush in the All Music Guide take it for just a second: "The origins of Newcleus lay in a 1977 Brooklyn DJ collective known as Jam-On Productions, including Ben "Cozmo D" Cenac, his cousin Monique Angevin and her brother Pete (all teenagers and still in high school). Many members -- MCs as well as DJs -- came and went as the group played block parties all over the borough, and by 1979, the group centered around Cenac, his future wife Yvette "Lady E" Cook, Monique Angevin, and her future husband, Bob "Chilly B" Crafton. (The foursome named their group Newcleus as a result of the coming together of their families.)"
I didn't know any of this background when I first listened to the tape, so it was all the more mysterious. The first track had a long instrumental intro that didn't even sound like hip-hop, more like some freaky kind of new wave. And then when the vocals came in, it wasn't even rap, but this darkly smooth and deep singing voice, sounding strangely detached (robot-like??) while delivering the lyrics: "Computer age is here/Everyone must have a machine/They say it's gonna make life easier/Well, I can't stand it..."
"Computer Age" ended up being a great jam, with the vocal melody really getting under your skin, and great long trance-out electro-blip instrumental sections. But "Jam On It" was the real classic, featuring the old-school rapping of Newcleus frontman Cosmo Dee, kicking lyrics like "On time, in your mind you see/you gotta boogie to your best ability/you gotta funk it up until it knocks you down/and when you're funkin' up, be sure to pass it around/come on, let's go to work/we got what'll make your body jerk/make you throw your hands up in the air/shake your booty and scream, "Oh, yeah"/'cause we are the Jam On Crew/and jammin' on it is how we do the do/we'll funk you up until you boogie down/so come people check out the sound, check out the sound, check out the sound, check out the sound..."
The second rap by Chilly B ("I'm a surefire, full blooded bonafide house rockin' Jam-On Production MC") was even better than Cosmo's, but of course, the real hook of "Jam On It" was the speeded-up vocals of the other band members, a move heavily influenced by Parliament Funkadelic and, well, Alvin and the Chipmunks. These unforgettable voices played an infectious mere-mortal greek-chipmunk chorus throughout the track, punctuating the 'godlike' rappers from outer space having a lyrical battle above them. When they kick the phrase "wikki-wikki-wikki-wikki" over the beat, perhaps imitating a turntable scratch, it had a novelty-song effect on the regional audience, who came to ask for the song as "The Wikki-Wikki Song." At one glorious moment, the chipmunks even take over the rap to tell the story about what happened when Superman came to town "to see who he could rock"; a classic Bronx block-party battle myth. Even if Newcleus were from Brooklyn, they still knew how to defeat the Man of Steel: "We rocked his butt with a twelve-inch cut called Disco Kryptonite."
Cosmo even comes back for one more rap, topping his first one and maybe even Chilly B's. Just listen to the extensive usage of the verb "to rock" in this real-life pitch for Newcleus's sound system, Jam On Productions: "I've got the beat that's oh so sweet/without me rockin' it's incomplete/so rock this yo, rock that yo/rock on and don't you dare stop/you rock this, rock that, and that's a fact/ cause the Jam On Crew will rock your body right back/rock a steam locomotive right off the track/and give the whole wide world a funk attack/to the beat y'all, get down/let me rock it to the rhythm of the funky sound/from hill to hill, from sea to sea/when Jam On's rockin' everybody...scream!" (Another notable use of "to rock" comes elsewhere in the song, with this Sun Ra-ish line: "I'm Cosmo Dee from outer space/and I came to rock the human race.")
I now realize that pretty much all of Newcleus's raps were just advertisments for their block-party sound system. Those were the days...record-buying influenced by street trends instead of television trends. Maybe it's still that way some places, but it ain't that way in Tabor, Iowa and Lincoln, Nebraska...unless I'm the fool getting the damn cardboard out and breakdancing myself....