Only Seat in the House
SPORTS by Christopher Dean Heine
Tom Osborne is Nebraska
(Yeah, whatever fathead)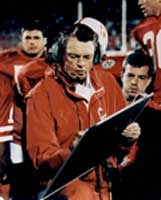 Tom Osborne became the US representative for Nebraska's ghostly un-populated-but-damn-straight-beautiful 3rd district last month.
A no-nonsense wildlife conservationist overseeing congressional policy for a region that has more worth in piping plovers, whooping cranes and world-class fossil beds than it does bloated industry seems, well, natural.
But Tom, the old coach, they say is more than a mere natural fit. They say he is Nebraska.
No football coach has ever personified an entire state the way Tom Osborne has. Tom Osborne is Nebraska.
Sports journalists have said or written this many a time since the tall redhead became a national hero because he went for two instead of the tie against Miami back in '83. They mention his aw-shucks Jimmy Stewart personality as being highly Nebraskan, and yes, now Mr. Two-point Conversion goes to Washington to defend his state against the pass (this time of coffers) again. I didn't pay a lot of attention to Tom's swearing into office last month, but I'm sure Cornhusker State sports talk radio goof balls and perhaps a Omaha World-Herald Midlands columnist or two used that little smarty-pants chop, that No football coach has ever personified an entire state the way Tom Osborne has.
By the way, did you know that PBS anchorman Jim Lehrer has written 11 novels? And that he has been on the NY Times best-seller list for his works of fiction? How fucking good can "White Window" be? (Gee whiz, Honey, I wonder if it's as good as "Tuesdays With Morrie"?) Lehrer is a top-notch PBS suit, but he's a dye-in-the-wool square - not someone who should be publishing creative work.
And yes, he and his journalistic brethren and sisters shouldn't ever say that Tom Osborne is Nebraska. It's a damn cheap paean, and erroneous.
I used to think that the slogan was true enough to lick off a spoon. I was born with Johnny the Jet and baptized with Jarvis Redwine. Hell ya! Tom Osborne is Nebraska.
But then I thought about it, shortly after I had heard he was elected to office.
Yes, actually I thought, he reminds me of my late Grandpa Heine, who was a stoic Nebraska man. Grandpa would rather sit on an old tractor all summer for free (he saw a break-even market or two) than, let's say, sit in front of a movie camera for all the loots of Hollywood. Grandpa didn't like to talk much. Tom was the same way. Tom's halftime and post-game TV interviews were so anxious and uncomfortable that you trembled with him. And like Grandpa and farming, the ex pro wide out probably would've often ended up coaching his beloved football for free had he followed his original vocational plan of becoming a Methodist minister. No headset, but there he'd be calling a fullback dive after Sunday School during fall time.
Instead, he became a man who would personify an entire state.
No, not even the memory of Grandpa sowing oats and wearing his funny African safari sun hat can make me go home to that. Not anymore.
Tom is a perfectionist. He ran a college football program that is almost inarguably the most significant since the amateur sport entered its modern era during the late 60s - when the sport switched from double-platoon strategy to single-platoon (where players specialize in just offense or just defense). Since then, Nebraska has won more games and national championships than any other college team. And there are more stifling statistics that showcase this aged period of excellence - most notably the Cornhuskers 33-year streak of nine or more wins. Not to mention that the Big Red Machine's weight-training program has been revolutionary - some serious trend-setting here - in making tall, skinny boys into 300-pound monsters. Everyone, including the pro ranks, has adapted Nebraska's bulk-building methods. And Tom has been at the helm for all but about six years of this historical run that may end up rivaling the Ming Dynasty for long-term dominance if current Head Husker Frank

Solich turns out to be NOT insane.
So Nebraska, what the hell have you and I done to enable ourselves to believe that Tom Osborne is Nebraska?
Not much.
Our best public university is third tier. This is due to the fact that Nebraska taxpayers hate liberal (or progressive) education, the very foundation of the university setting. If there isn't anything new to learn, if progress is viewed as toxin rather than fruit, than that says we should all sit on our porches drinking whiskey and rye rather than pay higher tuition fees. Doesn't sound bad to me, but I am a poor example when it comes to whiskey and rye. Nonetheless, Nebraska is a Republican state by and large . . . penny-pinching social conservatives. The people there are happy UNL is merely an education mall because they are afraid of reputable universities. Good schools are usually more Democrat, more liberal, so Nebraskans are fine and dandy sending their kids off to those safe lunch lines of average-ness rather than weather any threat of liberalness. Me? I am not a Democrat or a Republican. I'm a conversational daredevil, a debater, an empty mode. But no matter your political stance, let's just all face it: Nebraska needs a better, more progressive state university if it wants to live up to the image of Tom, who as a football figurehead - his only real public measure stick so far - has been known to side with the progressive. His fumblerooski, bouncerooski and boomerooski trick plays wouldn't have made it out of a conservative think tank. (Creighton, for those of you in the Omaha peanut gallery, although I am Catholic, is for smiling jack-asses.)
Nebraska culture is not even close to being the juggernaut Tom's football teams were. Typically, the state's men are dumbed-down and the women are faceless -- if often beautiful.
Infrastructures barely exist in the state for anything but single pallets of lawyers, doctors, telemarketers, factory workers, mechanics and plumbers. Sprinkle in a few engineering foot-in-the-doors and entrepreneurial business leaps (if you consider bank loan centers to be societal infrastructures) and there you basically have it. Creative employment in journalism, graphic design, video/film work, music, etc. is so scarce that employers are able to underpay good minds. The Brain Drain is real. The organization of our culture in these respects has been nothing but mindless, and now the state pays its toll. Ha, giggle-giggle, ha! You don't dare give me any of that Henry Fonda, Marlon Brando, Johnny Carson, Matthew Sweet (ugh) and 311 (puke) pride! They had to leave to have any fun. And don't harp on the small population base -- Tom has made Nebraska football a stallion in spite of the scant marketplace for athletic talent.
"I wouldn't dare to bring out such awful bliss," says Guided By Voices, chiming in the background at this very second.
Actually, now that indie rock has come into all of this, let me cred the organizational skills of Saddle Creek Records and its rising penguin of a star Conor Oberst, and Bernie McGinn of Caulfield Records, and the strident romanticism of Simon Joyner and the sadly long-gone 13 Nightmares. Now these folks have made nice inroads towards making Nebraska a more interesting joint to hang out in. But it's all still kind of minimal compared to Tom and his record. Outside of Tom and his real-life chums stock mogul Warren Buffet and the successful pol Bob Kerrey, Nebraska is about mediocrity. Is it any surprise they call each other friends?
Yeah, the mediocrity kick is fine. Seriously. I ain't no gone-Yankee prude for fuck's sake. Just don't tell me Tom Osborne is Nebraska. Tom is a wooly mammoth - indigenous, huge and most unusual for my homeland. He's a freak of nature and suited for a congressional district that includes a place called the Sand Hills. How else can you explain a skinny vegetarian getting elected by The Beef State and its obese army?
Beef . . . it's what's for dinner. Tom Osborne is Nebraska.
Yeah, whatever fathead.