IH IH IH AAAYYYY, UH...EH EH ISS AAHHHH, AY-UH, HAH....
The rock and roll band from Chicago called U.S. Maple have an incredible schtick – the playing of rock songs that are barely holding together rhythmically or melodically at all times, due to various pure-sound and post-jazz experiments, both vocal and instrumental. Unfortunately, as U.S. Maple's adherence (or perhaps subjugation?) to this schtick is so strong, it eventually starts to overpower the music. Halfway through an album like Talker or Sang Phat Editor, hearing vocalist Al Johnson enter into the fray of another lurching and stumbling rhythm exercise by going "ih ih ih aaayyyy, uh…eh eh aahhhh, uh…" in the same understated rasp he's used on every previous song might make you might start looking for your Fela Kuti CDs. Sometimes Al sings words, and I'm sure there's a legend about how 'everything he sings is written out, man,' but either way, he's still another 'limited indie-rock vocalist,' not unlike even David Yow of the once-mighty Jesus Lizard, the band who, at the end, U.S. Maple resembles the most. (People talk about how U.S. Maple plays "deconstructed rock," but a more accurate description would be "deconstructed Jesus Lizard.")
And, like Yow and the Jesus Lizard, Johnson and U.S. Maple have the ability to transcend their limitations, and often do, especially live. Just a couple years ago, long after the J. Lizard's albums had ceased to be interesting in any way, I saw U.S. Maple open for them. Both bands were amazing, U.S. Maple in the way they confounded the audience and immediately put everyone in a rather exhilarating fight-or-flight mode, which after a few songs evolved into a blank-stare quasi-heckled languidity for the remainder of the concise 40-minute set. The Jesus Lizard were amazing in the way that they, much less abstractly, rocked the holy ass off of every person in attendance with groove after pummeling groove. In person, Yow is much more than a monotone barker -- he becomes a a carnival barker, a goofy ringleader, the band's full-time dancer, an unlikely stripper,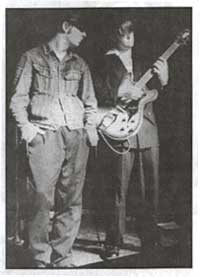 and the town drunk, all at once, altogether proving he's no one-trick pony. But on a record album you can't see all that.
Al Johnson has some tricks of his own which you also can't see on a record album. As U.S. Maple took the stage and began making the final tuning and amp-fiddling preparations, Al simply stood back by the drum kit, staring down the crowd from underneath a silly cap, slouching backwards in a quietly ostentatious pose somewhere between swaggering and slovenly, but completely motionless. Before the band was ready to begin, audience members started noticing his stance, along with other odd details like the magic marker scrawls that were on his left cheek, emerging from underneath the shadowy bill of his cap. I vaguely remember the crowd's heckling of U.S. Maple starting a little bit even then, before a note of music had sounded, but Al stayed completely still. Until, that is, the band was ready to begin, at which point he took one single and unforgettably graceful step across the stage and to the microphone, and with the step the band lurched defiantly and crisply into their first song, as Al clutched the mike and emitted the first of the many rasping "ay-yuh"s he was going to do that night. From there on, I was pretty entranced, not only by the post-Incus guitar spitting/skittering, but also by the band's anti-sexy stage presence, the drummer's concentration and compositional sense, and of course, by Al, who struck me, roughly, as a cross between your Yow-or-Selberg method-acting (underground-indie-post-)rock front-man and, for the unique part, an incarnation of Harvey Fierstein guest-lecturing a modern dance class while on a peyote trip. The crowd was very participatory – someone was either heckling, screaming with ironic joy, or screaming with non-ironic joy the whole time they played, filling up all the quiet spaces in their songs. One long-haired metal guy stood at the front of the stage and for possibly two full songs thrashed his head in the 'hairwhip', normally an appreciation for the hessian rhythm of a metal band, but in U.S. Maple's case unable to have anything to do with the rhythm at all, making it simply an act of pure (non-ironic?) appreciation.
It was a wild scene, and U.S. Maple both instigated it and rode it out. Still, as striking a performer as Al was, I found his singing approach to get a little tiresome about halfway through, just like it does for me on their records. Don't get me wrong – recorded U.S. Maple can be just as exhilarating as live U.S. Maple. They are so adept and focused in the delivery of their 'thing,' that any one cut on either album will instantly satisfy. And there's always moments like the incredible last minute or two of "Songs That Have No Making Out" from Sang Phat Editor, in which guitarists Mark Shippy and Todd Rittman and drummer Pat Samson kick up a quiet hailstorm of streaming pure-sound notes, the three of them almost sounding like one single playing card ticking through the spokes of a speeding bicycle, or some sort of bizarre ritual involving knitting kneedles come to life. Or, the instrumental "So Long Bonus," especially it's last two minutes, when the drums drop out and a haunted feedback-melody guitar duet ensues. Maybe I just don't have a lot of patience for Johnson's role in the band, as both of those examples are instrumental. Still, he was great live, fronting a great live band, and a great live band's gotta make albums, right?
Ah hell, who am I anyway...what do the professional music writers say about U.S. Maple? Like, for example, the people who write for the CMJ. Well, thanks to our friend "The Internet," here's an example:
"It's a droopy cliché to say that a band is deconstructing rock, but U.S.Maple breaks down the form, shredding its conceptual blueprint and allowing the tattered scraps of guitars and drums to settle in exciting, almost randomly recontextualized patterns. Awash in barbed-wire knots of treble and shot through with Al Johnson's extroverted, husky grunt, Talker is the most cohesive of the group's three albums, partially thanks to the loud-and-clear production of Michael Gira (ex-Swans, Angels Of Light). Fractured elements of free jazz, no wave cock rock form a stark, singular screech, over which Johnson blurts his common-man abstractions. U.S. Maple's Drag City debut remains a testament to the art of skewed songform but, for the first time ever, the quartet's carefully sharpened chaos makes perfect sense."
The parts about "tattered scraps," "knots of treble," and "husky grunt" are good-enough music writing, but this is basically just an example of meaningless press-kit redundance, not so much rock journalism as simply a collection of sentiments delivered directly through the pen of the unnamed CMJ writer by the Drag City press team, if not already permanently stored in the writer's repertoire of press-kit redundance. (Anyone who works as a writer in today's culture has one, as PR and marketing are more or less the only writer's markets that consistently pay. Even I, Larry "Fuzz-O" Dolman, have such a repertoire, but I have to admit it's getting pretty rusty, as I haven't gotten paid for writing in a long time. I think the last time was in 1997, for the short-lived Lincoln Reader. Wrote about four local band profiles for 'em. Mandated puff pieces, at least two of 'em for bands that weren't especially good, got paid about $30 each. So, if you total the last three years, I'm pulling down about $40 a year from writing gigs. It's not something I mention to the IRS. But I digress.)
The most grating cliche from this CMJ press release, excuse me, album review is the one about how US Maple has – ugh -- matured or something and "make perfect sense" "for the first time ever," just in time for their debut record for the hallowed Drag City. "Partially thanks to the loud-and-clear production of Michael Gira (blah blah, hip pedigree, blah blah)." Well, Sang Phat Editor, produced by Jim O'Rourke, is just as loud-and-clear -- in fact, there's really nothing "first time ever" about Talker at all; it actually sounds very similar to the previous album, in both songwriting and production. I should know, because I have a cd-r with both albums on it, back to back, and if I'm not paying attention to the track listing, I'll be damned if I can tell when one ends and the other begins.
That's not a bad thing, either. It's a good, creative sound, and US Maple have dang near mastered it. Admittedly, more lyrics are intelligible on Talker than on Sang Phat Editor – the word "Vietnam" can be discerned in the very first song, as if Johnson is making up for the fact that Sang Phat Editor, a purported concept album about Vietnam, has no discernible lyrics whatsoever. Also, in the song "Breeze, it's your High School", the words "high school" can be discerned in the first line Johnson sings, a confluence of events that for U.S. Maple practically begs the release of a radio single. But despite these odd and very occasional submerged hooks, Talker features some of U.S. Maple's most obtusely exploded song-forms yet. If the CMJ writer is looking for "cohesive" songs that make "perfect sense," he should be writing about the band's 1995 debut, Long Hair In Three Stages, which almost exclusively features verse-chorus structures and much surprisingly rote math-rock riffing.
Better than the CMJ puff-piece is the following description, quoted at length from a seemingly uncredited review of Sang Phat Editor from a webzine called Last Sigh (http://www.waste.org/lastsigh/reviews/sangfateditor.htm) :
"The title of the second track on the album -- "Songs That Have No Making Out" -- really goes further in defining U.S. Maple's sound than anything else. U.S. Maple's songs consist of perpetual starts and stops. It would be wrong to refer to their halting style as consisting of many breaks or shifts, because the songs never settle into any conventional arrangement for very long -- there are no real patterns to break. Individual songs constantly mutate; momentarily, all attention will be focused on the musings of a single guitar, or the tappings of a drum, but then, without warning, the other musicians will join in to support or counter the soloist. On a similar note, the members of the band often wander off to explore unpredictable tangents in the midst of songs. Breaking off from the forward flow of a given piece, a guitarist will stop and pick at the strings of his instrument for a short while, or stroll away with his companion-guitarist to elaborate on some melodic possibility. Al Johnson will occasionally assume center stage and deliver a short vocal expression or two, before being engulfed by the music once more."
That's a fine description of what actually happens during U.S. Maple songs. Still, the "deconstructed Jesus Lizard" description holds completely for me. However, Captain Beefheart's Magic Band has to be mentioned too, specifically their playing on Trout Mask Replica, which was deconstructed Jesus Lizard some fifteen years before such a thing was even possible. U.S. Maple does the most natural job yet of playing the same trebly force-fitted guitar harmonies over unlikely rock rhythms. There are differences: as wacked as they are, the rhythms of John "Drumbo" French are more conventionally driving than the consistently shifting sound-of-surprise beats by Pat Samson, and of course Beefheart beats Johnson, right along with every other avant-rock singer ever, in every department: articulation, melodic development, timbral variation, and the consistent communication of a developed imagistic poetic style. But just look at the way "Breeze" falls from a herky-jerky repeating riff-song into a seemingly unrelated and all-instrumental langurous melancholy free-fall section, a structure that mirrors EXACTLY that of "Veteran Day's Poppy" on Trout Mask Replica. I'm sure U.S. Maple are sick to death of the Beefheart comparison, but at least I'm not using it in a press release or a puff piece -- I just think U.S. Maple are better at it than most, mainly because they filter out the overt blues influence and boogie rhythms that Beefheart influencees often get sunk by.
However, I'm still waiting for US Maple to really challenge themselves. A couple years ago I heard rumor of a collaboration between them and Derek Bailey -- did this ever happen? Maybe that'll get the band into some new vistas of sound and song-form...although, in the end, I think that whether or not they do that is up to Johnson. C'mon, Al, we've gotten used to your curve ball...where's your slider? Your high & tight? At this point, even a good ole 90-mph fast ball would be a refreshing change of pace...