ERICA POMERANCE . . .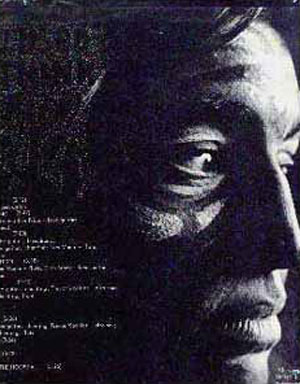 . . . and the Spell of Freedom
interview and introduction by Cary Loren
YOU USED TO THINK is one of those rarities of pure inspiration that rates up there with first platters by the MC5, Stooges, Fugs, Velvet Underground, Silver Apples, Godz, Pearls Before Swine, etc... a classic '68 underground album: a collage of fucked-up eastern ragas, jazz, and atonal folk rock, delivered in a beautiful, raspy, feverish, drug-induced howl, featuring the poetry and singular voice of Erica Pomerance. ESP produced more than its share of outsider visions and here was an album more like a situation, that peeked inside and outside the bullcrap of the music world and the various genres it endlessly pumps out.
Pomerance shook things up, taking what she wanted, dissecting the past and reconstructing her own tightly woven original folk blast. Groovy flutes, buzzing sitar, minimalist piano, bongos, sax squawk, and tambourines create a vision-drenched psychedelic stew -- with Pomerance's voice wavering over the surface like a skipping stone ... in a 45 minute laid-back one-take, the album goes riffing off in a dreamworld, falling into occasional French language raps and shimmering drones: making a perfect backdrop for the student riots of '68.
"there are no profits, only victims... of moral mania... citizens of the great society...everybody's lips running red-lights, love lord, lying down by the cold riverside is the price of freedom..." (Burn, Baby, Burn)
The album goes in and out of consciousness, presenting an oblique postmodern Caligarian world, teetering on destruction, possession, beauty and revolt. Pomerance will make you think. She is the real fairy godmother of free-rock and the acid-folk movement. Her global post-rock attitude is bold and triumphant, unpredictable, spitting out ironic anthems, anti-anthems, zen metaphors, surrealist flower-power, humor, knowledge and razorblade street slang.
"You used to think that images were answers,
but you were really seeing what you see.
that ghostman in your parlor chair of laughter
he was frozen to the bone, you gave him tea.." (You Used to Think)
"to think is the treason, we play with the time,
to a rhythm which often lacks reason or rhyme
for thoughts are the risk... i continue to breath them as if we don't dare...how sublime... how sublime..." (to Leonard from Hospital)

Listen up and dig the cry of creation in action: words and music dripping abstract paint. Vocalizing in a way only Thelonious Monk would understand. Her canvas is the back streets and corridors of the mind. The process is organic, naked without artifice. Largely acoustic with almost no studio effects, the album is transparent and borderline Victorian: there is an affinity for the 1960s fascination with art nouveau lyricism, mixed with a knowing pissed-off street style.
THINK is a revolutionary album, penetrating into the meat and marrow of the matter. Abandoning the fey sentimentality of folk, Pomerance is alive with romantic passion and fire; a baedekker to freedom. Life in its stinking glory. Pomerance takes on thought and the process of freedom. A can opener for the mind. THINK is a manifesto in words and sound. Beautiful dark bombshells aimed at the twittering bleach-blonde scene.

"The French revolution has crumbs in its socks as I always suspected... born in the barnyard vision of parents emancipated, then you learn how to pass the blade while they masturbated under the big black
anarchy flag...and where was Brigitte Bardot? When at last you found your new bag and you needed her to tell you where to go..." (French Revolution)
" the slippery morning dawns in on my dreams,
my tongue went to lick it, and it tasted of honey
and then i woke to a world of confusion, a black and white battle that faded to gray.." (Slippery Morning)
The voice of Pomerance is not often pretty. Rolling off in sonic waves: warbling, groaning, scatting, coughing and bouncing. Sculpting sound like Coltrane on Om. A voice you can hear miles after listening... a founding member of the free wailing folk-bop sisterhood of Patty Waters and Yoko Ono. Listen to the bone-chattering drone in the opening of "Koanisphere": "To rhyme with the sound of your soooullll....the meaning of nothing......", then the voice mutters off, incoherently into a dizzy realization. The vision is LSD and pot enhanced, offering no further evidence or clues. It's all risk, and that's part of what makes it a classic. The lyrics are a mosaic of flowing imagination yet tightly composed. Few recordings outside free jazz have broken into this rich style of vocalizing and word improv:
"I know every morning in all of its colors..
you pass the air for a glimpse of my dreams
cowboys and cargoships, silence at sunrise
all strange settings that float on the sea.."
(Slippery Morning)

The dialogue of musicians on "Anything Goes" falls into drug-induced hilarity -- the type of track heard on Zappa's Straight / Bizarre albums. Done in a lighthearted way, it mixes cosmic consciousness with cosmic jokes and insane utterances:
"there all close up mics... even the walls have ears...
sitting in a parlor smoking hashish... i wonder where
all the other parlors are? air, air, is that air?
take us to a new site with trees.. oh, and water, fish and sand... have you noticed the grains? There so immaculate.... What do you see when you look at the stairs and stars? Stare at the stars, with a tuna fish can in your window... That's the end, which is the beginning, Om...." (Anything Goes)

I was first exposed to the glories of ESP disks in the late 60s via Detroit FM-radio (WABX) and in the mid 70s as found in Jim Shaw's legendary record collection. It would be likely for YOU USED TO THINK to have made itself known then, but it would be 1995 when I would first hear it. A bookseller colleague sent me a cassette tape of THINK as it reminded him of the Monster Island music I had just sent him. Indeed, hearing Pomerance for the first time brought an immediate flash of recognition, a pleasing awareness that here was a lost relative: a sister/cousin on the tree of deviant music.
After fruitlessly searching for information, I decided to try and fill-in some of the unfortunate dead-end that was her biography. I approached Blastitude's main branch about revising issue #13, and they enthusiastically agreed to give home to the Pomerance story. I was led to Erica through Bernard Stollman at ESP records and I offer him my gratitude, however it is unfortunate she's not received a single payment in regards to the various labels and licenscing deals that YOU USED TO THINK has gone through over its lifetime.It was not my intention to implicate ESP in a royalty dispute, but perhaps this famous and highly regarded "artist run" label can live up to its ideal and work out something to their mutual benefit.
It was great fun connecting with Erica . . . she is energetic, witty, intelligent, and still fighting for her vision of freedom and empowerment in the world, now through documentary films. She is in the process of completing a trilogy investigating African art, music and dance. In the first half of the interview, questions were posed via e-mail. A phone interview concludes the second half of the interview, and explores her recent activities. You can check out a website devoted to her last film DABLA! EXCISION at: www.dabla-excision.com, her first film TALABA can be accessed at: www.nutaaq.com. I would like to thank Erica for her openly honest freedom-filled spirit and the generosity she gave in sharing her world.

I've heard a few rumors (the flu, LSD, cosmic meditation, etc.), but perhaps you could outline how you came to do the ESP disc You Used to Think -- and the circumstance around its recording. Were you pleased with the results then? With the distance of time, how do you now feel about the work?
The circumstances were pretty much as described on the liner notes, since I provided the info on which they're based. The context was the late 60s, I had come to New York to do this record and was very much under the influence of a former boyfriend Richard Heisler whose thinking I admired and who actually performs on the album. He was into both yoga (of a while he was a disciple of Swami Vishnu Devananda) and mind-expanding drugs such as LSD -- these were the heady days of Timothy Leary and the West Coast school of psychedelic meditation . . . the whole works. I must admit I was attracted to both currents, but never got totally indoctrinated -- I eventually moved back to Canada and went on a 'back to nature' spree that lasted 15 years and replaced the chemical highs of my earlier Woodstock and Haight-Ashbury days.
As for the recording, I was playing mostly 'hoot' nights in Village cafés, and was heard by Bernard Stollman of ESP Disk who offered to do the record. I ended up working as an administrative clerk in the ESP office and then one night in a snowstorm went into the studio. It was actually done in two sessions, the first with jazz musicians with whom I had been jamming around New York and the second on that snowy acid-laced night. We were totally inspired. However I was a little disappointed with the production values -- there was not much production and the mix was done really quickly -- in one session if I remember right. ESP was knocking out the psychedelic rock recordings one after the other. The Fugs, Pearls Before Swine and Patty Waters were the most successful of the groups they recorded in that vein. I don't think they really took that much time to mix or promote them -- it seemed a little haphazard, as did many things in those days. SO I was alternately pleased and frustrated with the recording when it was released. It got a fairly good response at the time, for something which got virtually no promotion. I got a huge photo and a nice little article in Vogue magazine, they compared me to Lotte Lenya, the Brechtian singer. I also remember doing a long interview on a 'folk friendly' FM radio station (I can't remember the call letters but it was the station for folk and more underground music), Izzy I think was the radio host's name, it seems to me he was the same guy who had a folk music store in the Village that sold guitars, strings, Folkways and Elektra records and books about Leadbelly by Alan Lomax etc. My memory is a bit fuzzy, but many people would remember Izzy, he is a legendary guy and I feel stupid not remembering his last name. New York in the mid 60s was user-friendly and not expensive. My apartment in the Village was dirt cheap ( it came equipped with cockroaches), there was lots of improvised music around and exciting people and situations onto which one could stumble. I stumbled into a number of pretty unsual situations myself… some of which inspired my later songs.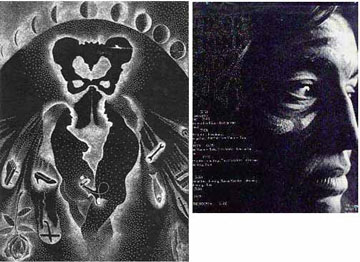 The front and back cover of You Used To Think
Could you talk about where you grew up in Canada, and what kind of effect that had on you?
I grew up in Montreal in the 1950-60s on the English side of town. Montreal is divided into two halves, French and English (less so these days), by the median of St. Laurent Boulevard, once the hub of immigrant Montreal. This area, where I live now, has now become more trendy for artists and young professionals, as have other old immigrant neighbourhoods. But I was raised in more middle class surroundings -- every time my father could afford it, we moved to a better neighbourhood, eventually into the suburbs. Then back downtown to a posh apartment when I was in university. I remember I changed schools a lot. My family is Jewish, grandparents from Romania, Ukraine and Poland. My parents were born in Canada. They were left wing when I was a child. (Flash -- an early memory -- sitting on Paul Robeson's lap as a toddler -- he visited my parents as I recall, when he gave a concert in Montreal -- this was before he was exiled to Poland.)
Our family was considered non-conformist, we didn't go to synagogue and I felt pretty much an outsider among other Jewish kids and my classmates, most of whom had regular type middle class parents and aspirations. I spent a lot of my free time taking modern ballet, drama and piano classes, taught by left-wing people my parents knew. My closest friends in primary school were the kids of my parents' friends who thought like them. All had left the fold, been seduced and then disappointed by Russian communism, but they didn't believe in God anymore or the system but in some elusive form of social justice. My father became a sceptic. Both parents were autodidacts, but my mother went to college. My dad spoke many languages, was a natural historian and knew a lot. But he was old fashioned in some ways. Naturally in my high school years I fell into the peace movement sort of (I was never a militant anything), and eventually became attracted more to the countercultural revolution. My closest friend in high school was an artistic kindred soul girl from New York, Wendy Workman, whom I had met at summer camp. She was very sophisticated in comparison to my Montreal classmates, she did photography, hung out in the Village and went to folk dance clubs, had cool boyfriends. We wrote long letters to each other almost every day and spent our vacations together. I inherited her group of NY friends, her boyfriend (she became gay) and shared her dreams, ideals and tastes in literature and fashion. She reperesented my secret inner life. It was as if I was marking time in Montreal. We both idealized with Joan Baez, whom we eventually got to know through various personal connections. We were Joan Baez groupies actually: I was a Joan Baez clone for several years: When I was 18 I went to Québec City for the summer to work in a department store and learn French. All sorts of artists did portraits and drawings on the streets of Old Quebec for the tourists and I was a lure for this caricature artist David, singing Joan Baez songs to lure customers.
I went to McGill University where I played and sang in a folk duo with my long time friend Fran Avni, who is now a performer and record producer, mostly of Jewish revival music, out of the San Francisco area. One year I was president of the McGill Folk Music Society. We sang madrigals with the McGarrigle Sisters. We brought in performers such as Sonny Terry and Brownie McGhee, whom I had met as a young child in a lefty summer camp.
Can you mention what kind of music or books you responded to early on?
Folk, blues, classical (I like the impressionists like Ravel and Debussy a lot), and then rock, but I also had a penchant early on for World Music, listening to Miriam Makeba, Harry Belafonte, and also Greek, Bulgarian and Romanian music. As I child I loved Elvis Presley in his early phase when he was singing music lifted from race artists.
During my university years I also hung out with Leonard Cohen, who was just getting into performing music (he was known as a novelist and poet in those days). My crowd hung out at folk and blues clubs mostly owned by this musician and folk aficionado Gary Eisenkraft, many greats came and played there. I met John Hammond, Reverend Gary Davis, Jem Kweskin, Joni Mitchell, The Mothers of Invention, Paul Butterfield to name a few. It was quite the scene. There was no alcohol in the clubs, only coffee. You could always get a toke of hash in the back room, or buy beer next door at the Swiss Hut. I was also highly influenced by Bob Dylan, however when his first record came out my parents didn't like his voice and I had to play it when they weren't around.
Another early influence was jazz -- I went to hear Coltrane, Dizzy Gillespie, Monk, Sonny Rollins, plus there was the after hours club the Black Bottom where jazz musicians played all night after their gigs. I had this friend Sonny Greenwich when I was at University -- he actually played on a cut of my album which we didn't keep. I think I preferred a more way out version.
Records that influenced me in the early 60s: in jazz, specifically Miles Davis and Gil Evans' Sketches from Spain and French chanson, notably Leo Ferré, Jacques Brel, Edith Piaf, and the new wave of Québec artists -- Claude Gauthier, Gilles Vigneault, Renée Claude, Robert Charlebois, Diane Dufresne. I later moved to rural Québec and was one of the first English Quebec performers who sang and composed in French.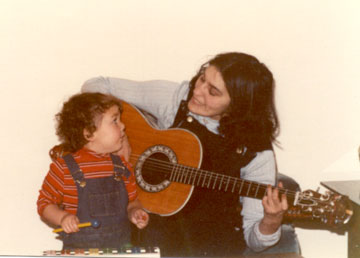 Erica and daughter Nahani, 2 yrs. old, 1978, Montreal
The mix on this record is one of the strangest I've heard (even for an ESP disc) -- did you have a strong input on the recording methods and mix?
As I said not much. We just went in and recorded live in the studio and then it was mixed another evening. I knew nothing about sound engineering, except that I had done sound recording as part of a small documentary film crew. But studio sound -- nothing.
Did you play with the same musicians on the album?
Only in San Francisco and Mexico, on an informal basis. I used to play a lot with Richie Heisler, but our group never really took off, we were too dispersed and lacked discipline and the drive to 'make it.'
Did you play many live gigs? What were those like if you did?
On campus with different friends including Fran, but later in the US, I played mostly solo in Village folk clubs, and in '68 in San Francisco and Mexico with the same musicians as are on the record. I also had a lead role in the Montreal Production of Hair in 1970. I did a lot of street singing in cafés in Paris and in Old Montreal, and eventually when I moved to the Gaspé and Iles de la Madeleine in the 70s, performing in small clubs and Boites à chanson, with various musicians who played mostly Acadian folk style music. We also went on tour throughout the Gaspé playing local theatres and auditoriums in all the villages along the coast. Two of our tours were televised by Quebec's national broadcaster. In the 1980s a group on the Iles de la Madeleine put on a review in the summers called La Folie des Années Roses, based on the Golden Age la chansonette français -- period stuff by Piaf, Trenet and Montand etc. We wrote sketches around the songs to create a kind of pastiche based on stories and characters in a light vein with historical context (i.e. the French Resistance, post war Left Bank Paris etc.). I always played the role of the American in Paris, singing Bessie Smith, Ella Fitzgerald or Bille Holliday classics. We did this for 5 summers -- the show was very popular.
"You Used to Think" has attained a kind of renewed interest -- a cult status since its reissue on CD -- many people consider it a milestone psychedelic/jazz/folk album -- it seems somehow without boundaries -- in a genre by itself -- were you conscious of this condition?
I never thought this record would go anywhere at all. Leonard Cohen listened to it when it first came out (the last song is dedicated to him). I remember we were sitting in my parents' living room when I played it for him and he predicted it would perhaps gain a very small following of people interested in experimental musical styles. I got the feeling he wasn't sure it would ever be appreciated or understood -- perhaps he was right. I am totally surprised at the interest being shown now. Do you know that I have never received a single cent of royalties for this album from any of its editions.
Do you see yourself as a spiritual or religious person?
Not religious in the formal sense, but in quest of a spiritual path for my own life through the material surrounding of our western culture and environment. I am interested in animism, not as a believer of predestination nor as a blind devotee, but in order to cull knowledge and practices from various traditions that correspond to present needs and to my own experience and worldviews. Being a woman with a strong feminist streak, I reject traditional belief systems that reduce women's importance and place them in a secondary, subservient role. That pretty well says it for the world's great religions, which are founded on patriarchy, doesn't it. However I do embrace rituals or traditional knowledge and practices that reserve a place for women's visions and sensibilities. The environment, the importance of art and expression, music, dance, celebration, exchange and dialogue between men and women, and cross cultural exchange, the science and art of meditation to replace war and physical aggression. I also believe in astrology and Tarot as means of projecting one's inner subconscious, as a guide, but also as a kind of game with one's inner intuition, to use the imagination and visualisation. Each one of us holds the inner secrets of how to live our individual lives, how to choose the path we take, we have learning tools innate in us and also in our environment and our surroundings, in our friends who are also our guides since they can see us reflect who we are . . . I believe in connections and the phenomenon of significant coincidences. But I am against the fatalist view of destiny proposed by many traditional religions -- I believe that collectively we still have a certain amount of individual and collective choice or free will to sculpt or shape our own destiny with the psychic and material tools we have inherited from past generations. However I am hardly a traditionalist -- I believe in delving into tradition in a contemporary way, adapting past knowledge and ritual to our present circumstance – a vital necessity if we wish to really deal with the crucial issues of our age -- which are the result of an accumulation of unresolved attitudes, inequalities, domination, and humanity's blindness to the ultimate beauty and perfection of our universe.
There is a strong political and feminist force that runs behind both your music and film work -- do you consider yourself an artist or activist first? How do you balance these forces?
I don't consider myself a militant feminist, at least I don't belong to feminist organisations. I am involved in several film groups to promote documentary film and freedom of _expression in film and television. I do believe in an active equality for women and am interested in reflecting women's rights and issues in my work but as a militant filmmaker I am more involved in fighting for freedom of _expression, specifically for cultural diversity: more space for visible minorities and exposure for other points of view within the mainstream culture on radio and television, issues like that -- training for filmmakers in third world countries, a better visibility for African artists whose talent is mostly ignored by the West, issues like that. I am also very involved in the diversity issue in music.
I love the range of lyricism and colourful imagery in your songs -- I wonder if there are some other visual influences -- such as painters or films that might have left a strong impression with you? Do you also paint or do other forms of artwork?
I used to paint, and now I create images mostly using video and with Photoshop on images taken from my camera work -- I'd say the most visual art form I practice nowadays is video -- I shot my last film and really enjoy cinematography. I also like to write and have written poetry and prose. Have written two feature film scripts (not yet produced). I do a lot of writing for documentary proposal and treatments and work with others on their projects in a script consultant capacity. I like editing as well and will soon have my own digital system up and running.
You have a strong reputation as a documentary filmmaker, with an interest in third world countries -- Could you discuss what makes a project interesting for you and how you choose these? To what degree is financing a problem or hurdle in producing films you would like to do?
I seem to be working on the connections between Africa and America -- this has been the theme of all my personal point of view film projects for the past 6 years. Women's issues also are important, and multicultural issues -- the lack of visibility for artists of colour or of minority cultures in the mainstream media, film, television, stage etc. I also work a lot on films involving native issues. However 'cultural appropriation' has become an issue here -- people don't necessarily want others to make films or write books about their cultural perspective -- they want the funds to do it themselves. I can understand that. However so far I have been lucky no one has criticized me or rejected me for my involvement in such issues.
Funding for independent documentary is less of a problem in Canada than it is in the US -- our cultural policies, on both federal and provincial government levels, are very supportive of arts and culture -- we have Canadians art councils grants and also on the provincial level in many provinces including Quebec. We also have national (state) television with a cultural mandate in this country, and there are agencies and various funds where one can apply for either grants or investments. However broadcast pre-sale commitments are the basis of this system, without one you can't access most of the funding available. And it is hard to find out what the broadcasters want. They want very dramatic stories, based on personal people-oriented approach, even in documentary. It is hard to sell most projects to broadcasters -- they might find the theme interesting but not like your approach as being too wide or not punchy enough. Anything involving sex, drugs, war, violence will sell, however it was not easy to get a broadcaster for my film on FGM. Everyone (even PBS) wanted something done on the issue, but not if it centered on the work being done by African women in Africa. They wanted something their viewers could 'relate to'. Nevertheless, it is still much easier for us to make films here in the west than it is in developing countries or in countries where there is a lot of repression and no support for the arts. So I can't complain really. It is my fault if I am not mainstream enough to make a living with my own documentaries. I can survive by doing other things like translating, research, script treatements, and various other film-related tasks like line producing. But one has to be a multitasking person to make it as a freelance filmmaker unless one becomes a cult director or an expert that gets invited to all the festivals. That is not my luck, still I have a very interesting life and am involved in all sorts of projects with interesting people, sit on the boards of a couple of festivals and filmmaker associations -- that kind of thing.
What film would you like to make if financing was not an issue?
I have a few projects on the board -- two features and at least two other docs about African issues. Too long to go into here.
Can you describe your film's DABLA and TABALA? Do you think there is a chance for a wider release-- perhaps on DVD in the United States?
Fat chance. PBS didn't buy DBAL, I think they didn't find it focused on one person's case, there wasn't a real human interest story, it dealt with too many different issues and aspects for their taste. They didn't say so but I think that was it. Also it had lots of subtitles. It would have to make a TV sale or get into a US festival to get more attention. However here in Quebec it played theatrically, on television and got tons of great reviews in every conceivable magazine and newspaper, radio and TV coverage too. TABALA has played several times on BET in the US.
I am hoping my new project Blues Niger will attract some interest in the US after Scorsese's series on the Blues… we'll see.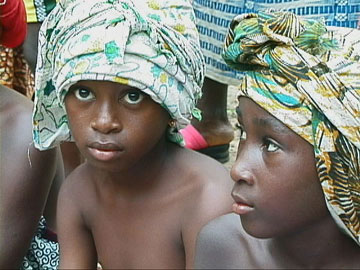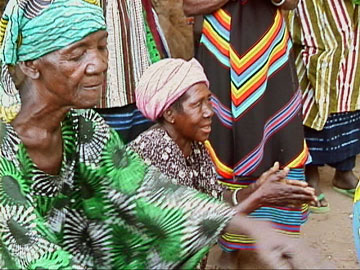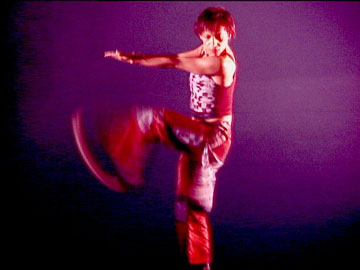 Stills from Erica's films.
Are you listening to any specific music today? or reading anything interesting?
Yes I listen to lots of traditional "world" music, some blues, jazz and world-jazz fusion. We have some great radio programs on both CBC and and alternative stations that play music of different cultures. I don't listen to mainstream rock or even too much alternative techno stuff -- though sometimes I tune in to this great late night program called Brave New Waves on CBC which plays the cutting edge in new electronic music. I like classical and contemporary serious music as well (though I am not mad about anything too atonal that sounds depressing). I really like the Bartok, Stravinsky, Mahler, Satie, Ravel, Villa Lobos… the list goes on. I am a big jazz fan though not a serious music collector. I listen to public and community radio more than my own CDs.
Reading -- that's a whole other subject. I read lots of recent novels and nonfiction -- intgereted [sic] in politics, history, development issues, women's issues, and really good novelists like Margaret Atwood, Toni Morrison, Grace Paley, and many others, anything that's recommended that I can get my hands on.
I read at night before going to sleep and in the morning when I wake up. I usually read three or four books at a time. I am now reading simultaneously several books on the history of blues and jazz and ethnomusicology of Africa for my new film project. Plus a book on African women south of the Sahara -- a collection of essays, most interesting.
Do you think art can help relieve or remove some of the problems we face today?
I think art is good as a practice, like yoga or dance or music. I think art is way overrated as a social panacea for the world's wrongs, in that it mostly preaches to the converted. There is also a whole snobbish elistist aura around the western art world. I think documentary is as close as it gets to being a useful art form in that it informs and creates awareness about the world's injustices and about things that must be done -- it takes people out of their own little cocoons of comfort and individual isolation and self-indulgent misery to see that we are relatively well off and lucky here and that the world around us is a much more difficult place than we are prepared to admit. Plus documentary is hard to make -- it is an art form that is defiantly not 'Art for art's sake'. Nevertheless I appreciate other forms of art too. I just think that the role of the artist is way overrated in our society. We needlessly put artists on a pedestal, they can make millions of dollars -- what is the purpose of that. It just removes the artists from contact with the world around them. The commodification of the artist is a sad fact of industrial society -- and the star system reigns in every art form these days. People try to 'make it' and forget often what they are really striving to do in terms of self-_expression. I admire writers or other artists who refuse to play the media game and who see themselves as artisans rather than 'artists'. In Africa the griot or praise singers (a caste or class in West Africa) do not consider themselves artists -- they are simply griots and see themselves as fulfilling a function as do all other people who practice a craft or plant or forge iron or whatever. We have put the arts and the sports players on a pedestal and made them into gods. There are so many other people playing roles that try to alleviate human pain and suffering or stop war (i.e. aid workers or teachers or care givers) who will never be adulated or renowned or remunerated for what they do -- we don't even know they exist or even hear about them. I don't know why we worship art (as entertainment) so much in western society. Perhaps it is a sign of decadence. I also think the nature or art changes in a society which has material over abundance. In a society where life is a struggle art has more meaning. Here we search for meaning in art, in struggling countries where there is less freedom, art is more directly related to the struggle for freedom of _expression -- and just plain freedom.
I wonder if you have other recordings, lyrics or poetry that might surface one day? Or if you have any interest in performing or recording again?
Yes I am interested in recording again but it takes time and money. Someone actually made me an offer recently to do a recording. But if I do another one I would like to have certain musician friends play with me. I also did a recording a couple of years ago -- I have two songs on a compilation CD.
I do have quite a few poems and song lyrics which have never been published. I have had a few poems published and even a short story some years ago. I do write a lot -- mostly film treatments. I work in both English and French. Most of my recent poetry has been in French.
TO BE CONTINUED . . . .