For further confusion read:
THE FORWARD OF ETERNITY by BLAST MAP OF ETERNITY editor-in-chief Cary Loren
click here for the amazing
DESTROY ALL MONSTERS SCRAPBOOK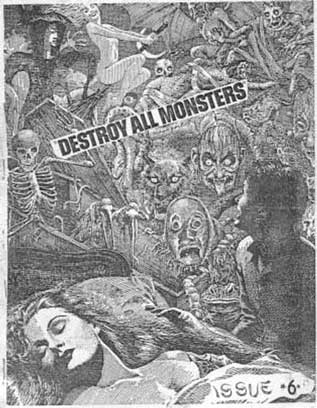 DESTROY ALL MONSTERS DISCOGRAPHY
(including End is Here, Compound Annex, and other related releases.)
1.) Destroy All Monsters Sampler, 1975, 10 song 60 minute cassette sold mail-order only through Lightworks magazine, edition of about 25 copies, personal: MK, CL, JS, N  OUT-OF-PRINT (if you have this item please contact us!)
2.) "You're Gonna Die/Bored" 1978 DAM 7" single IDBI records #1, RA, MD, N, RK, LM, BM. Sleeve art by Niagara. In England: Cherry Red Records*, 1979 OUT-OF-PRINT
3.)  'Day's of Diamonds'   1978, 4 song 7" EP Intro, "Assassination Photograph, Dream Song, Destroy A.M. , There is No End". Black Hole Records, edition of 1000.personal: CL, RA, MD, BM, LM, RK. Sleeve art by Virgil Finlay, label art Jim Shaw. Black Hole Records, #1855 OUT-OF-PRINT
4.)  "November 22/The Creeper". 1979 DAM 7" single IDBI records MONZ#2, Personal: RA,   MD, N, RK, LM, BM.  Also released in England, Cherry Red Records.*.OUT-OF-PRINT
5.) 'Blackout in the City'  (as Xanadu)  1979 7" EP. "Blackout in the City, Time Bomb, Switch the Topic, No Change" Black Hole Records, edition of 1000. Sleeve art by Loren and Shaw. Personal: CL, BM, LM, RK. XANADU was made up of all -members of DAM . The recording was made when Ben and Larry were still "in" DAM. And Loren was not. OUT-OF-PRINT
6.)  "What Do I Get/Nobody Knows" I1979, 7" single DBI records #3,RA, MD, N, RK. Sleeve art: Niagara.  England, Cherry Red*. OUT-OF-PRINT
7.) "Ron Asheton's" Destroy All Monsters/Sonic Rendezvous  1987 split 12" LP. (prev. released 2 IDBI singles), Revenge records.Personal: RA,MD,N, RK.  This bootleg LP collects 2 DAM singles, note: poor sound quality- which is basically a characteristic of REVENGE record products. OUT-OF-PRINT
8.)  'Bored'  1991 CD 7 songs with "Goin to Lose" bonus track Cherry Red. Personal listed: RA, MD, N, RK. Contains all three of the IDBI singles, Cherry Red CMDMRED#94. Has been recently re-released by Cherry Red
9.)  Destroy All Monsters  1974-1976  1994, 3-CD boxed set. 210+ minutes, 76 tracks, booklets, posters, inserts, Ecstatic Peace! Father Yod records.  Personal: MK,CL, JS, N.  (on a few cuts: RA,MD, RK, BM, LM.) edition of 2000. This is the most complete document of early DAM-- contains 3 booklets, a foldout poster, band interview from 1975, photos, liner notes, etc..OUT-OF-PRINT     
10.) "Grow Live Monsters" 1995, 60 minute boxed cassette. side one: abridged/altered version of soundtrack to the video. side two: a thirty minute live free/jam recorded in 1975 unreleased, personal; MK, JS, CL. Includes artwork by DAM. Released first as a boxed limited edition of 250 copies.on END IS HERE catalog 02  Contains "monster seeds" Jim Shaw's "End is Here" manifesto, and a DAM mini-magazine, some contents irregular. OUT-OF-PRINT Also issued as a Time Stereo cassette. (still available)
11.) Untitled 1995 DAM flexi-record 7" 3-song EP one sided: "My Cowboy Hero, Calling All Girls, I'm Bored" recorded 1975,unreleased elsewhere, personal: MK, CL, JS, N. edition of 1000 included in the first edition of "DAM: Geisha This" book. Also: loose edition of 100 numbered copies with constructivist sleeve in clear  art. Ghidra Music/Book Beat Gallery OUT-OF-PRINT
12.) Detroit Rock City, Live in Detroit, 1995"  1995 7" singlewith "Killing Me Softly/Detroit Rock City" Ecstatic Peace!/Father Yod. personal: MK,JS, CL. Sleeve art: Mike Kelley. 1st pressing 1000. (100 no labels,  for CA dist. ) Ecstatic Peace! #E-70, Father Yod #FYPS #10, OUT-OF-PRINT also published as a limited edition: "Monkey Fur Box" on clear vinyl, in fur lined 7" white box  with Kelley sticker on cover, artwork, stickers, photos by Shaw, Kelley, Loren and Niagara included, edition of 250, End is Here/Book Beat  OUT-OF-PRINT
13.) "Destroy All Monsters Silver Wedding Anniversary" Sympathy For the Record Industry FTRI, #444 CD 15 tracks from live shows 1995, Detroit, LA, San Diego MK JS N CL AB DM GC. re-released 1998 on the bands label: End is Here/Compound Annex # 06
14.) "Radio Teardrop" 45 min. sound collage/CD-ROM edition of 500, The End is Here #04 CL JS MK
15.)  "Backyard Monster Tube" 1996 one hour DAM cassette release recorded at Mike Kelley's studio, LA  1995. MK JS CL DM AB  mix by Defever, Time Stereo
16.) Untitled Two song flexi-disc, 1997 "Typical Boy/Attack of the Chiggers" for Geisha This 3rd edition of 2000, 1997 Book Beat Gallery, limited edition of 100 copies with silkcreened monster blob bandana by Shaw, and monster sticker by Kelley,  OUT OF PRINT this flexi is still available with the book Geisha This!
17.)  "Paranoid of Blondes/ Take Me With You"  7" single 1997 Sympathy For The Record Industry,#467 Excerpts from live recording Detroit, April 21, 1995  not on CD, photo picture sleeve,  OUT-OF-PRINT
18.) Backyard Monster Tube and PIGCD, 1998, 68 minute remix of the BACKYARD MONSTER TUBE cassette release from 1995 with a 22 minute bonus track recorded live in Tokyo Japan at the DEEP Gallery, 1996. CD in a 3 color folder, packaged in plastic resealing "virtual jap-pak" Time Stereo packaging, End is Here #07.
19.) "Silver Wedding Anniversary" 1995/98 same as item #14 re-released by DAM members on Compound Annex / End is Here #06
20.)  Swamp Gas   March, 2002, 72 minute CD : personal: MK, JS, CL, with Mat Smith, Marnie Weber, Erika Hoffman, Warn Defever. this studio recording contains vocals by Sun Ra re-mixed from the original tapes, also samples supplied by Japanese Noise group Violent Onsen Geisha (Nakahara), and Mike Kelley's UFO rant Swamp Gas. Special packaging of the CD includea a psuedo-UFO zine called the SWAMP GAS GAZETTE, with various UFO articles and rants, and cosmic blob stickers. This project draws its inspiration from the great Dexter, Michigan UFO chase of 1966. The trade edition CD comes folded in newspaper and inserted into a plastic 7" sleeve, the limited numbered edition is boxed  one of  250 copies w/complete set of all 8 cosmic blob stickers boxed with a glow-in-the-dark space alien. NYR End is Here #014
Notes: Cherry Red singles have different sleeve art by Niagara,  Cherry Red "You're Gonna Die" on red vinyl. Personal: MK=Mike Kelley, JS=Jim Shaw, CL=Cary Loren, N=Niagara, RA=Ron Asheton, BM=Ben Miller, LM= Larry Miller, MD=Michael Davis, RK=Rob King, GC= Greasy Carlisie, DM=Dave Muller, AB= ArtByington                           
 DESTROY ALL MONSTERS VIDEOGRAPHY
1."Grow Live Monsters"  1995, one hour VHS video from 1972-1976 music videos made by Cary Loren, original music soundtrack by DAM for video, mixed by Loren and Warn Defever, Lobsterworld films, Inc. Music personal: MK, JS, CL, N. Sound: Time Stereo. Film subjects include DAM and friends from the Ann Arbor/Detroit area.  Each film excerpt is an abridgment from over 20 full leangth reels of 8mm, super 8 and 16mm footage. 
2."Clear Day"  one hour VHS video by Cary Loren. Live in concert DAM  from 1995/96, Lobsterworld. MK JS CL N GC AB DM live shows include; Detroit Los Angeles and San Diego Some unreleased music material, interviews and monster montages.
3."Shake a Tail Feather or Rust Belt Rump" 1996, 30 minute video w/original DAM soundtrack, recorded at Mike Kelley's studio, subjects include Detroit techno dancers, monster movie trailers and late night TV advertisements, video by Loren  1995, used as visual backdrop for Japan tour 1996,  Lobsterworld, music: MK JS CL DM AB
4."Strange Früt" 1998, one hour video by Cary Loren with narration and original unreleased soundtrack by DAM  Video has been part of DAM installations also known as: Strange Früt: Rock Apocrypha"
KICK OUT THE JAMS, MOTHERFUCKER! The MC5 Live, video by  Leni Sinclair, and Cary Loren  40 minutes, 1966-1968 footage of MC5 live in clubs and outdoor festivals around Detroit/Ann Arbor , will be available as DVD on Cherry Red records summer 2002.
OTHER END IS HERE/BOOK BEAT GALLERY/COMPOUND ANNEX MUSIC/ SOUND RELEASES

THE DOGZ- IT'S EASTER IN MY BRAIN/ WILLY NILLY   End is Here #666 7" by Jim Shaw, produced by Biff Sanders  for the "My Mirage" art series, with MK, AB. Released 1988
MARNIE WEBER CRY FOR HAPPY CD-- Ecstatic Peace/ End is Here, solo CD  released 1998
MONSTER ISLAND, "from the michigan floor" 12" LP.  The first release from the acid/folk  Detroit group— recorded in 1995, released 1998 words/music Cary Loren (Destroy All Monsters)  with Warn Defever (His Name is Alive) Erika Hoffman (Godzuki) and Matt Smith (Outrageous Cherry, Volebeats) with 4-color collage and colorful lyric 28pp booklet on Label: Ecstatic Peace! #70b/ Father Yod #38,/ End is Here #05  limited edition vinyl 500 copies pressed 12 songs  OUT-OF-PRINT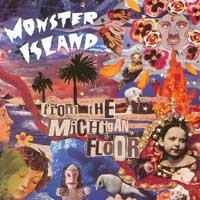 MONSTER ISLAND LIVE IN DETROIT 2/25/1999 live concert CD-R in handmade and painted box designed by Davin Brainard, Contents: contains one original photograph (each unique) of African maskby Cary Loren , and a hand-cut magnet of a palm tree by Brainard, 5 song CD-R,  edition of 50 copies, End is Here #07 OUT-OF-PRINT
MUSIC IS REVOLUTION CD is a 72 minute spoken word audio CD that tells the history of the radical politics of the late 1960's. The entire CD was recorded from the archives of the John and Leni Sinclair library at the Bently Historical Library in Ann Arbor Michigan—edited from over 50 hours of taped conversations and interviews—includes the famous Weather Report and Declaration of War by Bernadine Dohrn, a jail interview with Black Panther founder Bobby Seale, J.C. Crawford on Zenta religion, The Up, WABX air-ace jocks, John Sinclair, Joseph Jarman and MANY others….meetings of White Panther Party, Rainbow People's Party Central Planning committee. There is also a 16 page booklet included with excerpts from the visual and written material in the library—lots of Gary Grimshaw art, MC5 flyers, 60s street art. Edition of 800 copies End is Here #010
MONSTER ISLAND  DREAM TIGER CD  Dream Tiger is a 13 song CD album by the Detroit area group Monster Island. This is their first album since the 1996 LP recording "From the Michigan Floor" on Ecstatic Peace/ Father Yod. Principal artists are songwriter Cary Loren (Destroy All Monsters) Warn Defever (His Name is Alive) Erika Hoffman (x-Godzuki) and Matt Smith (Outrageous Cherry, Volebeats). Dream Tiger features a mixture of ethnic folk instruments: (Oud, Sitar, Tanpura, Harmonium, Shakuhachi, Djembe, Gamelon Gendèr and African percussion) mixed with traditional (Guitars, Bass, Violin, Cello, Flute, Drums) and novelty sounds: (Chinese organ, Water harp, Mini-moog, Toy piano, gongs). Several area guest artists also appear including Otto Kontrol on gamelon. All songs were recorded in the summer of 2000 and mixed by Warn Defever. 13 tracks time: 40 minutes,  End Is Here # 011 released Dec., 2001
PEYOTEMIND: MONSTER ISLAND with JOHN SINCLAIR --a project that began while researching the Music is Revolution CD. (End is Here#12) A 1963 student notebook written by John Sinclair was found in a box of papers, it included poetry and an essay written while under the influence of peyote. This work became the main 33 minute title track for the Peyotemind CD, an improvisation recorded by Monster Island with vocals added by the author John Sinclair. An early and important contribution to psychedelic literature Peyotemind was recorded in one take in the fall of 2000. Included are two other Monster Island improvisations Ganges Dawn and Eternal Now- an homage to Alice Coltrane. The last track is Sinclair's "Monk in Orbit" recorded live in Detroit again with John Sinclair on vocals and special guest Len Bukowski on bass clarinet. 4 track CD, time: 68 minutes, 4 color sleeve/jewel 70 minute CD with CL,  Matt Smith, Warn Defever, Erika Hoffman, Jeff Grand, Aran Ruth,  Eugene Strobe, Len Bukowski,
NIGHTCRAWLERZ: THE THIRD MIND 1981-1990 NIGHTCRAWLERZ was formed in Detroit in the late 70's by Cary Loren and Barry Roth. Loren, a founding member of DESTROY ALL MONSTERS, apprenticed in the early 70s with New York underground film-maker and performance artist Jack Smith. Roth, a photographer, studied in the early 70s under poet Robert Creeley. The literary theorist manual THE THIRD MIND by William S. Burroughs and Byron Gysin published in 1978 influenced their collaboration. The NIGHTCRAWLERZ project would cover 10 years and include video, drawing, photography, magazine and sound projects. The present 2 CD set collects 146 minutes of poetry/sound collage across 90 tracks. Special appearances by techno/godfather dj ELECTRYFYIN' MOJO and fluxus artist RAY JOHNSON are included. With the 2-CD set is a 24 page illustrated booklet with excerpts from the 8 released issues of the NIGHTCRAWLERZ zine, 4 postcards which include annotated track listings, a manifesto, and sticker seals. The set is contained in a resealable crystal clear envelope.End is Here #013 The trade edition is limited to 500 copies There is also a signed limited boxed edition of 100 copies,  with an additional NC booklet and plastic worms.
THE VERY BEST OF THE PERFECT ME CD -- a Marnie Weber/Jim Shaw End is Here, Los Angeles. Beautifully produced release by these psychedelic rangers of the West Coast . End is Here, Los Angeles, (unnumbered)

COMPOUND ANNEX
THE GOBBLER SKIN OF FLESH ALL MIGHTY CD  produced by Mike Kelley of DAM with Kelley,  Art Byington and Dave Muller (DAM) and featured vocalist Paul McCarthy (performance artist) full length CD. Spooky shop-of-horrors and comedic outtakes from live performances and studio recordings by this legendary group of dysfunctional west-coast art-minstrals In cardboard sleeve with Kelley drawing on cover CD.Compound Annex #5.
THE POETICS-3CD SET produced by Mike Kelley and Tony Oursler, covers the years 1978-1982. Performance art works and a collage of material similar to the DAM box set and LAFMS. Compound Annex #1,2,3.
POETICS: CRITICAL INQUIRY IN GREEN: CD with Kelley and Tony Oursler,  Art Byington, Dave Mueller, outrageous, newer stuff from the mad fringe, single CD release on Compound Annex #4.
SOD AND SODIE SOCK: CD Mike Kelley, Paul  McCarthy and Vient Onsen Geisha, recorded Live at P House, Tokyo, November 25, 1996-- Compound Annex #7, STUDIO C- November 26, 1996 CD, Compound # 8-- both documents record two days of sound improvisations between the American artists Mike Kelley and Paul McCarthy and Japanese noise performer Violent Onsen Geisha. Sod and Sodie Sock was recorded live in front of an audience and studio C was done for themselves.both are released as a double CD set, .in  cardboard cases and liner notes.
OTHER EDITIONS
Monster Blob Silkscreen by Jim Shaw with splatter paint additions by Loren , produced for the Japan 1996 tour.
POSTER: DESTROY ALL MONSTERS JAPAN TOUR 1996, Poster florescent green or orange, edition of 300 copies produced by Deep Gallery, Tokyo. OUT-OF-PRINT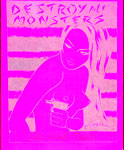 DESTROY ALL MONSTERS: GEISHA THIS  book with band history and artwork from the first 6 issues of DAM magazine 1974-1979. First edition 800 copies gold metallic cover 1995, second edition, 1000 copie, silver metallic cove, 1996, third edition , 2000 copies, florescent pink covers, 1998, 128pp., flexi discs, poster and different contents- hand collated and perfectbound, Book Beat Gallery Press
IT MELTS IN YOUR MOUTH, NOT IN YOUR MIND a collection of 18 stickers  and artwork by Kelley, Shaw, Loren, Niagara, first series, edition of 300 released in 1996 on the occasion of the Japanese tour, OUT-OF-PRINT  second series of 300 copies includes  postcards and stickers designed by Kelley, Loren, Shaw, released on the occasion of the Whitney Biennial, 2002
GOTH photos by Jeffery Silverthorne. A book of 21 original photographs of Detroit goth erotica, inspired by The Bride of Frankenstein (screenplay and film by James Whale).  Contents: 21 mounted photos, poem and binding by Cary Loren, black ink on black vellum, hand-bound in black Lakota, Nepalese paper, each book contained in a specially treated box with insect-decoupage by artist MOG of Florida, with: "BURIED ALIVE" CD by Loren/ Mog.(recordings of each box)  Limited edition of 50 copies signed and numbered by the artists in wood or metal boxes by MOG.
Photographs by Jeffrey Silverthorne  book printed in 1993 in Stuttgart Germany by Book Beat Gallery and Gallerie A., 41 images, color and high quality duotone printing, caution: extremely sensitive subject matter, portraits of death, morgues, prisons, whorehouses, slaughterhouses, the Detroit Negatives series, the outer fringes--a subterranean overview.
This is Our Music by John Sinclair  This book was first published by The Detroit Artist Workshop in 1965 in a limited edition of 500 copies, "This is Our Music" is a visual, lyrical and high-impact poetry tract which contained the passionate seeds of John' Sinclair's early radical politics.  This is Our Music was an early manifesto of the 1960's, and remains a cornerstone to the movement and rhythms of the city of Detroit, an ode to John's life-long love-affair with the Outsider-poetics of Jazz, which has remained at the core of his vision. The Book Beat version is a perfect facsimile edition limited to 500 copies, reissued and published in 1998.
Peanut Butter Motherfucker candy-bar T-shirt designed by Jim Shaw.3 color T-shirt silk-screened on 100% cotton white , edition of 144 OUT-OF-PRINT
DAM Spaceman T-shirt, from photo by Cary Loren (seen on disc #3 of boxed set: the photo is of Jim Shaw in Zombie pose with DAM carved in his chest) photo is ruby-cut,  black silkscreen on 100%
Sheep Faced Monster of the Apocalypse T-shirt. Mike Kelley designed edition of 144 infamous t shirt banned by the Watchtower! Magazine- and Jehovah's Witnesses!  OUT-OF-PRINT
THRIFT STORE T-SHIRTS One-of-a-kind t shirts hand selected from low-end Detroit area thrift shops, monster of the apocalypse and other DAM  logos are hand-silk-screened in multi-colors, edition of 200.
WHITE PANTHER PARTY BUTTON produced as a promotion for the Music is Revolution CD-- edition of 1000, also included in IT MELTS IN YOUR MIND sticker packs, second series.
OTHER APPERANCES:
BRING YOUR OWN WALKMAN CD-- Staalplaat, Amsterdam, edition of 750  1). Egg Fuzz (Jim Shaw) 2). Gobbler, 9) Destroy All Monsters "Raga"  Exhibition at W139, Amsterdam, compilation CD , released 1997
WHITNEY BIENNIAL 2002  "Soundworks" CD included with exhibition catalog , track 13) Destroy All Monsters "Coda, (Tokyo I think)" , Abrams, New York, 2002
PROJECTS IN PREPARATION:
PEYOTEMIND by John Sinclair. a complete essay and poems including facsimiles from the authors  notebook, edition of 500 , release date June 13, 2002.
RAY JOHNSON  a book of photographs by William S. Wilson-- a nearly 40 year span of photographs taken by one of Ray's closest friends, collectors  and archivist.
MONSTER ISALND :FROM THE MICHIGAN FLOOR CD to include everything from the LP release of 1998 and outtakes.
DESTROY ALL MONSTERS 2 CD set of live performances 1998-2002
DESTROY ALL MONSTERS PSYCHOUT CD a collection of recordings by Cary Loren, Paul Remley, and  Ben and Laurence Miller. 1977-1980, documents the dreaded combo of  psychedelia and high energy.
A FILM HISTORY OF THE WHITE PANTHER PARTY with footage by Leni Sinclair.