FROM THE EDITOR'S DESK
Best album of all time:
Either Queen Sheer Heart Attack or Wizzard's Brew, can't decide.
Special thanks to:
Think Heavy Industries (Lincoln, NE), without whom this issue would not have been possible.

The Blastitude World is still reeling:
From Issue #13, which was like 250 pages long (one of our Jersey correspondents printed it out at work). Kudos to Cary Loren, Anneke Auer, William S. Wilson, Ben Schot, Tosh Berman, Mike Kelley, of course Ira Cohen. As one reader said, "Sweet work, really."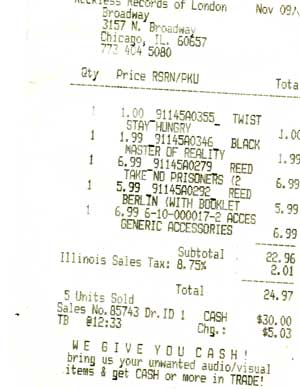 my wife looked at this receipt and said, "Stay Hungry,
Master of Reality, Take No Prisoners...what'd you buy,
a bunch of self-help books?"

LETTERS TO THE EDITOR
---
A Funny Guy...
Hi,
I was ego surfing through Google and came across
your site with the very kind appreciation for my songs;
that they are songs.
Thank you for the high praise.

Harvey Sid Fischer
---
Rejoinders and Shout-Outs to Blastitude 13 by C.M. Sienko....
[excerpted]
>Where did you see that [video of The S.S.]?
On my copy of the Cramps video, the one supposedly filmed at the mental hospital...I screened that after an HPK format meeting, and all Bob could say through the whole thing was roll his eyes and go, "That's so fake! That's not a mental hospital! This is all staged!" Okay, fine, maybe, but FUCKING SHUT UP ALREADY! "Some of us are trying to watch the movie" (said in a Hans Moleman whine) […] …there's a bit on the video for "other titles available" from Target Video, one I think for the S.S. live. Geoff was like, "Oh yeah, I've heard these guys are the shit," and it's exactly as Tony described...a bunch of shaggy haired japanese dudes with really "Metal" looking instruments (might have even been a flying V in there!) and costumes proceeded to SHRED THE FUCK out of the song and the audience. Just a quick 30 second clip, but it's definitely shit-hot. I can see what he means.
[….]
Okay, I would like to take SERIOUS SERIOUS umbrage at your take on the Residents as pure quirk, no soul. NO WAY! The Residents DRIPPED soul on those first couple records, I'll stake my Pulitzer on it. "Meet The Residents" is nothing but soul...yes, it's weird as hell, but it's got a strange swing about it. If you listen to it more than 20 times, it becomes very natural, the songs almost folky (The Residents Commercial Album is VERY folky to these ears, plantation lullabyes [to borrow from Me'Shell N'egeoto'cel'l'o'e'o] of a very touching, and sometimes Grimm scary, sort...though it did seem impenatrably weird at first). "Not Available" and the "Walter Westinghouse" mini-opera also got much soul in them. Every voice singing on "Not Available" is singing for its life, and putting forth mucho passion. I may not know what they mean, but they are meaning it from the bottom of their hearts. I will grant that the pop-culture smashies of "Third Reich and Roll" may come off a bit cerebral, but there's no WAY you can tell me Snakefinger's solo on their cover of "Satisfaction" is anything but pure SOUL! That's as much soul as Richards' original riff for the song. Ditto the woozy-as-hell vocals on their miniaturized version of "Double Shot Of My Baby's Love." Yes, it's savage, yes it's somewhat inaccessible, but it's also earnest in capturing the lyrics: "Woke up this morning, my head was a wreck/it was the worst hangover that I'd ever had." Sounds like it!
Residents albums with less soul, but not soulless: "Third Reich," "Eskimo," (I never really got with that one), anything post-Mole trilogy.
Soulless Residents recordings is just about anything after "God In 3 Persons," and even some of that record.
Residents records dripping with soul: "Meet the Residents," "Satisfaction," (though not its B-side), much of "Fingerprince," most of "Duck Stab," "The Commercial Album" (ALL), "Not Available" (ALL), the track "Something Devilish" on the "Stranger Than Supper" slop tape LP. That's soul in the Dock Boggs sense, though. "Help me purge my eternally burning soul. IT BURNS!"
Oh, and on a side note, your mention of Cromagnon at the Huun Huur Tu festival made me get that record out the next week. To be honest, I'd never listened to it, even though I taped it from you many months before! (You know how it goes when you dub 15 tapes all at once...) I had heard speculations that Cromagnon might have been an early incarnation of The Residents. Well, I'd now like to hear some convincing proof that they weren't an early incarnation of the Residents. Because they are...the Residents. Unless someone can prove otherwise, there's no doubt in my head. It's definitely the Residents. I even recognize a few of the voices, and MOST of the ideas. There's only four years difference between "Orgasm" and the "Santa Dog" double 7", and only a year after that to "Meet The Residents." It's not hard to imagine them jettisoning the "freedom now!" rhetoric and developing their mythology in the intervening years. That's the truth and I'm sticking to it...unless someone can prove me wrong!
Girl group soul or not, the Residents are (within the scope of their entire oveure) at least 25% PURE SOUL, and will continue to be that much no matter how many hollow, quirky, soulless records they menstruate out.
[….]
I'm glad Harrington also mentions this "Godboys" element of Sabbath, which I think continues, in some form or another (at least sonically, if not lyrically) up to many of the great metal bands of now...vintage Maiden, Darkthrone, and definitely Weakling. The idea that the protagonist was not in league with Satan, but in fact being PUNISHED by Satan, even while being in league with him. For me, much of the best heavy metal squirms and cries in agony. It's like those first few minutes after the Faustian character has finished with his ass-kicking life, and is now being dragged kicking and screaming into an eternity of torture. That's what I hear in "Black Sabbath" when Ozzy lays down those not-of-this-world "Oh God, NO, NO!" screams at the ends of verses. Lots of it seems to be the punisher, and much of that is also good, but even Ledney has some elements where he seems to be being punished by his own anti-christ, no matter how punishing he gets.
Man, your Top 9 Noise albums list makes me want to do one as well. May I? Okay, here goes:
(no order!)
- Dead Body Love: Maximum Dose CD
- Emil Beaulieau: Anti-Performance cassette
- Pain Jerk/Dogliveroil: The Snake-Charmer's Beautiful
Daughter split/collab CD
- Facialmess: The Madcap Barely Smiles cassette
- Merzbow: 1930 CD
- AMK: AMK Montage cassette
- Whitehouse: Dedicated to Peter Kurten CD
- K2: The Rust CD
- Runzelstirn & Gurgelstock/Masonna/Schimpfluch: Arschloch-Onna CD
Not adding Nihilist Spasm Band/Borbetomagus and such since I figure we're talking about pure noise pedal/guitar hoppers here mostly, and not proto-Russolos and such either. Also, despite having sizeable collections of both, no Cock E.S.P. or Smell & Quim appear on my list. I love what they do, but much of it is tied to performance. This is straight sonics, and yes, I wouldn't probably cross the street to see several of these artists play live, conversely. Of that list, only Beaulieau, Whitehouse (I guess), Dogliveroil, and certainly Schimpfluch know the importance of stagecraft.
Each of them is sort of a high water mark of a certain kind of noise that I like. WH obviously hit the mark on the post-TG electro shriek, before becoming a total cartoon, and then transforming into a total supernaut.
K2 is the apotheosis of what can be done by scraping scrap metal together (VERY close second: Knurl's "Meatrag").
The Pain Jerk/Dogliveroil, especially on the PJ dominated tracks, are masterworks of the whiplash, pedal dancing edit school, faster even than Facialmess, who was sort of of the same class (along with Kazumoto Endo, aka Killer Bug). Pain Jerk's a funny one, since he started out as good-but-not great, suddenly got phenomenal for a bunch of releases, and then suddenly got really lame again! Joel St. Germain told me he developed some sort of crippling illness for a while, like a virus or something.
Facialmess seemed to do all those same sorts of things live, though, with a lot more of the thuggish grit that you'd expect from a guy who got into Merzbow through Relapse, and still mostly listened to Born Against and Dead Kennedys records.
Taking the editing up another notch, the Arschloch-Onna disc is a beast of a different color, including several that haven't been identified on the color spectrum. I wrote about it in Dead Angel 43, if you're interested. All that stuff still applies.
Beaulieau is the grand master to me (more so than Merzbow). His stuff IS what I like about noise. The textures, the extreme repetitions, the jumpiness. It's simultaneously horrific, funny, sweet, and intoxicating, pure adrenaline/sugar. I do truly agree with the video title that Emil is "America's Greatest Noise Artist." Howie Stelzer once said, "All noise people LOVE Emil Beaulieau, but nobody ever says this in public, or admits it in interviews." It's weird, but true, he gets nowhere near the propers that he deserves.
1930 by Merzbow is hardly his harshest, or most characteristic work, but it's amazingly nuanced and beautiful without being wimpy, like the similar "Rainbow Electronics 2" is.
Like Beaulieau, AMK is another person I think of when I think noise, though not as much so, since he's kind of on a parallel track. He's like musique concrete with a noise aesthetic (see also: tac). His skipping records make very cracked pop songs, and remind me of my train of thought when I'm tripping EXTREMELY hard. All of his stuff (literally...it's very few artists whose complete discographies I can unquestionably recommend) is at the core of my being. Very nourishing.
Dead Body Love is just a beast. His name and locale (Italy) seem to imply that he'd be Power Electronics a la Whitehouse (nearly every Italian noise person is Power Electronics, in much the same way that nearly all of Latin America is "trade" in its sexual orientation), but he's not! His noise, when he does it well, has a hard chromium electro-sheen...he almost makes me think of techstep, like Panacea or the No U Turn label. Larger than life loops that get larger and closer with every turn, like that shot of the dinosaur in the rearview mirror in Jurassic Park. This as his "Albert Fish" 7" (part of the 12 7" "Serial Murder" series [I have the "special edition" with the 13th record, a lathe cut by Emil Beaulieau in which he reworks the first 12 records, thus putting me out of the PRE-empire forever, but ensconsing me as legend in other circles, since this special edition was in an edition of 25 copies!]) is amazing, and sadly, many of his other records are shit. (He actually does have a "Power Electronics" side project [must be the Italian in him...don't print that!] called Discordance, which is also amazing)
And I guess that just about wraps it up. So much for buckling down to work today! Ha ha!
Chris
---
I Love This Guy!
It is most interesting the way Joe Harrington has done this list (I know nothing about most albums on it, some of it would be import-only at best down in Australia) but what I am curious about is if it would be possible to find out what the top 25 albums on his list are. Or at the very least, some of the artists on this top 25 are. Contact jpbenney@hotmail.com if you do have any details.

Julien Peter Benney
Thanks for writing. To find out the top 25 albums, tune in to the next Blastitude (scheduled for November 1st). That's all I can tell you -- right now, I'm not even sure Joe could tell you what the top 25 albums are!
Best,
LD
I think it would be unlikely that Joe would not know who the artists in the remaining 25 albums are - it does seem purely illogical that he would have not decided on the Top 25 - or at least which 25 artists - after he has counted down from 100 to 75. In his own texts, moreover, he does give a few vague hints as to who the artists are.

Julien Peter Benney
---
A Plea From Mort DieBold and VisionaryRecordz...
Ron Rancid of the Nihilistics threatened me with physical harm.
I work for them and Visionary Records.
My name is Mort.
Ron read your magazine, e-zine and exclaimed "finally someone knows what it is all about! This is pure genius a master piece," (he went on for a very long time and slapped me)
Please help me!
If I do not place an add or send you people Nihilistics stuff I am dead!!!.
IM just an old punk biker in a wheelchair that helps them run things. I laid down my bike and my girlfriend died in 85. This is the only job I can manage.
So I need it, disability pays shit.
so the bottom line is that he is a nut, and if I do not get in touch with you I am fucking dead. He gave me 3 days to accomplish this. I try my best you know but this guy is fucking murder, he keeps screaming that "how could I
miss this." I mean its real bad here so please help me out. I need add rates and someone's name to send shit to. ASAP!!!!
Ohhhhhh if you talk to him don't mention I said he was nuts.
Thank you and help!
Mort DieBold
VisionaryRecords
www.visionaryrecordsusa.com
---
Thank you!
You saved my ass. I will show it to him today. It may even put a smile on his
evil jaundiced face.
He will not shut up about Blastitiude! Thanks again!!!
Mortie D
---
Thank you sooooooooo much!
This nut made a sign that says "BLASTITUDE" on it and he hung it up in front of my computer. I take it down when he is not around. But don't tell him that.
I will mail a package out with their new CD.
He got me in a head lock and tried to write BLASTITUDE on my forehead "so each time you hold your Dick Mort to piss you will see it in the fucked up handicapped mirror we hung for you in the bathroom." "Now go clean the seat
cause you pissed on it again!!!".
I told him is piss through a catheter.
He said "We pay you to stick shit in your Dick all day." "Make sure you finalize the German tour and by the way 'that crack whore we pay to suck your
Dick blows you through a tube?"
I said what whore?
He said "That ugly Kathy"
I said you pay her I thought you said she liked me?
He just laughed and said "Nah we told her to tell you that"
Nice way to start my week.
Thanks again.
Mort D.
---
As Dr. Dre said, "The Motherfuckin' Saga Continues..."
Have you yet been able to get in contact with Joe himself since I last e-mailed you?
Are DRAFTS of "Blastitude 14" already in place, and if so, are there any clues as to the identity of some of the artists in Joe's Top 25?
Does Joe have any personal e-mail address?
Julien Peter Benney
---
When is Blastitude 14 likely to be out?
Are there any details on the Top 25 as yet??
Are drafts being made already??
Julien Peter Benney
---
I had expected Blastitude 14 (with Harrington's Top 25) to be out in November - early November in fact. Has Blastitude 14 been delayed by any chance??
Julien Peter Benney
It certainly has--until January 15th. Quality takes time!
Best,
Larry "Fuzz-O" Dolman
---
Subject: One question
Was Blastitude 14 originally intended to be online during November?
Any details as to Harrington's Top 25?
Julien Peter Benney
That's two questions. Answers: yes and no.
Larry "Fuzz-O" Dolman
---
Blastitude 14 was due online today. It is still not online.
When is it due NOW?
Has it been cancelled??
Julien Peter Benney
---
You have continued to delay Blastitude 14 - it is already "this weekend" and Blastitude 14 has not come out still.
Is this because Blastitude is no longer functioning and the fourteenth edition has been CANCELLED altogether?
Julien Peter Benney

Good lord, would you please leave me alone? (said in a Hans Moleman whine)

Larry "Fuzz-O" Dolman
---
BLASTITUDE is now a quarterly. #15 scheduled for......sometime in 2003.
Comments, recommendations, complaints, submissions: blastitude@hotmail.com
Any music/tapes/books/artifacts/records/documents for consideration should be mailed to Blastitude @ 2158 N. Mozart St. #2, Chicago, IL 60647 USA

BLASTITUDE #14 © 2003
Published by Tiny Press