#18 FALL 2005
AIR CONDITIONING
by Chauncey Chaumpers
Completing our two-part "Killed by Pennsylvania" cover feature (see also Pissed Jeans interview by Tony Rettman), Mr. Chaumpers of No Doctors talks to this vein melting PA noise-speed ensemble!
:PISSED JEANS
by Tony Rettman
VERTONEN
by Chris Sienko
TAIWAN DETH
by J. Fortunato Perez
FRIENDS FOREVER
by Brian Miller
These guys are HILARIOUS. And when Mr. Miller of Deathbomb Arc/Foot Village went on tour with 'em, he not only had a lot of laughs, he learned a lot about life too. I'm serious.....
V/Vm
by E.W. Hagstrom
IT SMELLS LIKE A
MENTORS SONG IN HERE!!!
by Tony Rettman
"The challenge was thrown down Burt style for me to ride a psychedelic shitstorm right into the eye of the New Wet America with three groups of urban conceptual gorillas (yes, that is the correct spelling). And I took it.
Took it like a man . . ."
NO FUN FEST
by Reggie Queequeg
TEEN HUBRIS IS VISCERA: The Zyklon Bees & The Pig Snoot Revival
by Charles Lieurance
A staff member we have not seen since issue #1 returns with a bang about very questionable barbecue and the blues (from both sides now)....
MOOVYMUSIC!
by Brian McMahon
A rather Percy-centric second installment of
Mr. McMahon's delightful delve into
the world of soundtrack vinyl.....
RECORD REVIEWS
(pg. 1)
396 Mountains, 500MG, Alvarius B, Apothecary Hymns, Astral Social Club, Baby Huey and the Babysitters, Black Forest/Black Sea, Born Heller, Espers, Can't, Chinaboise, Christina Carter, Tom Carter, Charalambides, Clay's Festering Lungs, Loren Mazzacane Connors/Christina Carter, Danava, De Hondenkoekjesfabriek (almost), Demos Yellow Swans
(pg. 2)
Devillock, Al Duvall, Bob Dylan, Endless Boogie, Es, Eyes and Arms of Smoke, Flying Luttenbachers, Henry Flynt, Dredd Foole, Josephine Foster, Fricara Pacchu, Gang Wizard/Friends Forever split, Garlic Yarg, Gate to Gate/Devillock split, Gil Mantera's Party Dream, Gutters, Hair Police/Crystal Fantasy split, Hammock, Human Host, Incomparables Club, Johnston Brothers, Kites/Prurient split, Lau Nau, Lazy Smoke, Leprechauns Catering, LSD March, Maledetto/Ottave
(pg. 3)
Master Musicians of Bukkake, Mouthus, Mt. Gigantic, Marissa Nadler, Nautical Almanac, The New Flesh, Om, Orthrelm, Pãivãnsãde, Pengo, Princess Sweepstakes, Psi, Quem Quaeritis, The SB, Screamin' Mee-Mees, Ramon Sender, Shy Rights Movement, Sightings, Sightings/Tom Smith, Silentist, Silver Daggers, The Skaters
(pg. 4)
Smegma, Specs One, Sublime Frequencies label, Sun City Girls, Sunn0))), Tar Pet, Taurpis Tula, Text of Light, To Live and Shave in L.A., Tumble Cat Poof Poofy Poof, Valley of Ashes, Million Tongues Festival CD, The Naked Prey OST, A Veritable Whirlwind Of... comp, Tapeworms Eat Bookworms comp, Vertonen, Virgin Eye Blood Brothers, Warmer Milks, Watersports, Weird Weeds, Keith Fullerton Whitman, Jack Wright, Xex, Yuma Nora, Zs, Zelienople
7-INCH ROUNDUP
Part Two: Kreamy 'Lectric Santa, Major Stars, Warmer Milks, Neung Phak, Air Conditioning, Popular Shapes, Menstruation Sisters, Strangulated Beatoffs, Hall of Fame, Kompleksi, Lil Pocketknife/Barr, L.A. Bands in 2004! comp, Miguel Mendez, Jacob Smigel, The Rebel, Hedgecreep, The Clutters, (the original) Donna Summer, Jon Mueller (not actually a 7"!), and Sexy Prison! Then there's Part One: Japanther, Melted Men, Kevin & Chad, Rorn, The A-Sides, Psychic Ills, Stereo Motherfuckers
STAFF REVIEWS
Correspondents weigh in on several different records and etc. from all over the map, featuring Charles Lieurance, E.W. Hagstrom, B. Edwards, Tracy Heightchew, one Patty Hearst, and a whole slew of new new FREEVIEWS by the one and only Bonnie Banks!
ZINE REVIEWS
Night Moves, A Dangerous Game, Ghost Press, Sniper Glue, Smallflowers Press, Shuttlecock, The Wire, 200LBU, Bananafish, Roctober, Kiss My Grits....
BOOK REVIEWS
Stuff from Slow Toe Publications and Soft Skull Press, and by D.A. Levy, Jack Brewer, Daniel Nester, Max Sympathy, Catherine Theis, Neal Stephenson, Robert Silverberg, the Suicide bio, and "Romantic Love Up In This Young Piece"....
ON THE TOWN
with Reggie Queequeg
He's back! With an all record-review edition of On The Town, in which our man "tackles" To Live and Shave in L.A., Xex, Sightings/Tom Smith, Lord of the Yum-Yum, Rusted Shut, The Eagles, Elyse Perez, Wolf Eyes, and Don Howland. Yes! The Queequeg magic is back!
NEW YORK SHOW REPORT
by Daniel DiMaggio
He's back too! Queequeg and DiMaggio -- look out, here comes trouble! Here, thee double-D reviews tons of performances by the likes of Temple of Bon Matin, Mouthus, Kites, Slo Jams, Knifestorm, Dreamhouse, Saccharomanic Targets, 2673, Vampire Can't, um, um
. . . . oh yeah, Feathers, they're supposed to be real
good, so that's cool, um, um . . . . a couple more,
check and see who.
R.I.P. PIGGY, MOOG, FERRARI
SHOP CITGO
(#18 still isn't done! Still waiting on the Chicago Show Report and maybe a couple other surprises.....
things sure do take forever)
---


"Blastitude" is the title of a track by Angus MacLise (1938-1979), drummer, jammer, electronic musician, punk, hippie, poet, publisher, father, world traveller, early member of the Theater of Eternal Music and the Velvet Underground. The track can be found on the archival CD Invasion of the Thunderbolt Pagoda (1999, Siltbreeze/Quakebasket).
STAFF NEWS 8/29/05
Just 6 months ago I was telling you about Tony Rettman's new mag, now another Blastitude contributor has also went and done the real thing. Joe S. Harrington has put out the first issue of a big mag-style rock zine called Kapital Ink, 8.5x11, nice paper, glossy color cover, 110 pages. 50 of those pages are devoted to a drunken interview with a Portland, Maine band called Swamp Witch Revival that hasn't played a show in three years and never even recorded! Another 40 pages is the review section, piss-you-off funny with plenty of insights and lots of gossip, mostly about Portland, Maine, although Harrington throws his Mad Magazine-influenced barbs at anybody, and Paris Hilton herself crosses paths for a page. There's hardly anything about The Strokes this time but there is an inordinate Anton Newcombe fascination going on. (I've still never heard the music, almost to the point where I'm trying not to, but Dig! is in my "cue", and his name sure has a nice satanic (majesties request) ring to it.) To order Kapital Ink write kapitalink at maine dot rr dot com. (Funny review of the mag here.)
---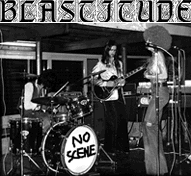 UPDATED EVERY THREE WEEKS OR SO
ALWAYS PLENTY TO READ
---