||||||||||||||||||||||||||||||||||||||||||||||||||||||||||||||||||||||||||||||||||||||||||||||||||||||||||||||||||||||||||||||||||||||||||||||||||||||||||||||||||||||||||||||||||||||||||||||
THE OUD AND THE NEY by Derek Monypeny
MESSAGE FROM THE WHISTLEMAN by Chris Sienko
GEORGE CARLIN by Tony Rettman
WHAT'S ON D'S iPOD? by D and D
RECORD REVIEWS by Larry "Fuzz-O" Dolman
2008 IN REVIEW by Larry "Fuzz-O" Dolman

||||||||||||||||||||||||||||||||||||||||||||||||||||||||||||||||||||||||||||||||||||||||||||||||||||||||||||||||||||||||||||||||||||||||||||||||||||||||||||||||||||||||||||||||||||||||||||||
THE OUD AND THE NEY: A Morocco Diary
In September of 2008, Derek Monypeny, guitarist of the Oakland-based band Oaxacan and friend of Blastitude, accompanied Hisham Mayet of Sublime Frequencies on a business & field research trip to Morocco. The following is a multimedia account of Derek's trip. All photos and video clips presented in this diary were shot by Derek, except where otherwise noted.
NYC
"The signs on the wall are unclear, so they draw you in, like strange lights on the horizon. And by the time you see that they are nothing like you expected, it's too late: you have already crossed the threshold." - Erik Davis, Led Zeppelin IV (33 1/3 series), devoured on the flight from Oakland
As I get older I find myself drawn more and more to alien, disorienting situations and states of being. I'm not talking about the substance-induced Rimbaudian "derangement of the senses" train that so enthralled douches like Jim Morrison (Rimbaud was a very special kid, but a kid he was). I'm talking about unclear signs on the wall. I'm talking about breaking down way out of town and nobody much likes your face, Triple-A doesn't exist, cell phones don't exist, your diapers don't fit any more so start walking. And that's exactly where I want to be: up shit's creek, hoping a donkey cart comes by.
Yet, as devoted and as committed as I am to what Gocher called "disoriental philosophy," the unknown is never an easy thing to gear up for. I needed some psychic reassurance, so before I headed out I made sure to pay my respects to Horus.
The stern, omniscient benevolence of Horus first entered my consciousness while visiting his temple in Edfu on the banks of the Nile 2 years ago, and his presence as a talisman in my life has grown ever since. As I go through life I feel his epoch-transcending Eye, wrenched from him by his brother Set, boring through my vanities and ineptitude like a diamond cutter.
The pharaohs believed that, while they wore the crown, no matter what alien territories they would visit in the course of their reigns, Horus always had their backs. So, in the surely vain hope that he would continue to have mine, I went to the Met to visit him in the museum's vast Egyptian collection. And after a brief consultation I left satisfied and at peace.
There's no way you're going to believe me, and in fact you shouldn't, but the truth is that later this same night, during a drunken ramble through the East Village, I was walking down Ave. B when I happened to look across the street and directly into the Horus Café. I didn't even know the place existed. The Eye at the top of the large, brightly painted café façade stared right at me. I felt myself relax.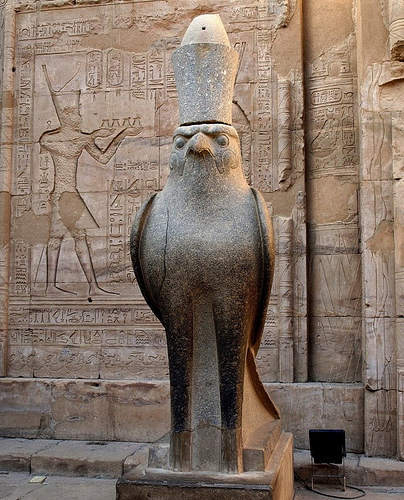 Staring down the ages outside his temple in Edfu.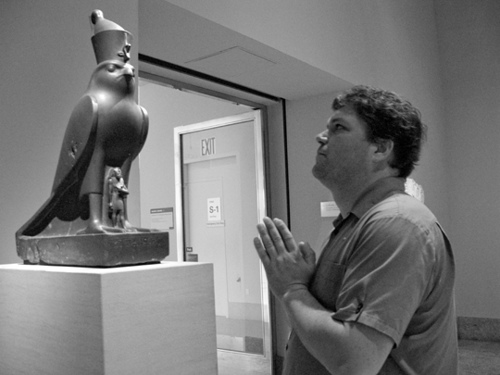 The author in consultation, Metropolitan Museum, NY. Photo: Jodi Shapiro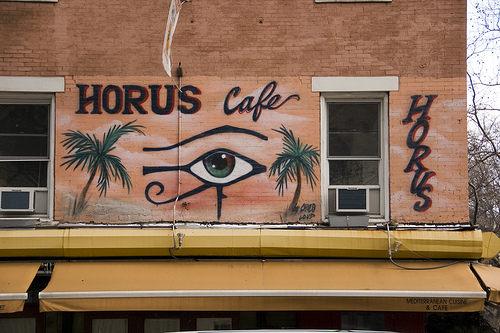 Casablanca
We're only going to be here for a short time to get a couple of loose ends tied before heading to Essaouira and the true beginning of our trip. There's plenty to see and do here, though. Across the street from our hotel is an absolutely mind-boggling record store called Le Comptoire Marocain de Distribution de Discques. It is open for business during the day despite Ramadan. I feast my eyes on not one, but two walls full of mint, unplayed Om Khaltoum LPs - probably 200 in all. There is a huge selection of vinyl, both LPs and singles, along with stacks of cassettes and beautiful box sets containing recordings of Koranic verse. When I come back here for the last leg of my trip, I will do some damage in this store.
Looking for a place to eat dinner near Casa Port, Hisham and I get a spontaneous ride in the back of a motorcycle cab. Our feet dangle off the back as we haul ass down side streets near the old medina, not slowing for speedbumps. The driver stops and picks up 3 of his buddies - fishermen whose clothes appear to have been entirely subsumed by fetid salt water and fish entrails. The night is beautiful and we're all laughing. The driver ends up taking us to a tiny dive about half a mile from the place we told him to take us. It's his friend's joint. We eventually made it to our original destination for a great meal, but I wish we would've stayed at the little spot where he took us.
Night time in Casa during Ramadan is bustling, cafes jammed with men drinking tea and playing cards. No one is drinking alcohol, which keeps things rather subdued. We're glad we had the foresight to buy a bottle of Johnnie Walker Red at JFK.
At Bar Majestic, a high-energy dance band consisting of percussion, keyboard, a vocalist, and a bowed stringed instrument I couldn't identify is in full flight. The percussionist and vocalist do call-and-response soul shouts and the guy on that bowed thing starts tapping the spirit of Tony Conrad. The music steadily builds in speed and intensity. Some couples get up and dance. Everyone is bitterly sober. The music hits a huge crescendo and ends abruptly, quickly replaced by sappy pre-recorded keyboard bumper music. The band takes five. We decide we need to find a beer somewhere.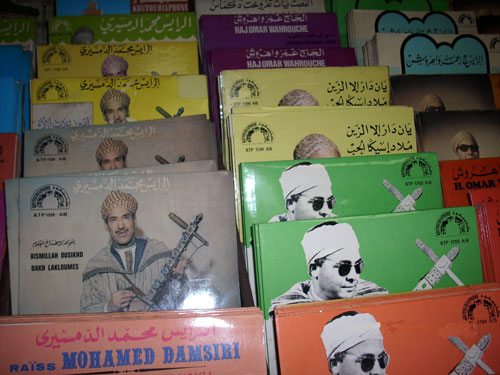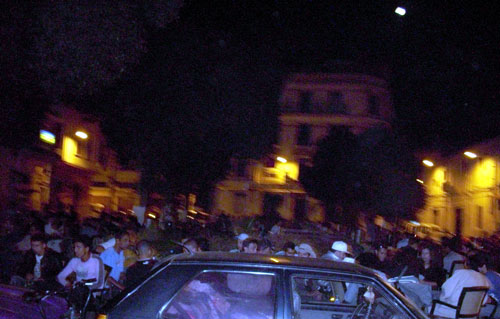 Essaouira
As a young boy, I often hypnotized myself by staring out of moving car windows at rows of lettuce crops. The long, straight bars of earth would sway, as each one was approached and passed, in a perfectly consistent sweeping motion. I would stare at these rows and a vast, clicking drone would slowly swamp my mind.
After a series of insane cluster-humps getting out of Casa, the long bus trip became strikingly reminiscent of bus trips I had taken in Egypt: one-lane highway, no streetlights, no billboards, the eerie movie-set experience of pulling into small towns with no people at all outside. We stop for food in the town of Safi, and sitting at a grim snack bar there the trip becomes real to me.
Within a couple hours of our arrival in Essaouira, things get happening. Jamel Babamer, a Gnaoua musician whose great thumping style on the gimbri and delicate vocals can be seen and heard on Hisham's Musical Brotherhoods of the Trans-Saharan Highway DVD, meets us at the bus station. He takes us to the apartment he has arranged for us here - a funky but spacious place that contains a large sitting room perfect for performance and recording sessions. Essaouira is a spectacular coastal town on the Atlantic, and the rejuvenating salt air and easily accessible Speciale Flag beer make us forget Casa quickly.
After a huge dinner, we end up at a party. Instruments are out, the endless tea is poured, and kif is on everyone's lips. Jamel gets his gimbri out, rhythm is tapped out on CD jewel cases, and the music begins.
It turns out that one of the guys here is the son of one of the founding members of Nass El Ghiwane, Morocco's most influential and beloved band for more than 30 years. Hanging out with this guy in Morocco would be somewhat akin to jamming with Keith Richards' son in England. He grabs the gimbri and starts playing and singing Nass songs, songs as familiar and as nourishing to Moroccans as oxygen. The effect is absolutely spellbinding - the tea, the smoke, the fellowship, the beauty of the singing and playing. I sit back and know exactly why Hisham devotes his life to this.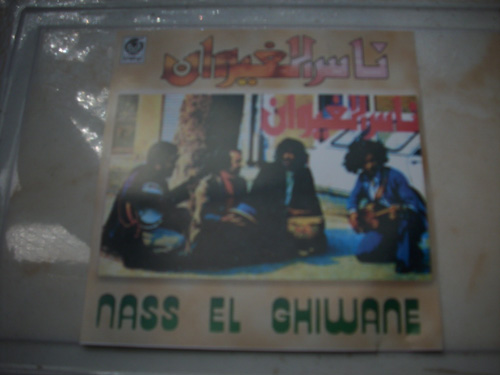 '70s era Nass El Ghiwane CD. Every track on this disc is a fucking burner.
We spend the following afternoon with Jamel. Hisham has asked him to provide track titles and information for recordings they had done a couple of years previous.
Gnaoua music is played to accompany a complex liturgy called lila or derdeba. Its intent is to call seven saints and supernatural entities, as represented by seven colors. Jamel listens back to the songs Hisham recorded and begins identifying them by color, with black, white and green seeming to be the most common colors. No blues.
Jamel is thrilled to listen to these old recordings of himself, shouting to hear himself speak in the time-honored tradition of people listening to loud music on headphones, inducing peals of laughter from Hisham and me. "THIS SONG IS WHITE SONG. IT TALK ABOUT THE SAINTS OF ISLAM. ALL DIFFERENT SAINTS I AM SINGING ABOUT!!!"
Hisham then asks Jamel to identify other songs, songs Hisham recorded in Marrakech at the Jemaa al Fna, the incomparable nightly celebration of Moroccan culture captured so stunningly in the Musical Brotherhoods film. Jamel is familiar with the songs, which all seem to cover eternal territory: "THIS SONG THEY ARE SAYING: 'MY LOVE, WHY YOU LEAVE ME?'"
One of the Jemaa al Fna songs Jamel identifies has a particularly beautiful conceit, which I have thought about every day since: "THIS SONG THEY ARE SAYING: 'I ASKED THE OUD AND THE NEY ABOUT YOU. THEIR MELODIES ARE TELLING ME ALL ABOUT YOU.'"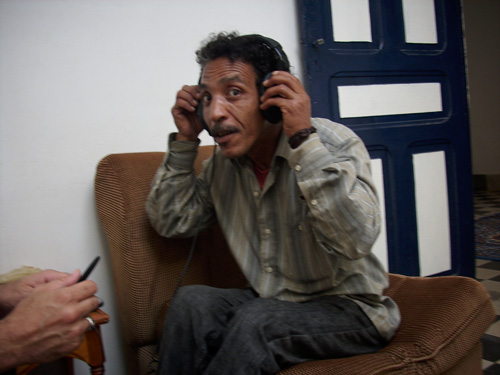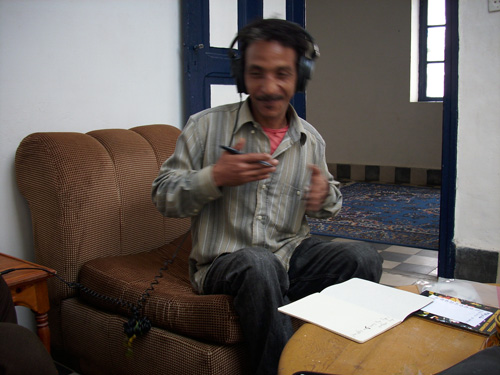 Hisham's first official recording session happens on this night. He records Jamel playing gimbri and singing, along with a friend of his, Mahoumed, on percussion. The performance is good overall, and spirited at points. We are happy to have found performing musicians so easily and consistently in Essaouira. Our luck would continue in this regard, with another great recording session the following night.
Recordings made, connections established and re-established, it is time to leave the comfort of Essaouira and take another long bus ride to an obscure desert town where neither of us had ever been, a place where we knew nobody. The gateway to the Sahara: Guelmim.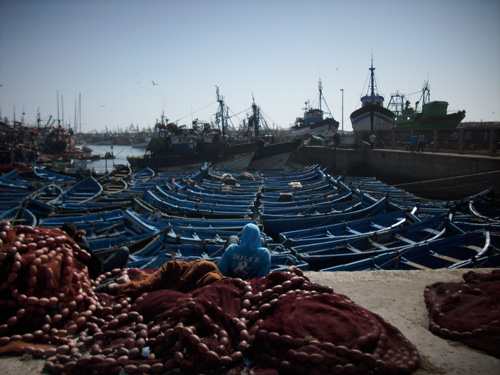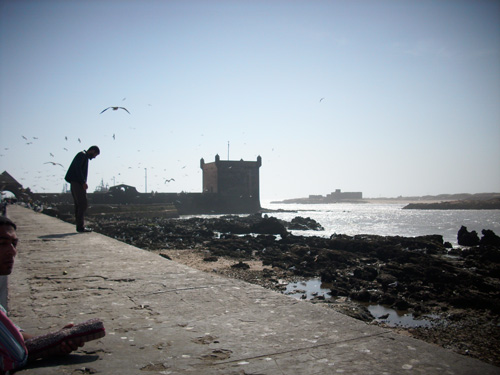 Guelmim
(La Porte du Sahara)

Wedding Party, Guelmim, 2003. Guitar: Abdullah Chmairan. Video source unknown.
Over the past year or so, I have developed a passionate interest in the guitar music of Mauritania and Western Sahara. In the course of my research, I have discovered that the scorching guitar playing you hear on the Group Doueh LP is just the tip of the iceberg.
There exists a relatively small but thriving community of Sahrawi (Saharan) guitarists in both of these places, very few of whom have ever performed or recorded in any official capacity. These guitarists play in many different styles and modes, but the style that has most captured my heart is known as Jakwar. Developed in the mid-70s by the pioneering Mauritanian tidinit virtuoso Jheich ould Abba, Jakwar is modern, fast dance music, played at parties and wedding receptions. Played on guitar, Jakwar takes the form of incredibly driving, distorted, raw, howling modal sciroccos filtered through dust speakers. All it takes is one blast of a song played in the Jakwar style from a cheap cassette, or encountering it by chance on a Youtube clip, and the squeaky-clean high-life paradigm of African guitar is powdered into Sahara dust.
I was born and raised in the Arizona desert, and I have taken great inspiration from desert guitarists whose playing so perfectly reflected their surroundings in its gnarled beauty, and all-pervasive individualism: Richard Bishop, Zoot Horn Rollo, Curt Kirkwood, Jesus Acedo, Bob Log III, and Howe Gelb to name a few. It has been a revelation for me to discover that spirit in Sahrawi guitar playing, in artists such as Seddoum ould Eide, Hammadi ould Nana, Luleide ould Dendenni, and in the man whose playing is on display in the Youtube clip above - Abdullah Chmairan.
I stumbled across that clip sometime early this year, and knew immediately that Guelmim needed to be on the agenda for our trip. I was determined to try and find Chmairan, to see and hear him play Jakwari music in person. After he saw the clip, it didn't take long for Hisham to agree. With no knowledge of the place whatsoever, the plan was to get there and figure it out.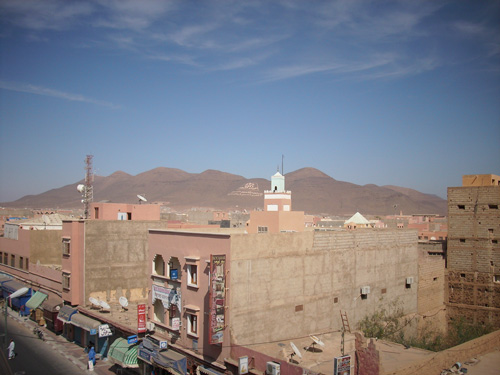 Hisham and I hit Guelmim on a warm mid-September evening and immediately cause a minor stir. We're the subjects of many stares and some great outright gawking from the locals as we walk through the bustling Ramadan dark.

I think I am the only white devil in this whole town. Literally the only one.

In contrast to Essaouira with its contingent of Euro beach tourists, Ramadan is observed seriously by everyone here. There is no food to be had in the daytime, and no alcohol to be had at any time; the JFK Johnnie Walker Red is immediately back in the race. There is no ice to be had either.

It is awe-inspiring to see the Saharawi men in their blue and gold (or sometimes white and gold) robes all around town. Uncountable desert time is etched in deep, vivid detail on their rivuleted faces. Desert bretheren; vast craggy aged majestic beings. I can't describe the way it feels to have one of these guys look right at you. I'll never forget it.
After a day of acclimation and wandering, we get down to the business of looking for musicians in general, and Chmairan in particular. We have one thing to go on: a CD Hisham owns which was manufactured in Guelmim and has an address on the back.
Our arrival in town seems to have been noted by almost everybody, including of course the requisite hustlers and con men, who can't wait to pounce. These guys are waiting at the first place we go to inquire about music in Guelmim. They offer to be our guides, to show us around. We drop the one name we know. Of course they know Chmairan. They'll even take us to him! When? Right now! Hisham and I figure we'll go along with it for the time being, and as it turns out these shysters actually deliver the goods; after a short walk through the streets we find ourselves at the home of Abdullah Chmairan himself!
Hisham quickly attempts to set up a recording session with Chmairan and his band, Group Baab Sahara, for later that day. The "guides," who have quickly promoted themselves to band managers, start throwing outrageous prices around. Hisham ignores them. Arrangements are made, and later that day the session takes place.
Ramadan definitely seems to be taking a toll on Chmairan. His playing during the session displays little of the serrated fire on display in the wedding party performance. But he sounds great nonetheless; snaky, flowing, swirling (a weathered old Boss Super Phaser is engaged at all times), psychedelic as fuck. Towards the end of the session he summons up some reserves, climbs to his feet, and starts cutting up, playing behind his head while dancing a Sahrawi jig, accompanied by frenzied clapping.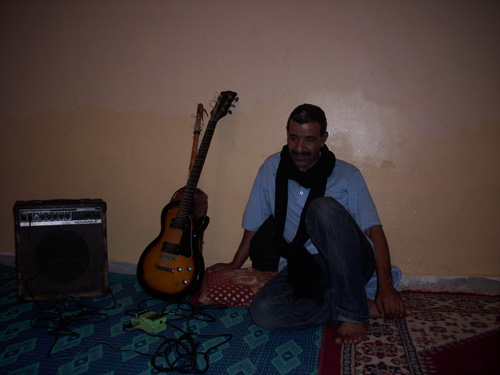 Chmairan, dreaming of the cigarette he'll smoke once night falls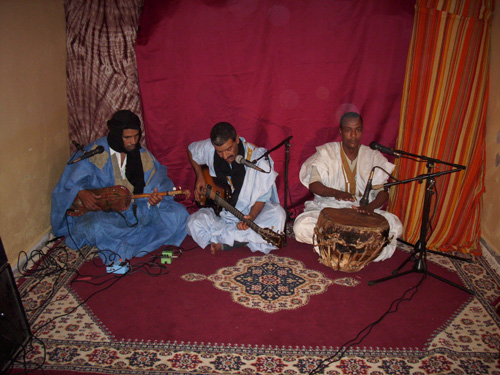 Group Baab Sahara. Note the blue and white Sahrawi robes.
The day after this session, Hisham pays the band and sorts out various problems brought on by the "guides." Afterwards, we take Chmairan to an Internet café. We show him his Youtube performance, and explain to him that this is what brought us here. We try to communicate to him that his blown-out sound on the clip is exactly what we are looking for; Hisham taps his heart with his hand to communicate his love for it. Chmairan smiles as he watches, but says nothing about his own performance. He explains that the dance the men are doing in the clip is "the dance of the palm trees." It's the most beautiful moment of the trip.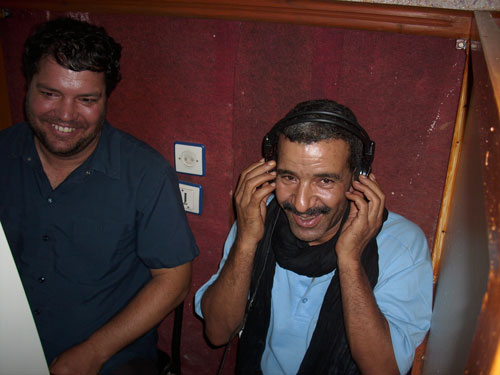 Photo by Hisham Mayet.
The next day is my last full day in Guelmim. We rent a taxi to take us to the desert. We get out of the car and take some shots of a group of scrawny goats being led by a solitary goatherd. Sand and sky phase themselves out before us.
We're taken to some tent dwellings. Bones and skulls of unidentified beings are all around the tents. I keep thinking about my own desert roots, my own thorny, isolated nature. I cannot say if the singular beauty and mystery of the desert is within me as well; I can only say that I feel it very strongly in this place.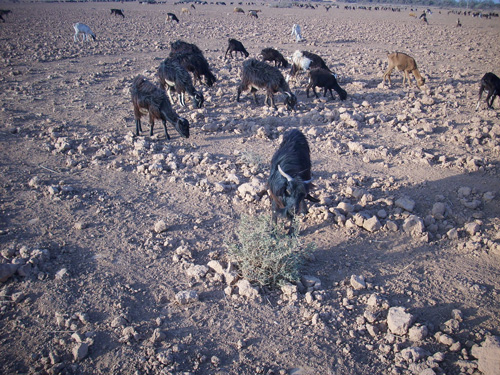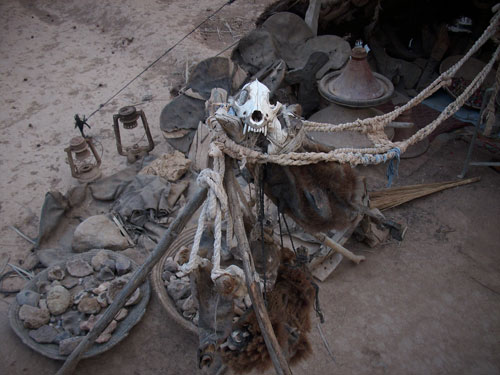 Before I leave town, I have one last round of tea with some locals who have been friendly with us during our stay. One of the men, Idir, is a trans-Saharan trader who has spent his life traveling via camel in caravans from Nouakchott to Guelmim and all desert points in between, collecting and selling Sahrawi jewelry and antiques. I ask to pose for a picture with Idir and another man, whose name also happens to be Hisham. Before the picture is snapped, Idir puts his blue headscarf over my head, the scarf that he has worn to protect his head and face through many desert jaunts. As I turn afterward to hand it back to him, he tells me that it belongs to me now. I won't reproduce the picture here: I'm going to keep it, and the scarf, to myself.
Marrakech
Hisham and I would part ways in Guelmim; from there he went on to Dakhla to re-connect with Group Doueh in preparation for their May 2009 tour of the UK/Europe with Omar Souleyman (please see http://www.sublimefrequencies.com/eurotour.html for tour dates and information), and I made my way to Marrakech and the Jemaa al Fna.
If you've seen the Musical Brotherhoods film you've seen the Jemaa, but you haven't had a live cobra stare you down; you haven't followed the process of monkey hypnosis; you haven't had 2 Diamanda Galas belly dancers in bright red dresses and black hoods freak out to a screaming shenai-and-3-percussion exorcism and then get right in your face and demand your money; you haven't heard the feedback of a shredding amplified oud while 30 Moroccans sing at the top of their lungs; you haven't tasted the lamb sausages or the ubiquitous fresh orange juice; you haven't watched centuries-old Moroccan folktales performed by possessed children, dwarves, and horrific creaking puppets; you haven't been stared at by locals who wonder what you're doing there at all; you haven't bartered a salesman for a children's toy train with a George Bush action figure chasing an Osama bin Laden action figure around an endless circular track…and you definitely haven't putted on the miniature golf course.
I can say I've done it. You probably haven't - but it isn't too late, you know.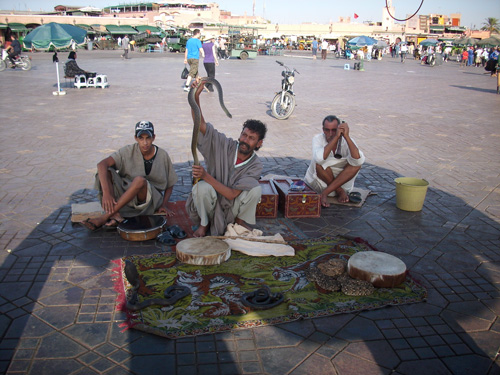 Cobra is on the front of the rug, left-hand side
The mind-frying elation of my first experience of the Jemaa is tempered severely the next night; there's a heavy rain, and none of the performers show up. This was my only other night in town; tomorrow it's back to Casa and then home.
I walk by the cinema at some point during my last night here, feeling a million things but mostly weariness and disappointment, and I hear "Sugar, Sugar" coming from one of the many alleys. The acoustics of the alley make the song boom and echo through me.
This song has always been and always will be a perfect work of art and for some reason, probably to do with my extreme fatigue, this context gives it an extra resonance. After everything I've seen and heard it's like experiencing a different rung of heaven entirely. The song comes to an end and I feel an onrush of emotions. I find a dark spot in the alley and break down quietly.
Casablanca: Last Day In Morocco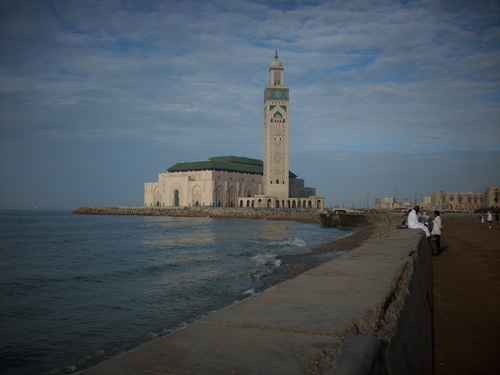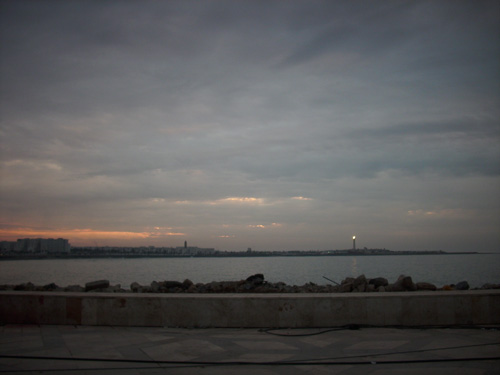 Horus says: It is I who traverse the heaven. I go round the Sekhet-Aaru. Eternity has been assigned to me without end. Lo! I am the heir of endless time, and my attribute is eternity.
(Thanks to Hisham Mayet and Matthew Lavoie for teaching me & making everything about this trip possible.)

|||||||||||||||||||||||||||||||||||||||||||||||||||||||||||||||||||||||||||||||||||||||||||||||||||||||||||||||||||||||||||||||||||||||||||||||||||||||||||||||||||||||||||||||||||||||||||||||
MESSAGE FROM THE WHISTLEMAN
A Guide to the LPs of Rahsaan Roland Kirk
by Chris Sienko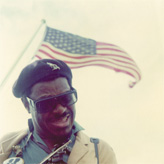 I should be getting some sleep or something, but I feel like writing, and I don't feel like writing about the stuff I gotta write about. Since you asked before, and since I'm more obsessed with the guy than ever, I thought I'd tell you about the TWENTY EIGHT records I've bought in the last few months by Rahsaan Roland Kirk. Yep...full-blown 2008 obsession! Yes, I've still been collecting and listening to Dead live tapes, and I did finish Searching for the Sound recently (overall verdict: some good info, but I also kind of learned more about Phil than I wanted to. More on that sometime soon), but it's hard to shake the truth -- my summer has been the summer (and now fall, and winter) of Kirk, big time! Since this is all I listen to when I'm not bashing out reviews or feature stories for ALAP (diagnosis: still going strong!), I figured I'd give you a little listener's guide, including some good places to dip your toe in if you just wanna hear one or two.
The albums, in rough chronological order:

Kirk's debut was alternately titled Triple Threat (on King Records), Third Dimension (reissued on Bethlehem Records) and Early Roots (many reissues, most recently Get Back!). Released originally in 1956, four years before what most people consider his "debut." I saw an original pressing of Triple Threat in mint condition go for almost $800 on Ebay last summer. (In your face, New Blockaders!) Because King Records was mostly an R&B label, and because Kirk was working as a honker/bar-walker in small-town Ohio, this is mostly a straight-ahead R&B date, with a few jazzy ballads tossed in for when you want to slow-dance with your lady friend. Kirk's horn attack was limited to only two horns at a time here, and he whips it out pretty regularly over a good, snappy rhythm section who swing pretty damned hard (what's up, Henry Duncan?!) over a batch of mostly originals and some high-profile covers. A strange and controversial decision was made on this album to have Roland overdub multiple horn lines, largely unheard of in jazz at this time. I don't know what to make of it -- to start with, Kirk's multi-horn style is generally more "lead with harmony" style, and only in rare soloing situations does he really play two completely different melodies simultaneously. Here, it's pretty obvious that the main solo and the underlying solo were played at two different times. It's amazing that Kirk can play two and three horns at once, but he can't do it THIS effectively! As such, the overdubbing (on "Stormy Weather," no less!) seems excessive for someone who is already well beyond the talents of most humans!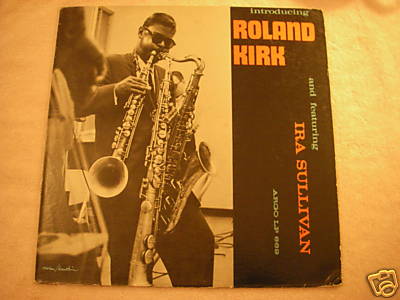 Introducing Roland Kirk (1960): Released four years after the debut, and the woodshedding has paid off. Coming out of "primitive Ohio" as he called it (Columbus, to be precise) and making his way as a bar-walking R&B honking tenor, Kirk still leads a group that's primarily soul/R&B based. He's matched by another multi-instrumentalist, Ira Sullivan, though I don't know that Sullivan actually plays more than one thing at once (he plays trumpet and tenor sax on this date). Kirk's unaccompanied three-part harmonization of his horns at the start of the first track ("The Call") is sort of a gesture of defiance...top this, motherfuckers! It's also a heckuva lot more assured than any reed gymnastics he attempts on the first. The rest of the record is no slouch, either, though it's VERY inside...basically more soul/blues/R&B than jazz most of the time. What I'm finding, though, is that Kirk is often at his best when he's playing straight, just as Sun Ra can be just as satisfying and beautiful when he's doing trad stuff as when he goes way out. Unlike Ra, though, some of Kirk's inside stuff is GENUINELY inside and trad, and it's still great on its own merits! You also get to hear the occasional blast of Kirk's omnipresent whistle (which he usually uses as punctuation, or to indicate that he's done with his solo) and some of those LONG solo lines that come from his skills in circular breathing (he claimed he was able to breathe in not only through his nose, but also his ears!).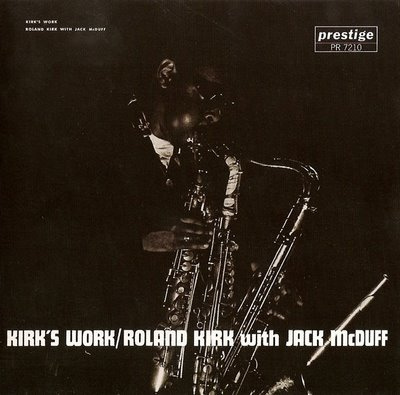 Kirk's Work (1961): Like Triple Threat, the music on this date is available in many forms and repackages, the most economical (though not the most aesthetically pleasing) is a 2LP repackaging on Prestige titled Pre-Rahsaan, which includes a bonus LP by longtime Kirk sideman Jaki Byard, on which Kirk is featured heavily). Other versions of this record are titled Kirk's Work and Funk Underneath. The record features an instrument little heard in Kirk's group, the organ, courtesy one "Brother" Jack McDuff. Lots of Kirk originals on here, some fast rhumbas and many more tinges of madness, all anchored down by McDuff's HUGE organ sound -- he sounds like he's leaning on the keys with his elbows, while Kirk unleashes long, wailing, circular-breath lines of solo flight, egging each other on like two heavyweight boxers, continually swinging, but showing no signs of exhaustion. This is a big date, and although it's fun, it's also kind of shrill -- it gave my girlfriend a headache, and her Kirk threshold is usually pretty high! Although I kind of hate the cover layout on the Prestige repackaging, I highly recommended it if it's around, because the second LP, The Jaki Byard Experience, also fetches big money on Ebay by itself, and is unquestionably recommended to all with ears. More on Jaki later.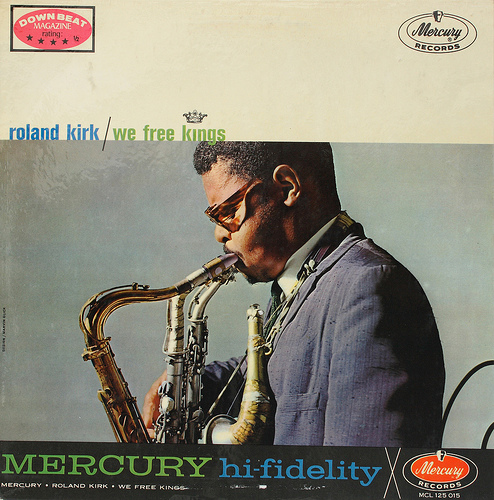 We Free Kings (1961): This is the first really straight-ahead JAZZ record he did, and it shows a heavy John Coltrane influence. That influence is a good thing on the many of the solos, where it becomes obvious that, even without the crazy techniques and multi-horning and flute overblowing/sputtering, Kirk could modally improvise on tenor like a mother! The Coltrane influence is a bad thing in that he really got into the idea of Coltrane jazzifying standards, and here does it with "We Three Kings" (hence the album title). Gotta say, it comes off pretty derivative! The best reason to hear this one, though, is the track "You Did It, You Did It." It's a track where Kirk shows off his unique flute-playing style in full force. I'm sure you've heard him -- he talks, sings, sputters, and flails through the flute, providing a huge source of ripoff power for Ian Anderson, Thijs Van Leer of Focus and others. "You Did It" is pretty deranged for a track recorded in 1961, but the rendition on the Joel Dorn-produced vault-tracks compilation The Man Who Cried Fire, is really worth tracking down. Kirk sounds like he's exorcising ghosts through his flute, as all sorts of hilarious, profane, funky, terrifying groans and wails come buzzing through. Great cover on this, too... I can only imagine what the prim and proper jazzbos thought when they saw this crazy bastard huffin' into a flute with a ring of horns hanging around his neck like some sort of giant brass breastplate!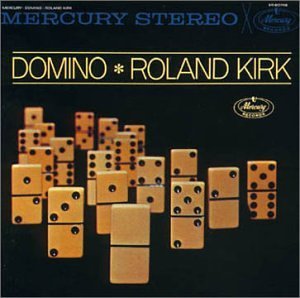 Domino (1962): Freewheeling. That's the term that keeps coming into my head with this album. It's freewheeling. Sounds like killer early '60s bounce and roll, like Sonny Rollins, Eric Dolphy, or Lacy playing a Monk tune. Domino makes the album before it look a bit stiff. "Meeting on Termini's Corner," a song about the Five Spot (where Kirk's band was currently in residence) just had that bouncy assurance, that "modern" feel that came after bebop's spiraling arpeggiating braggadocio, but before free totally serious'd up the joint. Contains "3-in-1 Without the Oil," another of Kirk's "fast vamp" tunes. Kirk has this one compositional style that he keeps coming back to, the rhythm section playing double time, his riffs breaking down into a couple of hard hits, a pause, and then another quick jabs. Baaa-ba-da-da (pause) Ba-DAAA-Da! Others in this style included "Three For the Festival" (on the previous record) and "One Ton" (on Volunteered Slavery). It's hard to explain in words, but once you've heard a few, you know it. It's a Kirk trademark. Also: these next few records (on Mercury) are among the hardest to find on original vinyl, and unless you're willing to take a copy with a messed-up cover like I did, you can expect to pay at least $60 for a copy of this. (The CD version has tons of alternate takes and unheard tunes, expanding the eight tracks of the original up to a whopping 18!)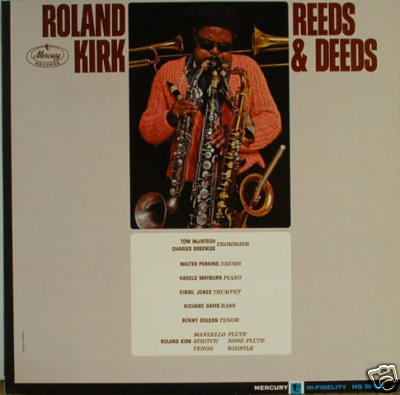 Reeds & Deeds (1962): Even harder to find than Domino! The cover shows Kirk blowing away while a trumpet and a trombone are aimed at either ear, and as visually promised, this is the Kirk group with a brass section (or at least a trumpet and trombone player). Tenor saxist and composer Benny Golson provides and awful lot of orchestration and arrangement here, and as a result, the compositions seem a lot more vibrant than Kirk's usual fare. Kirk is a hell of a songwriter, and he's got a style that's impossible to miss, but listening to Golson and the way he arranges the material, it's much easier to hear things that are missing in Kirk's work in general. Like Domino above, the band seems to really be reveling in the act of making music, and all these songs swing like hell. Also, though Kirk likes to shoehorn little allusions to other songs in many of his records, there seems to be more alluding going on here than in most -- I heard "This Old Man," "Row Row Your Boat" (done Caribbean-style, no less!) and "What The World Needs Now," among others that were just on the tip of my tongue. Not commonly available, and maybe not top-10 essential, but damned entertaining.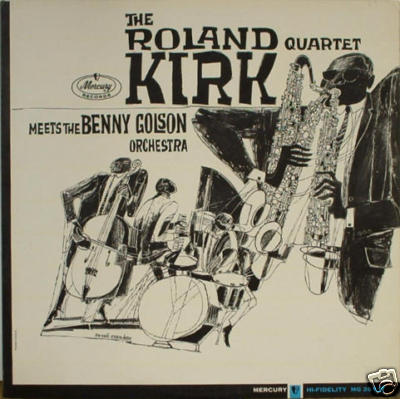 Roland Kirk Meets the Benny Golson Orchestra (1963): I hadn't heard Golson before hearing him with Kirk, but he seems to be one of those lone figures in the wilderness who was carving out something new at a time when jazz equaled quartet (or quintet or, gasp, sextet if you were feeling extravagant). Like Charles Mingus, Gil Evans, and especially Oliver Nelson, Golson was a descendant of Duke Ellington, scoring his luxurious works for larger groups at a time when lean 'n' mean was the watchword. Speaking of big band, he and Kirk cover Mingus' "Ecclusiastics" with gusto right out of the starting gate! Side one has the orchestra, but side two is just the Kirk quartet. This contains some of the first flowerings of a more abstract style, including a two minute track simply called "Abstract Improvisation." It's not the best, but it's damn good. The best thing about it, actually, is the incredible cover drawing, which just represents everything I love about classic jazz-age album covers!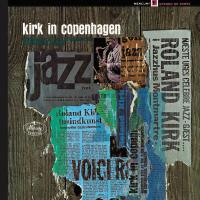 Kirk in Copenhagen (1963): Just like with the Dead, it turns out the best way to capture the essence of the awesomeness of Kirk is to record him live! This is where you get to see Kirk stretch out, chat with the audience, cut up a little bit, and just play his ass off before an appreciative crowd. It's a great, spirited example of the best part of his music. It's also, sadly, a quite truncated version of the whole concert! A limited 2CD version was briefly released which contained the whole 90 minute performance (two performances, actually!), something I'm keen on tracking down. Still, the six tracks here give a good variety of his emerging styles, from the debts to Mingus ("Mingus-Griff Song") and Ellington (a gorgeous "Mood Indigo") to his own funky compositions like "Narrow Bolero." It's not quite Live/Dead, but that one's coming soon...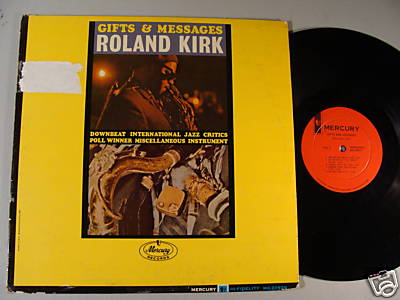 Gifts & Messages (1964): Just listened to this one again tonight! This is the first really fully realized fusion of "inside" and "outside" elements, where Kirk really comes into his own voice. His best stuff is accessible enough to appeal even to people who don't really get into heavy-duty modal improvisation or free-jazz dissonance, but within it still beats the heart of a very strange man. For example, there's a long, heavily out of tune horn trio that Kirk works his way through on side one that may have you checking to make sure your turntable hasn't fallen out of alignment! On side two, Kirk plays along with a music box playing "Swan Lake" (a technique he'd come back to again and again...apparently Kirk had collected a rather breathtaking collection of music boxes from all over the world in his travels) before fracturing it into a fast-bop rendition with full band that keeps the exact same chord structure but somehow manages to sound even crazier than Public Image's own version of "Swan Lake" (talkin' about "Death Disco" off of Second Edition, y'know)! This record also has one of my favorite individual Kirk tunes, the totally badass "Hip Chops." It's a great, flute driven, rollicking riff that ends with Kirk yelling "Who's got the hippest chops in the world!?", I guess as some sort of boast/challenge. I like all of the albums I've heard so far, but this is the most fully realized, and has the fewest drop-out moments of any album so far.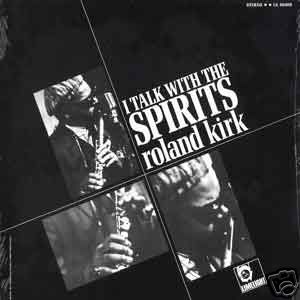 I Talk With the Spirits (1964): A first big push into attempted commerciality, which, like all his other attempts to write "a hit," turns out to be cosmically weird and amazing. This is an all-flute album! No horns, no whistles, just flute. Apparently, Kirk HATED Herbie Mann, because he said that only a white man would be able to make a career out of playing JUST flute! He was always challenging Herbie to flute duels, which Mann wisely never accepted. Actually, for all the crazy talk, there's a lot of beautiful sounds on here, and most of the album is pretty ballads played, at one point or another, on very understated, sweet and gentle flute styles. But not all -- there's plenty of sputtering, singing/moaning/buzzing through the flute and all manner of glottal craziness to recommend this. Contains a lot of covers, as usual: a track from Funny Girl, A Modern Jazz Quartet cover, some Ira Gershwin/Kurt Weill. Bit of this, bit of that. Plus his song "Serenade to a Cuckoo," covered by Jethro Tull on their first album. Ahem.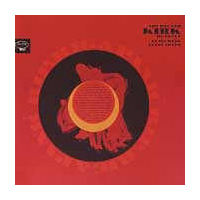 Rip, Rig & Panic (1965): Oh DAMN! Definitely a pinnacle, a top 5-er, a top-end-of-the-bell-curve Kirk release in all ways, most notably in the lineup! Kirk's got one of his best, and best known, bands on this date, including Richard Davis on bass, the totally mindblowing Jaki Byard on piano, and…hold your breath…ELVIN JONES on drums…Ka-POW! It's a muscular and supple group, as you'd imagine. "No Tonic Pres," named after Lester "Pres" Young and copping one of his tunes that was written without a tonic note ("some people might think I'm talking about a drink here" says Kirk in the liner notes) is a hell of an opener, a modal-sounding riff that just coils around and around, all sorts of colors and flavors suggested by the piano/bass interlock. It's one of those tracks where you really stand up and take notice not just of Kirk, but of Byard, who will just start hammering on the keys like Cecil or McCoy, and then, in the break, will suddenly flip into some perfectly-played, un-affected stride boogie, bringing you back another 20 years or more, before a "phwee!" from Kirk's whistle snaps everything back to the tune. Byard and Kirk got along famously because they both loved the old forms, but were pushing ever forward. Byard later featured Kirk on one of his solo albums, The Jaki Byard Experience, which, as I mentioned above, is featured as a twofer with an early Kirk platter as Pre-Rahsaan. The rest of Rip, Rig & Panic just gets better and better, especially Kirk's (and Byard's) impressive tribute to, and amazing emulation of, three early jazz pioneers on "From Bechet, Fats, and Byas," and the totally underrated 2:30 jam "Mystical Dream," my pick for Kirk's catchiest riff. Side two is one of Kirk's out-est yet, with allusions to Varese in the intros to both the title track (listen to Davis and Kirk overblow and spectrally bow their instruments…almost sounds like AMM!) and "Slippery, Hippery, Flippery," which also contains a few uncharacteristic blats of electronic sound/noise via tape recorders. As Kirk explains, "Some of the sounds I made with my horn; the rhythm section was playing free. Some of the tape sounds I got around the house -- wind chimes, my voice amplified, the baby hollering. I slowed down some of the sounds then played them all together. The head is written off a computer; I used the cycle of notes from a computer I once heard to make the line." From start to end, this record pulls together so many of Kirk's influences, preferences, and styles, it's hard not to think of it as a definitive statement. So, let's call it a definitive statement! It jams like hell, too.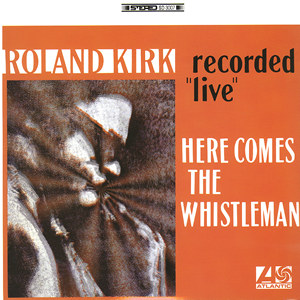 Here Comes the Whistleman (1965): A live-in-the-studio-with-invited-audience "live" album, one of those deals where the group gets to have its cake (clear studio sound) and eat it too (play off the energy of a live audience). One of the engineers comes into the session late, blaming rush-hour traffic in New York. "You shoulda let me drive, I woulda got you here on time!" says Kirk, ho ho. Although generally a highly regarded album, this one doesn't grab me like some of the others. It is noteworthy for the appearance of the title track, where Kirk gives out whistles to everyone in the audience, requesting that they blow them throughout the piece, or as the moment seems right. So, while this boppy little groover plays, there's this constant, high-pitched wheedle as 10 or 20 people toodle away on toy whistles. A nice trick. With Byard on piano again, it's well worth hearing, but I have other live favorites at this point.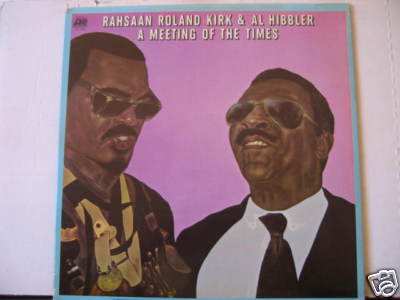 A Meeting of the Times (w/ Al Hibbler) (1965): WEIRD! Here, Kirk duets with another blind guy, a vocalist from Duke Ellington's band of yore, and they do some really old jazz standards. Personally, I normally hate jazz vocals -- I'll just say that up front. Most of that "twee ooooh squee oh weeeee ooooh wahhh!" Kurt Elling school of overly emotional, almost Emo style of crooning really bugs me. No worries here -- Hibbler has a gruff, deep voice that has a lot of wear in it, largely free of excessive ornamentation, and is just plain enjoyable to listen to! On the one song where someone who isn't Al Hibbler sings, you can really tell how much Hibbler adds to the arrangements. My copy has a lot of…well, let's say it's had a good, happy life, and has had plenty of turntable time! It was obviously an old DJ copy, and probably a copy that someone spun at dances, as it has all sorts of arcane marks next to different tracks, including one track that has the word "STEPPERS!" written next to it in large letters. The same word appears on the front cover, on a piece of masking tape. STEPPERS! What does it mean?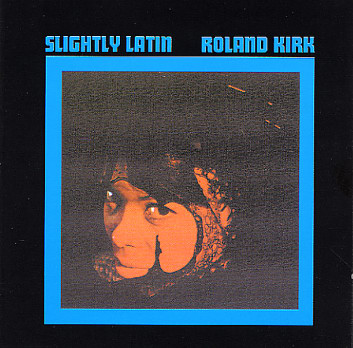 Slightly Latin (1965): The Limelight label must have had MONEY TO BURN back then, because this is straight up one of the most deluxe, most beautiful, most lovingly packaged albums I own. Even by modern standards, where every limited-edition vinyl package is wrapped up in tissue paper and cheesecloth and the skin of rare fishes and housed in a limited edition gold foil overlay, handed to you with a certificate of authenticity and a pat on the head, this one still feels cooler somehow. It comes in a thick, thick gatefold sleeve, with a textured cover showing a psychedelic image of woman's face. The LP is in one of those archival green sleeves, too! Heavy pressing. But most amazing of all is the gatefold inside. When you open it up, you're greeted to a little booklet, stapled right into the inside of the cover, a 6" x 6" booklet with liner notes and scads of photos of women's faces with all manner of psychedelic effects all over them (kind of like the oil/water effects on the projectors at Jefferson Airplane shows). Tough typography, too…could just as easily be Dada as Summer of Love. I can't describe it adequately to tell you how damn cool the whole thing is! Seamless and beautifully conceived. Best of all, the music is just as badass -- as the title implies, there's a Latin/lounge music vibe to this, including a cover of Bacharach's "Walk On By." It's played at a frenzied pace, though, with Kirk screaming "Walk it out! C'mon, yeah, walk!" during all the vamp parts. There's Esquivel-style female choral vocals going "ah! ah!" all over the place, Brazillian percussion, and all manner of "cool" elements that just seem so amazing and weird and funky here. No surprise, Dusty Groove's web site praises the CD reissue of this one to the heavens. It's another one of Kirk's most anomalous records which paradoxically is one of his most essential. (Limelight editions of I Talk With the Spirits and Rip, Rig & Panic also exist -- I have Spirits in this form, but an original Limelight of Panic in good condition with all the die-cut trimming with put you back about $120.)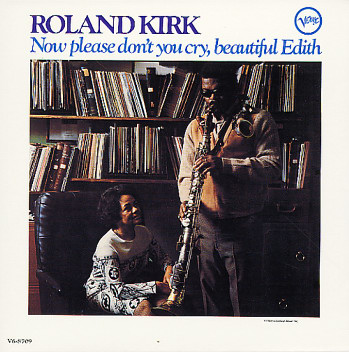 Now Please Don't You Cry, Beautiful Edith (1967): Title a reference to his wife, who he just recently divorced at the time. She was 15 years older than him, and really did treat him like a mother, very much in the wife/guardian role (think Nellie Monk for another contemporary example). She's pictured on the cover, listening attentively to Kirk as he plays his Stritch in what looks like their living room. Kirk soon found himself receiving lots of attention from younger females, something Edith couldn't stand and Kirk couldn't resist. They broke up and she was left a broken woman, turning to strong drink to ease her pain, in no small part due to Kirk's womanizing and also his finally giving her the heave-ho. I suppose this album was meant to smooth it all out -- funny how artists always think you can just put out a record with the name of someone whose life you ruined on it, and everything's hunky dory again. It's one of his more inside dates at this point, lots of smoothness and sweetness, lots of R&B, including another Bacharach cover, this time of "Alfie." Dude liked him some Bacharach.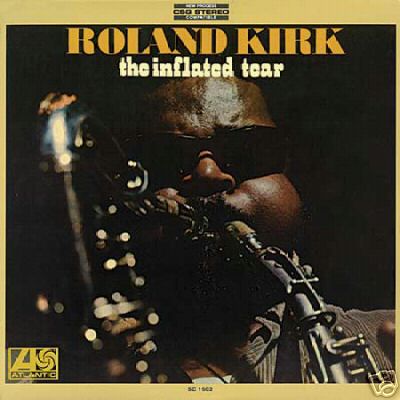 The Inflated Tear (1967): Considered "best in show" by many, and it is damned impressive. Again, this is a real leap for Kirk (it was also his debut for Atlantic), in that he really comes back around to doing stuff that's derived as much from the blues and pop and soul as from jazz -- listen to this, and to Kirk's other classic albums in the early '70s, and you can see how far away we've come from the jazz orthodoxy on display circa Domino. The sheer emotion of ballads/dirges like "The Black & Crazy Blues" and the title track are just impossibly heavy, like Richard Manuel singing "Tears of Rage" on Big Pink. The title track is about Kirk's blindness. He was born with sight, but began to lose his sight as a baby. According to his liner notes, he was under doctor's care, and doctors and nurses would put eyedrops in his eyes. He says that when he was two, a nurse came in who was "drunk or high or angry at someone, and put too much medicine in my eyes," which he claims caused him to lose his sight altogether. He spent many years with eyes that would tear and water constantly and painfully, and this track is full of eye-water and pain, with one of his most doleful multi-horn riffs punctuating each section. Seriously, the opening riff of this is every bit as terrifying/dolorous as, I don't know, Orff or something. Despite all this heaviness, the record is mostly buoyant and beautiful, and was one of his best sellers ever. More Ellington ("Creole Love Call") and a great, happy song for his four-year-old son ("A Laugh for Rory"). A really good place to start if you don't need to have every track be a multi-horn wild-as-hell workout. "Black and Crazy Blues"'s melody will be stuck in your head for days.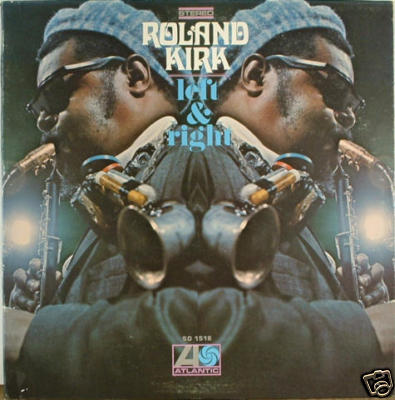 Left & Right (1968): Here's where the "phase two" Roland steps in. The man who is militant about the preservation of "Black Classical Music" (his term for jazz) in all its styles and manifestations. His concerns about Free Jazz, and how the modern players ONLY can play free, but have no background in bebop or swing or R&B or anything else. His synthesis of all eras of jazz simultaneously. His outspokenness about race and American politics -- it's all here. Side one is a 17 minute side-long piece with a string section and a large band. They do a medley of Kirk compositions, paying tribute to the San Francisco scene, Mingus, Ellington, Roy Haynes, and "The Rites of Spring," which is played on bassoon, flute, and bowed bass! Side two contains covers of Billy Strayhorn, Quincy Jones, and Dizzy Gillespie, and is pretty low-key and often gorgeous -- it's sometimes hard to remember that Kirk can play the hell out of a ballad too, when he's not hammering out three melodies on three different horns at once or detonating a flute with spittle. He tries this album style again (a side long experimental track on side one, standards on two) in 1970, with even better results, but this is absolutely worth checking out to get the full Kirk experience of the time.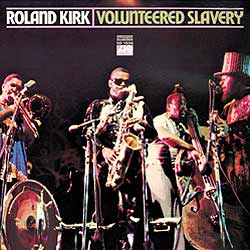 Volunteered Slavery (1968): THIS is the one to start with, and the one I've listened to the most! Side one has Kirk playing with a gospel choir on a few tracks, as well as GREAT covers of Stevie Wonder's "My Cherie Amour" (with Kirk doing a hilarious wordless version of the vocal line) and, best of all, another Bacharach tune, "I Say A Little Prayer." Check this version out on Youtube!
Here we can see just about everything great about Roland Kirk in the late '60s -- the groove, the pop standard turned into rollicking minor-key dance party, the multiple-horn lines, and Kirk's crazy-looking amish-bearded percussionist, Joe "Habao" Texidor! (To say nothing of Ron Burton on piano.) Also, watch for Kirk playing the chintziest of all synths, the Stylophone, in the intro! (It's the thing he's playing with the little pen.)
Amazingly, side two is even better. It's a live set from Newport, starting, oddly enough, with the LAST song in Kirk's set. Huge crowd reaction, it was obviously a hell of a set. The next act takes the stage, then calls Kirk back out for an encore, saying, "C'mon out, do an encore! Yeah, you can take it out of my time!" The rest of the side is the encore, during which Kirk proceeds to lay waste to an incredible medley of Coltrane tunes, including "Afro Blue" gone totally volcanic, before thrashing into "Three for the Festival," one of his best live tracks, a tune which sends the crowd into fits of hysteria as he screams and wails and bangs gongs and honks freely through the thunderous conclusion. This could actually get you on your feet and jumping around your house in a bug-eyed frenzy, it's so good. Check out Volunteered Slavery at all costs!!!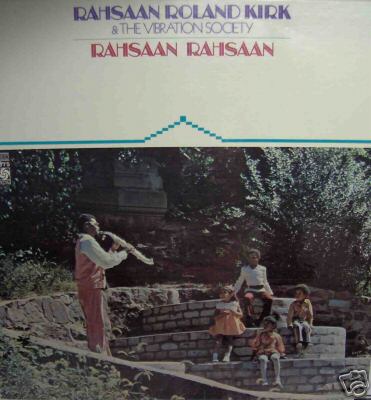 Rahsaan Rahsaan (1970): This is the first LP where the former Roland Kirk becomes Rahsaan Roland Kirk. It's not a Muslim name, or a family name, or anything like that. He claims he heard it in a dream, numerous times. People were calling to him, but calling the name "Rahsaan.... Rahsaan!" Thousands of people calling him by this name. He decided to change his name the next day. This is also his first album where his band has a name, the very Prince-esque Vibration Society. As with Left & Right, side one is a side-long suite that traces the lineage of Jazz history, from modern back to ancient. Starting with some very abstract squeaking and bonking that owes much to Varese, but even more to the AACM (Leroy Jenkins plays violin here!), Kirk and friends start out abstract, then jump back into a modal, Coltrane-derived thing that sounds an awful lot like "Rip, Rig & Panic." (The song, not the Neneh Cherry-led band, of course.) He's got this way of narrating the whole thing, changing the song up from suite to suite by stopping the whole thing and going "Now hold on, hold on, hold on! We gotta give some love to Charles Mingus!" And then they launch into a Mingus-y thing. Then it winds down, and he goes "Now wait a minute! Ain't nobody giving any love to Charlie Parker these days!" And then they all launch headlong into some Parkerian bebop. And so on, until they get back to New Orleans turn-of-the-century jazz/Dixieland-type stompin'. It's fun to hear fuckin' LEROY JENKINS go backwards from screak-squeek-creak all the way into Stephane Grapelli-style boppin' in the course of 15 minutes! Some of Kirk's extemporaneous monologues explain what he was about at this point better than any bio. As they're doing Charlie Parker, he starts yelling "Eric Dolphy knew all about Charlie Parker! Ornette Coleman does, too!" His point, again and again, is that the first wave of Free Jazz musicians were still tied to tradition, and still loved the old ways, but went forward to advance the art, not because the old forms, bebop and "modern" and rhythm 'n' blues were too square for them (there are endless stories in all the popular histories of free jazz about groups that would skronk out on record, then play 12-bar to the break of dawn). At that point around the turn of the '70s, Kirk (and many others) feared that jazz traditions were being lost, not only in popular culture, but also among the "young lions." He would say, again and again, that white European classical composers (many of whom he loved too, though he was loathe to admit this in interview, feeling that these folks already had enough love and respect) weren't running any risk of forgetting about Bach or Beethoven or Mozart, etc. and that Johnny Hodges, Duke Ellington, Don Byas, etc. were black Americans' equivalents, and that they should be equally preserved.
Of course, none of this analysis goes very far toward explaining how fun this disc is! His rants are hilarious, including one where he's sputtering around for his point, and actually says, "Now wait a minute...you got all these people going around, talking about, about, uh, apple pie, talking about, talking about chocolate pie, talking about...you know, all kinds of other things..." Yo...what?
Side two is more standards done live, and ends with the marvelous "Baby, Let Me Shake Your Tree." Stuff like this is mentioned in the book (Bright Moments, by John Kruth), how Rahsaan would be up on stage, talking about the dirtiest stuff imaginable, just being weird and grossly sexual, like George Clinton at his skankiest, talking here about a character called "Tonguesnatcher," who had a tongue so long that he'd come to the door of his date's house "with flowers in one hand, and his tongue in the other." Band would be on stage with him, nervously laughing, like "ah....ha HA, oh Rahsaan, you silly!" It's a great blues, though, buzzed and sung through flute. Crowd's obviously not embarrassed or put out at all...everybody goes home happy. Easily a top 5 highlight in the considerable output.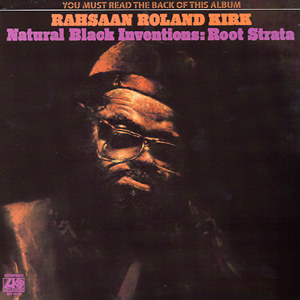 Natural Black Inventions: Root Strata (1971): Man, this is just such a badass motherfucking album!! I'm sorry, I just can't help but swear about it -- this record rules all others. After years of being told that his many styles and talents were "a trick," Roland went into the studio to show once and for all that he was the master and could do it all, and all at the same time, to boot. What he did was play pretty much EVERY instrument, switching between three horns, flute, nose flute, "Black Mystery Pipes" (aka a length of garden hose, aka his first instrument -- as he says in his bio, "When I was a kid, I didn't ask my mom for a trumpet, or a sax - I just went right in and started wailing on the garden hose!"), thunder-sheets, sock cymbal, gongs, etc. Joe Texidor accompanies him on washboard and other things, there's a little conga on one track, and another track features Sonelius Smith on lovely, delicate piano. Other than all that, though, it's all Roland, a virtual one-man band with a harmonium between his knees, multiple horns in his mouth, and a flute up his nose. Granted, maybe not the best way to convince people that he wasn't "a gimmick," and the critics panned the hell out of it, but it surely stands the test of time now! All manner of small, intimate songs, beautiful harmonies, and personal gestures, a classic "one-man-against-the-world" document. I love this record to death, especially the song "Island Cry," which has a chord progression partway through it that just KILLS me...it totally veers left when you expect it to go right, and it jazzes me every time. Then, inexplicably, despite being derived from Creole roots music, it launches into "Havah Nagila" for a few bars before switching back again. All originals, save for Ellington's "Day Dream," and a suite of pieces in the style of John Coltrane (you start to see who his big heroes were pretty quick!). Another top-five-er...Roland was really in his classic period here.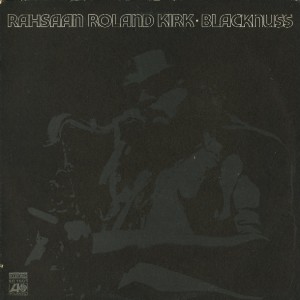 Blacknuss (1971): Another turning point here, a crazy patchwork masterpiece. Kirk jettisons concept, epic scope, and overt virtuosity in favor of a pure, accessible distillation of all great black musics, including jazz, R&B, soul, funk, disco, gospel…you can even hear a bit of what sounds like some knuckle-down version of Nigerian "Highlife," with vocalist Princess Patience Burton singing in a tongue that is unfamiliar to me…something from the Motherland, I'd wager. Starting with a spectral take on "Ain't No Sunshine" by Bill Withers, Kirk's flute buzzing and wailing ominously over a ghostly, echo-y plod, the band goes from first gear to fifth in one jump, BLAZING on a medley of "What's Going On?" and "Mercy Mercy Me (The Ecology)." Damn! Covers dominate this record, each one a black music touchstone: "My Girl," "Take Me Girl, I'm Ready," "Never Can Say Goodbye," and even "That Old Rugged Cross," made even more rugged by Kirk's hysterical, psychedelic rant at the beginning…look up the text, I'm sure it's somewhere online. The whole record feels like a party, and in a slightly saner world, might have been a worldwide hit, but the more you listen, the more you have to admit that it's still got a lot of crazy around the fringes. It's like going to a REALLY good house party, everybody's dancing and the DJ is great and everybody's drunk, but there's random little outbursts of wildness -- someone throws a punch on the dance floor, someone kicks the back door off its hinges, whatever. Plus, all the exhortations to blackness (or "Blacknuss," as it were) must've freaked out straight America, but looking at it now, it just seems more weird and insistent than militant. The title track is played "only on the black keys on the piano…there's 52 white keys, and only 36 black keys. We got no issue with the white keys, we just wanna hear a song on only the black keys." Fair enough. A perfect, end-to-end amazing expansion of the "minor-key dance party" vibe first heard on Volunteered Slavery, and an absolute top-5 pick.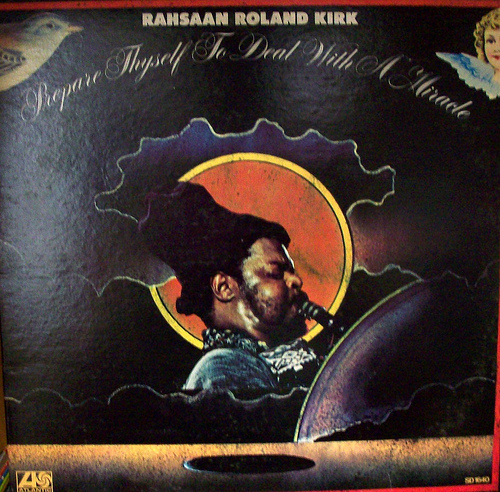 Prepare Thyself To Deal With A Miracle (1972): I've only listened to this a few times, and I was doing other things at the time one of those times. Still, this record is totally arresting, and by the end, I was ready to utter some hype like "best record of the '70s!" Like, by ANYONE. As with Natural Black Inventions, Roland is getting really touchy (rightly so) about being called a freak show, a novelty, a gimmick, etc., and so he goes out to prove them otherwise here. Roland plays all of side two without taking a breath, a feat made possible by Roland's ability to circular breathe for hours at time, supposedly. But, more than that bit of derring-do, the compositions are exquisite, and THOROUGHLY modern in the most unique ways. It's shimmering and ethereal, and almost, dare I say, "spectral," like Dumitrescu or something! Glassy strings and weird ululations from invented instruments, wraithlike wails from female vocals, classic Impulse!-styled groaning bass lines that claw into your head, vocalists cooing strange poems. It just conjures such a specific place...sort of a murky pool in the midst of a fog-shrouded forest in the black of night, which makes me think a bit of Comus or the Incredible String Band! It's really that heady. Goose-bump music. And then, as side two gets rolling, the sheer density of Roland's improvisational genius on his horn(s) just starts to get overwhelming. I have to hear it a few times more, but it just seems like no matter how many times he runs his fingers up and down the scales, his sax manages to do something completely new and unexpected with each new iteration! (A few listens later, and it gets the coveted Interstellar Space award, in that the solos are so detailed and complex and otherworldly, it almost sounds like a different record every time I play it!) By the time we're knee-deep in the incredible, rollicking final suite, you're ready to run out into the street, whooping and hollering like you won the lottery. I look forward to listening to this one again, though as I say, it's definitely the most "avant garde" thing he's done at this point. (Bonus arrogance points: the "Miracle" of the title refers to Kirk himself. He was always giving himself shout-outs. I guess you have to if nobody else will!)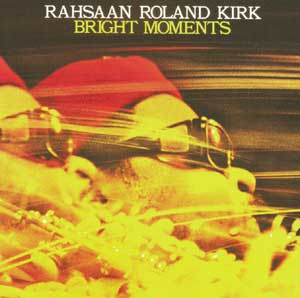 Bright Moments (1973): 2LP set, live, and yes, THIS is the Live/Dead, or better yet, the Europe '72 of the Kirk canon -- totally indispensable, perfectly capturing the live Kirk experience in all its varied facets. Kirk does it all here, from engaging the audience in long talks/rants/poems/jokes to playing pre-recorded tapes of locomotives into the microphone. Music includes the occasional use of synth (usually anathema to Kirk, who "hates electricity," as he often put it. Actually, he really just hates the way electricity was added to jazz at the time [ahem, Miles]) on one of his funniest tracks, the transparently descriptive "Fly Town Nose Blues," which makes generous use of the nose flute/mouth flute combo, along with some weird synth sounds from Todd Barkan. Covers include still MORE Bacharach ("You'll Never Get To Heaven"), MORE Ellington ("Prelude to a Kiss"), Rogers & Hammerstein ("If I Loved You"), and Fats Waller ("Jitterbug Waltz") as well as a Kirk original in the style of the New Orleans '20s jazz tradition ("'dem Red Beans and Rice"). Some of the rants kind of bog this down for me, though most all of what he says is totally on point. One of his best rants here, one that he added to and revised for years afterwards, is from the title track, "Bright Moments." It was a structure Kirk would come back to again and again for audience banter. "Bright Moments! Bright moments like eatin' a pork chop in London, knowing that that would be the last one you'd have for a long time. Bright moments like sharing an ice cream sundae with your girl, and she grabs the last bite, and that makes you mad, so you gotta grab her and get it back!" (The Man Who Cried Fire also contained one that goes, "Bright Moments! Bright Moments like making love on a leaky waterbed in a Holiday Inn…") Generally considered the A-1 pinnacle of Kirk's career, though I'm not quite THAT into it yet...the live side of Volunteered Slavery still works better for me, personally, but it might just be that I have to grow into this one. It's happened before -- took me three years of constant trying to "get" Second Edition too! I'm more than willing to be converted.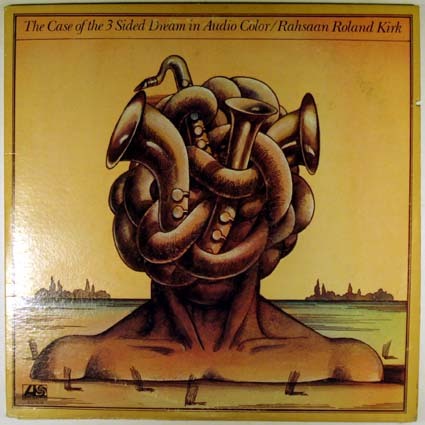 The Case of the Three-Sided Dream In Audio Color (1975): Oh MAN! Weirdest Kirk by far, even while being the most "inside" by far, too! Called "the first psychedelic jazz album" by some and "the jazz Sergeant Pepper" by others, and neither of those descriptions do this album a lick of justice! Having read the story behind the making of the album, I'd put this instead against Henry Cow's Unrest and Neu!'s Neu! 2, both of them albums where the flaw of not having enough new music to cover a whole record is fleshed out into an unexpected masterpiece! Only this one goes further by stretching a paucity of material (or, more to the point, a budget squandered on too many takes of the same songs) into a DOUBLE ALBUM (albeit a 3-sided one, with an almost-blank fourth side...more on that in a sec). This is a concept album about Kirk's dreams, a place where Kirk says he's gotten all his best ideas. He said he saw himself playing three horns at one time in a dream, and went down to the music store to look through "the scraps" the next day, creating his arsenal out of castoff instruments in the store's basement (his two other horns that aren't tenor sax, the Stritch and Manzello, are ancient reed instruments that were last popularly used in 19th century Spanish marching bands, modified with rubberbands and masking tape by Kirk himself!). He claims he saw his name change from his birth name, "Ronald," to "Roland" in a dream (others suggest that he was just sick of being referred to as "Ronnie" by all of his old friends from Columbus). Then there's the "Rahsaan" thing. And so on.
So, the first thing you hear on this record is their horrifically-computerized voice, supposedly that of a "master computer," saying "RAHSAAN...ROLAND...KIRK......I WANT YOU...TO...GO TO SLEEP...AND....DREAM!!!" Then you get all these tapes of Roland ranting, all spliced together and overlaid ("I been dreaming my whole life...I'm trying to wake up and make some money off these dreams that other people been stealing from me!" "I looked in a window, and I saw a woman making love to a computer...it wasn't no good, though, couldn't last long..." "You better watch out, I'll pull the plug on you, and that's that!"). Then he does a beautiful "Bye Bye Blackbird," playing Miles' part on trumpet (played with a sax rather than brass mouthpiece, giving it a weird, grainy tone) and then Coltrane's part on sax. Then there's taped sounds of horses galloping (!). Then it bumps up into some STRAIGHT-UP DISCO FUNK JAZZ!!! Like I say, this is the most inside set Roland ever did, in some ways. It's not sellout material, though...I mean, it's shit hot, and Kirk wails the hell out of these tracks. It's just that the production and the musicians (who were best known for funk/pop stylings) do give it a distinct mid-'70s Dave Grusin sheen. Then it goes into "The Entertainer" (VERY mid-'70s!) done in the style of the blues. That's even what it's called, in fact: "The Entertainer (Done in the Style of the Blues)"
Side two funkifies the Kirk classic "Three for the Festival" (originally heard all the way back on We Free Kings) as "Freaks for the Festival." Then a beautiful song called "Portrait of These Beautiful Ladies." Then, uh, "The Entertainer" again, but weirder...this time, it starts out very trad, but keeps going into these modal/Coltrane minor-key jam-outs, fast and furious, like the cover of "I Say A Little Prayer," or like how "Uncle John's Band" has those long, minor-key vamps in live versions that eclipse the length of the actual song. Then it'll snap back to "The Entertainer" before again venturing off into the heart of darkness.
And so on. Side three is "Freaks for the Festival" again, "Portrait of These Beautiful Ladies" again, and then back to "Bye Bye Blackbird," then the sounds of horses running, but with the tape reversed (!!), and then the same computer voice coming in again saying, "RAHSAAN... ROLAND.... KIRK.... I WANT YOU.... TO STOP DREAMING.... AND..... WAKE UP!" And then more ranting and layering ("I taught myself to stop sleeping when I was 14 years old!").
(N.B. there is a grain of truth to this, as most folks who knew Roland said that he kind of survived on 3-hour catnaps at weird hours, and that they'd be out with him all night, come home at 6 in the morning, and then he'd call them again at 9 a.m. and be like "c'mon, we gotta go record shopping!" Oh yeah, also, not related to that but fascinating, the dude brought his record collection EVERYWHERE, even on the road! He would pack a full suitcase with LPs, and another with a turntable, so that even in hotel rooms, he'd have like 40 or 50 albums to play for himself and for folks who would visit him in his hotel! He invented the iPod, man!).
In between all this, there's these little one-minute tracks, all of them titled "Dream." They're these weird collages put together with producer Joel Dorn. Sounds of machine guns, breaking glass, records of Billie Holiday singing, foghorns, Hitler speeches. "Dream sequences," I guess.
And then there's the fourth side, which kind of invents the hidden bonus track. The album is billed as a "3-sided" album, and the fourth side, although it has grooves, has a notice on the label that "grooves are pressed on here so that no inadvertent damage to the record can occur in case this side is accidentally placed on the turntable. Of course, if you let the mostly blank side play, you'll find around minute 12 that an answering machine beep goes off, and you hear Rahsaan's voice, seemingly on the phone, giving off this peal of creepy giggling! For, like 30 seconds or so. Then, silence. About 12 minutes after that, a small snatch of phone conversation between Rahsaan and some woman comes on for about two minutes. He sounds very cynical, and basically says that he thinks there's no hope left for humanity, and that it's the end of the line. She tries to cheer him up (using his feel-good catchphrase "Bright Moments!"), but it's no use. It's straight up the creepiest thing ever. (Of course, the CD version totally voids the surprise value by assigning a track number to this material, citing it on the back cover as "Telephone Conversation (24:00).") A crazy, crazy masterwork, and not to be avoided on account of the disco funk.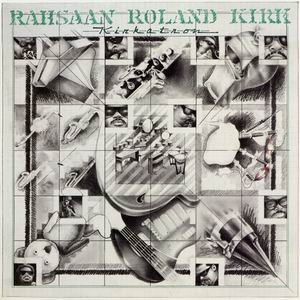 Kirkatron (1975): THIS one, however, goes too far. I haven't hit side two yet, because side one was SO fucking dull. This is damn near "smooth jazz" in places. I mean, it's REALLY smooth, and not in a good way. Very Dave Grusin way, or Herbie Mann, or whatever -- gettin' the last laugh on Herbie Mann by cuttin' him at his own mellow game. Side two has a bagpipe medley, which sounds promising, but I don't know. Also, this came out just after Kirk had his stroke, and is apparently little more than outtakes from a previous album. I'll have to give it another shot, but so far, this is the only Kirk album I legitimately DON'T like.
(Update: just checked out side two. "Bagpipe Medley" is just a two-horn workout with a bit more Scottish flair to it than usual. There's a studio version of "Bright Moments" with the really old-style male/female choir backing it up, kind of like the types of choir that makes me think of Ray Charles' version of "I Can't Stop Loving You." Y'know? The really super-soprano females, tight harmonies, almost pinched. Kirk tackles this style really well on a forthcoming album, and doesn't do badly by it here either. "Lyriconon" is noteworthy for hearing Kirk play the instrument the track is almost named for, The Lyricon. It's an electronic wind instrument, the first of its kind! [Check it out here: http://www.jorritdijkstra.com/thelyricon.html] The track sounds like a lovely stroll in Central Park…on the moon. Truth be told, Kirk didn't hate electricity so much as he hated lazy uses of it. Also, truth be told, this ain't a half-bad album! The disco-funk take on "Night in Tunisia" has me kind of overjoyed! It's hardly a top-5-er, or even a top-20-er, but it's very likely no longer in the unenviable 28th place spot. Then again, if Kirkatron isn't number 28, what is?)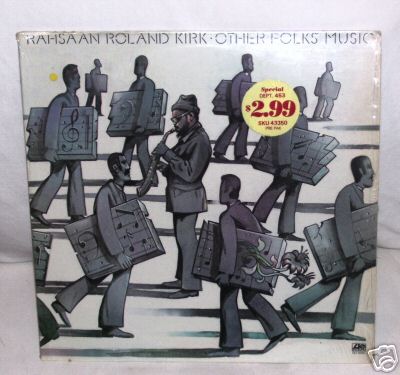 Other Folks' Music (1976): Again, this is after Kirk had his stroke. Wanna know how badass this guy was? Has a stroke in '75. Is PARALYZED on the entire right side of his body for the next two years (before a second stroke comes along and kills him outright). Instead of packing it in, or even, you know, RESTING, he uses his ability to modify instruments to modify his tenor and flute and such so that he can play them all one-handed! He curves his flute so it's in the shape of a walking cane, with the mouthpiece part on the top and curved away from the body, which he can hold in one hand. Fuckin' RULES. Anyway, this is another one of his "revere the past" records. The opener, "Water for Robeson & Williams" features Kirk on an instrument he'd come to emphasize on these later albums, the harmonica, here accompanied by tympani and harp. Thing is, even though Kirk's stroke laid him low off-strage, and even though it took him 20 painful minutes to climb onstage, once he had his horns in front of him, it was as though nothing was amiss, and even if he was only playing one horn at a time, he still hit all the emotional peaks on any previous album, and often rambunctiously at that…check out his groovy Latin take on Parker's "Donna Lee" if you need proof. I also gotta give a quick nod of the chapeau to Trudy Pitts' tasty electric piano riffs -- there's dancing in those fingertips! Not to mention the liner notes by ol' Fussy Pants himself, Stanley Crouch. Hardly dancing, but an enjoyable plod.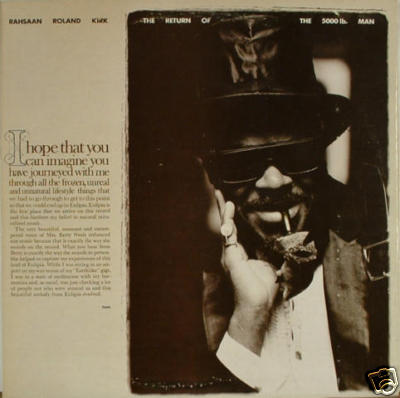 The Return of the 5,000 lb. Man (1976): Very mellow, very sweet, very funny, and very beautiful. And not just a bit crazy. Let's go over the tracklist: "Theme for the Eulipions." Spoken female matronly hipster recitation intro/outro (the outstanding Betty Neals), massed choral vocals, like Mingus dirges. "I've seen him at the airport, but never out here in the street. Calls himself a spiritual guide...A EU-LIP-I-ON...says this is his duty-free gift for the traveler." Then, a cover of "Sweet Georgia Brown." Hm! Definitely takes me back to the '70s, and I gotta admit, I can't think of the song without thinking of seeing the Harlem Globetrotters. This version isn't too different from the version they would come in to. Side two has a cover of Mingus' "Goodbye Pork Pie Hat" with the group singing the lyrics to the song. What lyrics, you ask? Well, apparently Kirk decided to write lyrics to this classic homage to Lester Young, 15 some-odd years after the original was written! He then does the same thing with "Giant Steps." A choir sings the lyrics! It's a slow version of "Giant Steps," but the steps are still giant. This would be an underwhelming first place to start, but once you're on board the Kirk train, it's hard not to be totally delighted with this one. Like many of his great works, it's mainstream and weird in equal doses!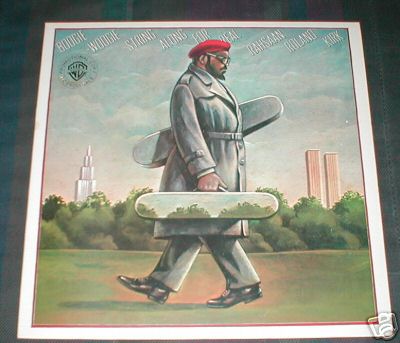 Boogie-Woogie String-Along For Real (1977): Awww, so depressing, we're at the last one! Kirk passed away soon after this album was recorded, but damn, you'd never know he was ailing based on the music!! Kirk sounds more vital and alive here (maybe a bit slower, but never sloppy or tired) than at any time in the last three or four albums! Contains covers of "I Loves You, Porgy" and "Summertime," the latter performed on harmonica, accompanying a music box of the same song. A real tearjerker. Also contains some blues with Kirk's exuberant singing ("Make Me a Pallet on the Floor"), some funky strut ("Hey Babebips," "Dorthaan's Walk," a song about his second wife), and the tumultuous final blues jam, "Watergate Blues." "Lock 'im up! Get 'im out of here, throw away the key!" he yells at the end of the song...full of piss and vinegar to the end. This is still not as free-wheeling as the earlier tracks, but it's hardly some sad-bastard finale. It's very controlled, VERY emotional, and just fucking incredible. Great music for a slightly sad but mellow Monday night -- at this point, Wendy's coming to grips with the fact that she's going to be hearing Roland Kirk pretty much every time I'm cooking or doing the dishes from now until about Christmas (and beyond!), and seems to be dealing with it fine. But when I put this one on, she came in and said "this is really great! Really nice music for a low-key Monday night." No doubt.
A Fast 5 for the neophyte:
• Rip, Rig & Panic
• Volunteered Slavery
• Blacknuss
• Rahsaan, Rahsaan
• Natural Black Inventions: Root Strata
Further messages:
There are two readily-available Kirk DVDs on the market, both recommended. In Europe 1962-67 contains a set featuring a seldom-seen incarnation of Kirk's band, featuring blind Catalonian pianist Tete Montoliu playing his ass off! Seriously, where's this guy been my whole life? He has a heavy-chord style like McCoy Tyner, but with a touch as gentle as the best Bill Evans tracks. Just endless roiling and twinkling. At one point, the rest of the band hits Kirk's final cue, which Montoliu of course can't see and keeps playing through, so Kirk comes over and pretty much grabs his hands off the piano to stop him! Blind leading the blind, literally. Two sets, one circa Domino, the other around the time of The Inflated Tear (judging by the choice of tunes). Even better is the recent title in the Jazz Icons series, titled Live in '63 and '67. Nice informative booklet (redundant if you've read the Kruth book, but good for novices). '67 in particular has an outstanding group, with Ron Burton on piano, Alex Riel on drums, and the awesome Niels Henning Ørsted-Petersen on bass. A VHS tape from a few years back, The One-Man Twins, came out on Rhino, and is from the same concert as the CD I, Eye, Aye: Live at the Montreaux Jazz Festival, though each has material the other lacks, so you'll have to get both to see/hear the whole thing. More importantly, though, Youtube is stuffed with quality clips of Kirk in action, so just type any version of his name in, and check out the Whistleman live!
John Kruth wrote a book, titled Bright Moments, about Kirk's life, and, at 400+ pages, it's pretty thorough! It's got some problems, though. One is Kruth's desire to "jazz" up his language at inappropriate moments. You DON'T need to come up with a new variation on "said" each time someone says something! "blank blank," Joel Dorn opined. "Blah blah," Dorthaan Kirk confessed. "Boo boo," Hilton Ruiz speculated. That's REALLY irritating! Also, it becomes obvious pretty quickly that the dozens of interviews Kruth got from various people in Kirk's orbit were all kind of variations on the same 10 stories -- Kirk could play three horns at once, Ian Anderson ripped off his flute style (he even sits down with a sheepish Anderson to confront him on this!), he hated Nixon, he felt the kids didn't like jazz anymore, etc. All said, though, if you're 100% obsessed about Kirk like I am, you need to hunt down a copy of this (it's eight years old and pretty out of print) for the abundance of jaw-dropping anecdotes! Watch as Kirk tries to ride a bike, drive a car, and start a fistfight with Charles Mingus! Get your mouth watering as friend after friend talks about Kirk's favorite foods (hint: not a one of them included vegetables, or anything that wasn't at least twice-fried)! It's all here and then some.
There are a handful of non-canonical and posthumous CD releases, most of them masterminded by Kirk's longtime producer/collaborator/sympathizer Joel Dorn. The only one I've heard is The Man Who Cried Fire, a masterful early '90s collection of unreleased tracks and ephemera aimed at showing some less-seen sides of Kirk, including a recording with him and a 1920s-style New Orleans jazz band, some great triple-horn workouts, and a rare appearance by Kirk on clarinet. Also contains a thoroughly deranged take on "You Did It, You Did It," and a drop-dead hilarious cutting battle on Coltrane's "Mr. P.C.," where the vocalist concedes defeat ("It's a wise man who knows to quit when he's behind!") after Rahsaan grabs the mic and turns it into a brass instrument, sending a volley of room-shaking bass thunder through the club! A fun document.
Guess that's it! Hope you see something you like here.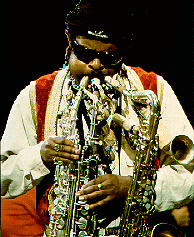 |||||||||||||||||||||||||||||||||||||||||||||||||||||||||||||||||||||||||||||||||||||||||||||||||||||||||||||||||||||||||||||||||||||||||||||||||||||||||||||||||||||||||||||||||||||||||||||||
THOMAS THE TANK ENGINE CAN GO GET FUCKED!
-Or-
RETTMAN ON CARLIN
by Tony Rettman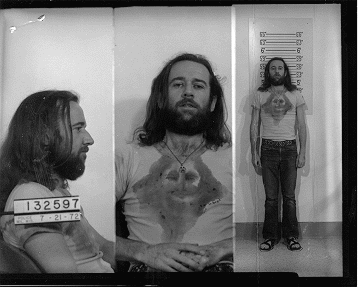 'Life is a zero sum game' – George Carlin 'Back in Town' (1996)
I've stared at many blank computer screens in the past six months — both at home and at work — thinking I had something to write about the passing of George Carlin. Not like I think it's of grave importance that anyone reads what I think of his passing. If anyone would want to read anything that I write (which I find highly doubtful) they'd more than likely wanna read what I think of the Vivian Girls or Teeth Mountain or whoever else is getting their ass licked by Dusted this week. For the record, I think the Vivian Girls suck, Teeth Mountain sucks and I think George Carlin dying really fucking sucks.
'There's no present. There's only the immediate future and the recent past' – George Carlin
My first childhood memories of Carlin are vague. Fuzzy recollections of those records he released on Little David being in my cousin's collection and maybe witnessing an appearance or two on Mike Douglas or something, but that was pretty much it. Somewhere down the line, our family got cable and it was a revelation. This thin black rope provided me with way more swear words and/or sexual language than my older brothers and sisters could ever provide and I was the king of fifth grade lunchtime for it. One weekend night, a horseshoe of my sisters and their friends sat in front of the television in the living room and said something along the lines that they were about to watch something I shouldn't see. I found that intriguing so I lingered around until they gave up trying to get me to go back upstairs. They were about to watch a Carlin special on HBO. To be precise, they were about to watch 'Carlin at Carnegie'.
The next hour or so was a very subtle mindblow that I remember quite clearly. The first joke Carlin delivered was 'You ever notice the women who are against abortion are women you wouldn't wanna fuck anyway?' That first line created a cacophony of laughter around our living room and even though I only 'half got' what he said, I could see his words caused a strange reaction among the people in the room. For the next hour or so, I observed a spark of absurd understanding fire around our house. Even my Dad came in and started howling. It amazed me that all it took was a certain way of saying something to make people drop their guards. Things that I read in my everyday life as taboo was given time not only to be aired, but laughed at in the same time. The way he was making people laugh and think and ponder all at the same time left a profound impact on me. The combination of witnessing this special and listening to the Punk Rock records my brother was bringing home was the equivalent of some no-goodnik dropping their first dose of acid. All I needed was the room to revolve around by itself while 'Sunshine of Your Love' emitted somewhere mysteriously in the background. Catholic school was seen in a way different light that next Monday, I assure you.
'There are no facts, only interpretations' – Friedrich Nietzsche
For the rest of my young life, I watched any and all HBO specials the man did with the reverence I should of given to school work and teachers. (My mother's words, not mine.) Carlin shown a light on so many institutions I thought smelled foul at a young age. Somehow a friend and I convinced his parents to take us to see him at the Trenton War Memorial (a venue he played numerous times up until his death). We were up in nose bleeder seats while he told jokes about making out, the Catholic Church and read out fake news reports on phony sporting events like 'Roller Fucking'. I thought it was awesome. My pal's parents bought me a Carlin shirt that said 'It Only Hurts When I Think' on the back. I wore it all the way up until my senior year in High School.
'I don't have pet peeves. I have severe psychotic fuckin' hatreds. It makes the world a lot easier to sort out' – George Carlin 'You Are All Diseased' (1999)
As time went on, his observations and criticisms streamed broadly to take in anyone and everyone. As the practices of greed and pettiness began to spiral down to all classes of our country, Carlin was right there to tell everyone they were fucked. His act seemed way more bitter and even more reckless as the nineties moved on. The fact he could keep up the ratio of fart jokes to political jokes in every set just proved he got better with age. In my humble opinion, his crowning achievement was 1999's 'You Are All Diseased'. After opening up the special by delivering a hearty 'Fuck You' to the audience ('Just wanna make ya feel at home' he says after doing so) he unleashes an hour long tirade that is both eloquent and pointed.
As he got older, it seemed he got even more juvenile and free wheeling with his use of off-color comments and swears — like he was getting off on it more now than he did then. Watching him now since he's passed, I think he figured he might not have too much time left and wanted to get in as many references to gang bangs, dildos and crack before he left the earth for good.
'Evolution is a process. Too slow to save my soul' – Darby Crash
Having said that, it still sorta pains me to watch any footage of him now that he's passed. I know this is going to sound corny as all fuck, but watching and listening to him now just makes me wonder who's gonna tell the truth now that he's gone. Who's gonna create that elation of observing rage, intellect and humor interlock so effortlessly? I really don't know. All I know is the dude sent my mind ablaze in the possibilities of doing things on your time and your own way. Sure, it's not like I make a lot of money or something, but I know who I am and what I will and won't do. Some of that I owe to my parents, but most of it I owe to Carlin.
About six months ago, my girlfriend and I picked up a stray kitten on the street and named him (you guessed it) Carlin. In the past few months, he's made me laugh and think just as much as the real Carlin and he probably gets into as much trouble as George did as a kid. Here's to hoping he keeps up the tradition left so nobly by that old fuck.
'This is a message from the National Pancake Institute – FUCK WAFFLES!' – George Carlin
And if I could come off even more like a douche, I leave you with this poem that I immediately thought of when I heard about Carlin's death.
A Sane Revolution
by DH Lawrence
If you make a revolution, make it for fun,
don't make it in ghastly seriousness,
don't do it in deadly earnest,
do it for fun.
Don't do it because you hate people,
do it just to spit in their eye.
Don't do it for the money,
do it and be damned to the money.
Don't do it for equality,
do it because we've got too much equality
and it would be fun to upset the apple-cart
and see which way the apples would go a-rolling.
Don't do it for the working classes.
Do it so that we can all of us be little aristocracies on our own
and kick our heels like jolly escaped asses.
Don't do it, anyhow, for international Labour.
Labour is the one thing a man has had too much of.
Let's abolish labour, let's have done with labouring!
Work can be fun, and men can enjoy it; then it's not labour.
Let's have it so! Let's make a revolution for fun!
||||||||||||||||||||||||||||||||||||||||||||||||||||||||||||||||||||||||||||||||||||||||||||||||||||||||||||||||||||||||||||||||||||||||||||||||||||||||||||||||||||||||||||||||||||||||||||||